Disclaimer: Soccer Whizz is a participant in the Amazon Services LLC Associates Program, an affiliate advertising program designed to provide a means for sites to earn advertising fees by advertising and linking to Amazon.co.uk (source: Section 5). As an Amazon Associate I earn from qualifying purchases.
It's easy to think soccer socks and compression socks are the same thing, particularly if you're someone who's just getting into the sport or starting to understand general fitness concepts.
For one, these two types of socks have a similar appearance.
They are knee-high in length, and when worn they provide a tight fit for the legs.
When such similarities come into play, you might not be able to distinguish what makes these socks different from each other.
That's why in this article, we'll be answering the commonly asked question of whether soccer socks are actually the same as compression socks.
As always, we'll start with a brief summary.
Soccer socks are not the same as compression socks. Soccer socks are primarily designed to offer athletes protection to different areas of the leg by keeping shin guards in place. Meanwhile, compression socks are built with tightness in mind, which boosts blood circulation in the legs so as to prevent swelling and muscle fatigue.
What is the difference between compression socks and soccer socks?
Now that you're aware that these identical products serve different purposes, let's look at how they deviate from each other in more granular detail.
1. Leg protection
With soccer being a contact sport, certain areas of the body need additional protection.
Players contest for the ball aerially as well as along the ground, which means that anyone taking part in this sport can pick up an injury due to something like a crunching tackle.
Soccer socks are therefore designed with this injury risk in mind.
They are of knee-high length to ensure that shin guards – be it strap on or slip in ones – can fit seamlessly between the player's legs and the socks themselves.
Just so you know, shin guards are a compulsory piece of soccer equipment that must be covered entirely by socks according to the rules of the sport.
Even more so, professionals playing at the highest level must wear them at all times during matches.
So, to sum it up…
Soccer socks are first and foremost worn to safeguard athletes from serious injury, as the length they offer allows shin guards to be placed in between them and the legs as a protective barrier.
2. Warmth
Another aspect where soccer socks differ from compression socks is the fabric that's used to make them.
For soccer socks, the material construction has to be good at retaining heat, because of the chilly weather conditions that athletes typically play in.
Have you ever been to a soccer stadium for an evening fixture?
It's usually freezing cold, particularly if you're located within Europe.
Soccer players need to keep their legs warm as they compete, which is where these socks come in by offering the warmth they need to go about their business in a comfortable way.
3. Tightness
Most importantly, compression socks are dissimilar to soccer socks when it comes to the amount of pressure that they put on the legs.
Don't get me wrong, soccer socks can be tight, as the hyperlinked article clearly explains.
But compression socks offer a more advanced level of tightness that has significant performance benefits for the athlete.
You see, what happens is that compression socks apply gentle pressure to your legs and ankles, which helps to promote blood flow from your legs to your heart.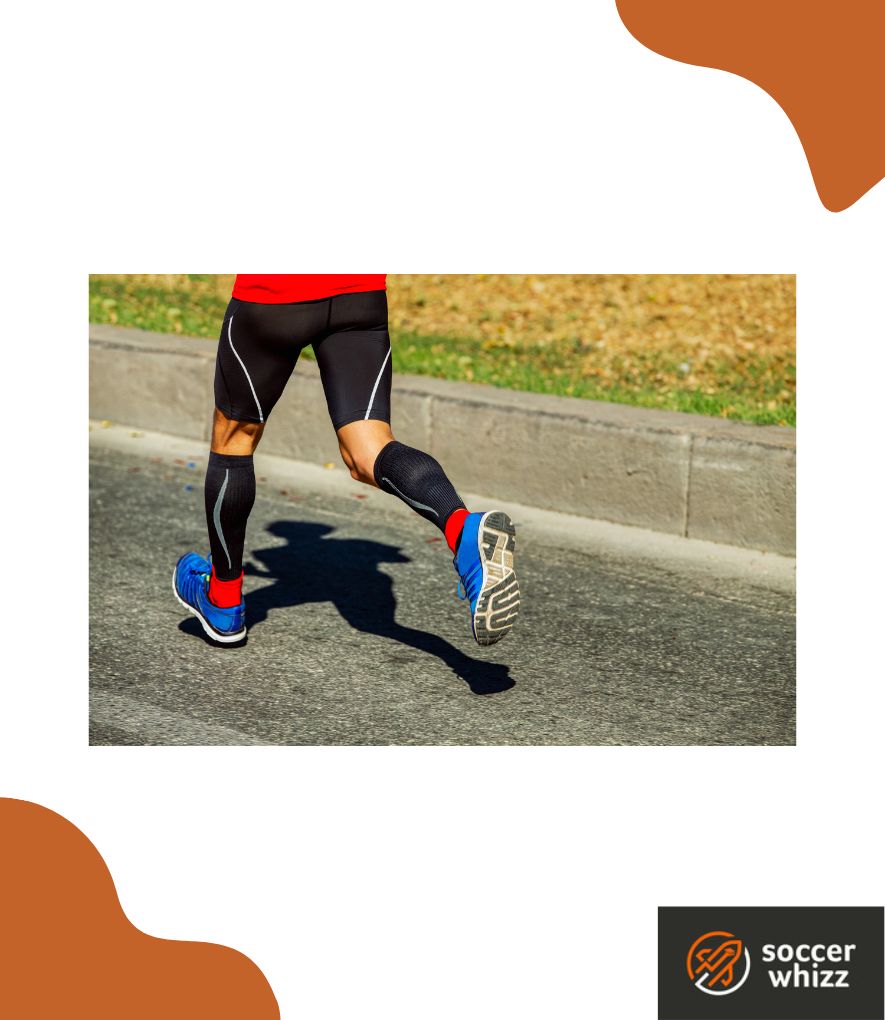 The quote below from foot surgeon Georgeanne Botek, explains how the increased pressure in the tissues beneath the skin helps improve blood flow:
"This reduces excess leakage of fluid from the capillaries, and it increases the absorption of this tissue fluid by the capillaries and lymphatic vessels. It also reduces the ability of superficial veins to expand in order to fill with blood, which prevents that blood from flowing backwards and causing congestion."

Source – Cleveland Clinic Health Essentials
Subsequently, an athlete wearing compression socks will experience less muscle fatigue as they engage in physical activity, because the compression helps with recovery times as well as preventing muscle swelling.
Are soccer socks good for compression?
Although many brands tack on muscle compression as an added feature when it comes to the soccer socks that they produce, you won't get the best compression out of them.
They're simply not purpose built to fill that need.
You'd be much better off buying compression socks specifically designed for this purpose.
Here are a couple of options on Amazon that are worth checking out:
Physix Gear Compression Socks for Men & Women 20-30 mmhg, Best Graduated Athletic Fit for Running Nurses Shin Splints Flight Travel & Maternity Pregnancy - Boost Stamina Circulation & Recovery GRY S/M
STYLE AND CONFIDENCE ON YOUR LEGS Finally! A Durable Compression Sock designed to last, without compromising quality or Comfort. Double stitched Fabric your legs will thank you. Feel the immediate Comfort and remarkable design of your new Stamina Long Sock Tights. The Perfect Work, Cycling, or Ski Socks. Quality stitched & Easy to get on even though they are a compression sock! They Wash well without losing compression keeping all the Excellent vascular toning benefits.
BECAUSE PUSHING YOURSELF THAT EXTRA MILE MATTERS Get your legs properly geared up for work, play, and everything in between! Great for day and night use, and perfect for those who are on their feet most of the time. With our socks, the compression and support are perfectly located on the heel foot calves so the toe area wont squeeze your toe joints. Provides instant comfort support, with moisture wicking properties that rapidly air dry in a few hours.
TAKE YOUR GAME TO THE NEXT LEVEL Comfortable material and careful construction. No stitches in places where they'll rub or rip together. Stay put Cuffs Soothing feeling at the bottom and sides of foot with no pinching seen with lesser quality socks without ankle support. Fall in love with your new Stamina socks easy to pull on. and they breath! Use in extremely hot weather through mud water wall/crawl/rope climbs and half marathons. Perfect for extreme races and long runs!
Sale
CAMBIVO Compression Socks for Women & Men 2 Pairs, Flight Socks Compression Stockings for Running, Flight, Sports, Travel, Unisex
HIGH-QUALITY & MODERN: CAMBIVO Compression Socks for women and men are made with a perfect balance of compression and comfort using the latest 3D knitting technology to provide adequate support; With an extraordinary design, it can be easily put on; superior stitching quality provides high durability and elasticity
COMFORT & BREATHABILITY: Designed and engineered using thin 4-dimensional stretchable yet durable material providing flexibility and breathability. Perfect for any season to absorb sweat. Ideal for long runs, marathons, and tennis players looking to improve their performance
FIT FOR VARIOUS PEOPLE GROUPS: Compression Socks for men and women can be used as flight socks, also ideal for Attendants/Traveler, Engineers, Teachers, Walker, Cyclist, Performers, Ski, and much more
NV Compression 365 Long 20-30mmHg Cushion Sports Socks (Bk/Red Stripes, LG)
The ultimate pair of compression socks! Ideal for all sportsmen and women- at any level, people who stand up for long periods at work, fly regularly, suffer from Plantar Fasciitis, calf strains/muscle pulls/Achilles tendon injuries or to combat deep vein thrombosis
USES: Ideal for all sports activities e.g. running, cycling, soccer, rugby, fitness, hiking, gym, yoga, golf, tennis, squash, triathlon etc
BENEFITS: The graduated compression (from the ankle to above the calf) aids the flow of oxygen to the muscles which improves performance and reduces fatigue. Each sock behaves like a second layer of muscle, gently squeezing stretched vein walls. This built-in feature helps fight the force of gravity and circulates blood back up to the heart more efficiently.
Sale
aZengear Compression Socks for Women, Men, Anti DVT Air Flight Travel Ski Knee-High Stockings, Swollen Legs, Varicose Veins, Running, Shin Splints Calf Pressure Support, Sports (Black, S/M)
ERGONOMIC FIT & TRUE GRADUATED COMPRESSION SOCKS - protect from cramps, reduce leg swelling & fatigue, improve blood circulation & muscle recovery
ANTI-DVT KNEE-HIGH FLIGHT SOCKS - keep your skin healthy, prevent from odours & make legs feel comfortable during long-haul flying, ski, skiing
DOUBLE-STITCHED WITH SEAMLESS TOE - machine washable fabric (65% nylon, 20% polyester, 15% elastane); perfect for high intensity activities or long-term wear
Compression Socks, (7 Pairs) for Men & Women 15-20 mmHg is Best for Athletics, Running, Flight Travel, Support
High Quality Fashion Compression socks With Breathable, high-performance moisture -wicking fabric, our compression socks are made of 90% Nylon and 10% Elastane, which providing 360-degree stretch for greater flexibility and durability. Beautiful style and double stitched seams brings you a sense of comfort but also a sense of fashion.
COMPRESSION IS PROVEN to improve blood flow, move faster, react quicker and use less energy. Targeted compression zones provide varying levels of support from moderate to extra firm. Help relieve pain & discomfort related to plantar fasciitis, a LONG TERM Solution no overnight quick fix. These are designed to promote blood circulation and oxygen flow preventing cramping, fatigue, swelling and helps in muscle recovery, spider, varicose veins and diabetic
Our unisex pack offers 7 Pair of high-caliber socks, suitable for both men and women alike. As they are 100% Machine Washable and Snag Resistant, you are getting an amazing offer, amounting to one pair of socks for EVERY work day & your busy weekend, too, ensuring your feet never stay without optimal compression!
Conclusion
Now you know how soccer socks and compressions socks differ from each other.
Should you be interested in buying the former, then check out our relevant articles on:
The aforementioned product roundups offer lots of fantastic sock recommendations that will get you looking like a professional player in no time!
Alternatively, if you're looking to learn a little more about soccer socks, then we also have some informative topics that are worth having a look at.
Such as:
Happy reading!
If you enjoy the content that I create and would like to buy me a coffee, then I'd really appreciate it!
Any money that I earn through this donation will be re-invested into more content for this website.
Additionally, by sending in a donation you'll also receive a copy of my recently released 190+ page eBook on Soccer Ball Care, as well as be subscribed to our mailing list where you'll be regularly informed on the latest developments concerning the Soccer Whizz blog.
Latest posts by Samuel Waihenya
(see all)