Disclaimer: Soccer Whizz is a participant in the Amazon Services LLC Associates Program, an affiliate advertising program designed to provide a means for sites to earn advertising fees by advertising and linking to Amazon.co.uk (source: Section 5). As an Amazon Associate I earn from qualifying purchases.
Mario Balotelli is one of soccer's most eccentric characters.
The Italian is known for doing exactly as he sees fit, whether that's on the pitch or off it.
You wouldn't be surprised to know that Balotelli has had bust-ups with quite a few coaches and players during his professional career, along with the fact that some of his silly antics away from the sport have earned him worldwide recognition.
But there are three words that soccer fans will remember Balotelli the most for.
His iconic "Why Always Me?" statement which he donned on his undershirt during a Manchester derby fixture is deeply etched in the memories of many spectators across the globe.
This article will take a look at his famous "Why Always Me?" statement, pinpointing the moment it happened as well as revealing its significance by detailing what the phrase meant.
Alright then, let's begin!
What did Balotelli mean by his "Why Always Me?" gesture?
"Why Always Me?" was a catchphrase thought up by Mario Balotelli in response to the heavy media scrutiny he was receiving during his time as a professional soccer player in England.
Balotelli had the three words printed on an undershirt which he wore during a fiercely contested Manchester derby between his former employer Manchester City and hated rivals Manchester United.
The statement was basically Mario Balotelli's way of questioning the English press.
Coming to Manchester City from the Italian side Inter Milan in a 24-million-pound move, Balotelli was regarded by his manager Roberto Mancini as one of the best strikers in the world with the potential to equal Lionel Messi and Cristiano Ronaldo in terms of ability.
It's safe to say that after this revelation by his coach, the world was keen to watch Balotelli's performances to see what he was capable of producing on the pitch.
The latter were probing his every move, with a lot of sensationalized stories appearing in various news outlets about rumors of bust-ups with team mates and commentary on a supposed "bad-boy" attitude that contributed to the image of a volatile character.
Of course, Balotelli vehemently denied the allegations about his character and various exploits that were surfacing at the time.
However, the former Italian international striker did admit to setting off fireworks in his own bathroom at home, in a scary incident where curtains caught fire.
The fact that this particular event happened on the very eve of Manchester City's biggest win at Manchester United in 56 years, only served to add fuel to the fire that Balotelli was a lose cannon.
The intensity of the press coverage undoubtedly weighed quite heavily on Balotelli's mind, which is what prompted him to fight back with a "Why Always Me?" question to all those who were scrutinizing him day in and day out.
For a deeper dive into the meaning of the three words, have a look at this video which breaks it down very well:
When did Balotelli do the celebration?
The provocative message was revealed to the world on the 23rd of October, 2011.
Manchester United suffered an embarrassing defeat to their rivals at their Old Trafford ground – their worst loss at home since February 1955.
It was actually quite fitting when Mario Balotelli scored the opening goal in the 22nd minute of the fixture, which gave him the perfect opportunity to show the message to all those watching.
Here's what this looked like: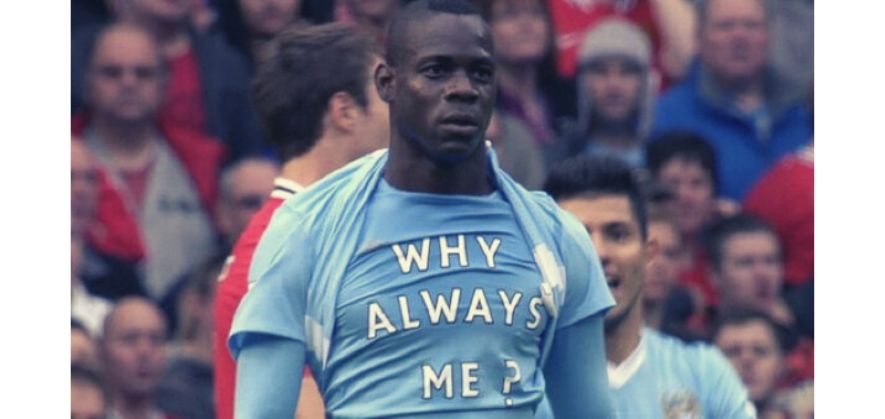 Manchester City went on to thrash their rivals by putting another five goals past them in a dominant performance, and the match marked a seismic shift in the competitive ability of both teams.
The blue side of Manchester went on to become a powerhouse in the English game, with the Red Devils only picking up a single league trophy since that infamous home drubbing.
Related article: why soccer players like to celebrate so much
Why did Balotelli make the message?
It was clear at the time that the Manchester City player wanted to prove a point to his critics.
City's kitman at the time – Les Chapman – recalls the moment where Balotelli devised the response which was then printed out on his undershirt before the game:
"It was just the perfect thing at the perfect time for that perfect individual. He wanted me to print something on his compression shirt for the game and I said, 'Well, you can't print anything that's controversial or something that's going to be offensive to the United fans – or anybody really. He thought for a minute or two and came out with one or two things. I said, 'No Mario, I don't think that's appropriate'. Then he just came out with it, out of the blue, he said, 'What about Why Always Me?' As soon as he said it, I knew that was the one."

Source – City Moments
What is Balotelli generally known for?
Mario Balotelli is certainly one of the most interesting soccer players who has had the opportunity to play professionally at the highest level.
He isn't just known for his famous "Why Always Me?" message too!
The player possessed a very funny nonchalance, which was sometimes characterized by a clear lack of effort on the pitch and a demeanor which indicated that at times he just couldn't care any less.
You only have to look at footage from a pre-season friendly game where Balotelli deliberately goes for a stylish finish instead of slotting the ball into the net like a normal person would do:
That failed trick shot earned him spot on the substitutes bench, as his manager Roberto Mancini was clearly outraged at the disrespect Balotelli showed towards his American opponents in Los Angeles Galaxy.
Apart from these flashes of skill, Balotelli also has a reputation for being a little bit of a hot head when it comes to on-field discipline.
In his career at the time of writing, the Italian has been sent off eight times and accumulated a staggering total of 146 yellow cards.
Here's a rundown of the numbers: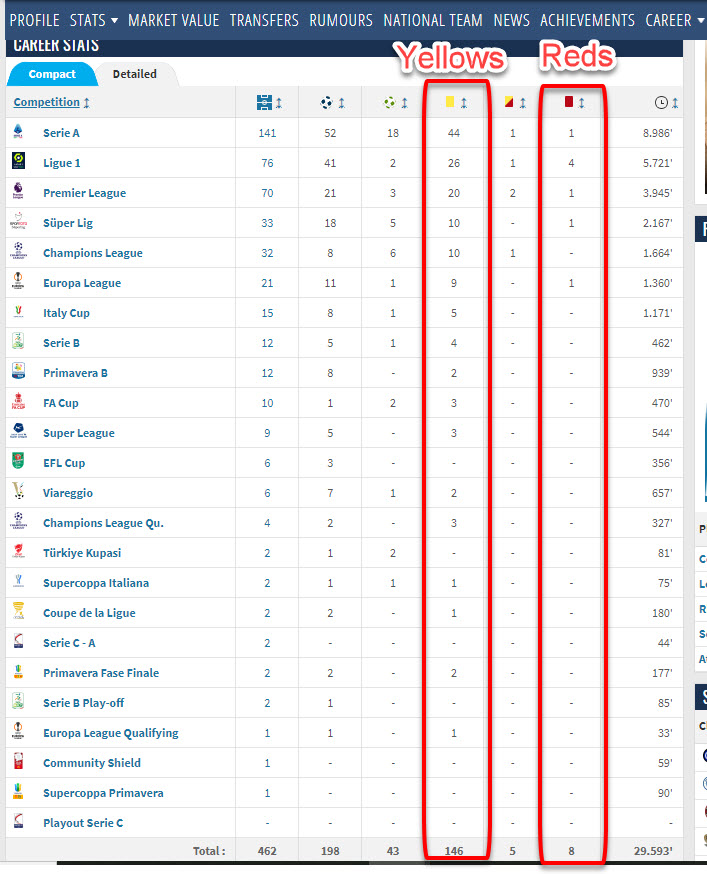 Is there any "Why Always Me?" merchandise?
As a matter of fact, there is!
You can get yourself a t-shirt bearing Mario Balotelli's famous catchphrase on Amazon.
Have a look at the products below:
No products found.
Alternatively, you can have a read of his biography if literature is your thing:
If you enjoy the content that I create and would like to buy me a coffee, then I'd really appreciate it!
Any money that I earn through this donation will be re-invested into more content for this website.
Additionally, by sending in a donation you'll also receive a copy of my recently released 190+ page eBook on Soccer Ball Care, as well as be subscribed to our mailing list where you'll be regularly informed on the latest developments concerning the Soccer Whizz blog.
Latest posts by Samuel Waihenya
(see all)