Disclaimer: Soccer Whizz is a participant in the Amazon Services LLC Associates Program, an affiliate advertising program designed to provide a means for sites to earn advertising fees by advertising and linking to Amazon.co.uk (source: Section 5). As an Amazon Associate I earn from qualifying purchases. The blog also earns small commissions from ShareASale and CJ affiliate links placed within the article.
I'm back with another product roundup!
This time I'll be focusing my efforts on evaluating Adidas soccer balls as, once again at the time of writing, there's not a single search engine result in Google that caters specifically towards this brand of soccer ball.
Now because I'm sure there's a few readers out there who'd like to move straight to purchase, I'll kick things off as usual with an outline of my top picks.
Here they are:
| | | | | |
| --- | --- | --- | --- | --- |
| | | | | |
| | Adidas Euro 2020 Uniforia Pro Soccer Ball | FIFA Quality Pro certified | | |
| | Adidas MLS 2022-2023 Pro Soccer Ball | FIFA Quality Pro certified | | |
| | Adidas Tango Rosario Soccer Ball | | | |
| | Adidas Nativo Questra Ball | | | |
| | | | | |
It was a really close call to determine the overall winner.
But I managed to settle on the Adidas Uniforia Pro Soccer Ball. Recency bias aside, I loved the stylish look of the ball and the manufacturer's use of thermal bonding for its construction. As a buyer you can also rest easy when it comes to performance, knowing that it has been tested by FIFA and awarded its highest possible certification standard.
Now, let's take a magnified look at each of the best Adidas soccer ball options.
1. Adidas UEFA Euro 2020 Uniforia Pro Soccer Ball
The Adidas Uniforia Pro Soccer Ball was built to symbolise a celebration of football and the diversity of culture.
Soccer brings fans from different urban and rural backgrounds together and the Uniforia ball – as the name suggests – was developed by Adidas to honour that sense of unity that the sport ultimately brings.
In addition to this, what I found quite touching about this ball was that some of the design elements were included as a tribute to the contribution of the host cities towards the Euro 2020 tournament that took place across several European nations.
Let's now take a closer look at the main highlights of this ball…
FIFA Quality Pro certified
This approval is the gold standard when it comes to soccer ball quality.
You see, FIFA devised three classifications for the soccer balls that professional players use in matches.
These are:
FIFA Quality Pro
FIFA Quality Inspected
International Match Standard
Now, if a soccer ball receives FIFA Quality Pro approval, that means it has excelled at the stringent set of tests that determine overall ball quality.
So, if you purchase this ball you can expect a seamless playing experience where the ball travels at a realistic trajectory and affords players greater control when it comes to trapping and dribbling.
Thermally bonded construction
Soccer ball manufacturing has gone up a level over time.
With thermal bonding, a ball doesn't need any stitching or hand sewing at the seams, as the panels are glued together using heat.
One of the main advantages that thermal bonding offers over the traditional creation methods is that it makes soccer balls water resistant.
So, with this ball you won't have to worry about moisture seeping into the cover and making the ball heavier when playing matches in wet conditions.
Video review
Check out the informative unboxing video that I've linked to below:
It shows you how the ball looks and feels like from all angles, as well as gives you a picture of how Adidas package the ball to be delivered en masse.
This ball also has similar versions, such as the training ball, the league ball and the club ball.
When it comes to appearance, all these four Uniforia balls are virtually identical, with the main distinguishing factor being the price point.
Ultimately, the pro version in this roundup is magnificent – with it also featuring in my article on the best soccer balls – so I'd highly recommend it for competitive match play.
Other specifications
Weight – 90 grams
Material – 100% polyester outer cover, rubber bladder
2. Adidas MLS Pro 2022-2023 Soccer Ball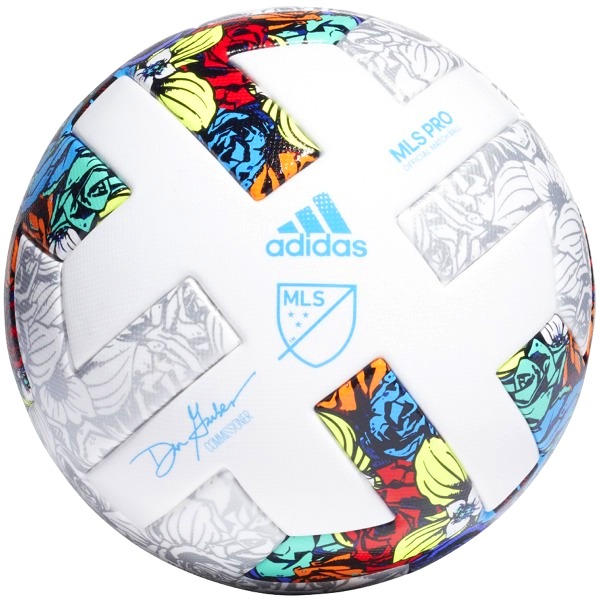 Introducing the latest release to the Adidas collection!
The Adidas MLS 2022-2023 Pro Match Soccer Ball has a panel design that will leave you in astonishment.
When you look at it closely, you'll notice that it incorporates the rose and bunchberry national flower colours of the United States and Canada.
It's appearance also pays homage to the league's high level of diversity, with the design paying tribute to the 860 players participating in the MLS who originate from 79 different countries across the globe.
If that wasn't convincing enough, then read on to find out about some of its standout qualities.
Seamless surface
Just like the previously reviewed Uniforia Pro soccer ball, this one has a thermally bonded surface.
That means no hand or machine stitching was used for its construction, as the panels were joined together using heat.
The end result is a ball that is resistant to water uptake, meaning that you can enjoy those fiercely contested games of soccer in the rain without having to worry that this ball will absorb moisture.
FIFA Quality Pro certified
Without a doubt, buyers are getting a top quality game ball that even the professionals would relish to play with.
You see, FIFA awards the best performing soccer balls with a quality seal of approval once it has undergone a series of different tests.
The evaluation covers certain attributes like:
rebound ability;
water absorption; and
shape retention
So, because this soccer ball his the FIFA stamp embedded onto its panelling, you can rest assured that it will provide you with a great playing experience where you will enjoy every moment that you strike and control it.
Other specifications
Material composition – 70% polyurethane, 20% recycled polyester, 10% viscose
Bladder type – butyl
Prospective buyers also have the option of picking up the Adidas Nativo 21 Soccer Ball on ProSoccer.com, as this ball was the aforementioned one's predecessor.
It was the soccer ball used for the 2021 MLS season, so it's still pretty recent enough.
For consumers who are budget conscious, the training version and the NFHS model of this ball are great cheaper alternatives.
3. Adidas Nativo Questra
Here we've got a real stunner!
The Adidas Nativo Questra was the official match ball for Major League Soccer in 2019.
You can see how the company managed to incorporate the colours of the United States flag in the design, as it incorporates detailed red, blue and white graphics.
Furthermore, designers of the ball are said to have adapted it from the original Adidas Questra ball that was used in the 1994 FIFA World Cup.
Now here's the headline feature for this one:
Thermally bonded surface
I previously alluded to the benefits that thermally bonded soccer balls give players, so I won't go into much detail for a second time.
You see, this method of construction is good for overall aerodynamics, as it gives the ball a more predictable trajectory when players strike it.
The margins in this sport are so fine.
Which is why it's so important to have a soccer ball that you can curve in the exact direction that you intend it to, as shot placement is a decisive part of the game that can determine whether a team wins, draws or loses.
FIFA Quality Pro certified
As I've already explained in the earlier product, this a significant mark of quality assurance that cannot really be manipulated.
FIFA do their own testing on each ball that's used in official competitions and they'll want to ensure that professional players get the optimal on-pitch experience.
Other specifications
100% polyurethane cover
Butyl bladder
However, if 2019 is a year that's too far back for you, then you can opt for the more recent alternative which is the Adidas Nativo XXV which marks 25 years of elite club soccer in the United States and Canada.
It was the ball used for the concluded 2020 – 2021 Major League Soccer (MLS) season.
4. Adidas Tango Rosario Training Ball
Sale
Adidas Tango Rosario Soccer Ball
Hand stitched for high durability and a good touch
Injection-moulded latex bladder
FIFA Quality certified; Ball passed FIFA tests on circumference weight, rebound and water absorption
The Adidas Tango Rosario Soccer Ball has a lot of history behind it.
It's a replica ball that initially roots back to the Tango Durlast, which was the official match ball for the 1978 World Cup that took place in Argentina.
The ball comes in a really simple black and white design that makes you cherish the olden days when the sport was less commercialised.
Hand-stitched
A true mark of quality for this ball is presented by the fact that it has been stitched by hand.
Such soccer balls offer higher durability and make ball control easier for players, as there's a good level of precision engineering benefit that comes from hand-stitching.
FIFA Quality Inspected
This ball is also a good performance fit because it passes the FIFA quality tests that concern factors like circumference, weight, water absorption and its ability to bounce and rebound.
A lot of buyers simply look at the colour of a ball and think that if the brand is big enough, then they can't go wrong with the purchase.
Well, in some cases that is true.
But having an extra indicator of quality by way of FIFA approval makes this ball stand out as a quality option for those intense training sessions.
Other specifications
Material – 100% polyurethane cover
Butyl bladder for air retention
Diameter – 23 centimetres
5. Adidas Finale Pro Football
Last up we've got the Adidas Finale Pro which was used for the 2021 UEFA Champions League final that was supposed to be held in Istanbul.
This ball has been adapted over the years as the initial look was created with the Champions League logo as the centrepiece.
It's a special edition that encapsulates iconic moments from previous Champions League campaigns as well as the present one, due to the fact that it incorporates every single design from the last 20 European finals.
The year and city of each previous final is surrounded by an embossed star, which represents the significance of this prestigious competition over the years.
Additionally, the ball has received FIFA certification and its laminated surface makes play smooth and enjoyable.
You can also learn a lot more about the soccer balls that players use in the Champions League.
Other specifications
Ball diameter – 21 centimetres
Butyl bladder
Thermoplastic polyurethane cover
Other Adidas soccer balls worth mentioning
There are so many good quality Adidas balls other than the standout ones that I've spoken at length about.
You can essentially take your pick from the list of options below:
I also have a more detailed explanation of what glider soccer balls are, so you can check that out too.
What to consider before buying an Adidas soccer ball
Prior to splashing the cash, you should take the time to perform a couple of final checks.
Here's what you need to look out for:
Air retention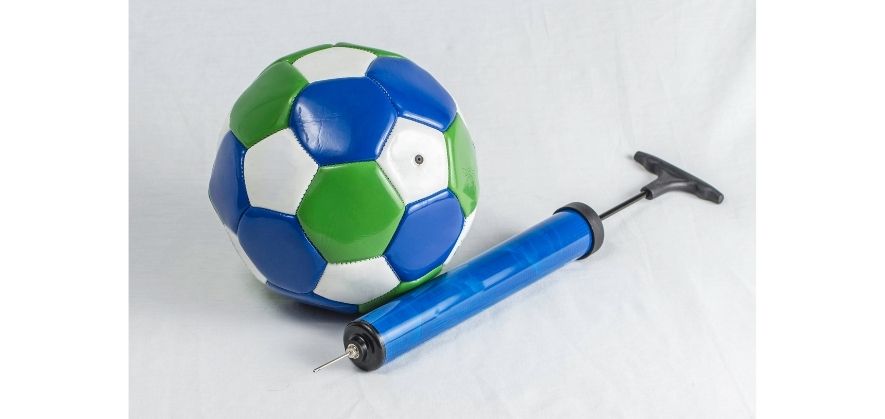 Now you don't want to buy a soccer ball that requires frequent re-inflation.
So, check the type of bladder that's been used in its construction.
This is because butyl bladders are said to be much better for air retention and durability than their latex counterparts.
Level of play
If you're only interested in small kickabout sessions with a group of friends, you don't need to empty your wallet for an elite competition match ball.
You can save yourself that expense and grab a replica for a fraction of the price.
Construction type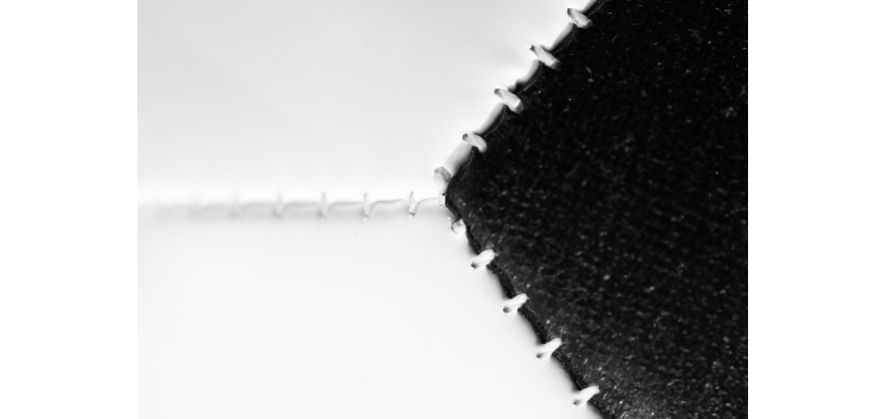 The choice with regard to construction relates to whether the ball was thermally bonded, machine stitched or hand sewn.
Personally, I'd rarely opt for a machine stitched ball as I'm fairly sure these haven't received the sort of meticulous attention to detail that the other types have had.
After all, machines are looking at churning out the volume in the shortest time frame possible.
So, I'd go with either a hand sewn or thermally bonded one; with the heat formation type also offering water resistance.
Are Adidas soccer balls good?
I can confidently say that Adidas clearly beats Nike when it comes to soccer ball manufacturing.
If you've read my roundup on the best Nike soccer balls, you will have noted that I vouched for only a select few products.
That hasn't been the case with Adidas.
In fact, there's been so much choice I even had to include a dedicated sub-section in this article that lists more than a couple of other Adidas soccer balls that would be worth it for a buyer to consider as secondary options.
But it doesn't really come as much of a surprise to me, as Adidas has delivered match balls for the World Cup and European Championships ever since the year 1970.
Although some of them – like the Jabulani used in the 2010 FIFA World Cup – caused quite a stir amongst players and media outlets, the vast majority of the soccer balls Adidas have produced were of stellar construction.
Verdict
Now I always like to offer a final recommendation at the end of these roundup posts.
Making a purchase decision when you've got more than four or five choices to weigh up can leave you in an unpleasant state of analysis paralysis!
So, I'm going to make things slightly easier for you by suggesting a final decision of the Adidas Uniforia Pro ball.
Alternatively, you could pick up either of the Uniforia's club, league or training equivalents.
Latest posts by Samuel Waihenya
(see all)