Disclaimer: Soccer Whizz is a participant in the Amazon Services LLC Associates Program, an affiliate advertising program designed to provide a means for sites to earn advertising fees by advertising and linking to Amazon.co.uk (source: Section 5). As an Amazon Associate I earn from qualifying purchases. This post also contains ShareASale affiliate links, for which we earn small commissions.
Adidas have been in the business of producing sports apparel for a very long time.
They're a world-renowned brand that trails just behind another major player in Nike, which is a great testament to their success as a company.
In fact, the German manufacturer of athletic shoes and other sporting goods is the largest sportswear manufacturer in Europe and second largest in the world after Nike.
You can rest assured that their products are of good quality, especially when it comes the topic of soccer socks.
This article has been written with the brand in mind, as it looks to detail the features and benefits of the socks that they develop for the world's most popular sport.
Let's get started with a quick summary of the recommended options.
The Adidas Metro 4 Soccer Socks win for their unrivalled durability, as these socks hold up really well against wear and tear that comes from playing competitive soccer games. More so, the shaped compression in the arch and ankle areas offer the wearer a really snug and supportive fit which allows a person to really concentrate on their pitch performance.
Anyway, read on for the rest of the details.
1. Adidas Metro 4 Soccer Socks
Adidas Metro 4 Soccer Socks
Lightweight yarns and durable construction for a close fit
Climalite moisture wicking yarns help keep your feet cool and dry
Targeted arch and ankle compression for added comfort and support
Top of the pile, we have Adidas' Metro 4 Soccer Socks.
At first glance, you quickly realize that the design of these socks certainly doesn't do enough to get your eyebrows raised.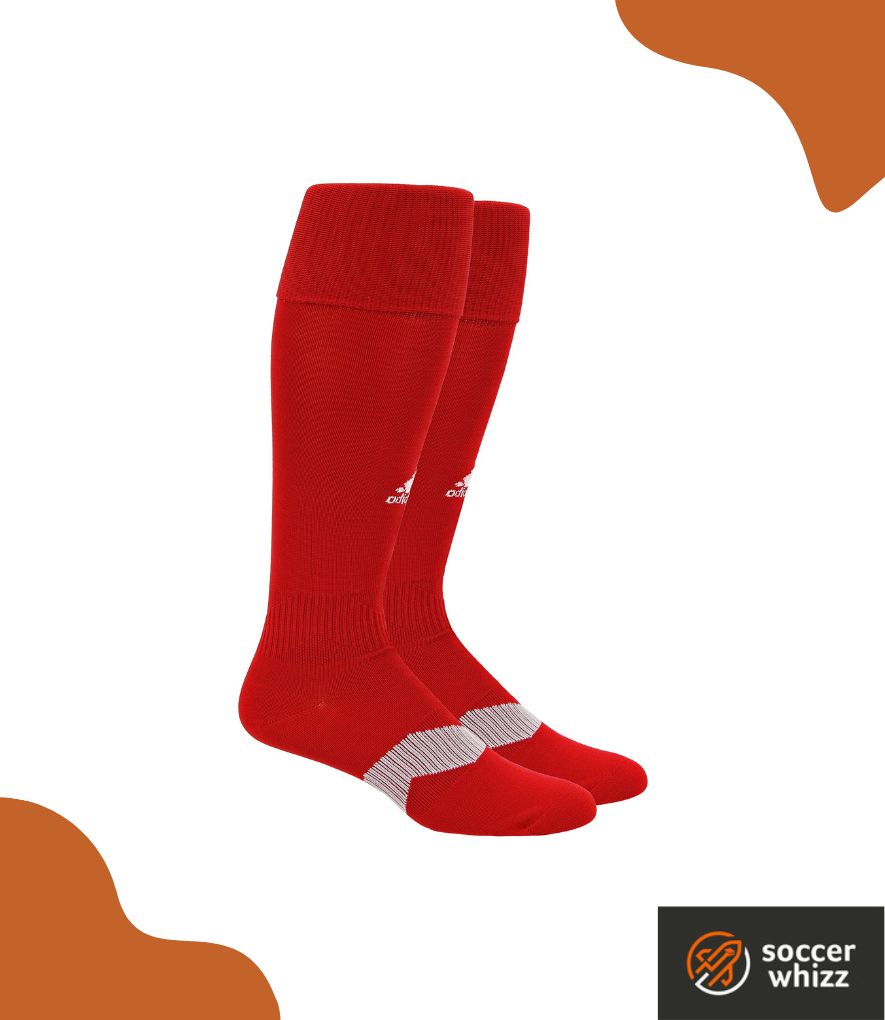 Other than the contrasting fabric pattern located near the toe area, these come in a number of plain and simple colorways that don't really stand out.
But where these socks really excel is with regard to the performance benefits that they offer for players.
Let's now discuss a few of these plus points in turn.
Ribbed construction
For starters, these socks come with sculpted cushioning within the toe and forefoot areas.
What's so good about this extra support is that it inhibits friction that can cause blistering as you play.
Soccer involves lots of sharp and quick movements, and these socks are built to prevent the abrasions that lead to skin peeling off of the toe and forefoot areas, which are usually hotbeds for friction.
We've all been there.
You come back home from a soccer game only to remove your socks and find a massive blister present on your hallux (i.e. big toe).
The ribbed construction that these socks are made with really help to prevent the aforementioned scenario from happening.
TraxionTM outsole
Adidas have done a lot of research into what makes a good soccer sock.
You can tell by the sort of features they've incorporated into the design.
They've made sure the outsole of these socks is specifically built to provide slippage control.
So, when you anticipate player or ball movement on the soccer pitch, you'll be able to react quickly off the mark.
This is because the outsole located on the heel area gives you the traction needed to set off on a sprint as soon as possible.
Compression fit
Another aspect of the sock design that is really impressive is the all-over compression fit.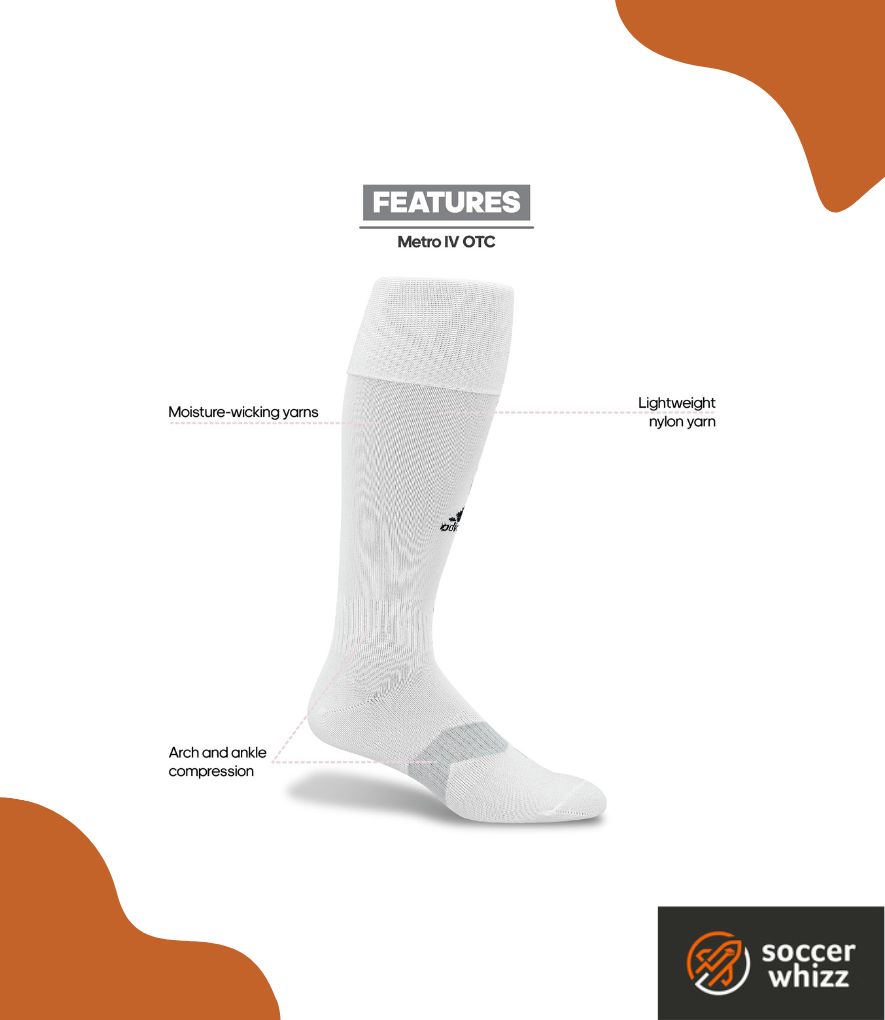 This provides excellent stability and support for every lunging tackle and running stride that you make out on the field.
More precisely, these socks come with a specially shaped compression in the arch and ankle areas that boost comfort levels for the wearer.
Other specifications
Material composition – 89% nylon, 8% polyester, 2% natural latex rubber, 1% elastane
Length – over the calf
You can get the new and improved version of these socks as well, as the Metro 5 version is available to purchase.
Metro 5 Soccer Socks (1-Pair)
New and improved double welt construction to stay in place all game long.
Lightweight yarns and durable construction for a close fit.
Moisture-wicking yarn keeps your feet cool and dry.
These differ slightly from the previous version, coming with a double-welt construction to help the socks stay in place when worn all game long.
2. Adidas Copa Zone Cushion 4 Socks
Copa Zone Cushion IV Socks
This product is made with recycled content as part of our ambition to end plastic waste.
Moisture-wicking yarn keeps your feet dry from sweat.
Targeted cushioning at heel and toe for shock absorption.
Our second pick has to be the Adidas Copa Zone Cushion 4 Socks.
Note: this product is also sold here on Prosoccer.com
Admittedly, they don't look much different from the previously reviewed Metro 4 Socks.
But the classic three-stripe finish at the welt area, accompanied with their brand logo embroidered on the center front really accentuates their premium appearance.
Here are a couple of highlight features for these socks.
Ventilated toe-cooling channel
You don't want your feet to stink after you've finished playing a soccer game.
These socks are built to stop the sweat build up that causes this to happen, as the lightweight construction of the moisture wicking yarn keeps moisture away from the skin.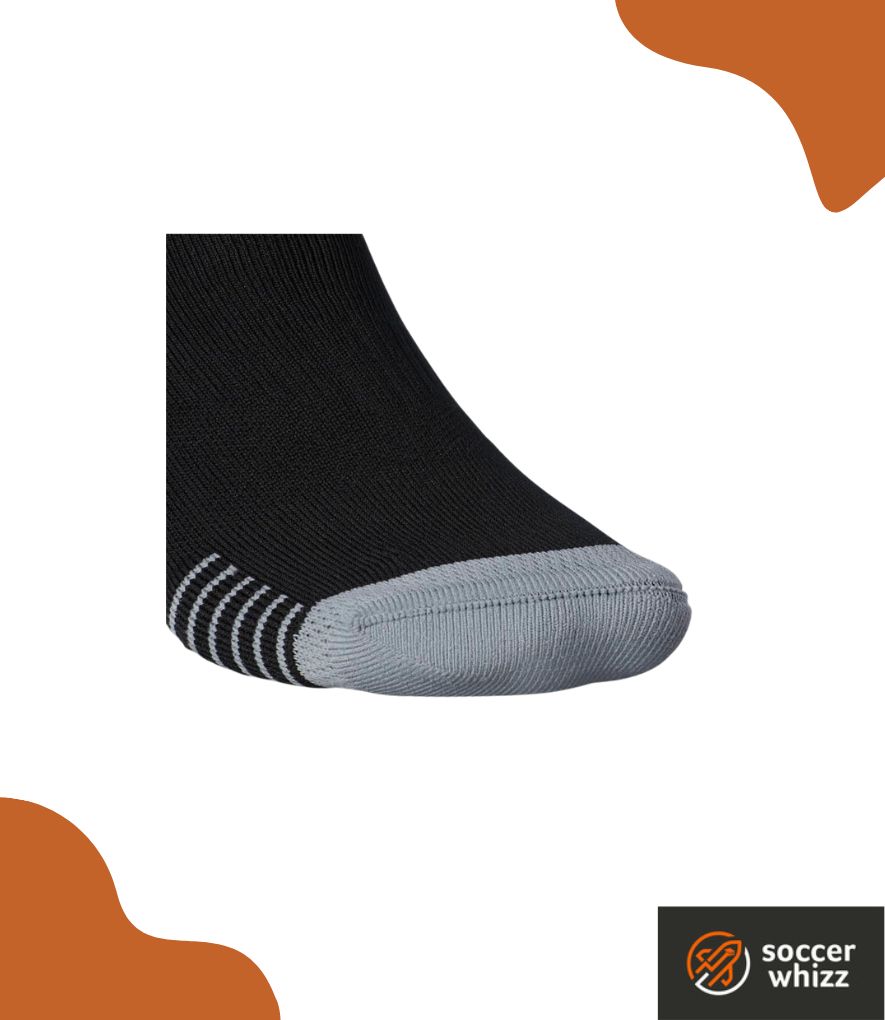 Additionally, there's an extra toe-cooling channel embedded into the toe design that offers extra ventilation in this area, which ultimately improves breathability.
Footbed cushioning
As a soccer player, you want your gear to provide you with a good amount of stability and support as you showcase your skills on the field.
These socks are made with this in mind, coming with added cushioning on the heel and toe areas.
What this does is absorb the shock associated with various impacts you experience while involved in a competitive game, such as:
Striking the soccer ball with power;
Crunching tackles and sliding challenges; and
Coming to ground after jumping to contest an aerial ball
Believe it or not, your feet are a delicate part of your body and care must be taken to preserve and protect them.
Cushioning on the footbed of these socks is great because it helps absorb the force of impact as you play, which makes you more comfortable on the pitch.
Other specifications
Material – 98% recycled nylon, 2% elastane
Length – over the calf
Another alternative for these socks are the Copa Zone Cushion 2 socks.
You can check them out on Amazon below:
We also managed to find a pretty good review of these socks, which can help inform your purchase even more.
Have a look here:
3. Adidas Adisock 18 Socks
Adidas Adisock 18 Socks
Techfit technology for arch and ankle compression
Lightweight zoned cushioning
For Motion for improved comfort and enhanced performance
Last but not least, we have the Adidas Adisock for 2018.
This product really focuses on breathability for players, so let's take a look at exactly how this is achieved.
Climacool technology
If you have a keen eye, you'll be able to spot the strategically placed mesh inserts on these socks, which provided added ventilation as air is able to pass through the fabric easier.
This is supplemented by the company's climacool technology, which purposefully keeps your feet cool and dry in warm weather conditions using fast drying fabric.
Here's a quote from the companies own website on what their proprietary technology does for their products:
"adidas Climacool helps keep feet cool. Climacool running shoes have breathable mesh in the upper plus vents in the midsole and outsole to create 360-degree breathability. adidas has also made use of Climacool ventilation in clothing. Climacool mesh ventilation provides breathability in key sweat zones in jerseys, tees, shorts and other clothes made for soccer, training and other sports."

Source – Adidas official website
Anatomically shaped footbed
Moving on from breathability, one thing that really makes these socks stand out is the fact that each pair has a specific right and left foot design.
That's right!
As a soccer player, these socks are left and right footed with their design catering to the shape of each leg, which can have huge benefits for on-field performance.
Other specifications
Material – 75% polyester, 25% polyamide, 4% elastane
Fastening – drawstring
Length – over the calf
If you're not satisfied with the level of comfort that these socks offer, you can instead take a look at the Adidas Adisock 2021 version.
The material makeup of these differ slightly from the 2018 model, as they comprise of a higher percentage of polyester (i.e. 81%) and feature a bit of cotton fabric (i.e. 11%) instead of polyamide.
What this may mean is that they offer slightly improved breathability for players, as cotton is known to absorb moisture quite effectively.
Other Adidas soccer socks worth looking at
The list of Adidas soccer socks certainly doesn't end with these three options!
Check out the products below, as there are a number of really good alternatives that may cater to your specific taste.
Considerations before buying Adidas soccer socks
It can be very exciting doing online shopping or taking a trip to the nearest sports retail store to get your gear.
But you have to really consider certain aspects of the products you intend to purchase because you don't want to have buyer's remorse.
When it comes to Adidas socks, here are a few things to bear in mind.
Climalite vs Climacool
These two technologies aren't the same.
Climalite cools the body by draining away liquid sweat, whereas Climacool focuses on ventilation and moisture control for athletes.
Both of them serve to cool the body, its just that the way in which they do so is different.
If you're someone who doesn't like the stickiness and dampness that wearing soccer socks for a long time can cause, then you're better off with Adidas socks advertised with Climacool as they'd do a better job of keeping your feet dry as you play.
Wash ability
Some Adidas socks are machine washable, whilst others are only made to be washed by hand.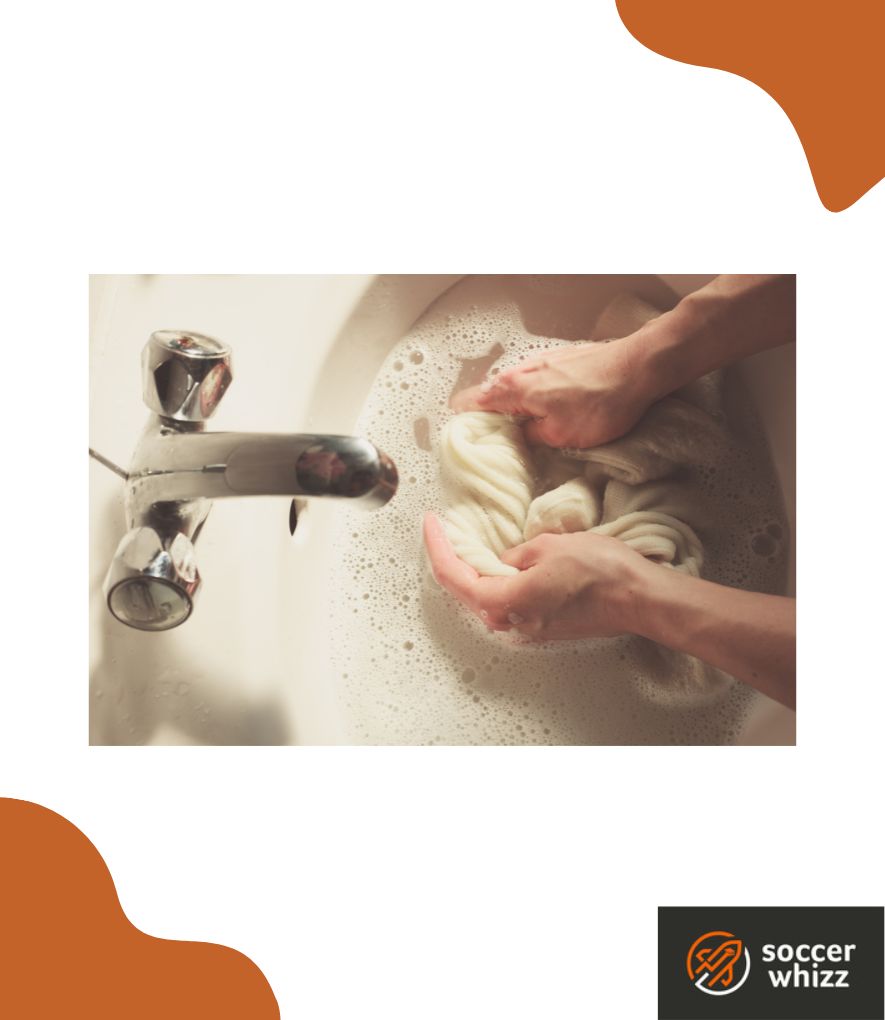 Have a good read of the fine print before you go ahead and add a pair to your shopping cart, as you wouldn't want to machine wash socks that weren't meant for this cleaning technology in the first place.
The consequence of doing this could be damaging or weakening of the fabric, which could have a subsequent effect on the protective reinforcement it offers when you're playing competitively.
Summary
There is a really good amount of variety on the market when it comes to Adidas soccer socks.
You really can't go wrong with any of the pairs mentioned within the contents of this article.
However, should you wish to consider another brand, then take a look at our recent post on the finest Nike soccer socks.
You'll find an equally good pair to purchase there as well.
Alternatively, check out the best of the best in our article on the best soccer socks.
If you enjoy the content that I create and would like to buy me a coffee, then I'd really appreciate it!
Any money that I earn through this donation will be re-invested into more content for this website.
Additionally, by sending in a donation you'll also receive a copy of my recently released 190+ page eBook on Soccer Ball Care, as well as be subscribed to our mailing list where you'll be regularly informed on the latest developments concerning the Soccer Whizz blog.
Latest posts by Samuel Waihenya
(see all)