Disclaimer: Soccer Whizz is a participant in the Amazon Services LLC Associates Program, an affiliate advertising program designed to provide a means for sites to earn advertising fees by advertising and linking to Amazon.co.uk (source: Section 5). As an Amazon Associate I earn from qualifying purchases.
Trying to keep your canine friend busy?
Well, I have the perfect idea for you!
Instead of taking them out for a leisurely stroll in the afternoons, consider breaking up the monotony of daily routine by purchasing a dog proof soccer ball instead.
These objects are typically built to withstand the incisiveness of their teeth, so you can rest assured that your dog proof soccer ball will last for as long as you intended it to.
If you're in a hurry, you can quickly browse through my list of top picks and see what tickles your fancy:
The Jolly Pets Soccer Ball wins by a fair margin here with it's uniqueness of features and maximum durability. Its fruity scent is able to keep dogs fully engaged whilst remaining tough enough to withstand the sharp teeth of canine specimens.
Before you decide to make your furry friend a happy pup, take a closer look at each dog soccer ball that we've decided to review.
1. Jolly Pets Soccer Ball
Sale
Jolly Pets Soccer Ball
The Jolly Soccer Ball is an almost indestructible soccer ball for your dog and smells of vanilla.
This ball will not deflate if your dog's teeth pierce the ball.
Even if the ball has a hole, the ball will return to its original shape.
Jolly Pets was founded in 1994 and over the years they've continuously strived to make durable products that will enrich people's pets.
They're a brand that places an immense amount of focus on creating toys that will improve a pet's quality of life.
At the heart of that mission is the objective of being a brand that mainly delivers on the aspect of fun, all whilst taking into account the safety of your pet too.
Now, the Jolly Pets soccer ball comes out on top for a number of reasons.
Let me explain by way of dissecting the product's feature set.
Vanilla scented
That's right!
You see, this ball smells exactly like vanilla.
And why is that a good thing?
Well for starters, think about how humans are drawn to the sweet aroma of delicacies containing more than just traces of this fine ingredient.
It could be an enticing fruit tart or even a traditional cheese cake.
Vanilla is an ingredient that we are naturally drawn to, and the same applies to dogs as well.
With this flavour scenting embedded into the structure of the ball, you will have little to no trouble getting your dog to play with the soccer ball.
Dogs are known to possess about 300 million olfactory receptors in their noses, which is a huge difference when you compare that with the number of these receptors present in humans.
This translates into them having a greater devotion towards analysing smells than us, and they can be drawn to objects that are quite a distance away.
So, as a buyer, you're likely to have little to no problems with this ball drawing and keeping your dog's attention, as the smell of vanilla will get its receptors working in no time.
Supposedly, the flavour of scent is as follows:
But this information I found is at odds with the product listing on Amazon which indicates that the blue version is vanilla scented.
Oh well, I guess it's up to you to find out!
JollyFlexTM material
Another plus point of this dog proof soccer ball is that it's made from a material that is almost indestructible.
If you still have some doubts about whether dogs can play with soccer balls, then check out the article that I've just linked to in this sentence.
That should give you all the information you need.
Under normal circumstances, a standard soccer ball would be ripped to shreds by the sharp teeth of a canine animal.
Because those soccer balls aren't built for dogs, they cannot withstand the roughness of play which exceeds anything that a careless human being can muster up!
However, this dog soccer ball manages to thrive in such an environment.
It is made from a material that doesn't deflate even when it's punctured.
So, even if your dog succeeds in puncturing it with a hole, the shape of the ball will remain intact.
Although the manufacturer does advise buyers with a word of caution.
They recommend that a person supervises their dog whilst they play with this ball:
"Parts of this item can be a choking hazard to pets and children if removed from the toy. If any becomes loose, detached, or destroyed, remove the toy and discard immediately."

Source – JollyPets website
Float capable
One more area that I wish to point out is the fact that this dog poof soccer ball floats in water!
That means when you and your dog decide to go for a swim, you can easily carry this ball along with you and enjoy the time in the water.
Games like water-based catch and fetch become pretty ideal leisure activities with this ball, as your dog will have no trouble retrieving a ball that calmly floats on the surface.
Video review
Before you fully make your mind up on whether you want to buy this ball, have a look at some real-life footage of it in action:
Other specifications
| Dog Size | Ball Size | Dog Weight |
| --- | --- | --- |
| Small | 6 inches | 0 - 40 lbs |
| Large | 8 inches | 40+ lbs |
Allergen free
Item weight – 544 grams
Diameter – 8 inches
2. Chuckit! Ultra Ball
Sale
Chuckit! Ultra Ball
ULTRA BOUNCE BALL: The Chuckit Ultra Ball offers high bounce, buoyancy, visibility, and durability; This dog toy can be used in the water and is designed specifically for the game of fetch; Compatible with Chuckit Launchers
NATURAL AND DURABLE: Featuring an extra-thick natural rubber core, these tough dog toys are durable for long-term use
HIGH-VISIBILITY COLORS: The orange and blue design means pets and pet parents can easily spot the bright ball during outdoor play
Here we have a brand based in the United Kingdom that's managed to produce something magnificent.
Admittedly however, there isn't a lot in the way of background information about the company available on their official website, which does leave a lot to be desired.
They only mention that plenty of competitors have tried to replicate the design and performance of this dog proof ball since the late 1990's.
You've got to wonder though, if many people have tried to copy this product then there must be something really good about it, right?
Ultimately, their story doesn't sound that convincing.
The brand behind this ball can easily be given a failing score because they don't do a great job of telling people what they're all about in terms of their corporate values and mission.
But because the product that they've got on offer has amassed more than 40,000 global ratings, you simply have to reconsider that thought.
Moving on, let's see what everyone else is raving about as the Chuckit! Ultra Ball arguably has a hell of a lot to like!
Thick rubber core
Manufactured with durability in mind, this ball performs admirably in this area.
It features a thick rubber core material and a wall lining that is sturdy enough to give your canine pet hours and hours of enjoyable play.
What's great about this dog proof soccer ball is that it doesn't really matter whether your dog bites into it repeatedly or tries to gnash its teeth with it.
The ball will hold firm.
In addition to the strength that the rubber provides, the ball also exhibits a high impact bounce.
You will revel at the sight of your dog leaping into the air to collect this ball, because its lightweight nature works well in combination with the rubber core to deliver on a bounce that you rarely see delivered from a soccer ball of this type.
And one other area that stands out to me is the smoothness of the rubber surface.
Now dogs love to slobber all over a ball whenever they've got one in their mouths.
Due to the fact that the rubber is soft, this ball can be wiped clean pretty easily.
Colourful design
Orange and blue are the colours used here to attract the dog's attention.
Not only do these bright shades succeed at grabbing a pet's interest, however.
They're also capable of providing the right amount of visibility that a parent would need to spot the ball when it's landed within a particularly grassy area.
Fully buoyant
Your can also choose to let your dog play with this ball in the water due to its buoyancy.
Make those games of fetch within a swimming pool or lake a reality.
Video review
Have a look at the compact size of this ball in the video below:
Other specifications
Item weight – 187 grams
Diameter – 2.36 inches (6 centimetres)
Allergen-free
Material composition – rubber
3. The Company of Animals Boomer Ball
The Company of Animals Boomer Ball
VIRTUALLY INDESTRUCTIBLE - The Boomer Ball is the ultimate tough toy and ideal for those ball-obsessed toy destroyers
HIGH QUALITY - This incredibly tough ball is made from polyethylene and means that most dogs can't puncture the ball or rip it to shreds!
EXERCISE AND STIMULATION are promoted through the use of the Boomer Ball
The dog soccer ball that's been developed by this brand has gone through a lot of careful crafting.
Over 35 years have been spent by them trying to strengthen the bond that pets and their owners have with each other, which is really commendable if you ask me.
They were established in 1979 by an animal psychologist called Dr. Roger Mugford and since then they've gone on to create innovate solutions for dog owners in collaboration with the UK Animal Behaviour Centre.
As of today, the brand has products in more than 52 countries worldwide, and that says quite a lot about their global presence.
We've got a few things to like about this dog soccer ball, starting with one feature that I found a little bit different to the other options reviewed so far.
Mentally stimulating design
The Boomer Ball is not designed to be picked up by the teeth of a dog.
A buyer is actually supposed to go with a size that is big enough for their own dog not to carry.
Instead, the dog should herd and push the ball around with their nose, which should essentially keep them well stimulated for hours on end.
Dog chasing is a natural canine instinct, so by them nodding the ball forward again and again, they will remain engaged for a long while.
So, this ball is designed to play on a dog's natural behaviour by attracting them towards the prospect of hitting it forward and following after it.
Quite interesting to say the least!
Check out the size guide below to ensure that if you do purchase one, it's the right fit for your dog:
| Ball Size | Ball Weight | Appropriate for... |
| --- | --- | --- |
| 4 inches | 0.11 kilograms | Bichon Frise / Jack Russell / Ferret |
| 6 inches | 0.23 kilograms | Border Collie / Visla / Goat |
| 8 inches | 0.49 kilograms | Bernese MD / Labrador / Pig |
| 10 inches | 0.89 kilograms | Bull Mastiff / Rottweiler / Tiger |
Polyethylene material
On a separate note, this ball is comprised of a tough polyethylene material.
This substance is strong enough to be puncture proof, which ensures that your canine buddy can't tear into it or rip it to shreds.
You will be surprised just how firm this ball is, because even the most aggressive and determined dogs aren't able to conquer this one.
Other specifications
Item weight – 9.07 grams
Size – 6 inches
Fill material – polyester
Waterproof and buoyant in water
4. Planet Dog Orbee Tuff Soccer Ball
Sale
Planet Dog Orbee Tuff Soccer Ball
DURABLE TREAT-DISPENSING CHEW TOY: Take your fun outdoors with the Orbee-Tuff Sports line. Made from tough TPE material, each Orbee-Tuff ball comes with a hole to stuff your pup's favorite treats for a tasty reward during playtime.
BOUNCY & BUOYANT: Orbee-Tuff Sports dog chew toys can be used in both water and on land! Your pup will love the versatility of this toy as they fetch and splash around.
BPA, PHTHALATE, & LEAD-FREE: All Orbee-Tuff Sports products are made with TPE material that is BPA, lead, and phthalate-free. Flavored with natural mint oil, these dog toys will also help freshen your dog's breath as they bite.
Planet Dog is a brand owned by a company called Outward Hound.
They are said to be a combined team of passionate pet parents who have a commitment to developing products that get the tails wagging and make the overall leisure experience for pets an enjoyable one.
Outward Hound stands for the values of love, respect and unity when it comes to how they operate, and for the last 15 years they've made tremendous strides to expand their family of pet brands all across the globe.
Alright, now let's dig into what their Orbee Tuff ball brings to the buyer's table.
Thermoplastic elastomer (TPE) material
Toughness is one of the most important factors to weigh up when looking for a dog soccer ball, and this one stacks up well in this area.
Unlike the best soccer balls that are built from things like synthetic leather, polyurethane or polyvinyl carbonate, this one is made up of a durable thermoplastic elastomer material.
As an owner you don't have to worry about your dog getting ill through biting into it either, as it's bisphenol A (BPA), lead and phthalate-free.
Storage holes for treats
One great feature of this ball is the innovative way in which it's able to incentivize rewards for dogs.
You see, on either side of the ball there are holes that act as compartments where an owner can easily tuck away dog treats and other sumptuous goodies.
Dogs love being rewarded for good behaviour, and having convenient compartments to store treats within the ball is a fantastic way of keeping them engaged throughout periods of leisure.
Mint flavoured
Additionally, the ball is flavoured with natural mint oil.
This helps tremendously with freshening your dog's breath as they bite and try to gnaw onto the ball.
You will also notice that the ball doesn't retain any pungent odours due to the presence of this minty oil.
Other specifications
Gluten free
Item weight – 330 grams
Diameter – 5 inches
Qualities to look for in a dog proof soccer ball
Alright, with those reviews complete you'll now be guided through some of the things to consider when you're about to make a dog soccer ball purchase.
Let's get started…
Safe materials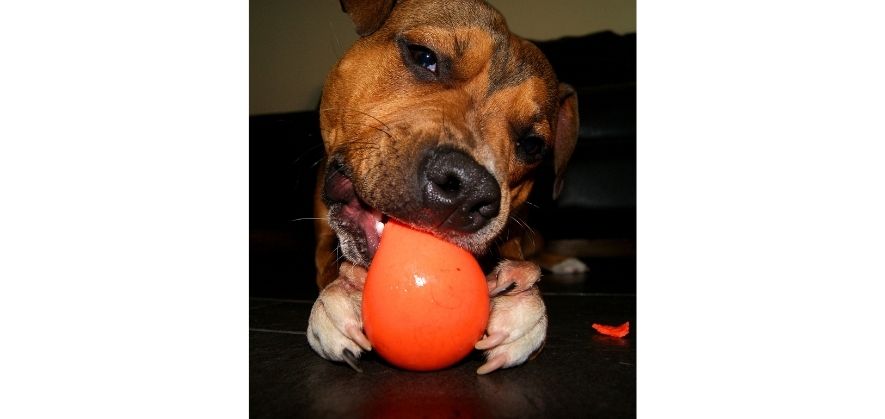 Safety. Safety. Safety.
It's so important for your canine friend to play with a ball that's safe, as well as in the comfort of a safe environment.
Most toy manufacturers will opt for non-toxic plastic or rubber for dog proof soccer balls.
However, some sellers make use of their own bespoke blends of plastic so it can be quite difficult for a person to tell if the ball they're about to buy is safe or not.
This requires you to do a lot of due diligence by looking up product specifications and finding out about the other components used in their construction.
Generally, if you want to be on the safe side you should stick to buying dog toys made from countries where safety legislation is strict and imposed, such as the:
United States
Canada
Western Europe
Durability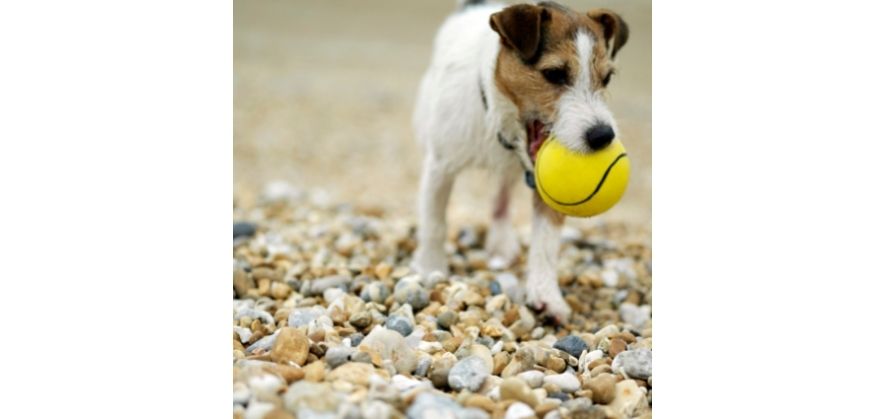 Every buyer is looking for longevity in the products that they purchase.
This is no different here.
A poorly constructed dog soccer ball won't last because it will be chewed to pieces.
You'll want to weigh up the reviews of customers who've bought the product you're considering, and take into account any feedback that they give which relates to how the product holds up over time.
Make a note of any visual evidence such as tears and scratches, as such things can be quite useful when you're evaluating a couple of options side by side.
Smooth exterior
You don't want your dog to get injured from playing, so take the care to ensure that the ball you pick has a soft exterior with thin or non-existent seams.
Dog teeth are able to grab hold of even the tiniest of strings, so any ball with rough seams or imperfect edges can become a hazard for your pet.
Buoyancy
Some dogs like to have a paddle in the water with their toys, so you'll want to weigh up whether the ball that you're intent on buying can float easily in a swimming pool or a lake.
The last thing you'll want to encounter is a ball sinking to the very bottom!
Although you'll need to make sure you don't purchase something that's too lightweight, because such a ball can easily be swept away by the momentum of the water.
Once again, the manufacturer should indicate whether their product floats or not.
Size
Why is size important?
Well, if you have a large or average-sized dog, then a small dog ball may end up being a choking hazard for your pet, particularly in the event that they are left to their own devices with it.
On the flip side, a smaller ball can be much easier for a dog to take grasp of, as they can use their mouth to grab hold of it.
Colour
If you're set on using the dog ball in the house, then the colour choice simply becomes a matter of personal preference.
On the other hand, if you intend to have your dog play with it outside, then you'll want to make sure you pick colours that offer high visibility in an amongst long strands of grass.
You see, it's quite easy for a ball of this size to get lost in a field.
Try looking for noticeable colours like orange or neon yellow.
Although white is a clear no go, even though it's light enough.
This colour can collect grass stains over time which would make it blend in with green grass that ultimately makes it more difficult to spot.
Culmination
Once again I'd just want to reiterate that the Jolly Pets soccer ball should be your first choice when you're looking for a dog soccer ball to buy.
It's very robust and comes with a vanilla scented flavour that will draw and keep the attention of your dog for long stretches of time.
For owners who'd like to have a kickabout of their own, why not check out our other buying guide on the best soccer balls or our roundup post on the finest smart soccer balls.
Latest posts by Samuel Waihenya
(see all)