Disclaimer: Soccer Whizz is a participant in the Amazon Services LLC Associates Program, an affiliate advertising program designed to provide a means for sites to earn advertising fees by advertising and linking to Amazon.co.uk (source: Section 5). As an Amazon Associate I earn from qualifying purchases. This blog also earns small commissions from ShareASale affiliate links placed within the article.
Goalkeeping in soccer has evolved quite dramatically over the last couple of decades.
If you journey back to the era before television screens broadcasted matches in black and white, you'll notice that goalkeepers never even used to wear gloves on their hands!
But as modern technology has evolved and adapted, goalkeepers have had to keep up with the changing demands of the sport.
These days, the men between the posts wear gloves made of the finest and most sophisticated materials.
In this article, we're going to take a look at the glove range offered by one particular brand.
Without further ado, let's take a deep dive into the best goalkeeper gloves offered by Elite Sport.
Here's a comparison table that showcases the highly recommended options:
Suffice to say, the Elite Sport Neo Revolution Aqua gloves manage to come on top of the pile. Their quality is epitomized by the exceptional grip that they offer in wet playing conditions and the durable rubber embossed on the backhands that allows for safe punching performance.
But if you're interested in learning more about each of the aforementioned pairs of Elite Sport goalkeeper gloves, then continue reading.
1. Elite Sport Neo Revolution Aqua Goalkeeper Gloves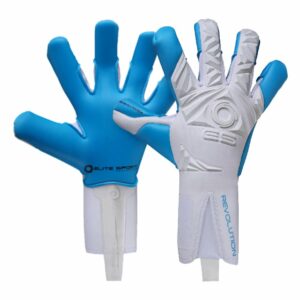 Elite Sport is one of the fastest growing young and promising brands that focus on goalkeeper gloves.
After working on this product for several years – with its first production for the general market released in 2019 – they have developed an incredibly awesome set of Neo Revolution Aqua gloves which might be one of their best products yet.
So, let's delve into this magnificent piece of sporting gear by taking a look at its standout features:
4mm elite latex palm
Glove grip is absolutely fundamental for a goalkeeper.
Without it, they wouldn't be able to catch the soccer ball and prevent opposition players from scoring, which would be detrimental for a team's performance.
These gloves tick the box of providing exceptional grip in wet playing conditions, as the 4 millimeters of Elite EsTec 5007-B latex gives wearers the stickiness they need to be able to hold onto a slippery ball.
In addition to this, the palm area has 4 millimeters of backing foam that provides extra comfort and a lining of moisture-absorbing fabric that keep hands warm and dry.
Extended glove body
You'll like these gloves even more when you realize that they have an elongated closure.
What this means is that the glove body is extended through the wrist entry area, which gives the wearer a more secure elongated fit on their forearms.
In addition to the extended fit, these gloves also feature removable wrist strapping that is secured with Velcro fasteners.
So, you can adjust the tightness or looseness of these gloves as you see fit.
From my own anecdotal experience, goalkeepers can get a confidence boost out of this as they know that their gloves won't wobble about when they try to catch or parry an oncoming shot.
3D embossed backhand
Another impressive element of these gloves has to do with the durability offered by the backhand area.
You see, the backhand of these gloves have been embossed with 4 millimeters of durable rubber which is supposed to enhance a goalkeeper's punching performance.
So, you don't have to be worried about dealing with set pieces as you can easily clench your fist and parry the ball away from opposition danger while wearing these gloves.
Video review
For a visual representation of what this product looks and feels like, you can have a look at the footage provided below:
Other specifications
Palm cut type – Negative cut with wrapped thumb and all-around latex wrap on index and pinky fingers.
Finger protection – no spines provided
Glove sizes – 7 to 11
Should you not like the look of the Aqua version of these gloves, don't worry.
You could also check out the white color variation if more brightness tickles your fancy.
2. Elite Sport Knight Pro Goalkeeper Gloves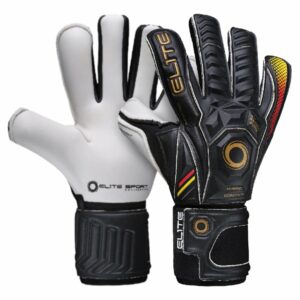 Next up, we have the Elite Sport Knight Pro Goalkeeper Gloves.
Don't be fooled by the traditional black and white design that these gloves have, as they're much more technologically advanced than their appearance suggests.
To learn more about that, have a read of the main features down below.
5mm Ultra GTech Pro latex
Simply put, what we have here is the best grip ever provided by a pair of Elite Sport goalkeeper gloves.
The soccer ball will stick to these gloves very easily, without you having to keep the palms wet either!
3 millimeters of backing foam also gives the comfort and shock absorption you need to be able to hold onto the ball without feeling any sort of pain from initial contact.
Hybrid cut
One of the most interesting parts of this glove's palm design has to do with the hybrid cut.
The thumb and side areas are double wrapped for extreme comfort, which is great when you want to make those fingertip saves without fear of dislocating a pinky!
Conversely, the middle and ring fingers feature a negative cut which gives a tighter fit. This is a popular cut type for this area of the glove as it provides a snug fit as well as lots of latex to ball contact.
Customizable closure system
Another impressive aspect of this glove has to do with its wrist closure.
You get an elasticated cotton wrist entry with a 360-degree latex wrist strap – offering extreme comfort due to the fully adjustable wrapping and extensive material support throughout the entire wrist joint.
Other specifications
Palm cut – hybrid with double wrapped thumb and side wrap for extreme comfort.
Wrist strapping – 360 degree latex strap
Glove sizes – 7 to 11
3. Elite Sport 2022 Monster Goalkeeper Gloves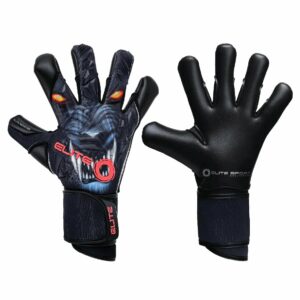 Finally, we have the Elite Sport Monster Goalkeeper Gloves.
At first glance, one cannot possibly miss the eccentric graphics on the back palm of these gloves, which give the product a really monster-like aesthetic.
The design really caters well to goalkeepers with a no-nonsense attitude and playing style.
When you think about it, the scary looking art on the backhand could even serve to intimidate opponents which would work to a goalkeeper's advantage!
Anyway, let's discuss the bits and pieces of this product that offer the performance that goalkeeper's generally desire.
4 mm Es Centenum+ latex palm
First and foremost, these gloves offer goalkeepers tremendous levels of grip in all weather conditions.
Although they perform best when the palm area is kept damp, the tackiness of the latex is enough to make standing and diving saves comfortable even if you're an amateur player.
What's more is that there is 3 millimeters of backing foam embedded into the palm which cushion the impact of the ball, so you don't have to worry about handling powerfully struck oncoming shots.
Simple wrist closure
These gloves have an integral overlap wristband with a rubber pull tab that help to secure the fit.
One of the most annoying things that can happen to you as a goalkeeper is using a pair of gloves that aren't tight enough.
Holding onto the ball becomes much more of a challenge, and that can impact player performance in a negative way.
So, having the wrist closure function in the way that it does gives a secure fit that allows goalkeepers to comfortably focus on other aspects of their game without having to worry about whether the gloves will fall off their hands as they play.
Other specifications
Palm cut type – negative cut with wrapped thumb and semi all-around latex wrap on index and pinky fingers
Backhand – 3D embossed with 4 mm durable rubber
Available sizes – 6 to 11
If the outer glove design of this product is not to your taste, you could also look at the alternative Elite Sport 2022 Volcan Goalkeeper Gloves as they come with the same sort of specifications as the previously reviewed Monster model.
What to look for in Elite Sport gloves before you buy
As with any product roundup, it's imperative to consider the Identify key decision-making factors for the product's category and evaluate how well each item performs in those areas.
We're going to do that right now.
First up, we have…
Palm grip
Are you going to be playing soccer games in the rain?
If so, then you'll want to consider purchasing gloves with palm latex that offers ideal grip for wet conditions.
However, if you're a person who plays soccer in warmer and dryer climates then you're going to want to go for a pair of gloves fitted with latex that performs better or equally well in hot weather.
We have an article which lists all of the best latex types for goalkeeper gloves, so you can have a read of that post to help you make a more informed buying choice.
Alternatively, simply check out our product roundup on the best grip goalkeeper gloves the market has to offer, as this post can ease the selection headache!
Backhand support
If you tend to play more 9-a-side and 11-a-side matches, then being able to punch the soccer ball away from danger after a set piece – such as a corner or a wide free kick – becomes more of a requirement.
In such sort of games, you'll be better off with gloves that come with backhand protection.
After all, you don't want to injure your knuckles by not being adequately equipped.
You'll therefore need to weigh up the amount of backhand material reinforcement that Elite Sport offers for a particular pair of gloves.
The ones with 3D embossing and at least 4 millimeters of durable rubber offer great backhand support and would be my recommendation of what you should opt for in this department.
Fingersave protection
Finally, you might want to consider additional finger protection if you have brittle bones that are more prone to breakage.
Read up on our article defining what fingersave goalkeeper gloves are in case you're not aware of this already.
Elite Sport gloves that come with separate finger spines (individual finger inserts) are great because they're able to stop the hyperextension of your fingers when the force of a soccer ball is too strong for your hands to deal with.
Final verdict – are Elite Sport goalkeeper gloves good?
Ultimately, Elite Sport have a decent range of goalkeeper gloves but they certainly wouldn't be my first brand of choice if I was looking to purchase a new pair.
Their Neo Revolution Aqua gloves arguably rank the highest when it comes to overall suitability and performance, so that's the product that you should probably get your hands on if Elite Sport is what you want.
Alternatively, you can check out another brand called Renegade GK. They have a few great pairs of gloves that are worth investigating.
More so, Storelli does a fine job of manufacturing goalkeeper gloves as well. Our product roundup on their best options could give you even more possibilities when it comes to purchasing.
If you enjoy the content that I create and would like to buy me a coffee, then I'd really appreciate it!
Any money that I earn through this donation will be re-invested into more content for this website.
Additionally, by sending in a donation you'll also receive a copy of my recently released 190+ page eBook on Soccer Ball Care, as well as be subscribed to our mailing list where you'll be regularly informed on the latest developments concerning the Soccer Whizz blog.
Latest posts by Samuel Waihenya
(see all)