Disclaimer: Soccer Whizz is a participant in the Amazon Services LLC Associates Program, an affiliate advertising program designed to provide a means for sites to earn advertising fees by advertising and linking to Amazon.co.uk (source: Section 5). As an Amazon Associate I earn from qualifying purchases. This blog also earns small commissions from ShareASale and CJ Affiliate links placed within the article.
Goalkeeper glove manufacturing has come a long way over the past couple of decades.
If you've been following soccer for a long time, you're likely to have noticed the level of sophistication on goalkeeper gloves steadily increasing as technological advancements and innovations increase within the game that we've come to love.
These days it's so easy to spot a goalkeeper donning gloves that come without wrist strapping, and there are so many pairs that contain all sorts of modern latex palms that enhance grip levels tremendously.
But those things are beyond the scope of this article, as this post intends to look solely at the goalkeeper gloves which offer the best finger protection and support.
Without further ado, here's the list of the top picks:
Storelli Gladiator Pro 3 Goalkeeper Gloves

5-finger removable protection pieces

Reusch Attrakt Freegel Fusion Ortho-Tec Goaliator Gloves

5 removable finger spines

Elasticated neoprene wrist strapping

Elite Sport Aqua H Goalkeeper Gloves

4 removable fingersave spines

Adidas Predator Pro Fingersave Goalkeeper Gloves

5-finger support functionality
The Storelli Gladiator Pro 3 goalie gloves emerge victorious here. They have five removable finger spines that are robust enough to prevent finger sprains, jams and hyperextensions that could cause a lot of pain for goalkeepers.
1. Storelli Gladiator Pro 3 Goalkeeper Gloves
Now you probably thought that Nike or Adidas would come out on top here but that's actually far from the case.
Storelli have been making massive strides in the goalkeeping equipment department, with soccer safety and performance as one of their core business focuses.
Founded in 2010, the company started its ascension in New York City and they've committed themselves to designing gear that will offer the absolute best protection from injuries.
They also strive to look for inefficiencies in existing soccer equipment and correct these imbalances with inventive approaches when it comes to industrial design.
Their Gladiator Pro 3 goalkeeper gloves rank very highly amongst their best selling gloves, so don't be dissuaded by the steep price point that accompanies them.
Here's a couple of reasons why they rank top for a fingersave solution:
Removable finger protection
Storelli's Gladiator Pro 3 gloves come with removable finger protection that consists of five spines (thumb included).
What this means is that if you choose to play without the added reinforcement, you can easily detach each spine before use and fit them back in whenever you like.
The finger protection is robust enough to prevent you jamming your fingers inside the gloves, and it'll safeguard your fingers from hyperextending in the event that you attempt to make a last-ditch save.
You can even tell just by looking at the product image that these gloves really cater to competitive players who need heavy-duty glove solutions that offer huge amounts of impact protection and ample grip at the same time.
High grade German latex
One of the major improvements that this version three glove has over its predecessor is the latex composition.
Storelli are said to have upgraded it to the highest grade of German latex that delivers the grip on the gloves used by professional soccer goalkeepers across the world.
Ultimately, what you get with this product is 3 millimeters of impact foam for maximum palm protection and an additional 3.5 millimeters of German latex on top.
What's even better is the fact that this German contact foam is pre-wrapped in plastic in order to preserve the tackiness and stickiness until the package is opened and worn.
Textured polybutylene punch zones
As mentioned earlier on in the article, new innovations in goalkeeper glove manufacturing have arisen over the last couple of years.
One of these advancements is the addition of silicone spikes to the backhand area of goalkeeper gloves.
You'll see Gianluigi Donnarumma's goalkeeper gloves with those tiny spike elements, which shows that even the best professionals are receptive to the benefits that dedicated punching zones offer.
These Storelli gloves have textured polybutylene punch zones that make it much easier to clear soccer balls crossed into the box without hurting your knuckles.
Video review
Here's some footage of these gloves in action:
Storelli have so many good alternatives for goalkeeper gloves with finger support that it's difficult to leave the other choices out of this product roundup.
For starters, their Silencer Menace Gloves have the same built-in finger protection that helps to prevent backward bending fingers, finger jams and other sorts of finger injuries.
Although for this model of glove, the version that comes without the fingersave spines is recommended because of the more relaxed fit that's delivered as a result.
And then there are a few more bargain bin options like:
2. Adidas Predator Pro Fingersave Gloves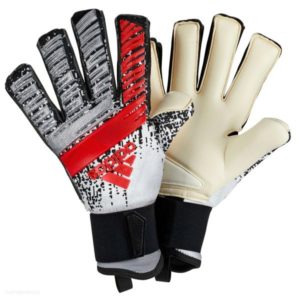 One of the usual culprits has found its way into this review and for good reason.
Adidas hasn't just coasted on its reputation with the gloves they've designed here.
These gloves are made exactly for those high intensity matches where goalkeepers are frequently called into action.
But let's look at how their fingersave protection works before we dig into anything else.
Fingersave support
The fingers of these gloves have spines that do a pretty good job of offering the support needed to comfortably make parries, catches and throws.
How the spines work is that they stiffen and resist pressure when pushed backwards.
So, if you picture a soccer ball traveling towards these spines, they essentially get harder when contact is made and as the force of the ball against the spines increases.
What you end up with is more effective ball deflection as the spines hold firm enough to prevent those gruesome hyperextensions that can cause serious injury.
Palm cushioning
Another area where these gloves excel is how well they are cushioned.
You've got four millimeters of foam padding embedded within the palm area that helps to absorb those forceful impacts.
And on top of that you've got top-of-the-line unrivaled grip (URG) 1.0 latex that makes gripping onto soccer balls a walk in the park.
Flexible wrist closure
Detachable stretch strapping affords players the customization they need with regard to how tight these goalkeeper gloves should fit.
You can either opt for freedom – by loosening the strapping – or stability – by tightening it to the absolute maximum.
You can also consider Adidas' Classic Pro Fingersave goalkeeper gloves which are almost identical in appearance.
These gloves boast the slightly improved URG 2.0 latex although their fingersave spines function in exactly the same way as the gloves reviewed above.
3. Reusch Attrakt Freegel Fusion Ortho-Tec Goaliator Gloves
Reusch Attrakt Freegel Fusion Ortho-Tec Gloves
Fusion foam is Reusch's most powerful foam offering optimum grip and durability.
Evolution Negative cut glove cut very close to the hand for a good ball grip.
Removable slides to protect fingers while maintaining maximum flexibility.
Next up we have these Ortho-Tec goalkeeper gloves made by Reusch.
Reusch is a sports equipment company that's been around for quite a long time, as they're equipped with more than 85 years of experience in developing high quality sports gloves.
Developing goalkeeper gloves has and continues to be their core focus, and since 1934 the brand has stuck to its traditional German roots.
They've made sure to transfer the knowledge and experience gained from manufacturing processes from past to present, which means that they're learning lessons as they go along and making better products each time they launch something new.
Side note: Hugo Lloris wears them!
Now these Freegel Fusion gloves are quite popular as a fingersave support solution, especially because of their:
Removable finger spines
You get five removable spines that guarantee reliable finger protection as you play.
One area that is usually of concern to players who wear fingersave goalkeeper gloves is how well their fingers are able to move once inside the equipment.
Well, you can definitely rest easy here because the fingersave support embedded into the glove design is built-in with optimal move ability of all fingers in mind.
Video review
Sometimes it's better to get a visual perspective of what a product offers.
Therefore, take a look at the clip below, as the review goes into great detail to describe what benefits these gloves have to offer players.
If you're looking for a more budget-friendly version of these gloves then you can check out the pair listed here on Soccer Garage.
4. Elite Sport Aqua H Goalkeeper Gloves
Last up we have these Aqua H goalkeeper gloves from Elite Sport.
Now, a little bit of background information about the company is in order.
Elite Sport is a fast growing brand that has its gear designed by goalkeepers, and it only makes products that goalkeepers use.
They strive to provide the best quality gloves for casual players and the professionals too, and they develop their own contact latex to provide optimum levels of grip in all playing conditions.
When it comes to fingersave support you get four removable finger spines here as opposed to the five that you've seen on other glove models.
On the backhand you get something that looks very technical, so it's probably better to just outline the specs below:
3D-embossed design;
4 millimeter BGS latex; and
4 millimeter reinforced foam backing
What to look for in goalkeeper gloves with finger protection
To narrow down your selection for goalkeeper gloves that contain finger support, you're going to want to consider the following factors:
Spine flexibility
Flexible finger spines mean that you don't get goalkeeper gloves that inhibit your natural finger and hand movement as you play.
You see, finger spines are additional reinforcers that can get in the way of how you move about on the soccer field.
So, if you find fingersave components that don't detract from your freedom of movement, then those are gloves that you should be shortlisting.
Sturdiness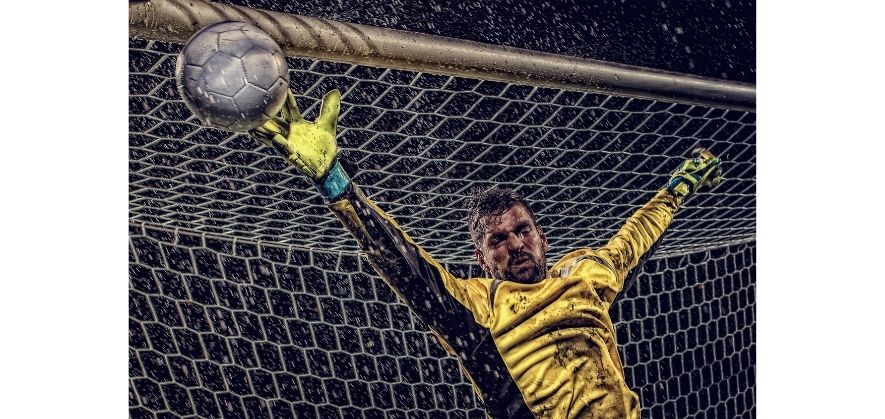 You don't want your fingers to hyperextend when you try to claw onto a soccer ball.
The finger protection has to do its job, and that means being strong and solid enough to prevent those harmful injuries from occurring in the first place.
Final thoughts
That marks the end of this post on the best fingersave goalkeeper gloves.
As a small reminder…
You'll want to try out the Storelli Gladiator Pro 3 goalkeeper gloves for a fingersave solution, as they perform well in preventing hyperextensions and finger jams that could lead to serious injury for a goalkeeper.
Also consider our best goalkeeper gloves if you're after solutions that don't necessarily have fingersave protection as standard.
If you enjoy the content that I create and would like to buy me a coffee, then I'd really appreciate it!
Any money that I earn through this donation will be re-invested into more content for this website.
Additionally, by sending in a donation you'll also receive a copy of my recently released 190+ page eBook on Soccer Ball Care, as well as be subscribed to our mailing list where you'll be regularly informed on the latest developments concerning the Soccer Whizz blog.
Latest posts by Samuel Waihenya
(see all)