Disclaimer: Soccer Whizz is a participant in the Amazon Services LLC Associates Program, an affiliate advertising program designed to provide a means for sites to earn advertising fees by advertising and linking to Amazon.co.uk (source: Section 5). As an Amazon Associate I earn from qualifying purchases.
Nationwide quarantines and lockdown rules having turned the world upside down these past couple of months.
Without doubt it's become increasingly important to keep oneself busy and entertained, as we've grown accustomed to spending the hot summer days playing football in the garden or having the frequent TV binge sessions from the comfort of our living rooms.
Let's add a little bit of spice to our days.
With some parts of the United Kingdom expected to go back into lockdown (looking at you Luton and Bedford!) in the next couple of weeks as coronavirus cases surge again, I thought I'd prepare myself and decided to write a blog post that looks at a few options for football board games that can "break the cycle" so to speak.
The more conventional routine of playing Football Manager 2020 until 3 am in the morning is looking less appealing as every day goes by, mainly because I've not got to grips with the "phenomenon" that is the 3D match engine.
Missed one on ones, 30-yard screamers from opponents flying in game after game and a heap of set piece goals conceded without context have led me to look for an alternative to satiate my footballing urges.
Admittedly, I've never really played many board games other than the occasional game of monopoly or chess, but I was quite surprised at the plethora of options available for a football themed board game in today's market.
Football Billionaire (3rd Edition)

Socceristic Football Board Game

Goals, subs, injuries included

2 players aged 8 and above

World Football Stars Top Trumps Board Game

Self contained plastic case

Gibsons Wembley Family Board Game
As you can see, the Football Billionaire Board Game comes out on top here as it involves the perfect combination of strategy and entertainment, with players able to do various things like negotiate sponsorship deals and collect the best players in the transfer market. It also gets good marks for inclusivity because it caters for up to 6 players which is a healthy amount.
Additionally, there is an important distinction that I must make for the purpose of clarity.
Football board games are not the same as table top / foosball table games. The latter, like the name implies, are usually played on a fold-able tables and are centred more on actual game play as opposed to clever strategy.
This post also won't be looking at any American college football, solitaire football or NFL football style board games, instead focusing on the UK consumer market.
Now I'm going to detail exactly why the aforementioned options are the best.
1. Football Billionaire (3rd Edition)
Football Billionaire
The 3rd edition of the fast moving, high stakes, football trading board game "Football Billionaire". Become the wealthiest and most successful football club owner ever!
Dominate the transfer market: Purchase clubs, buy stadiums and create the perfect team by collecting the best players. Hire and fire managers, close deals with agents, be ready for the transfer window, and swap players with your opposition
Take your club to the top: Negotiate sponsorship deals, win trophies, and increase the value of your club. You can even increase the original card collection by swapping and adding more trading games to your game!
Football Billionaire is one of the best football board games you can get your hands on.
The aim of the game is simply to become the wealthiest and most successful football club owner ever.
You are given the opportunity to purchase stadiums, clubs, as well as mould together the perfect set of players. You've also got the scope to hire and fire managers as you please; negotiate sponsorships as well as deal with demanding player agents!
The objectives of the game are well documented, so I won't go into too much detail with regard to that.
Just like games such as monopoly, each contestant has a footballer as a playing piece and you roll a dice to determine how far the piece moves along the board. There's also a designated referee (banker) who controls the flow of the game.
A player's piece can land on a "SIGN PLAYER" spot, which gives them the opportunity to buy player cards up to the number specified. If a person chooses not to make a purchase, then another contestant can then bid on that same card and purchase it for more than its face value. The profit surplus is then credited at the bank by the referee.
Here are some of the cards you have the opportunity to pick up when playing: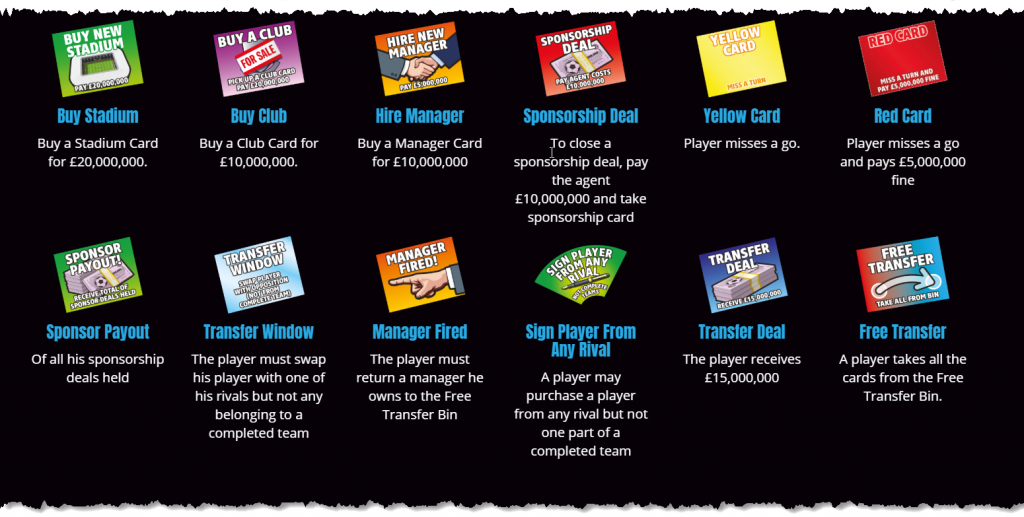 The winner is decided by the player who collects the most money and acquires the most assets at face value.
2. Top Trumps World Football Stars Match Board Game
Top Trumps World Football Stars
The Crazy Cube Game - World Football Stars Edition
Be the first to match five of your favourite footballers in a row – horizontally, vertically or diagonally
But wait! Can your opponent steal the game? Do they have the Top Trump card, can they take the match and win the game
Now here's a game that's a bit more straightforward.
The objective with Top Trumps World Football Stars is to match five of your favourite footballers in a row – either horizontally, vertically or diagonally.
The game also comes with a set of Top Trumps style cards which are used at the end of the game to determine the overall winner. The player with the higher star rated cards wins, even if they had lost with regard to matching five successive cards in a row.
An interesting yet simple concept to say the least!
3. Gibsons Wembley Family Board Game
Gibsons Wembley Family Board Game
HIGH QUALITY - The Retro Football Game - Will your team win the FA Cup and play at Wembley? Manufactured by Gibsons, ideal gift for families, kids, friends and teens.
EPIC FOOTBALL GAME - Perfect for football fanatics of all ages.
CELEBRATE THE FA CUP - A great way to celebrate any football tournament: The FA Cup, Championship, Premiership, Premier League, Europa League, World Cup or Euros, EUFA, FIFA.
For the older generation, this is a board game that can give a feeling of nostalgia as it's based on the FA Cup season of the 1980/1981 season.
I wasn't even born then so I wouldn't even be able to tell you how the road to Wembley was paved that year.
But nonetheless, the Gibsons Wembley Game is a refreshing option as you don't often see games these days that fully cater to the older audiences.
The game simulates the so-called "road to Wembley", commencing at the 3rd round of the FA Cup that season, where only 32 teams are left in the competition.
Each club is represented through a playing card, and these are dealt out to every participant at the start of the game. Players earn money for each victory they achieve along the way, which can be spent acquiring tokens of the very best players for that FA Cup season.
Match winners are determined by the roll of a die which represents the amount of goals scored in the virtual game, although there is a star player modification included which can alter match results.
What adds even more to the excitement of this game is its realism.
Different dice have different number combinations which are used to determine the probability that a Premier League team will beat a team from a lower division.
4. World Football Stars Monopoly Board Game
World Football Stars Monopoly Board Game
Enjoy the Classic Property Trading Game with this special Edition - World Football Stars Monopoly 2019!
Travel around the board and make your bids for the best players from all over the globe
Challenge friends and opponents to bidding wars for your favourite players
The World Football Stars Monopoly game is a special edition of the classic Monopoly game that we all know and love. In essence, players travel across the monopoly board whilst bidding for the best football players around the world.
You've also got the opportunity to add some of the world's most majestic looking stadiums to your arsenal, which makes this game such great fun for football fanatics.
I've also come across a Liverpool Edition, Arsenal Edition as well as a Manchester United Edition which certainly adds a different dynamic to this type of game.
5. Socceristic Football Board Game
My final recommendation is the Socceristic football board game. This is a game tailored to the football tactics lovers.
The premise of the game is this: a player rolls the dice, which determines how far the football moves across the board.
Tiny arrows on the ball are in place to indicate the direction that the ball is supposed to move in, and there are certain squares on the board that activate different scenarios that would, for example require another roll of the dice or the overturning of a card.
What I found most fascinating is that it's the only football themed board game that incorporates every rule of football. This means that you can score goals, make passes and tackles, deliver set pieces such as throw-ins and corners along with having players get sent off and receive injuries!
All in all, this is a great family game.
Now I'd like to briefly touch on what to look for in a quality board game.
Factors to consider when buying a board game
Price
You don't necessarily want to break the bank for a board game now do you?
Personally, I feel better about my leisure purchases when I know I didn't have to part with an arm and a leg for them! You want to get the most entertainment value out of the game for as little cost as possible.
Rules
A good board game will have rules that are inclusive and simple enough for the vast majority of players to conceptualise. You certainly don't want to spend your time sifting through a long list of rules, or having to spend half an hour trying to explain certain game elements to someone unfamiliar with them.
This is why I'm always of the opinion that chess isn't one of the best board games despite its history and overwhelming popularity. It can be a nightmare trying to get someone who hasn't played it before up to speed with all the pieces.
Easy of assembly
You also want a game that isn't too difficult nor time consuming to put together. Part of the fun in board games comes from how you can play them in any sort of setting when they are easy enough to put together and aren't really reliant on much space.
With that being said, here are some of the gems I came across…
Final thoughts
It is my hope that you enjoyed these football-themed board game recommendations.
Break the monotony of the television and gaming consoles, and add more variety to your leisure time this summer with a board game that you can easily play with your friends and family members.
You can also check out our product roundup on the best football toys for kids which has some additional recommendations that might be useful.
If you enjoy the content that I create and would like to buy me a coffee, then I'd really appreciate it!
Any money that I earn through this donation will be re-invested into more content for this website.
Additionally, by sending in a donation you'll also receive a copy of my recently released 190+ page eBook on Soccer Ball Care, as well as be subscribed to our mailing list where you'll be regularly informed on the latest developments concerning the Soccer Whizz blog.
Latest posts by Samuel Waihenya
(see all)