Disclaimer: Soccer Whizz is a participant in the Amazon Services LLC Associates Program, an affiliate advertising program designed to provide a means for sites to earn advertising fees by advertising and linking to Amazon.co.uk (source: Section 5). As an Amazon Associate I earn from qualifying purchases. The blog also earns small commissions from ShareASale and CJ affiliate links placed within the article.
An often-overlooked contributor towards effective match performance within football is the comfort that an athlete derives from their footwear.
In the more distant past, wearing a correctly sized pair of football boots – branded or not – was all that a player could ask for.
But the times have most certainly changed, as the game has become fiercely competitive due to the major financial implications that sporting success or failure can have on a football club.
These days, professional footballers try and afford themselves an extra advantage by wearing gear or accessories that could positively impact their performance on the pitch.
Today, we're going to provide an in-depth roundup of the best football insoles that provide ample cushioning and support, which ultimately makes on-field actions such as walking, jogging or running exceedingly more comfortable.
Without further ado, here is our list of the top recommendations:
The winning trophy for best football insoles definitely goes to the CURREX CleatPro Insoles, as they effectively tick all the customer requirements for a footcare solution, due to the fact that they provide stability through a proprietary neo touch grip technology, as well as prevent injuries and unpleasant foot odours through streamlined architecture and moisture wicking fabric respectively.
With all that said, I will now take an extensive look into the top recommendations that were listed in the table above.
So, here goes…
1. CURREX CleatPro Insole
There is most certainly an interesting story behind the CURREX brand as its founder – Björn Gustafsson – had to cut short a promising career within professional sports due to an injury that he sustained at the age of 23.
However, that dent in his career did not curtail his passion for sports in the slightest, as he pursued sports science through higher education and sought to gain high-level expertise on movement optimization through sports insoles.
His CleatPro insole has been constructed with six core elements, but I'll only talk about the four main ones in turn:
Heel stabilizer
Football requires lots of little movements, because as a player you've got to always be aware of the whereabouts of opposition players.
This means you have to make frequent strides, body twists and sprints to adapt to the changing match situations.
This insole comes with a heel stabilizer that accounts for your movement as it wraps itself around the athlete's heel and locks into place, thereby providing a sturdy yet comfortable feel that minimises movement and prevents heel abrasions that can cause discomfort.
Bamboo mid layer
The mid layer of this insole has been designed with moisture wicking properties.
As the athlete does a lot of running, a build up of sweat within a shoe can accumulate and even impact performance if not dealt with properly.
This makes the CleatPro insole a great option for those who are looking for a product that can offer odour prevention, as the fabric has charcoal embedded within it which fights the odour-causing bacteria that emits these unpleasant smells.
PORON® Heel Pro
Another quality that this insole has to offer is its ability to absorb shocks that are brought about by intense movements.
The heel area of this insole is also well cushioned along with it being fitted with neo touch grip technology that reduces slippages that could cause harm to the athlete's foot.
Three-dimensional arch
This tiny element within the architecture of the insole is designed to provide anatomic support and dynamic stability, which is great for prospective buyers who are targeting an insole that offers some adaptability to the shape of one's foot.
Furthermore, CURREX offers the ability to select three different arch profiles.
This is so that customers can find the perfect insole that keeps feet in the optimal biomechanical position which helps to reduce excessive foot movement within the shoe during competition and training games.
These arch profiles are as follows:
Update: If Amazon stock availability is an issue for you, then you can opt to purchase any insole profile from an alternative retailer called ProSoccer.com.
Here are their links to this product:
Ultimately, I've got to say that I'm thoroughly impressed with the CURREX product offering.
This is because they not only have specialised insoles designed for football/soccer, as they also sell a dedicated HikePro Insole for mountain and hill climbing, in addition to their RunPro Insole too!
2. Storelli SpeedGrip Insoles
Next up we have these fantastic SpeedGrip Insoles sold by Storelli – a global retailer renowned that really prides itself in producing performing products that are safe for football players.
The company came to life in 2010, and each and every day the football-obsessed creatives at Storelli  have sought out common inefficiencies in football equipment and fixed these inefficiencies with unconventional approaches to industrial design.
But I won't delve too much into their background, as it's their insole that we're most interested in knowing more about, right?
Well, these insoles have been designed for players looking to maximize every element of their performance on the pitch, whether that is the speed with which they run, the power at which they're able to strike the ball or the level of control used when they cushion the ball after receiving it.
You're clearly in for a treat with these insoles!
So, let's take a look at the core features on offer here:
SpeedGripTM technology
What you need to be aware of when it comes to standard insoles is that they aren't really optimized for grip.
That causes your feet to slip and slide inside your shoes, and the knock-on effect of that is a slower reaction time to events that are taking place on the pitch.
All it takes is a few split seconds lost on the field for a goal to be conceded, especially if you're playing as a goalkeeper.
So Storelli's SpeedGrip technology on these insoles really make a big difference to your game, as they lock your feet in place, thereby giving your step more speed, power and control so you don't leave anything to chance.
Patented heel cup
Storelli have also incorporated a heel cup into the design of their insole.
Now, you might think that this part of the insole is meant to provide additional arch support, but this isn't the case here.
What the heel cup does is further lock the foot into place, so that this area of your body doesn't suffer from excessive movement when you run on the pitch or kick the ball.
This is a great feature that works to elevate your play in both wet and dry conditions.
3. Superfeet Black Ultra Slim Insoles
Next up we have these fantastic Superfeet Black Ultra Slim Insoles sold by the very reputable retailer called Soccer Garage.
The company is one of the biggest soccer equipment and apparel players within the United States, and over the years they have continuously nurtured a reputation for unrivalled customer satisfaction.
But I won't delve too much into their background, as it's their insole that we're most interested in knowing more about, right?
Well, these insoles were designed primarily for comfort and support in tight fitting athletic or casual footwear, but their use also extends quite well to those people who have flat or really sensitive feet.
So, let's take a look at the core features of this one.
Patented stabilizer cap for optimal underfoot support
For starters, this insole comes fitted with a proprietary stabilizer cap that integrates seamlessly with the shape and design of the foam that's attached to it.
What this combination means for users is that they'll enjoy more natural shock absorption as they move in their footwear, because a deeper heel cup is in place to cradle the person's heel and cushion it better.
More so, the heel cup help with initiating proper bone alignment, so you can rest assured that you won't be needing a trip to the doctor's after wearing these for a while!
Algion antimicrobial technology treatment
Playing sports on a competitive level does bring about a few unpleasantries.
Your feet are likely to smell, especially when you're sprinting up and down the football field with regularity.
The good news is that these insoles have been built with this in mind.
Top covers are treated with Algion – an environmentally friendly protection system that's used in textiles and fabrics to prevent foot odours from developing.
Algion also stifles the growth of bacteria that could cause your feet to smell.
Mutliple insole types
For people who are looking for a different feel, there are other products within the Superfeet range that might be more ideal, such as the:
4. Sorbothane Double Strike Insoles
This insole is made from dycem which is a non-slip material that provides great grip without sticking to surfaces, which is great for athletes who are looking for a solution that keeps their foot movement entirely in check.
Sorbothane insoles have three main qualities to offer:
Dual action shock absorption
The comfort contour and heel cupping design of this insole is ideal for shock absorption, as it has been scientifically proven to take in and effectively dissipate 94.7% of vibrations that are brought about as a result of tiny foot movements within an athlete's shoe whilst they compete.
COOLMAX ventilation
The fabric that makes up the entirety of this insole has integrated moisture wicking capabilities which keep sweat away from the feet, which makes it great a good choice for a buyer looking to play football.
Antibacterial top sheet
This layer is an addition which had not been incorporated onto the earlier design model of this insole.
Bad odours are managed effectively for optimal hygiene as the top sheet fabric prevents these smells from forming within an athlete's shoe.
5. Scholl GelActiv Men's Sport Gel Insoles
Scholl is one company that has been among few others at the forefront of the footcare industry.
They have over 100 years of knowledge and expertise when it comes to the structure and biomechanics of human feet, so they are well placed to offer their own recommendations by way of the products that they produce.
Scholl's GelActiv non-slip insoles can be trimmed down to fit the precise specifications of the wearer, and they are suitable for walking as well as running.
Here are their headline features:
Shock absorption
These insoles are designed to provide maximum comfort with every leap and forward running stride taken by absorbing micro shocks, as the firm gel within them provides support to the arches and heels of the feet.
With the GelActiv technology providing up to 30% shock absorption, pressure is effectively alleviated from the heels, knees and ankles.
Anti-odour fabric
Odour protection is provided by Scholl's very own upper coating of Freshfeet fabric which not only prevents the build-up of unpleasant smells within the shoes but also serves to keep feet cool and dry during periods of activity.
Cut to size
These insoles are easy to trim as you simply cut with a standard pair of scissors either along the outline or use the original insole as a guide.
This is a particularly great feature because as a buyer you can tailor make your insoles to your exact feet requirements.
6. FootActive Football Insoles with Arch Support
FootActive is a high-performance insole that is specifically designed for use in sports such as football, hockey, rugby and cycling.
They are used extensively by both professional and amateur athletes in Australia, which can give buyers that extra confidence as they know that the product already has significant uptake.
These FootActive football insoleshave a narrow design and low arch profile that makes for a solid fit without causing cramping within the foot.
More so, they feature a mild arch support which is designed to control excessive pronation (i.e. inward rolling of the ankle or foot) and provide greater overall foot stability.
Just in case you're looking for added ankle protection, you might want to check out our recommended list of ankle braces for football.
Impact resistant design is another one of the core features of this insole as the thermoplastic polyurethane (TPU) outer shell provides extra protection for high impact activities like football.
Lastly, there are a few other models of this insole which you might want to check out:
7. Plemo Sports Insoles
Last but not the very least we have these Plemo Sports Insoles.
They are bought to be one size fits all, as they come with a trimming line that allows users to cut them to the shape of their feet for optimal fitting.
What is quite unique about this product is the way in which they have dealt with shock absorption.
A honey-comb designs takes in the stresses of impacts absorbing the stress of impacts on high pressure points in both the heel and the ball of the foot.
It subsequently releases that energy after springing back from a compressed state, which makes it a great product option as it is able to deflect energy generated from movements within the shoe during a football game or other sporting activities.
Furthermore, its contoured shape makes it an ideal for those people who are flat-footed, as a 3.5-millimetre foam layer provides ample cushioning and foot support through softness.
Do footballers wear insoles?
Now I'm pretty sure a few of you who are reading this might be wondering…
If you're reviewing the best football insoles then surely the professionals themselves must wear them?
Well actually, according to Anne-Marie O'Connor – an experienced podiatrist that has worked with some of the top Premier League clubs for a period spanning 10 years – only an estimated 20 percent of players participating in the English top flight wear orthotics in their football boots whilst they compete.
But it's quite clear that the low uptake is mainly due to athletes choosing to prioritise better contact with the ball by wearing boots that are a few sizes small, over the comfort and overall wellbeing of their own feet.
For those of you who actively participate in the sport at a lower level (i.e. Sunday league, amateur or even semi-professional), you will be better off protecting yourself with a good pair of insoles.
This is because you are unlikely to have the same access to the expert medical care that the professionals do, and even if you did, it is bound to be very expensive to pay for.
Factors to consider before purchasing football boot insoles
Prior to making your football insole buying decision, there are a few things that you need to be aware of as a prospective customer.
Feet shape
The combination of architecture between the bones, ligaments and muscles gives way to three main categories of feet shape:
Neutral
Flat (pronated)
Arched (supinated)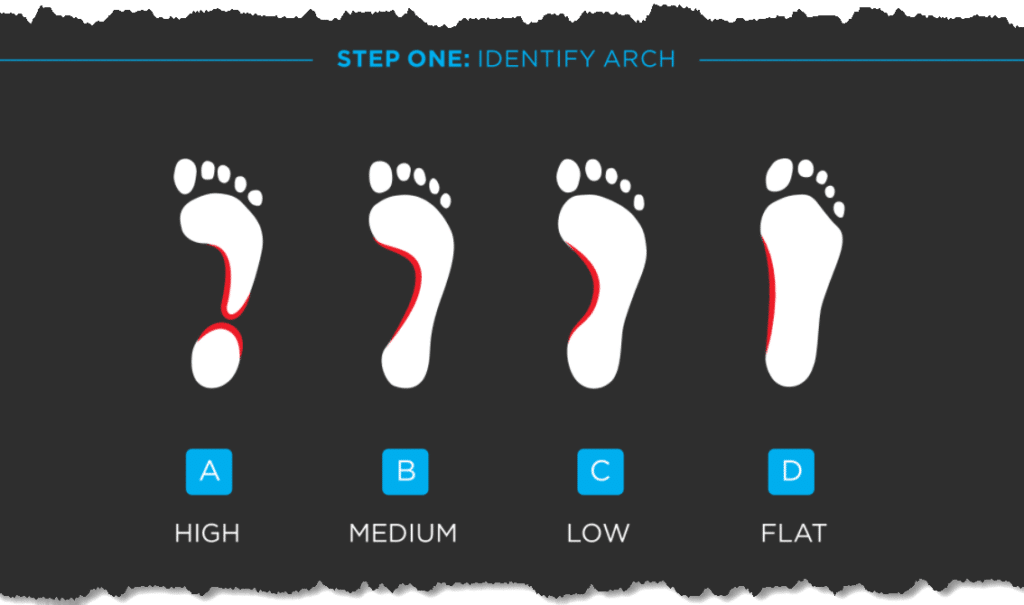 A great way of finding out which of the aforementioned descriptions best fits your foot profile is to go and grab a pair of shoes that you wear frequently.
Take a look inside each one and if you find certain areas of the shoe with significantly more wear, that will give you an indication as to the type of foot you possess.
So, the foot insole you go for should partly be dictated by the shape of your own feet.
For example, an athlete with wider feet would want a pair of insoles with a larger surface area, as these would provide pronated feet with the anti-slippage support they need, whilst also leaving enough room for toe movement within the shoe itself.
Cushioning
Foot insoles are effective at correcting postural imbalances through a process of biomechanical realignment.  
Some are able to provide better arch support than others, which is particularly important if you are suffering from conditions like plantar fasciitis.
On the other hand, if you require a greater level of heel support, you would want to go for a foot insole that has plenty of padding to alleviate pain and inflammation.
Breathability
Another important consideration that you will want to take into account is odour management and airflow.
When you're involved in a game of football, your body will produce sweat – which in itself contains bacteria that causes unpleasant smells to emanate from certain areas like your armpits and feet.
Sadly enough, a good pair of football socks isn't sufficient to prevent this build-up of moisture, which is why you will want a pair of insoles that are designed with tiny perforations that facilitate greater airflow, as well as insoles that are made from antimicrobial fabrics that prevent the growth and spread of microorganisms within the material.  
Trim to fit
Lastly, you are likely to want an insole that allows you to tailor the fit to your own personal requirements.
Single sizes may not be ideal for every customer, especially because people have feet that come in all manner of shapes and sizes as I had outlined earlier on in the article.
Therefore, an insole that allows you to adapt its outline and shape to meet the precise shape specifications of your own foot would be preferred over one that simply comes in single sizes.
Here's a quick video that illustrates how to cut foot insoles for a bespoke fit:
Which boot insoles are best?
Having reviewed the best football insoles within this article, I was able to come to the conclusion that the CURREX CleatPro Insoles were the best of the bunch, primarily due to the excellent combination of shock absorption and cushioning through a meticulous multi-layered architecture.
I was also quite impressed with their fitting documentation which goes to great lengths detailing exactly how a person can identify their arch type and knee alignment before settling on the correct insole size.
However, if you're falling short of the number one pick when it comes to your budget, a great and cheaper alternative are the Sorbothane Double Strike Insoles.