Disclaimer: Soccer Whizz is a participant in the Amazon Services LLC Associates Program, an affiliate advertising program designed to provide a means for sites to earn advertising fees by advertising and linking to Amazon.co.uk (source: Section 5). As an Amazon Associate I earn from qualifying purchases.
Football is a sport that can be played at neck breaking pace.
Outfield players in particular cover lots of ground during games, and they often find opportune moments to quench their thirst with water or other energy-revitalizing drinks.
When the professionals step out onto the pitch, they usually don't have to worry about what they will use to hydrate themselves, as drinks for each team member are usually made available on the touchline by club physios.
On the other hand, casual football players are burdened with the task of finding the best football water bottles to take to their competitive matches or training sessions.
That's why in today's article I'll be revealing my findings on the best water bottles for football with a simple review roundup of five products.
Let's get straight to the top picks:
| | | | | |
| --- | --- | --- | --- | --- |
| | | | | |
| | Science in Sport Drinks Bottle | | | |
| | Nike Hyperfuel Unisex Outdoor Water Bottle | | | |
| | Optimum Hygienic Aqua Spray water Bottle | | | |
| | VETRA Sports Squeeze Water Bottle | | | |
| | FunKitZ by AToZ Collapsible Water Bottle | | | |
The Science in Sport Drink Bottle is arguably the best of the lot, as its advertised claims of being fully leak-free are certainly verifiable, which cannot be said for some of the other options on the list where reviewers attest to the contrary being true.
Furthermore, the bottle comes with a wider neck than most of the others which makes for easier refilling without the discomfort of messy water spillages.
1. Nike Hyperfuel Unisex Outdoor Water Bottle
Sale
Nike is perhaps the biggest player in sports gear manufacturing and it's quite easy to see why they'd want a piece of the water bottle market.
The product look is very stylish, as the cylindrical design is topped off with contrasting webbing on the rear side and lid areas.
Buyers have a number of different colour options to choose from too, with shades like anthracite grey, red pink and volt yellow on offer.
What I really like about this bottle is that the translucent body allows the athlete to easily monitor their own consumption level of the water or liquid that they've placed within it.
The gripping area is also placed quite strategically to allow for easier handling, which makes it a solid option for a footballer to use when they need to replenish their reserves during a brief water break.
As the 18-ounce (532 millilitre) version weighs in at approximately 510 grams, it's very lightweight which is what you need for a bottle that will be used intermittently or whilst on the go.
Lastly, the valve spout area on this bottle is leak-proof, so you don't have to worry about placing it in a sports bag when travelling to and from games.
Check out this recent unboxing:
As a similar priced alternative, the Nike Big Shot Unisex Outdoor Water Bottle does a good enough job as it's easy to transport with a tapered bottom that fits well in bike bottle cages.
2. Science in Sport Drinks Bottle
Science in Sport Drinks Bottle
Yellow Water Bottle: Includes 1 Science in Sport SIS sports water bottle, plastic material, yellow colour, 800 ml
Quality and Durable Water Bottle: Made in the EU, Science in Sport water bottles are perfect for use with SIS products and powders
Sports Water Bottle: This Science in Sports water bottle is ideal as a bike water bottle or cycling water bottle as well as for any water bottle gym needs
The manufacturer of this bottle principally designed it to be used for storing protein shakes, but it doubles up as a football water bottle quite well.
The sharp yellow colour is easy on the eye, and the capacity indicator on the side allows the athlete to see how much they've drank and the quantity of liquid that remains within the bottle.
It's also a lot bigger in volume than the previously reviewed Nike bottle, coming in at a size of 800 millilitres.
The nozzle is made up of soft rubber material, which is great for footballers who tend to bite the top with their teeth when attempting to open a bottle to drink.
Grip is also not a concern as the bottle has sunken sections on each side that act as suitable handling points and give it an ergonomic shape.
Football players can also rest assured that the bottle won't leak during transportation, as the valve is lockable.
The product also ticks the right boxes for safety and aftercare as it is bisphenol A (BPA) free and dishwasher safe.
3. VETRA Sports Squeeze Water Bottle
Sale
VETRA Sports Squeeze Water Bottle
Designed for Your Busy & Active Lifestyle: You can take our multifunctional sports bottle everywhere you go; It's perfect for all men, women, and kids and will keep you hydrated while playing sports, cycling, at the gym or school, and during your travels
Large Capacity With a Leak Proof Valve: Our squeeze water bottle can hold a lot of water, 22 ounces in fact; But don't worry, none will go to waste because our sports squeeze bottle are equipped with a self-sealing jet valve that eliminates splatters and spills
Your Water Won't Taste Like Plastic: Other sport squeeze water bottle make your water taste funky, almost plastic-like; Not this one; Our water bottle is made from BPA-free, True-Taste polypropylene with Hydro Guard that keeps your water tasting clean and fresh all day
This company began operating in 2012 and since then they have placed strategic focus on targeting the professional and recreational markets for volleyball players, runners and swimmers.
However, they are now expanding their product range by venturing out into other sports like football, with providing value for money being their top customer priority.
The bottle itself looks well built, with a largely transparent design that allows the user to see the level of the liquid within.
It also features a 650-millilitre hydration capacity which is large enough for full use in football matches.
Additionally, the bottle is equipped with a self-sealing jet valve that allows for leak proofing and reduces the probability of splatters and spills occurring when the bottle is squeezed or rotated upside down.
What's particularly great about this product is the wide mouth opening, which makes it easy for an athlete to fit in ice cubes which are great when you need to drink a liquid that is really cold in temperature.
Finally, the polypropylene coating within the bottle ensures for a great watery taste as opposed to a plastic one.
4. Optimum Hygienic Aqua Spray Water Bottle
Optimum Hygienic Aqua Spray Water Bottle
Prevents Thirst: Drinking water is one of the most important things that athletes do when training and playing actual games. With Optimum Hygienic Aqua Spray Water Bottle, you can now drink water and other energy drink that is crucial to your play.
High Quality: The Optimum Hygienic Aqua Spray Water Bottle is made of premium quality material. The water bottle is packed with features that are excellent for drinking during training and actual games.
Easy to Use: The aqua spray water bottle has a unique no-touch water delivery system. You only need to align your chin with the rest of the water bottle and squeeze for a consistent spray. It is an ideal alternative to traditional water battles for team sports.
The Optimum brand began business in 1996 and they've undoubtedly grown from strength to strength as the years have gone by.
Although they specialise in protective wear for rugby players, I thought that the product they've made is quite suitable for football too, as the two sports are quite similar in nature.
The bottle is exceptionally easy to drink from as it comes equipped with a unique no-touch water delivery system that simply requires a person to align their chin with plastic plate on the bottle and squeeze for a consistently flowing spray.
To add onto that, the 1000 millilitre capacity bottle is bisphenol A (BPA) free and is designed to effectively reduce the risk of contamination and cross-infection, which is possible when a person is heavily involved in team sports where lots of hands change over with frequent physical contact between one another.
As a buyer you've also got the choice of 3 distinct colourways which include:
Black/Fluro
Fluro pink/Black
Fluro green/ Black
I also managed to discover the Precision Team Hygiene Water Bottle which is similar in appearance along with a cheaper price and a greater amount of positive customer reviews.
5. FunKitZ by AToZ Kids Collapsible Water Bottle
Sale
FunKitZ by AToZ Kids CollapsibleWater Bottle
With your Kids as They Grow: Are you tired of replacing your kids drinking bottles after a few uses? Our collapsible water bottle is made with the highest-grade silicone and is sure to withstand the roughest of play. Kick, throw, hit and roll; this football water bottle for boys can take it all.
The Perfect Boredom Buster: Looking for the perfect football gifts for boys and girls to bust any boredom. No more nagging or stress. With our fun and funky kids bottle, your kid will fall in love with drinking water. Drink, shrink, kick, repeat
Ready to Explore: Say goodbye to wet and soggy bags with our leakproof kids water bottle! Our foldable water bottle innovative collapsible sports design can go from 550ml to 200ml quickly, saving space and ensuring your child is always hydrated.
This small family business is based in Lancashire and their products were born out of a need to make their own children keep hydrated.
What they've done is ignored the usual bells and whistles that you often see on other water bottles.
Their approach to product design is centred entirely on fun and play, with great focus placed on colours and interactive features that emphasise the importance of a healthy lifestyle and the development of social and motor skills.
So, we've got this collapsible water bottle which is perhaps the most unique one of the bunch!
Being made from high grade silicone, it's made to withstand multiple successive kicks, throws and hits from young children.
The innovative design means that the volume capacity can be shrunk from 550 millilitres all the way down to 200 millilitres, which is great when one needs to create space to place the item in a child backpack.
In addition to this product being bisphenol A free, what I like about it the most is the fact it comes with a cleaning brush which a person can use to keep the spout free of dirt and germs.
Another football water bottle option for kids is the SIGG Kids Leakproof Water Bottle which is also eye-catchingly designed and multi-coloured.
Things to look for in a football water bottle
Standard fluid containers will generally not suffice when the intention is to carry them for a game of football, and you'll shortly find out why.
Anyway, with that said, we can now crack on with the primary considerations.
Volumetric capacity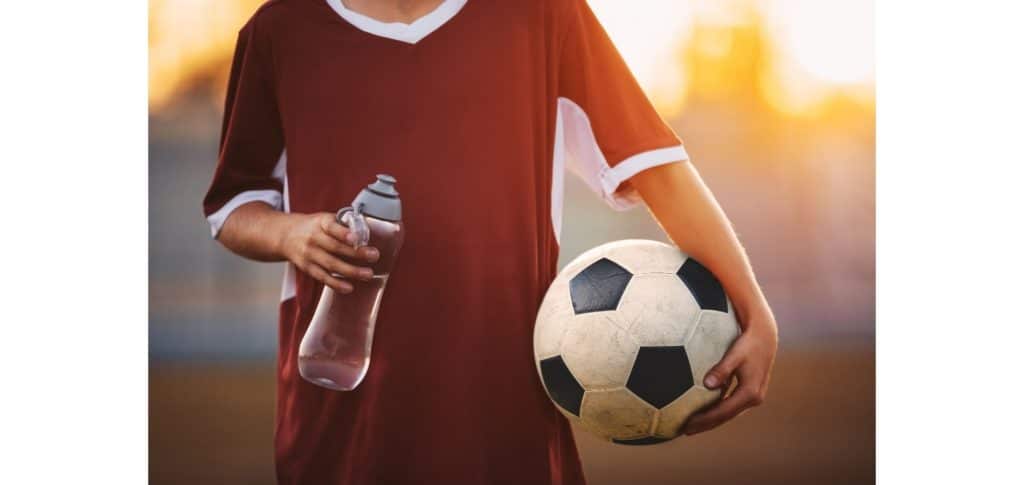 One situation that pretty much any athlete detests is running out of drinking water when they desperately need it.
According to Healthy Human, performing particularly strenuous activities such as running means that you should drink approximately 4 to 6 ounces of water after every 20-minute period.
For a footballer participating in a competitive fixture, this translates into 4 water breaks across a 90-minute playing period, without accounting for drinks consumed at the halftime interval.
Therefore, you will want a bottle with the capacity to comfortably hold a minimum of 16 ounces of liquid.
Durability
Think about how you intend to use your water bottle carefully, as adequately timed water breaks within games are often few and far between.
It's quite easy to picture a scenario where you're flinging your bottle to the pitch side line after a brief sip because the opposition team is making an attacking move.
So, the product has to be sturdy enough to handle the frequent tosses and awkward ground landings that will occur throughout its lifespan, as well as have reasonable resistance against the dents and bumps that could malform it.
Leak proof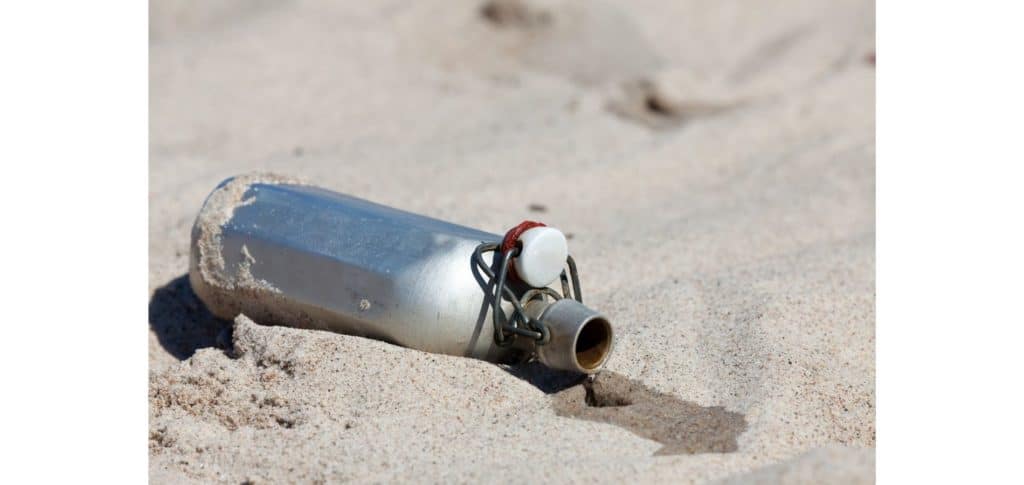 As you will also likely be travelling to and from games and training sessions with the water bottle neatly tucked away in your football kit bag, there is always a possibility that water may seep through the structure and find its way onto your clothes or shoes.
This is a great inconvenience, but it can be avoided by purchasing a bottle that contains a lockable or self-sealing valve that prevents spillages.
Shape
More often than not, a footballer will require a bottle with a slender shape so that it can be easily gripped in their hands without slipping when quick gulps need to be taken on the field.
This is also backed up by Healthy Human, who posit that participants must bear in mind the exterior width of the option that they select, especially if it needs to fit snugly within a backpack sleeve.
Materials
These days, water bottles are largely made of either:
Stainless steel
Aluminium
Glass
Plastic
Stainless steel bottles are great for sticking in gym bags as they don't condense on the outside and provide good insulation by keeping hot drinks hot and cold ones cool.
Although aluminium-made ones possess many of the same benefits as the former whilst usually coming at a fraction of the price.
Conversely, it should go without saying that glass bottles – even if you bought shatterproof ones – are not ideal for a footballer looking to quickly hydrate at games as a result of their lack of malleability.
Lastly, plastic bottles are susceptible to releasing a chemical called bisphenol A (BPA) into liquids.
If this component finds its way into your water, you are at risk of contracting cancer or diabetes.
So even though plastic bottles are quite cheap and relatively lightweight, buying them may come at the expense of your own health.
And if you're a particularly picky person when it comes to how you like your water to taste, then plastic isn't the best option as it leaves behind a different flavour which may not be pleasant.
I've summarised the suitability along with the possible pros and cons of each material in the table below:
Flow rate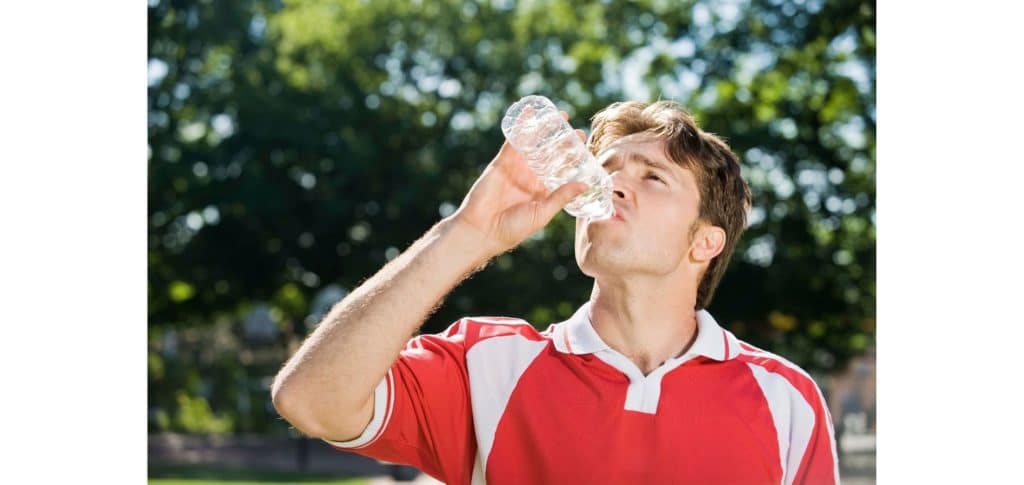 The fast pace of a standard football game naturally dictates that any opportunities for hydration take place relatively quickly and efficiently.
As an actively involved athlete you simply won't have the time to twist off a screw cap.
What this means is that water should exit a bottle in a swift fashion, with a consistent stream of liquid coming out of a nozzle that minimises splashes and spills.
Frequently asked questions
I'll now answer a couple of the usual queries that pertain to the topic of football water bottles.
Is it safe to drink from stainless steel water bottles?
Yes, stainless steel made bottles are very safe to drink from.
According to Flaske, it is a metal that doesn't leech harmful chemicals and because the material can be washed at high temperatures, there is a much lower risk of water contamination occurring from bacteria.
Can I put lemon in my water bottle?
Of course, you can!
Firstly, the health benefits quite substantial as it increases vitamin C intake and aids with the digestion process.
But you've got to be careful, as certain materials like plastic are not suitable because the acidic nature of the lemon causes a corrosive effect with the inner bottle lining that subsequently causes tiny bits and pieces of chemicals to fall into the liquid.
Do personalised football team water bottles exist?
Yes, they do! In fact, I managed to find several different personalised designs that are officially approved by the football clubs themselves.
The companies who manufacture them usually allow a buyer to choose the name and jersey number that they would like to have displayed on the bottle – usually limited to a certain number of characters.
Here's a couple of personalised bottle options that you might find interesting:
No products found.

No products found.

No products found.

No products found.

No products found.

No products found.

No products found.

No products found.
Final verdict
I'm going to go against the grain here and vouch for the cheapest product as the overall winner.
The Science in Sport Drink Bottle narrowly comes out on top as it's fully watertight unlike some of the other options, and it has a wide neck which makes refilling quick and easy. Even more so, the water extraction mechanism suits football players perfectly as all they have to do is gently squeeze the spout, which releases the water in a consistent flow.
If you enjoy the content that I create and would like to buy me a coffee, then I'd really appreciate it!
Any money that I earn through this donation will be re-invested into more content for this website.
Additionally, by sending in a donation you'll also receive a copy of my recently released 190+ page eBook on Soccer Ball Care, as well as be subscribed to our mailing list where you'll be regularly informed on the latest developments concerning the Soccer Whizz blog.
Latest posts by Samuel Waihenya
(see all)