Disclaimer: Soccer Whizz is a participant in the Amazon Services LLC Associates Program, an affiliate advertising program designed to provide a means for sites to earn advertising fees by advertising and linking to Amazon.co.uk (source: Section 5). As an Amazon Associate I earn from qualifying purchases. The blog also earns small commissions from ShareASale and CJ affiliate links placed within the article.
Being a goalkeeper is certainly not the easiest positional undertaking.
You have to deal with fiercely struck and swerving shots, not to mention having to contest aerial crosses and long ball attempts with goal-hungry opposition players.
Successfully diving to parry footballs away and using one's fingertips to divert shot attempts wide of the intended target usually comes at the expense of a goalkeeper's own body, which often feels the full force of ground impact once an acrobatic save is made.
In the recent years gone by, the need for specialised clothing designed to cater to the competitive needs of goalkeepers and make their playing experience more comfortable could no longer be ignored by sports apparel manufacturers.
So, in today's article I'll be conducting a detailed roundup of the best goalkeeper pants that are sufficiently padded to provide the men between the posts with extra body protection by way of better leg cushioning and support.
Let's start by outlining the top options:
Storelli Men's Bodyshield Goalkeeper Leggings

Moisture-wicking material

adidas Men's Tierro 13 Goalkeeper Pants

Climalite fabric for sweat management

Viper Soccer Goalie Pants

Water and wind resistant outer shell

Adjustable drawcord closure

uhlSport Unisex Standard Goalkeeper Pants

Ergonomic knee and hip padding

Reusch Kevlar Goalkeeper Pants

Knitted bands for precise fit

Shinestone Men's Goalkeeper Padded Trousers
The clear winner is without a doubt the Storelli Men's Bodyshield Goalkeeper Leggings which get top marks for versatility, as they can be worn as standalone pants or underneath a pair of shorts or normal sports trousers.
Another mark of quality is present when it comes to how the padding on these stays in position when the athlete moves. Other pants tend to have padding which is situated either too high or too low which defeats the purpose of its existence in the first place.
But with these leggings, you can be assured that the padding will remain in place even as you dive and side, with it also being discreet enough to not impede movement and to barely be noticeable which adds to its ratings for style.
When it comes to the best goalkeeper pants for kids, the JAKO Goalkeeper Pants fit the bill quite nicely, with their cushion inserts at the knee and hip areas as well as the elasticated draw cord waistband which allows for individual size adjustment at the hip area.
They are available from size 116 to 164 for children.
1. Storelli Men's Bodyshield Goalkeeper Leggings
Storelli Men's Bodyshield Goalkeeper Leggings
ARMORED SOCCER GOALIE PANTS: High-performance, full-length goalkeeper leggings for soccer players, armored with 7mm of heavy duty hip protection and innovative SABR-Tex panels designed to enhance confidence and protection when sliding and diving.
IMPACT/TURF BURN PROTECTION: Features professional-strength 5mm XRD Extreme Impact Protection ergonomic thigh pads, engineered to absorb up to 90% of impact. Thin, flexible, abrasion-resistant panels are built to prevent turf burns.
BUILT-IN SHIN PAD POCKETS: Form-fitted for maximum comfort and mobility, featuring built-in shin guard pockets that lock pads in place to eliminate distractions. Waistband includes a utility pocket to securely hold personal items.
The Storelli brand has really crafted a name for itself within the sports apparel industry, and they've kept up to their high product standards with these goalkeeper leggings that can also be worn as pants.
Let's get straight into the good stuff:
Turf burn resistance
The concept of the design with these pants is to protect the knees and lower legs from impact and burns that can be brought about when goalkeepers dive and rub against the grass surface upon landing.
Which is why they've incorporated heavy-duty moulded thigh pads that are 10 millimetres in thickness, along with flexible anti-abrasion panels that are engineered to absorb impact and safeguard against all kinds of turf burns.
Hip comfort
These leggings are also armoured with 7 millimetres of tough hip protection, as well as being complemented by a waist drawstring that helps to keep the pants in place which allows the goalkeeper to maintain focus when on the pitch.
Multiple pocket compartments
What's pretty unique about these goalie pants is the built-in shin guard pockets on each leg which lock your shin pads in place and thereby eliminate the need for ankle tape.
Furthermore, the leggings come with a utility pocket which enables the secure storage of small personal items.
Moisture wicking material
The fabric is able to keep sweat away from the body and the mesh inserts situated on the front and back of the crotch area allow for a breathable wearing experience.
For more information on their look and feel, take a look at this video:
For some people, leggings might not be their cup of tea.
So, I've decided to include some Storelli product alternatives that might be of interest.
Here's the list:
However, if you're adhering to stricter budgetary requirements, then the Rinat Unisex Padded Compression Leggings are a decent alternative, as they are slightly more affordable and offer similar protection for goalkeepers with padding at the hip and knee areas.
2. Adidas Men's Tierro 13 Goalkeeper Pants
Adidas Men's Tierro 13 Goalkeeper Pants
Climalite fabric sweeps sweat away from your skin
Elastic waist with inner draw cord; Made of high quality material
30.5" inseam (size Med); ribbed lower back legs for flexibility
Once again, I'm recommending a top brand in a product roundup because they are so good at binging quality football clothing to market.
Adidas haven't let consumers down with these black goalkeeper trousers that feature their signature logo and three stripe patterns embroidered on the left leg of these trousers.
The protective padding on the hip and knee areas of these pants is a bit more inconspicuous to the eye, which makes these a great option for goalkeepers who are looking for something that is a bit more stylish in addition to having the necessary safety traits.
More so, the ergonomic layout of the padding is said to enhance overall goalkeeper movement by way of providing greater flexibility.
Made from 100% polyester, these goalkeeper pants also feature an elasticated waist and an inner drawstring fastening that allows the wearer to comfortably adjust the sizing until they are satisfied with the feel.
If stock availability is an issue for you on Amazon, then you might want to check out the Soccer Garage website instead.
At the time of writing, the Adidas Tierro Soccer Goalkeeper Pants are available to purchase for a very reasonable price.
You can also have a look at their 3/4 goalie pants which are slightly cheaper too.
Finally, Adidas also sell a very similar type of pants to the Tierro 13's reviewed above with their Men's Tierro Gk Pan Sport Trousers.
3. Viper Soccer Goalie Pants
The Viper Soccer Goalie Pants seen above are sold exclusively by Code Four Athletics.
This company makes its own brand of sports wear and they're doing quite well at it!
You've got a raft of features to look at when it comes to these goalkeeper pants, so I'll go through each in turn.
First off, these trousers come with water and wind resistance.
This is great especially as goalkeepers don't really move as much as the other playing positions on the pitch.
So you won't feel the cold by wearing these which is a plus.
There's also the fact that water won't seep into the fabric due to the resistance offered, so goalkeepers can rest easy knowing making those diving saves on wet turf.
Here are some of the other components that may be of interest to you:
elasticized waistband with inside draw cord;
adjustable draw cord closure; and a
polyester mini-mesh/nylon taffeta lining
As an added bonus, goalkeepers also get the benefit of side pockets and some spacious 15-inch side zippers!
4. Reusch Kevlar Goalkeeper Pants
Reusch Kevlar Goalkeeper Pants
100% breathable polyester.
Removable hip padding allows player to use padding during practice, but remove it for games for more flexibility and comfort.
The Kevlar Knee Pads are designed for hardground or artificial fields that are tough on pants.
Now these goalkeeper pants by Reusch come in at a high price point but plenty of reviews attest to the quality of the product being very good.
These trousers come fitted with knee pads which are designed for rougher terrain such as the hardground present on futsal courts or artificial grass surfaces.
Furthermore, the knee pads are built to provide maximum coverage for the knee area, which allows goalkeepers to fly into challenges and dives without fear of inflicting any damage to their knee caps and joints.
The pants also come with a knit band on the bottom of each leg which aids overall comfort and fit, not to mention additional hip padding which can be removed when more flexibility is required.
Update: As Amazon stock for this product appears to no longer be available, I'd like to point you towards the Soccer Garage website. Here you can get the same pair of Reusch Kevlar Goalkeeper Pants for a very fair price!
Alternatively, you can consider the Reusch Alex Soccer Goalkeeper Pants – made from polyester – that have the same hip and knee padding protection for a fraction of the cost of the aforementioned model.
As a nice bonus, you get some nice looking stirrup straps on each foot!
Note – these Reusch products are also in stock at ProSoccer.com.
Check out the list below:
5. Shinestone Men's Goalkeeper Padded Trousers
Shinestone Men's Goalkeeper Padded Trousers
the pant have two zippers total, and the meterial is polyester and can be washed by hand and mashine
if you are a little strong, you should choose size above one size.
we will packet within 12 hours, the shipping time is 7-14 days if fullfilled by seller, the carrier is UK post office
Unlike the previous recommendation, these trousers are much more likely to appeal to the younger generation of players due to the skinnier look.
But even with the stylish feel, they are well suited for the job that goalkeepers perform on the pitch.
First off, the 100% polyester material is stretchable which reduces the product's overall susceptibility to tears when a player makes a sharp diving or jumping movement.
To add to this, the fabric performs well at keeping the athlete cool and dry due to the moisture wicking properties present within it.
And there's a little more good stuff as well:
EVA protection
The padding on these goalkeeper pants is fitted with Ethylene-vinyl acetate (EVA) foam which is said to absorbs impact shocks very well, along with its innate ability to withstand stress without cracking or breaking which is great for longevity.
So, as a goalkeeper, you can focus on your performance and play your hardest without having to worry about falling prey to minor injuries as the trousers protect the lower body against those small collisions and ground impacts.
Zipping
They also feature stylish hem zips that extend up to the ankle area on each leg which gives athletes that tight athletic fit that they usually look for in a pair of slim fitting sports trousers.
Lastly, there are also zip pockets situated below the hip area on either side which allow for the storage of personal items that players like to carry with them to training or games.
6. uhlsport Unisex Standard Goalkeeper Pants
Sale
Last up we have uhlsport goalkeeper pants.
They are black in colour but also feature a white uhlsport logo embroidered on the left thigh area.
More so, they come with quite a bit of elastic components with elastic ribbing on the calf area and an elastic cord which is situated within the waistband that allows for trouser adjustment to comfortably conform to the shape of the wearer's body.
What is most important, however, is the protection that these trousers afford goalkeepers.
And in this regard, they aren't too shabby due to the existence of triangular-shaped ergonomic padding which is present at both the hip and knee areas.
The material composition is 100% polyester just like most of the other brands I've mentioned earlier in this product roundup, so you can rest easy knowing that breathability and durability issues are pretty much a non-factor here.
Here's how they look like:
With these you get a hybrid design that falls in between goalkeeper pants and goalkeeper shorts.
They've got padded hip and knee protection to help cushion ground impacts and the rib insets on the inner and back parts of the leg area give goalkeepers further shot stopping support.
Factors to contemplate before buying goalkeeper pants
With that said we're going to examine a few things that should be accounted for before goalkeeper pants are bought.
Fitting style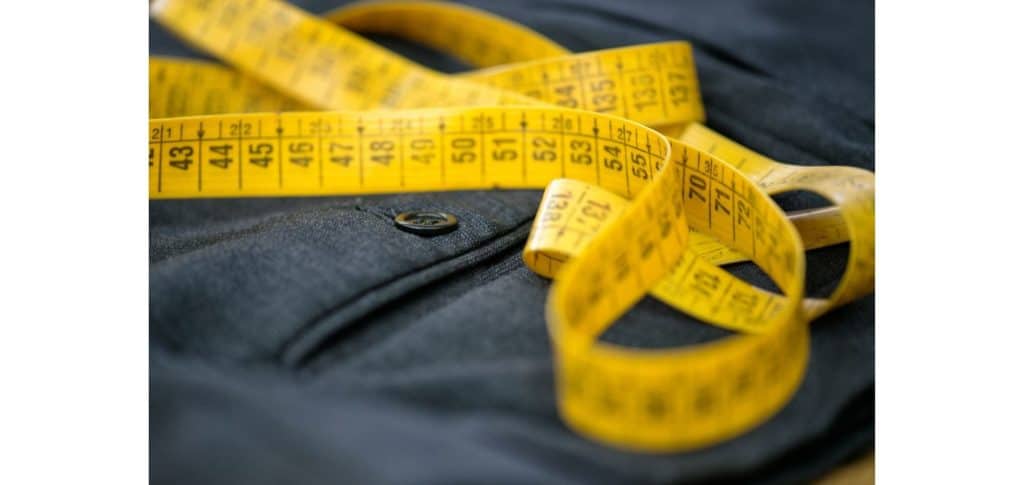 As goalkeeper pants are meant to offer padded protection for the thigh and leg areas, you will not want a loose-fitting pair that you have to keep adjusting due to it sliding down when you are in training or competitive action.
In that regard, you'll want a pair that fits snugly around your hips with a high-rise waist which affords you extra support.
And just like a pair of goalkeeper gloves, an excessively tight fit will create difficulties when it comes to putting them on and taking them off, as well as hindering your overall mobility on the pitch which remains vitally important due to the nature of being a goalkeeper.
Therefore, you can put the goalie pants that you're eyeing to the test by performing squats whilst trying them on, which will help to pinpoint any deficiencies in the design like a waistline that creeps down towards the hip area or the seams pressing into the stomach in a way that is uncomforting.
If you manage to snag a pair that comes with an adjustable waistband, that would be even better!
Padding
This is the key factor to weigh up when looking to purchase a pair of goalkeeper pants.
You should go for options that offer thick foam protection at the hips, thighs, knees and tailbone areas.
But also, be wary that trousers which tick all the boxes above may limit your range of movement which can have an adverse effect on how quickly you are able to react to incoming shots by diving to the ground.
Fabric type
Thirdly, you should be on the lookout for goalkeeper leggings comprised of synthetic performance fibres like nylon and polyester because they wick away moisture more effectively, which will significantly contribute to keeping your lower body sweat free during training sessions and games.
Even more so, the aforementioned fabrics are said to provide greater levels of elasticity and durability, so you can rest easy as you make goalkeeper saves knowing that the goalie pants you bought will complement your on-pitch actions.
Brand
Now before you loosen the purse strings by settling on a premium brand, I want to offer a word of warning.
A high price is no guarantee of top-notch performance quality when it comes to the market for soccer goalie pants.
Don't be afraid to consider some of the lesser known brand names as they can't really rely on a massive consumer reputation to coast along when it comes to quality control and, contrary to popular belief, they do place quite a lot of emphasis on producing clothing that offers longevity and ultimately satisfaction in the eyes of consumers.
With buyer considerations out of the way, I'm now going to conclude this roundup on the best soccer goalie pants that we could find.
Final recommendation
Just to recap, the Storelli Men's Goalkeeper Leggings lead the way due to a combination of versatility, padded protection which offers resistance from turf burn as well as style which fits in well with the younger generation.
Despite the steepness of the price point, they achieve near-top marks for robustness, protection and longevity.
If you enjoy the content that I create and would like to buy me a coffee, then I'd really appreciate it!
Any money that I earn through this donation will be re-invested into more content for this website.
Additionally, by sending in a donation you'll also receive a copy of my recently released 190+ page eBook on Soccer Ball Care, as well as be subscribed to our mailing list where you'll be regularly informed on the latest developments concerning the Soccer Whizz blog.
Latest posts by Samuel Waihenya
(see all)