Disclaimer: Soccer Whizz is a participant in the Amazon Services LLC Associates Program, an affiliate advertising program designed to provide a means for sites to earn advertising fees by advertising and linking to Amazon.co.uk (source: Section 5). As an Amazon Associate I earn from qualifying purchases. This blog also earns commissions from ShareASale affiliate links placed within the content.
Leather soccer cleats have been a major part of the beautiful game and it's good to see that there's still plenty of demand for them in this day and age.
With all the technological advancements going on, soccer equipment has gotten even more sophisticated!
You only have to take a look at our list of the finest laceless soccer cleats to see how far the sport has modernized.
Anyway, today's product roundup post will take you back down memory lane, because we'll be revealing the best leather soccer cleats you can get your hands on.
Let's start with a comparison table which outlines the top options:
| | | | | |
| --- | --- | --- | --- | --- |
| | | | | |
| | Adidas Copa Mundial Soccer Cleats | | | |
| | Puma Unisex King Top Soccer Cleats | TPU outsole with conical stud pattern | | |
| | Nike Tiempo Legend 8 Academy Soccer Cleats | | | |
| | Adidas Kaiser 5 Liga Soccer Cleats | | | |
The Adidas Copa Mundial Leather Soccer Cleats are a firm winner here, followed very closely by the Puma King Top Cleats.
How we selected the best leather soccer cleats
Normally, it can be quite difficult to pinpoint the highest quality products in our roundups owing to the fact that there's a plethora of options that buyers can choose from.
But with leather soccer cleats, things are a bit different.
This is because most manufacturers today have moved on from focusing production on soccer cleats that come with a pure leather exterior.
Instead, the major brands like Nike, Adidas and Puma are releasing more soccer footwear that's made from synthetic components.
To add on to this, these big companies are also incorporating more recyclable materials into their designs in order to reduce the negative impact of their business practices on the natural environment.
All in all, this is good to see and the byproduct is that there are fewer leather soccer cleats to choose from on today's market.
But boy oh boy do the top choices really stand out, which you'll come to see later on in the article.
The cleats we've picked out here have been highlighted after hours and hours of research was done browsing online marketplaces such as Amazon and Pro Direct Soccer as well as other soccer related forums.
First hand reviews from buyers were meticulously analyzed to see what sort of feedback users of these cleats had to give, which we took as a guide point when deciding the final ranking order of the leather cleats in question.
Furthermore, we also scoured YouTube's repository of video content to look for visual footage of the products being unboxed and evaluated by verified real-world buyers, which provided even more insight into how well they perform in a practical sense (i.e. wearing them on a soccer pitch).
That led to us arriving at three final options, which you'll have seen from the table above.
How the best leather soccer cleats were tested
The criteria which we've used to determine which leather soccer cleats are the best in this particular category of footwear purely boils down to the following elements:
Durability of the leather upper and whether it holds up well after plenty of ball contact;
Comfort and flexibility in the forefoot area;
Different measures of performance such as ball control, shot power and accuracy; as well as
The general rate of wear and tear after multiple match and training uses
With all that said, let's dive into the deep end with our detailed reviews of each product.
1. Adidas Copa Mundial Soccer Cleats
This iconic soccer cleat comes top of the pile and is dubbed as the most popular soccer cleat for a number of good reasons.
If you think back to soccer in the 1980 and 1990s, the Adidas Copa Mundial's were pretty much the face of footwear for this sport as they were extremely sought-after amongst professional and casual players alike.
You immediately get the sense why so many people used to wear these leather cleats as their straightforward design is eye-catching yet subtle at the same time.
With the signature three stripe embroidery on the side, you know you're getting a symbol of quality because Adidas made them.
But that's not all, in fact we're only getting started.
Here are some features of these cleats that will get you running for your wallet…
Kangaroo leather upper
The material upper consists of premium kangaroo leather, which is great because it shows Adidas haven't cheapened out in any way whatsoever when it comes to sourcing the fabric for this product.
In our article that discusses why soccer cleats are so expensive, we explained why footwear of this type gets its high price tag, and much of that has to do with the leather used to make the outer.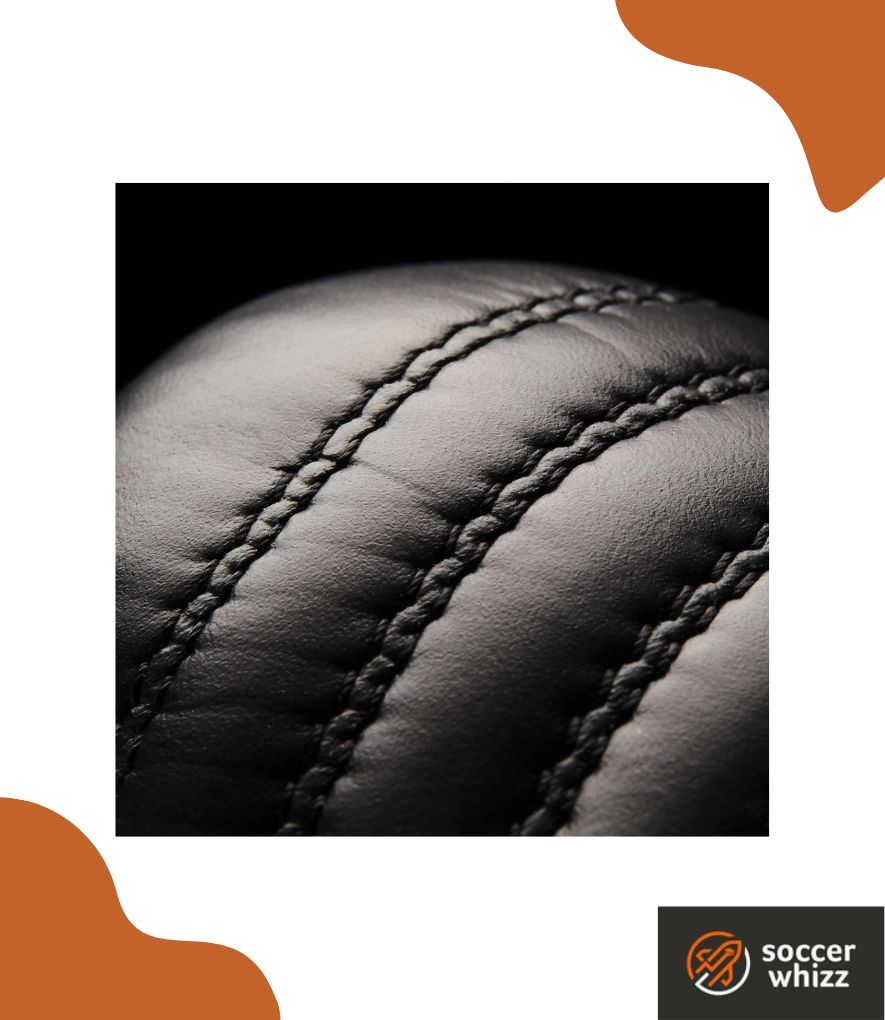 Kangaroo leather comes with many benefits for players, among these being malleability in the way it softens and molds to the shape of one's feet, not to mention its lightness in weight that gives you the comfort you need to consistently focus on your pitch performance.
More so, the Kangaroo leather allows one to skip the break in process that players typically experience with brand new soccer cleats, as the material naturally stretches to accommodate people with wider feet.
EVA midsole
The midsole area of these leather soccer cleats is made from ethylene vinyl acetate – a plastic material that is extremely flexible and soft, yet surprisingly tough.
If you're a person susceptible to discomfort when wearing any sort of soccer cleats, then these are a great fit for you as the EVA midsole is designed to evenly distribute the pressure of the studs which lie underneath the cleat.
You won't feel like the studs are poking your foot base as the midsole offers a foam-like cushioning that keeps your soles in good nick.
Interchangeable screw-on studs
Another important feature of these leather soccer cleats are the screw-on studs which can be removed and replaced based on the wearer's own preference.
What this means is that you can get optimal grip on a wide variety of playing surfaces, as you can change the studs to ideally match the grass type that you're set to play on.
For example, you can get sturdy on-field traction with the metal studs or the explosive speed and acceleration on dry natural grass that comes with the rubber alternatives.
Either way, it's up to you to take your pick.
Video review
Have a look at the footage below, which shows a dedicated soccer equipment reviewer laying out what these cleats have to offer when it comes to overall quality, weight distribution, material design, and feet comfort:
Other specifications
Heel height – 6 inches
Heel type – flat
Inner material – synthetic fur
Closure – lace up
2. Puma King Top Leather Soccer Cleats
Sale
Another leather soccer cleat that's been perpetually in demand over the last couple of decades is the Puma King Top.
Basic designs with black color truly appear to be a winning recipe for manufacturers, as this roundup is starting to show.
Puma are a very reputable brand that have been in existence since 1948 – having been founded by Rudolf and Adolf Dassler who were brothers.
Their backstory is really inspiring, but that's not why you're here is it?
Let's get down to business with an analysis of what this cleat brings to the table.
K-leather vamp upper
Just like Adidas, Puma have also made sure to use the finest Kangaroo leather material which is a massive help for players looking to control the ball with ease.
Puma also manage to go a step further by attesting that the leather sourced for these cleats comes from environmentally responsible leather manufacturing, and is audited and certified via the Leather Working Group protocol.
That's quite reassuring for buyers to know, especially with all the talk about preserving the natural environment in today's age.
Fold-over tongue
You really get a classic look and feel with these cleats as a result of the fold-over tongue which color contrasts with the leather upper.
We like this particular tongue type because it delivers that familiar game-ready feel once your laces are fully tied, which also gives the added benefit of personal confidence when stepping on to the soccer field for a training session or professional game.
TPU outsole with conical studs
Finally, these cleats feature a thermoplastic polyurethane outsole with a conical stud layout.
Let's break this down.
The outsole being of this plastic material benefits players in terms of comfort, as it's highly breathable in nature and resistant to the environmental elements.
On the other hand, the conical stud configuration helps immensely with traction.
Because of the assembled stud layout you see above, players wearing these cleats get the grip they need to move faster off the mark when running on firm ground surfaces.
And in a sport such as soccer where the margins for victory are so fine, that drastic change of pace could make all the difference in a competitive match.
Video review
Take a closer look at these leather cleats in the video below, which details what you get as a buyer in a visual sense due to the meticulous analytical delivery of the material upper, sole plate, weight of the cleats and how they feel on feet:
Other specifications
Inner material – synthetic
Closure – lace up
Heel type – flat
Stud layout – conical
3. Nike Tiempo Legend 8 Academy Soccer Cleats
Nike Tiempo Legend 8 Soccer Cleats
for use on fields with short lawns or artificial surfaces
color shown: metallic bomber gray / particle gray / laser crimson / black
outer material: smooth leather
Here we have a personal favorite of mine – the Nike Tiempo Legend 8 Soccer Cleats.
Not a lot needs to be said about the manufacturer behind this product, as we all know what sort of impact Nike has had on the sports footwear market since its inception.
I've been using Tiempo soccer cleats for the longest time as I love the balance that they offer between controlling the ball and keeping shots on target.
Now, don't get me wrong.
These soccer cleats aren't the lightest, as they're not meant for speedsters like Adama Traore.
So, if you're one of those players who loves to beat a man with a turn of pace, consider opting for something else.
Overall, Nike Tiempo's are much better for on-the-ball actions.
Anyway, here's what this product has to offer:
Unstitched Kangaroo leather
The soft premium kangaroo leather is left unstitched for unrivalled touch and ball control.
When you combine this with a textured forefoot and All Conditions Control (ACC) technology, these cleats provide immense levels of ball control in both wet and dry playing conditions.
This is fantastic for beginner level players who are just getting into the sport. If a change in the weather is likely to affect the way you play, then you'll want these cleats as they offer stability.
QuadFit mesh lining
Don't be too intimidated by the wording!
Nike have fancy ways of saying certain things about their products and this is another one of them.
In addition to the premium kangaroo leather outer, you get a foot-hugging mesh in the lining of the cleat that gives you a comfortable feel right when you take these out of the box.
Hyperstability plate
The lightweight hyperstability plate gives you steadiness and reliable multidirectional traction on firm-ground fields.
What this means is that these Tiempos can also be a useful option for tricky wingers who like to twist and turn with the ball when such opportunities are presented.
Furthermore, with the NikeGrip technology on the sock-liner, your foot gets locked into place within the cleat for even greater stability for your overall movement.
Video review
Watch the video underneath to see how these cleats look and feel up close, as well as how they hold up in under natural playing conditions:
Other specifications
Inner material – synthetic
Outer material – calf skin leather
Closure – speed laces
Heel type – flat
Toe type – round toe
Other leather soccer cleats worth considering
There are so many great options for leather soccer cleats that it'd be unfair to leave out the alternatives.
For starters, the Nike Tiempo Legend 9 is a good option especially when compared to the previous iteration (i.e. Tiempo Legend 8), because it offers a redesigned plate and refined upper that helps to reduce overall bulk.
Apparently, it's the lightest Tiempo ever made!
On an entirely separate note, the Adidas Kaisers and Umbro Tocco cleats are well worth the price you pay for:
Factors to consider before buying leather soccer cleats
You should bear in mind two additional things when going for leather soccer cleats.
Leather type
The type of leather the cleats come advertised with is very important.
If durability and soccer cleat longevity is a major concern for you, then you'll want to go for premium Kangaroo leather as it's of the highest quality makeup.
Here's a quote from a reputable sports publication which backs this up:
"Soccer's most expensive annual releases are often manufactured with k-leather, which is lighter, more malleable and more durable than cowhide. Among this year's k-leather releases are Nike's Tiempo 9 Elite, Adidas' Predator Edge 94+ and Predator Pulse UEFA Champions League models, Puma's KING Platinum 21 Rallye and Mizuno's Morelia Neo III, which all retail from $220 up to $350."

Source – ESPN
On the flip side, if you're comfortable with making repeat trips to the soccer store after a couple of months then cleats with calf skin leather or pittards leather uppers would be sufficient.
Cleat stitching
Leather on a soccer cleat that's left unstitched purportedly offers players better touch when they take control of the soccer ball.
Product descriptions don't often include this detail so it may be worth asking customer service if the leather is stitched or unstitched, because you'll want the latter if overall ball feel is important to you.
Final thoughts
So, there you have it!
That wraps up everything to do with the best leather soccer cleats.
Should you be interested to read about a related soccer cleat topic, then check out our informative article on what firm ground soccer cleats are.
If you enjoy the content that I create and would like to buy me a coffee, then I'd really appreciate it!
Any money that I earn through this donation will be re-invested into more content for this website.
Additionally, by sending in a donation you'll also receive a copy of my recently released 190+ page eBook on Soccer Ball Care, as well as be subscribed to our mailing list where you'll be regularly informed on the latest developments concerning the Soccer Whizz blog.
Latest posts by Samuel Waihenya
(see all)