Disclaimer: Soccer Whizz is a participant in the Amazon Services LLC Associates Program, an affiliate advertising program designed to provide a means for sites to earn advertising fees by advertising and linking to Amazon.co.uk (source: Section 5). As an Amazon Associate I earn from qualifying purchases.
If you've played soccer from a tender age, then the chances are fairly high that you've kicked and dribbled a Mitre branded soccer ball.
Known for their firm feel, Mitre has established itself as one of the leading soccer ball producers in the world.
In today's article I'll be going over the best Mitre soccer balls that I've managed to find, as I couldn't find any specific information on this topic when I did a quick Google search.
So, without further ado, here are my top recommendations:
The Mitre Delta Professional Soccer Ball wins for its fantastic hyper seam tech that delivers a near complete degree of waterproofing – which makes gameplay enjoyable even in the wet conditions. What's more is that the outer material design takes into account the needs of every player, as shooting is enhanced with power conversion and a truer flight pattern.
Let's now look at each option one after the other.
As always, I'll start with the number one pick…
1. Mitre Delta Professional Soccer Ball
There's so much to like when it comes to the Mitre Delta Soccer Ball.
But before I get into the juicy details, I want to give you a bit more background about this product.
First of all, the Delta range is Mitre's base-level professional ball.
If you're trying to make it to the top of the sport, this ball would be a decent choice as it's a fairly standardised model that gives you a feel of what it's like to play with competition quality.
This ball was manufactured as the replacement for the older Mitre Max and Mitre Element balls, and it comes with the coveted FIFA Quality Pro certification which means it's gone and passed rigorous performance testing by the world football governing body.
Appearance-wise, the ball doesn't look to shabby either!
It features a 14-panel construction with black and blue coloured triangles printed in a neat pattern on the outer cover.
Although a prospective buyer even has the option of selecting different shades such as the yellow and blood orange types that are also in stock.
Now, let's talk about the really good stuff!
Hyper seam technology
To begin with, this ball has been expertly engineered with a so-called revolutionary hyper seam technology.
What this does is ensure that the ball has close to zero water uptake.
You've probably played a soccer game in the rain and felt a ball gradually become heavier with every touch and kick as it soaks in moisture from the wet grass and the downpouring sky.
Well, with this ball you shouldn't encounter such an issue as it can be used in a whole multitude of different weather conditions because of its durability.
Laminated power bladder
If you've got no idea what this does you have nothing to fear!
A laminated power bladder simply helps to retain the ball's spherical shape when it's in competitive use, along with ensuring that it's flight remains true to the intended target of the player when it's moving through the air.
So, if you like to practice your shooting, this ball is a solid choice as the bladder gives the ball a truer flight trajectory that should see a player easily guide their shots into the top corner of the goal.
Hyper foam material
This ball comprises of 4.5-millimetre hyper foam thickness that is said to aid with the conversion of power from a player's leg into kinetic energy so that it travels at greater speed.
To be perfectly honest, I find the science behind the Delta's development quite fascinating.
What's more is that the embossed outer surface of the ball is made to manipulate airflow to give it more of a "kick" when it comes to speed and accuracy.
Other specifications
1.2mm polyurethane outer material
Package weight – roughly 500 grams
If you want to make the step up to higher levels of play, then Mitre have also got you covered with the Delta Plus and Delta Max versions of this ball.
I also managed to find a Delta Pro Soccer Ball that's been used in England's second tier – the EFL Championship.
Might be worth checking those extra alternatives out!
2. Mitre Impel Max Training Ball
What you're looking at above is Mitre's top-level training ball.
I can safely say that the Impel Max is a good choice for those lengthy and intense training sessions that demand all sorts of actions from players.
This ball also comes in numerous colours as you've got the white/blue, white/blood orange, yellow and yellow/pitch green combinations.
Now, here are some of the headline features…
Vimini outer texture
This is my first time hearing the word "vimini" but I'll assume it means something good!
Companies are often guilty of using such buzzwords to entice consumers into buying things and I'm almost certain that Mitre had the same aim here.
But I'll give them the benefit of the doubt.
What it supposedly does is give the ball much greater grip, which makes it easier to control when players are trying to develop their technical skills on the training ground.
This sticky outer texture is also backed up by the 30-panel configuration, which helps with consistent and long-lasting performance as well.
Ethylene-vinyl acetate (EVA) foam backing
The 4.5-millimetre soft foam backing of this ball is also said to give players comfort when it comes to trapping and controlling the ball.
You might not think much of this, but it's especially important for young players to gain confidence when they train.
Having a ball that's easy to play with and soft on the touch can have a boost on a player's morale and inspire them to make the most out of their talent.
Video review
I managed to find a very brief but honest review that talks about the standard Impel training ball which is the cheapest priced one out of the Impel family.
Check it out below:
Other specifications
Hyper seam technology for near zero water uptake
Polyurethane outer material
3. Mitre Tactic Training Ball
What you see here is another classic training ball produced by Mitre.
The Mitre Tactic Training Ball reminds me of the original tough to kick soccer balls that the company produced back in the 1990s.
If you look closely, you'll notice that it boasts that vintage look with the stitching clearly visible.
Quickly moving onto the aspect of colour, Mitre have gone for a clean white, red and black brand with this ball.
The overall design doesn't look outstanding, but it appears decent enough.
Additionally, it's built with rubber laminate that serves the purpose of retaining shape when it goes through the motions out on the natural grass or artificial turf.
Apart from that, this ball doesn't have any sophisticated elements that make it stand out.
But the reason why I included it is because it does the job of being a reliable ball that a person can really depend on when they're out on the pitch working towards becoming a better soccer player.
The last thing you'd want is a soccer ball that loses air frequently after inflation.
4. Mitre Impel Lite Soccer Ball
Finally, we have the Mitre Impel Lite.
Now there's a distinction to be made for both the size 4 and size 5 versions of this ball.
The former is referred to as the Lite 290 and the latter is called the Lite 360.
An interesting branding choice if you ask me.
On to more important things, the ball is specifically designed for youngsters who are aiming to progress from competing at a junior level.
Now, don't get me wrong here – it certainly is an adult ball.
But it makes the transition to playing at a senior level much more seamless.
With regard to its design, it appears as though Mitre copied over the graphics from their Delta Range onto this ball because it looks somewhat identical at a glance.
Lastly, this ball is built for both grass and Astro turf surfaces.
This means that you can rest easy knowing that the outer shell of the ball won't chip away over time, unlike other lower quality balls.
Other specifications
Material composition – 50% rubber, 26% ethylene-vinyl acetate, 15% polyester, 9% polyurethane
30-panel construction
Factors to weigh up before buying a Mitre soccer ball
With every product roundup article, I always include a section on the key decision-making components that should influence a purchase.
This one is pretty simple.
Outer material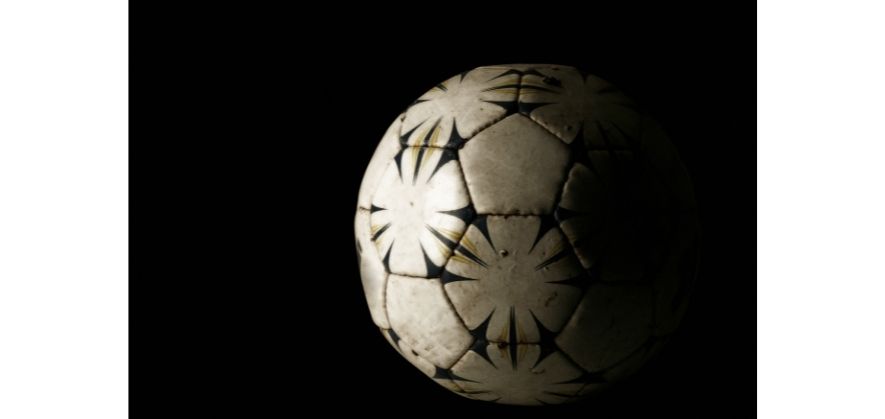 Mitre balls were always known to be as hard as rock.
That reputation definitely still exists so its important to find out if the ball you're looking at buying has a softer outer covering.
I'd potentially steer clear of the ones that comprise of rubber made materials and opt for polyurethane coated ones instead.
But you'll still want the ball you end up going with to offer you ample cushioning.
Category classification
You'll have seen that Mitre tend to promote three distinct tiers for each ball that they sell – the standard, plus and max ranges.
It's important to be aware of the fact that the pro level soccer balls have a thicker coating.
For example, the Mitre Delta has 1.2 millimetres of polyurethane outer material whereas the Delta Plus model comes in with a measurement of 1.4 millimetres.
This means that the "better" balls are likely to hold up longer than the cheaper base-level ones.
Are Mitre soccer balls good?
After scouring through Mitre's soccer ball product range online, I can confidently say that they have better options to choose from when compared to Nike.
In my previous product roundup on Nike soccer balls, I commented on the distinct lack of quality across the board other than the select few I managed to review.
Mitre balls were officially used in the 2019-2020 Carabao cup competition and they've also partnered with the Scottish Professional Football League for a number of years.
More so, the ball manufacturer had its supplier deal with the English Football League terminated after 45 years, which tells you all you need to know about how long they've been a big part of the professional game within Europe.
However, I'd say that Mitre comes in slightly behind the Adidas soccer balls which were pretty much outstanding.
What is the best Mitre ball?
If it wasn't made clear beforehand, I'll do so now.
The Mitre Delta Professional Soccer Ball strides ahead of the chasing pack. I wouldn't look past it due to the fact that the manufacturer has incorporated very useful hyper seam technology into a hyper foam material in order to maximise on-pitch performance.
With that said, you might want to spare a couple of minutes to check out my article on the overall standings for every type of soccer ball – especially if you're not dead set on purchasing a Mitre one.