Disclaimer: Soccer Whizz is a participant in the Amazon Services LLC Associates Program, an affiliate advertising program designed to provide a means for sites to earn advertising fees by advertising and linking to Amazon.co.uk (source: Section 5). As an Amazon Associate I earn from qualifying purchases.
Soccer games have come a long way in recent years.
As video game technology has seen continuous improvements, buyers have benefited from quite a few things like improved graphics, multiple game modes and cross-console compatibility.
Developers have been able to make popular titles more realistic, adding interactive elements that add even more immersion to feature packed games.
In today's article, we're going to be looking at some of the finest soccer games those with a personal computer can get their hands on.
Contrary to expectation, there aren't a plethora of options available on the market, but the choices that do exist are top notch to say the least.
Anyway, without further ado, here's our list of the best games in this category of technology:
It's a very close battle for first place, but not many will be surprised to see Sega's Football Manager 2023 rank number one on the list.
Football Manager 2023 wins here because the game encapsulates not just what happens on the pitch, but also what goes on behind the scenes from a tactical and man-management point of view. Players are offered unprecedented levels of realism in this soccer manager simulation.
Let's now take a closer look at how this happens.
1. Football Manager 2023
Sale
SEGA Football Manager 2023
Find the right club for you. Meet the board's targets and beat the best as you win football's top prizes.
Don't just sign superstars, create them. Recruit smartly with the help of your scouts and provide pathways to the first team for your wonderkids to develop a world-class squad.
Your team's playing style is down to you. Create a unique strategy on the tactics board to deliver big wins and memorable matchday moments.
Football Manager's latest iteration is another step forward in bringing the realism of soccer management to the fans who love to watch games.
The Sports Interactive company that produces the world's most popular soccer management simulation was founded in 1994, with their diverse and continuously expanding studio doing its very best to make fans of the sport happy with each yearly release.
Despite there not being much in the way of new features when you compare this 2023 game to Football Manager 2022, there are still a couple of things that make it stand out.
Here are a few of those:
UEFA club competitions license
A lot of people that play this game are on the hunt for Champions League glory, meaning they choose to journey with one of the biggest teams already in Europe's most prestigious competition.
Or alternatively, they try and build a team from the lower divisions of a European nation towards being eligible to compete in this competition.
Football Manager 2023 will have fans of this sort of challenge buzzing, because in this edition of the game the studio has incorporated official licenses for UEFA club competitions, such as the:
UEFA Champions League
UEFA Europa League;
UEFA Europa Conference League; and
UEFA Super Cup
Here's a glimpse of what this looks like:
What this means is that realism is taken to the next level in 2023's game, as the look and feel of European nights is vastly superior to what was offered in the previous year's title.
The matchday experience comes with those UEFA branded pre-match lineups and scoreboards you see when watching the matches on television, along with UEFA club competition branding for other graphics such as goals, cards and substitution announcements.
But it gets even better!
Football Manager have made sure to include distinct player walkout cutscenes prior to kick off, along with the signature UEFA Champions League anthem that we've all come to love.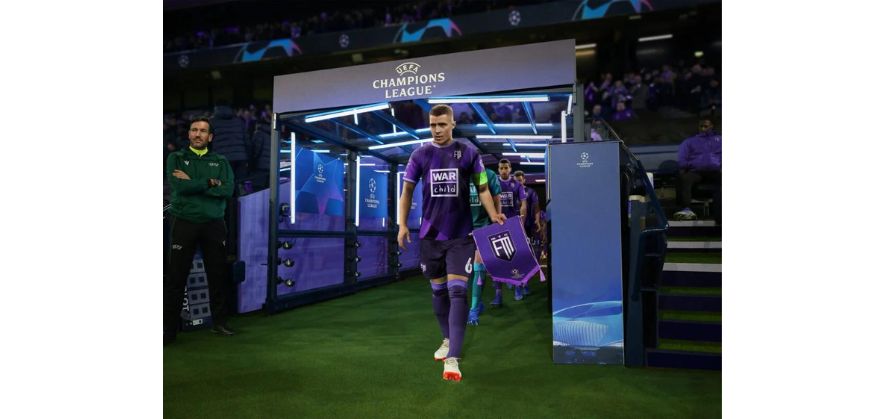 You'll also come across bespoke podiums for trophy presentations when a final has concluded, with lookalike trophies and match balls also reflecting real life which adds even more immersion.
Match AI and animation improvements
We all play Football Manager to create workable tactics and see how they translate when played out on the pitch.
The thrill that comes with seeing a formation or player role that you tweaked succeed in a competitive fixture is simply amazing.
And this year's game promises to deliver even more with regard to the matchday experience.
The developers have worked on making the artificial intelligence (AI) that controls opposition teams more open to chasing leads by committing men forward; giving them greater tactical variety when it comes to formation selection and player roles, as well as making them savvier in how they go about distributing team shape and balance.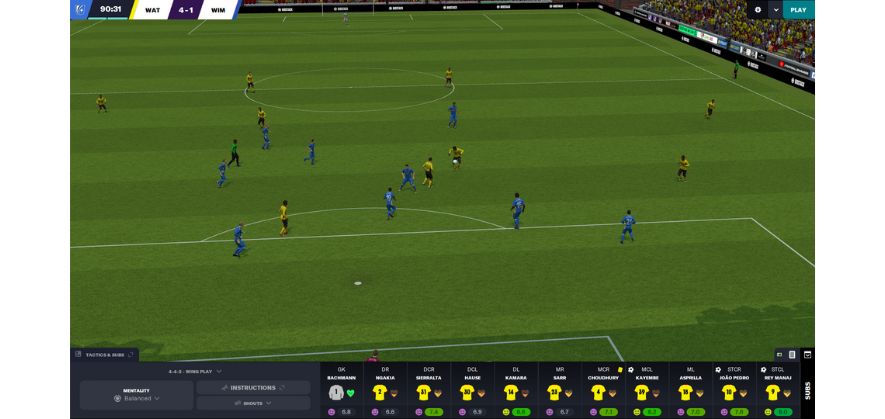 What you ultimately get is a game that is better able to reflect the managerial styles of different real-life managers, from your Pep Guardiola's to your Jurgen Klopp's, Jose Mourinho's and Thomas Tuchel's.
In addition, players make better decisions on the pitch when compared to previous editions of the game, as the development team have tweaked things like goalkeeper reactions when making saves.
One example they gave was that in one-on-one situations, goalkeepers will adjust their bodies in order to narrow down the shooting angle for opposition attackers, using their frame to make the goal behind them appear smaller.
Tactical play from wing backs has also been improved, as these wide players will look to press more aggressively which mirrors the way team's using such systems in real life tend to play.
Additionally, in the final third of the pitch, strikers make better decisions with regard to finishing chances.
You'll see your forward more likely to attempt shots across the face of goal; opening their bodies up for those finesse strikes as well as taking a more composed touch before calmly slotting the ball into the net.
Recruitment revamp
Another area that's been improved is player and staff acquisition.
Gamers are now equipped with a squad planner that helps them forecast their team depth for the current and upcoming seasons, giving them a more refined way of planning future transfer moves in the summer or winter windows.
When it comes to scouting, you can mark your recruitment focuses as either a top priority, standard priority or low priority, which allows you to prioritize assignments for your scouts based on the level of urgency.
Video review
Take a look at footage from the game below, as it gives a great visual demonstration of how the game plays out:
Other specifications
As the system requirements for this game vary depending on where you buy it from or which sort of device you have, have a look at this page for the information that relates to your use case.
2. EA Sports FIFA 23
FIFA 23 Standard Edition PCWin | VideoGame PC Code - Origin | English
HyperMotion2 Technology: Advances to HyperMotion gameplay technology with twice as much match data capture unlock new features and brings over 6000 authentic animations taken from millions of frames of advanced match capture to FIFA 23
FIFA World Cup: Experience the pinnacle of international football with the men's FIFA World Cup Qatar 2022 and FIFA Women's World Cup Australia and New Zealand 2023, with more information to follow in the build-up to each tournament
Women's Football: Play as women's club teams for the first time in EA SPORTS FIFA history as the Barclays FA Women's Super League and Division 1 Arkema come to FIFA 23 at launch. Plus, enjoy dedicated HyperMotion2 capture that powers the women's game to make female players move authentically in FIFA 23.
Next up, we have another game that is incredibly popular around the world.
Introducing FIFA 23.
This video game is mostly played on consoles like the PlayStation and Xbox, but there are a number of people who enjoy this title on their personal computers too.
Electronic Arts are the company that developed this game, and credit must go to their team of developers for making this game playable across all these different platforms.
They firmly believe in the benefits of positive play, as they stand for a gaming community that should always be fair, fun and safe.
It must be said that this year's edition of the game ticks multiple boxes, as you'll see down below.
First up, we have…
World Cup game mode
Relive the excitement of Lionel Messi and Argentina lifting the 2022 FIFA World Cup as you get to create your own personal story in this new game mode.

You get to play as one of the 32 qualified nations in an authentic single player recreation of this tournament, so whether you want to start matchday one with minnows like Saudi Arabia or the giants of France, the choice is ultimately yours.
The immersion that this mode provides is also really impressive, as it comes with authentic stadium atmospheres, match balls, trophies as well as World Cup commentary and cinematics that fully recreate the environment we witnessed in Qatar.
Women's club soccer
Electronic Arts have made a massive stride forward with this year's game by introducing women's club teams for the first time in the game's history.
So, if you want to test out Chelsea's women's team, you're free to do so because of the Barclays Women's Super League addition.
You can also play the knockout stage of the UEFA Women's Champions League in FIFA 23, which is a massive improvement over last year's title as you can experience what it's like controlling teams such as:
Juventus Women;
Real Madrid Femenino;
Manchester City Women;
Olympique Lyonnais Féminin; and
Paris Saint-Germain Féminine
Hyper motion 2 technology animations
Perhaps what's most impressive about this game is the fact that data from two new full-match motion capture shoots and five training drills with professional teams has been used to reproduce new realistic animations for the gameplay.
The natural motion of soccer players themselves and the ball has been recreated through an advanced machine learning algorithm that draws on 9.2 million cumulative frames of advanced match capture.
Over 6000 HyperMotion-enabled animations make players move more realistically on the pitch, which is great for the authenticity of the match graphics.
What this allows for is things like:
More composed ball striking; and
Cleaner outcomes for goalkeepers coming off their line to claim aerial crosses
Here's a video which showcases some of these animations:
Other specifications
PC Code – Origin
Edition – Standard or Ultimate
Operating System: Windows 10
Processor: Min. AMD: AthlonX4 880K @4GHz Min. Intel: Core i3-6100 @3.7GHz
Memory: 8 GB RAM
Hard Disk: 50 GB available space
Graphics: Min. AMD: Radeon RX 460 Min. Nvidia: GeForce GTX 670 or better
Other soccer games for PC worth considering
To be brutally honest, the step down from playing these games is quite steep!
The market for soccer games built specifically for personal computers isn't a big one.
First of all, there aren't many companies that can compete with the proprietary match engine system that Sports Interactive have developed and refined over the years.
Secondly, the massive budget for team and competition licensing plus global reach that EA Sports achieve with their yearly FIFA games really makes it difficult for other game developers to penetrate this market segment.
Nonetheless, there are still a few options worth exploring, but we don't see it necessary to have a detailed write up for them.
Take a look at some of the alternatives below:
Rocket League [PC Code]
All-new Season Mode that allows players to enjoy a full single-player experience
Extensive Battle-Car customizations with more than 10 billion possible combinations
Addictive 8-player online action with a variety of different team sizes and configurations
Pro Evolution Soccer 2010 (PC DVD)
Enhanced Realism: PES 2010 delivers a pace of game in tune with football played at the highest level. Triangulation of passes and use of off-the-ball runs are key to breaking down the opposition, forcing the player to use the strengths of their team mates to create scoring opportunities. Gone are 'soft' goals that can be used to break the deadlock - instead, only working the channels and the precision play expected of great players will make a difference.
Player Characteristics: Key skills of the many players have now been attributed named, allowing users to incorporate them into their play strategy. Cover star Torres, for instance, is renowned for his ability to receive a pass in the penalty area, and to drop the ball to a teammate in a good position for a goal-scoring opportunity. As such, he is labeled a "Fox In The Box" and "Goal Poacher", in line with his prowess in both scoring and setting up goals.
Instant Tactical Switching: Each team has unique settings matching their real-life playing styles. Torres at Liverpool, for instance, will recreate the Merseyside club's sophisticated play and high numbers in attack, their pressing from midfield, strong defensive line, and width across the pitch. For the offense, the default settings support wide attacks and the aim to move in the back of the opponent's defense line. The user can summon the bar instantly during a match to adjust team tactics to
What to consider when buying a soccer game for PC
Lastly, you need to make sure that your personal computer has the necessary hardware and software to be able to run the best games smoothly.
Have a read of the elements below that will put you on your way to having a trouble-free playing experience.
Graphics card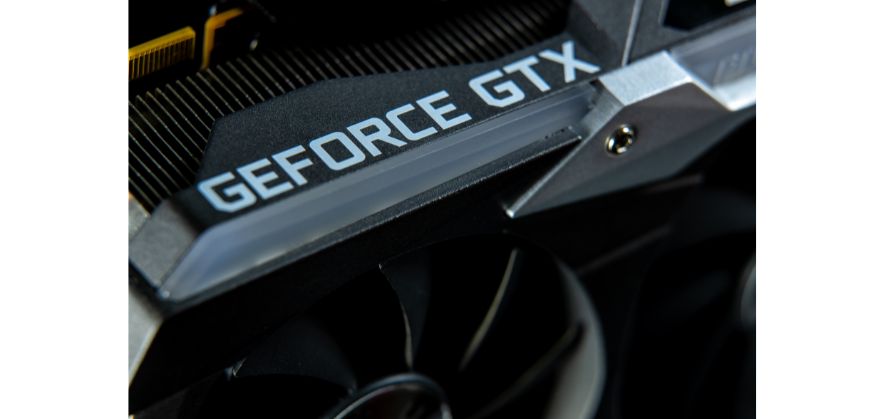 Both Football Manager and FIFA 23 place a lot of emphasis on match graphics.
The latter game's graphics and animations are top-notch, which means you'll need to have a computer with a graphics card that can handle the specifications that it has to offer.
You wouldn't want to see jittery movement when players run for the ball or commit to tackles, so invest in a solid Nvidia or Radeon graphics card that's either integrated into the computer itself or a bought separately.
Central processing unit
This is probably the most important part of your computer, and when you're buying a PC soccer game you need to have a machine with a processor that can handle all elements of the game.
When it comes to Football Manager, here's where the benefit of a good processor comes in:
"Central Processing Unit (CPU) better known as the Processor is the most important consideration when looking at a new computer for Football Manager. This is effectively the brain of your PC. The better this is the smoother Football Manager will run. It may also allow you to load more leagues/divisions and a larger database size."

Source – Sports Interactive community forum
So, get yourself a processor that can post a minimum clock speed of about 2.2 Gigahertz (GHz).
Conclusion
Not much is left to be said.
Either of Football Manager 2023 or FIFA 23 will give you a fantastic playing experience.
If you've enjoyed reading this article, then you should also check out our posts on:
If you enjoy the content that I create and would like to buy me a coffee, then I'd really appreciate it!
Any money that I earn through this donation will be re-invested into more content for this website.
Additionally, by sending in a donation you'll also receive a copy of my recently released 190+ page eBook on Soccer Ball Care, as well as be subscribed to our mailing list where you'll be regularly informed on the latest developments concerning the Soccer Whizz blog.
Latest posts by Samuel Waihenya
(see all)