Disclaimer: Soccer Whizz is a participant in the Amazon Services LLC Associates Program, an affiliate advertising program designed to provide a means for sites to earn advertising fees by advertising and linking to Amazon.co.uk (source: Section 5). As an Amazon Associate I earn from qualifying purchases. This blog also makes small commissions from ShareASale affiliate links sprinkled within the article.
Puma is a well-known brand that has cemented itself as a major player within the sports gear and apparel market.
With Paris Saint Germain's flair player and global superstar Neymar being a key representational figure, you can definitely get the idea of how well they appeal to soccer's elite and different fanbases across the globe.
But today's topic isn't going to discuss how Puma ascended to become one of the most popular sportswear companies in the world.
I'll be looking at the best soccer ball options that Puma have availed to consumers.
And if you've read any other product roundup post on my blog before, you know very well that I always kick things off with a simple comparison of the top choices.
So, take a look at what Puma have to offer below:
The Puma Final 1 Statement Soccer Ball is my preferred pick, primarily due to the moulded construction that significantly reduces water absorption and helps with weight maintenance on wet playing surfaces.
What puts it over the line ahead of the Puma Team Final 21.1 Ball – a solid competitor in its own right – is the sheer abundance of positive reviews that give a glowing recommendation for the former.
Now's the time where I seriously dissect each of the aforementioned products.
Let's begin!
1. Puma Final 1 Statement Soccer Ball
First up we have the Puma Final 1 Statement Ball.
Colour-wise, it doesn't look super appealing due to the use of a lemon-tonic shade but I'll give it a pass here because this wouldn't be a deal breaker for most people.
On the other hand, when it comes to the way in which science has been incorporated into the design elements, there's just so much to like about this one.
I'll break this down bit by bit for you…
18-panel construction
A soccer ball typically comes with 32 embedded panels but Puma have gone for a lower figure of 18 with this one.
Their clever reasoning is two-fold.
Firstly, a smaller panel number minimises the amount of seams present.
And that in itself creates a larger panel surface altogether, which ultimately contributes to greater touch and ball control for players on the pitch.
Furthermore, the high-frequency moulded construction helps retain the ball's overall shape and significantly limits water absorption when used on wet grass surfaces.
Stress-free dimple surface
Now, when you think of dimples you probably visualise a person with a big smile on their face.
In this case however, the meaning is totally different!
The point that Puma are putting across is that the outer surface of the ball uses certain technology to improve the overall aerodynamics and flight of it.
The enjoyment we derive from soccer balls mainly comes from the many ways in which we are able to manipulate them.
Think curved shots, sliced shots, toe-pokes and all that jazz.
So, with the dimple surface curvature as well as other assisting features like perimeter balance technology (PBT), players should be able to pull off amazing shots because the ball is built for it.
Polyolefin elastomer foam backing
Things get even more impressive when you find out that Puma has included inner POE foam in addition to the 1.2-millimetre polyurethane outer coating.
What this is meant to do is promote rebound consistency, not to mention a couple of other things like improve close control and provide an explosive lift when shots are made.
Video review
It's great when you have a visual reference for how a product looks like.
So, I've included a nice review video here so you can further evaluate the qualities of this ball for yourself.
Check it out below:
Other specifications
FIFA Quality Pro certified
Material composition – 100% polyurethane
Weight – 360 grams
2. Puma Team Final 21.1 Soccer Ball
My second pick is the Puma Team Final 21.1 Soccer Ball.
Looking at the visual elements of the ball, it's clear that Puma wanted a clean and minimalist design,
First of all, the predominantly white colour mixed in with rose, ocean depth and black shades offer an overall texture that appears really easy on the eye.
And then you've got the Puma logo front and centre which tops everything off in that respect.
So, this ball is off to a great start by scoring pretty highly when it comes to presentation.
But what about its performance?
Read on to find out!
Thermo bonded construction
Another soccer ball manufacturer called Select Sport – who've got their own soccer ball range – explained thermal bonding as the process where the pentagonal and hexagonal panels are glued together and bonded using heat.
In other words, this means that the Puma soccer ball in question doesn't have any stitching.
This does bring about some important benefits, one of which is the fact that such balls absorb less water and more or less maintain their original weight when used on wet playing surfaces.
In addition to these things, the ball keeps its spherical shape much better as you can imagine each panel is tightly stacked side by side against one another as opposed to being held together by tiny pieces of threading.
Ultimately, you don't really have to worry about taking powerful shots that disfigure the ball, because its thermal bonded construction helps retain its roundness over time.
FIFA Quality Pro certified
Another big deal about this ball is the fact that it has passed FIFA's quality assessment.
Professional players are said to only use the highest standard soccer balls and the FIFA Quality Pro mark is the top badge that a ball can be officially accredited with.
I talked about this in greater detail within my article on the soccer balls that professional players use, so be sure to check that out when you've got some free time.
Essentially, this certification means that the ball has excelled at FIFA's bespoke performance appraisal – which looks at factors such as:
Water absorption
Size retention
Roundness
Bounce uniformity
You'll definitely be getting a premium match ball experience if you choose to purchase this option.
Other specifications
Material composition – 30% synthetic rubber foam, 30% synthetic leather, 30% synthetic rubber, 10% polyester
Weight – 500 grams
To get around the disadvantage of this ball being slightly out of the price bracket for bargain hunters, I've managed to find some cheaper alternate versions of the same ball on Amazon.
Have a look through the list below and see what tickles your fancy:
And if the Amazon links take you to products that are no longer available, you can check out ProSoccer.com's website, which also has some good choices in stock.
These options are as follows (click each picture to take you to the relevant sales page):
3. Puma La Liga 1 Hybrid Soccer Ball
Now I'm sure you've watched matches played in Spain's premier soccer division, right?
Well, this is a version of the ball that was used during the 2019-2020 campaign in which Lionel Messi finished as the top scorer with 25 goals.
I wish it was possible to ask the Argentine maestro about how this ball performed in comparison to the many others that he's used over the years.
Anyway, back to the topic at hand!
The 18 panels of this ball are said to be machine-sewn and the surface cover of it contains micro-texture elements that make handling and control much easier for players due to the enhanced grip.
Although this Puma La Liga 1 Hybrid Ball doesn't come with the FIFA Quality Pro badge due to it being a lower spec version of the official Spanish league one, it's decent enough.
The polyurethane outer material offers better aerodynamics when shots are taken and factors such as form retention and rebound consistency aren't an issue either.
Other specifications
Material – polyester
Package weight – 580 grams
Another interesting variation of this ball is the Puma La Liga 1 Accelerate Ball; which I recommend you take a look at.
4. Puma Future Flare Soccer Ball
Last up we've got the Puma Future Flare Soccer Ball.
I'd recommend this one as a durable option purely for those training games and recreational activities where it's likely to take quite a battering.
The black, white and silver colour combination is great because it almost camouflages any tear and wear surface markings that the ball is likely to receive over the course of its useful life.
Now I'll move on to the main features:
Multi-foam backing
This ball has a few different layers of inner foam and polyester that are said to cement its shape and provide a softer overall touch.
I'm not sure whether this also aids the bounce characteristics of the ball, but the manufacturer claims that the foam backing does provide such a benefit.
Rubber bladder
Many times, I've spoken about the differences between latex and butyl bladders so I won't go into too much detail here.
The rubber bladder does its job in prolonging air retention, meaning that you don't have to keep on re-inflating the ball after every couple of sessions.
Other specifications
Materials – polyester, thermoplastic polyurethane, foam and rubber
Weight – 330 grams
Another budget friendly alternative is the slightly lower-priced Puma Big Cat 3 Soccer Ball.
You'd be hard pressed to find much of a difference between the this one and the Puma Future Flare model.
This is mainly because it's machine-stitched, also has a thermoplastic polyurethane outer casing, as well as an ethylene-vinyl acetate (EVA) foam and polyester backing that helps to deliver improved flight and bounce characteristics.
You'll also be pleased to hear that this model comes equipped with a butyl bladder, which makes air retention significantly better.
Factors to consider before buying a Puma soccer ball
Now hold your horses!
Before you whip out that wallet or purse, take a brief moment to consider the key decision-making factors for this product category.
If you're not aware of what these are, read on to find out.
Competition level
If you need a ball for competitive games, you're better off going with the premium Puma soccer balls that are FIFA quality certified.
The reason being that these balls offer significantly better on-pitch performance than replica versions or cheaper options.
Players who participate at semi-professional and professional levels of the game want ball flight perfection and predictable bounce behaviour, as anything that falls below such standards can really dent the match experience.
So, only stick to a cheap hybrid or replica if you need a Puma soccer ball for training sessions or casual play.
Ball panel quantity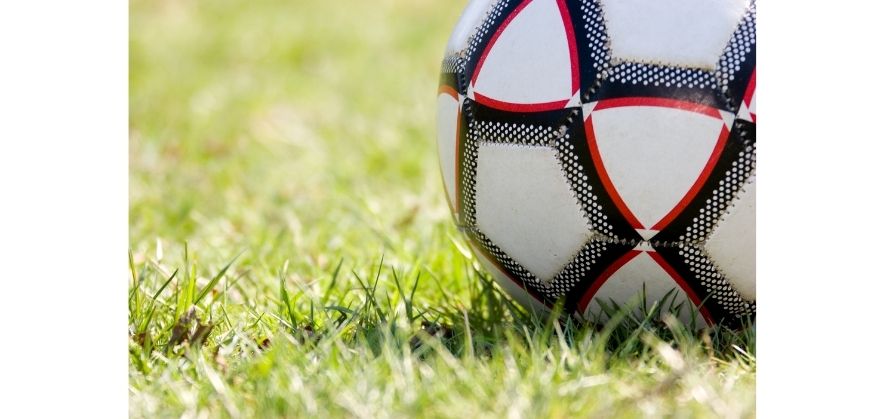 Consider the number of panels the Puma ball has because, the fewer there are, the greater the surface area for each panel.
The higher specification Puma soccer balls typically have fewer panels when compared against their cheaper counterparts.
Which offers a distinct advantage when you think about it…
A lower panel count makes it easier for players to control their shots and take more precise touches as there's a much larger reference when it comes to the exact point of contact.
So, if you're after a better match experience, you might be better off going for a ball that doesn't have a traditional 32-panel configuration.
Final recommendation
With so many different things covered in this roundup, it can be difficult for a person to decide on the best option.
I'll make that choice easier for readers by recommending the Puma Final 1 Statement Soccer Ball over the rest.
It's high-frequency moulded construction makes water absorption a non-factor, and the fact that it also excels at other areas of performance according to FIFA's own rigorous testing procedures and is really positively reviewed puts it over the finish line for me.
If you've got some more spare time, kindly check out my general buying guide on soccer balls.