Disclaimer: Soccer Whizz is a participant in the Amazon Services LLC Associates Program, an affiliate advertising program designed to provide a means for sites to earn advertising fees by advertising and linking to Amazon.co.uk (source: Section 5). As an Amazon Associate I earn from qualifying purchases.
As a coach or trainer, it's quite important to have the right equipment.
Players and teams rely on being equipped with the right amount of resources so that they can work effectively on the training ground.
Theoretically, this should have a positive knock-on effect in the form of increased sporting performance.
In this article I've set my sights on evaluating the best soccer ball bags, as without them it would probably be quite difficult to transport many soccer balls concurrently.
Here is a comparison table that outlines what I regard as the top options:
The Athletico Mesh Soccer Ball Bag easily beats out the rest of the bunch as a result of its top-notch durability brought about by way of the rip-resistant and ventilated mesh netting; not to mention the flexibility it offers with a zippered front pocket compartment, double grip top handles and adjustable shoulder strapping.
If you're after more information pertaining to each of the aforementioned options then stick with me!
Because I shall now review them one by one whilst detailing their benefits and potential drawbacks.
So, let's get started.
1. Athletico Mesh Soccer Ball Bag
I always start these roundups with a review of the best product in the category, and that is certainly no different here.
The Athletico Mesh soccer Ball Bag is arguably head and shoulders above the other options, and part of that boils down to the company's mission and objectives.
Athletico – being a United States based brand – have set out to design their products with quality at heart.
Extensive research and testing is put into place to ensure that the products they send to market are more than fit for purpose, as development factors such as core functionality and durability epitomise most of their efforts.
They have also heavily committed themselves to using customer feedback as a tool to improve their products by reading every written review and email, using the information provided as an additional data point that informs future decision making.
Anyways, that's more than enough background knowledge about the company.
I'll now begin to break down what their soccer ball bag is made of.
Open weave mesh design
From time to time your soccer balls will accumulate moisture, whether it's because of playing soccer in the rain or simply being placed within water.
Well you're definitely in luck because this bag ensures that your soccer balls dry as fast as possible.
The pores within the mesh design allow water droplets to drain away and the space between each hole also provides ample ventilation so that any pungent smells are aired out and ultimately kept to a minimum.
The mesh component isn't all style either.
Because it's rip-resistance means that you won't expect to see any tears which could be brought about by overloading the bag with soccer balls or simply brushing it along an abrasive surface.
Zippered front pocket
The second feature that I'd like to highlight is the front pocket area.
Athletico have set the pace here for other brands as this space can fit multiple item, including but not limited to:
Letter size papers
Team sheets
Soccer ball pumps that are compact
What's also quite interesting about this product is that it contains a dedicated card ID slot area for user identification or personalisation.
You can write your name on that and slide it within the front pocket compartment, which helps enormously when you need to distinguish your bag amongst a collection of others.
Double grip top handles
As a buyer you want the process of loading and unloading your soccer balls from the bag to be as quick and easy as possible, yet safe at the same time.
The top handles located on each side of the bag provide two additional points of contact that ensures every soccer ball can be carefully inserted and removed without causing the ones inside to roll out.
Adjustable shoulder strapping
When you're about to set off with your awesome soccer balls for a trek, the adjustable shoulder strapping comes in handy.
With it you can haul the bag over your back and begin your journey comfortably.
Colour contrasting drawstring
Personally, what I like most about this soccer ball bag is how distinguishable it is from the competition when it comes to quality of life features.
A great case of this is Athletico's use of a bright red colour for the drawstring cord, which makes it easy for the user to spot.
This is accompanied by a security cord lock that makes the bag easy to glide open and close with every instance.
Where other brands tend to fall short is by having the drawstring without the accompanying lock, and this leads to cases where the closure cannot be shut completely.
So, top marks for Athletico in that respect.
Other specifications
Storage capacity – holds more than 10 soccer balls
Bag dimensions – 30 inches wide and 40 inches tall
2. Fitdom Heavy Duty Soccer Mesh Equipment Ball Bag
Next up, we have the Fitdom Heavy-Duty Soccer Ball Bag.
Fitdom Gears is a company that I'd say has done well to keep up with the incremental changes in consumer behaviour.
Over the years they have infused the latest technologies within their diverse product range that focuses on things like:
Sports harnesses
Cross training gear
Fitness-related accessories
The Heavy-Duty Soccer Ball Bag that they've constructed here is well catered to the needs of the end user, especially from a research and design perspective.
Are you itching to find out more about the headline features?
If so, read on to discover what they've got on offer.
600 denier polyester fabric
Now you probably looked at this subheading and thought what in the world it could mean, right?
Well, it's actually not as complicated as it sounds.
The metric simply represents the thickness level of the polyester itself, as this website posits that polyester fabrics are made available in several different thicknesses.
300D polyester is considered lightweight, whereas on the opposite end of the thickness scale, 600D falls quite comfortably into the heavy-duty category.
With a robust fabric at play, this product is a good fit for withstanding rugged pitch conditions and scenarios where there's a significant downpour of rain.
You'll also probably be pleased to know that there's extra binding in the way this soccer ball bag is built, as it covers all the connecting inseams for enhanced durability and longevity.
Ultimately, it should suffice to say that this bag is a good choice for someone that's looking for something supremely solid that's very unlikely to fall apart after a couple of uses.
Cylindrical construction
Another largely underappreciated aspect about the good products that fall under this category is their cylindrical shape.
You see, such a construction allows the user to access soccer balls from the bag without having to bend over.
This is because the cylindrical make up puts the bag in an upright standing position for easy access.
From a design perspective, Fitdom Gears have also incorporated ergonomics which is great to see.
The last thing you'd want to experience as a user is intense shoulder pain, so they've fitted an adjustable 2-inch shoulder strap that should reduce the strain on that area of the body that is brought about by carrying many soccer balls at the same time.
I'm awarding extra marks for transportation too!
This is largely because of the presence of an extra side handle that makes the process of sliding the bag in and out of a vehicle trunk a breeze.
Oversized side pocket
The good stuff simply keeps on coming with this soccer ball bag!
It's great to see the allocation of a large side pocket compartment, as this allows coaches and trainers to carry additional items with them such as referee watches, soccer ball pumps, whistles and other personal items.
Professionally tried and tested
One other thing that caught my attention was Fitdom Gear's affirmation that this commercial grade mesh bag has undergone real life testing.
This means that coaches, athletes and other outdoor lovers have had an influence in the makeup of final product that you see here.
More particularly, their feedback helped the company to incorporate mole webbings and a tactical carabiner that allows users to attach things such as keys, water bottles and other small accessories for greater convenience.
Other specifications
Bag dimensions – 17 inches wide and 36 inches tall
Maximum storage capacity – 13 soccer balls
Package weight – 880 grams
3. Mitre Tubular Football Bag
No product image available. Refer to comparison table at the top for image description.
The budget option in this roundup is none other than the Mitre Tubular Football Bag.
I'm sure Mitre is a recognisable brand name that fills you with buyer confidence, doesn't it?
The company – Mitre Sports International Ltd – has been around since the year 1817, having started up as a sports equipment manufacturer in Huddersfield.
I'm sure you're also aware that the brand has garnered a reputation for having rock solid soccer balls, but that isn't a slight on the quality of their construction.
You can check out my article on the best Mitre soccer balls for more information on that.
When it comes to their global endorsement, Mitre does pretty well as their soccer balls are used in some professional leagues across the United Kingdom, and their international footprint is nothing to look down upon either.
Their product expertise and years of experience within the sports manufacturing industry has served them well here, because they've created a nice soccer ball bag that is just large enough to suit a casual user's needs.
Here are the core features…
Draw-cord closure
One thing that really matters when it comes to soccer ball bags is being able to keep the soccer balls securely locked into the bag.
The draw-cord closure that this bag is equipped with allows users to easily fasten the balls without fear of one or two rolling out whilst in transportation.
Ventilated mesh panels
Have you ever played soccer in the rain?
Well if you have, I'm sure you've had to carry home wet soccer balls with you after games.
It's not a pleasant experience to say the least.
So, this bag should be right up your alley then, as it comes fitted with ventilated mesh panels that quickly dry the balls after use.
The open pores in the mesh panels facilitate air flow which causes the moisture on soccer balls to evaporate.
And the subsequent benefit of this is that it frees up your arms from the moistness of synthetic ball surfaces, and that also allows you to enjoy comfortable trips home without having to worry about staining your clothes.
Other specifications
Storage capacity – 5 soccer balls
Adjustable shoulder strap included
Mitre do so well at producing soccer ball bags that I thought it would be a good opportunity to highlight an alternative Mitre Unisex Adult 12 Ball Football Bag that the brand has successfully managed to create.
4. Nike Club Team Swoosh Ball Bag
You'll be pleased to see another sports gear giant make the list.
I don't think I need to talk much about the brand as if you've watched soccer for a long enough time, you'll immediately know just how involved Nike is with various aspects of the game.
From Nike footwear to Nike soccer balls and other accessories, the company covers almost every base in the sport.
So, I'll quickly shift my attention to the product itself.
First of all, the Nike Club Team Swoosh Ball Bag has the largest storage capacity of all the soccer ball bags in this product roundup.
It is able to carry up to a maximum of 16 fully inflated soccer balls which is simply outstanding.
So, if size is your primary requirement, this bag is a suitable choice.
Meanwhile, the mesh panels situated on either side of the bag help with ventilation that keeps the soccer balls dry, and the adjustable shoulder strap gives users another comfortable carry option.
One area that did look like a bit of a let-down is the drawstring closure, as this sort of fastening can come loose if the bag is filled to the brim.
All in all, this product is a good choice for the Nike fanatics out there.
Other specifications
Material composition – 84% polyester, 16% polyamide
Volumetric capacity – 160 litres
Storage capacity – Maximum of 16 soccer balls
5. SELECT Duffle Ball Bag
Finally, we have the SELECT Duffle Ball Bag.
But before I dig into the product, I'd like to give you a bit of background information about the manufacturer.
SELECT have been making soccer balls since 1947, and their founder Eigil Nielsen has played an integral part in the development of the modern soccer ball.
He was at the forefront of the hexagonal and pentagonal panel design, and his research into 32-panel designs has been used as the initial benchmark for what a soccer ball should look like in the present day.
I also have so many good things to say about their soccer ball range, particularly in my product roundup of the best SELECT soccer balls.
Check that out when you've got a spare minute or two.
But that's not what you're here for though!
Let's take a look at their ball bag now.
600 denier nylon
Here we have a thick bag made from 600 denier nylon.
As I mentioned in the review of the first product, the denier metric simply tells you how thick the fabric is.
And at 600D, you've got a fairly thick soccer ball bag which is great!
It also features a nylon see-through mesh that allows users to easily tally up how many soccer balls they've inserted into the bag.
Hard-wearing bottom
Soccer ball bags do suffer their fair share of abuse.
Because they carry so many balls, they tend to be quite heavy and users often prefer dragging these bags along the ground to carrying them by hand.
A hard-wearing bottom on this bag makes this bag another good choice from a durability perspective, as it should be able to endure years of drag.
Padded shoulder straps
This duffle bag also gives users the flexibility to carry as well, with backpack style shoulder straps that make soccer ball transportation easy and comfortable.
Just picture yourself being able to carry a bag of soccer balls in the same way you would a school bag on your back!
Other specifications
Storage quantity – 10 to 12 soccer balls
Package weight – 199 grams
At an even higher end of the price spectrum, SELECT have another product called the SELECT Pro Level Carry Ball Bag.
If you're after a professional soccer ball storage solution then this one should suit your needs.
Fitting up to 10 fully inflated size 5 soccer balls, it comes with an interior stretch net to hold soccer bibs and other small accessories.
Other notable mentions
There's just so many good soccer ball bag options that I had to include a couple more products within this roundup.
What I'll do here is simply link to each listing and you can take a look for yourself at what each one contains.
Here they are:
What caught my eye in particular was the fact that FORZA offers prospective buyers the choice of 12 training balls, futsal balls, professional match balls, beach footballs, astro footballs and even indoor footballs, with the mesh storage bag as a free add on.
That one might be worth a closer look as you essentially get 12 soccer balls for the price of one or two, with the ball bag added in as well!
In addition to that, the same can be said of the 10 Mitre Calcio training footballs that also come with the storage bag.
Qualities to look for in a great soccer ball bag
Now before you settle on a product, I want to leave you with a couple more things to consider.
You already know that these soccer bags aren't created equally, and it's important to be aware of the factors that set the best soccer ball bags apart from the mediocre ones.
Here are a few pointers that you should bear in mind:
Large size
I'd argue that the greater the amount of soccer balls that a bag can hold, the better that product is.
For example…
Even if you only had 6 soccer balls, a bag that fits up to a maximum of 10 or 12 will serve you well as you can insert the 6 and have plenty of room for other soccer accessories.
So, in this case bigger is certainly better, but only on the provision that the bag in question can withstand the pressure of large quantities and weight.
Sturdy material composition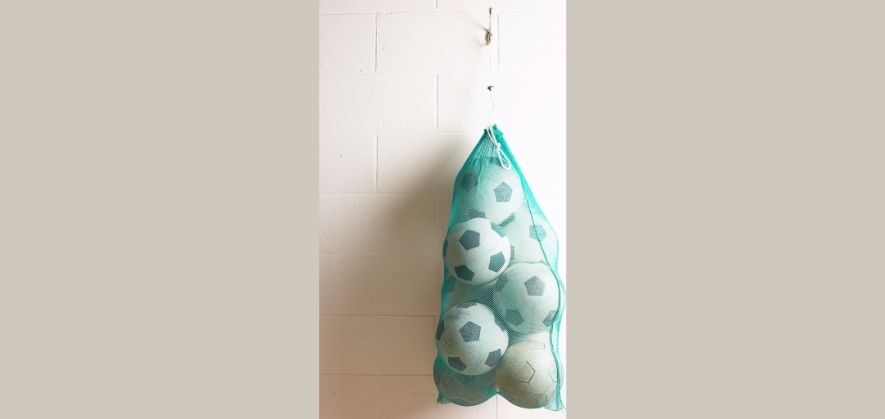 Durability couldn't be more important here.
You see, when these bags are filled with soccer balls, they get so heavy that sometimes they're simply impossible to carry.
Users then resort to dragging them along all sorts of surfaces and that could become a recipe for disaster if you're not careful.
A good quality one would be made of a strong enough fabric that is able to withstand the regular wear and tear frequency that's associated with their use cases.
I'd strongly suggest picking a bag that's made from polyester and, if I was being even more picky, I'd go for the thickest possible layer, which in most cases will be 600D polyester.
Compartment flexibility
As with any bag, you always want to be able to fit in different bits and bobs as that really comes in handy when you're travelling a lot.
Look for soccer ball bags with multiple pocket compartments – both zipped and unzipped – as these ones will afford you much greater flexibility when it comes to what you can carry for a journey.
Imagine being able to fit in shoes, socks and even things like shin pads, in addition to the 10 soccer balls that are already fully inflated.
Ergonomic shape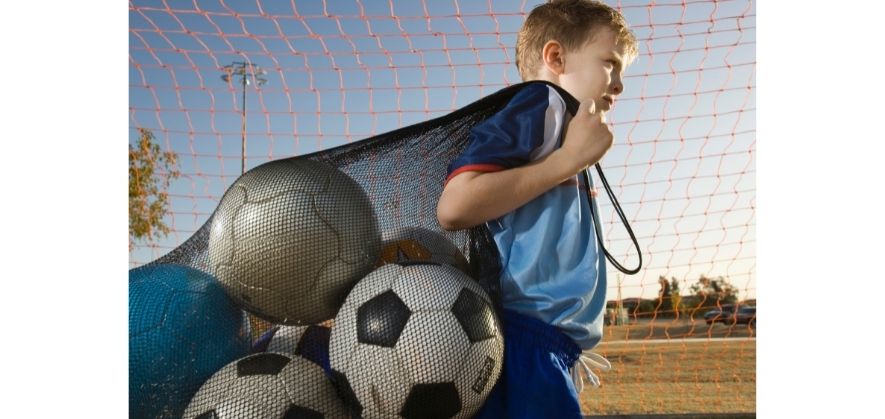 Last but not least we have ergonomics.
Sometimes you may need to carry your bag for an extended period, and if you have any sort of frailties in your spinal or neck areas you could be in for a rough time.
Which is exactly why the bag in question should never cause any sort of strain to the human body.
Therefore, you'll want to look out for the ones with adjustable shoulder strapping that comes cushioned with extra padding.
Final thoughts
Before I turn this piece into a novel I'm going to stop right there!
I'll end with a quick recap by saying…
The Athletico Mesh Soccer Ball Bag is the best in the category due to its excellent price and exhaustive feature set, with the latter clearly setting it apart from its competition.