Disclaimer: Soccer Whizz is a participant in the Amazon Services LLC Associates Program, an affiliate advertising program designed to provide a means for sites to earn advertising fees by advertising and linking to Amazon.co.uk (source: Section 5). As an Amazon Associate I earn from qualifying purchases. The blog also earns some small commissions from CJ affiliate links placed within the article.
Soccer is widely regarded as a team sport, as two sets of eleven players compete on the pitch for a positive result.
However, some of the greatest moments which took place in the game over the last couple of decades have happened as a result of individual pieces of brilliance.
Think about this for a moment.
Picture Diego Maradona's sensational solo effort against England in the 1986 World Cup; or Lionel Messi's cute lob over Manuel Neuer in the 2014-2015 UEFA Champions League season.
Both of those iconic goals required insane amounts of technical ability to pull off with such composure.
So, no matter which way you look at it, being skilful on the ball in terms of how you receive it and lay it off to team mates can make a big difference in overall performance.
That's why it's so important to consistently train your first touch if you aspire to become a professional player or if you're already playing at a highly regarded level.
Now, one of the best ways of improving your close control is through the use of a soccer ball rebounder.
Hang on a minute, a soccer what?
Yes, you heard that right – a soccer rebounder!
This piece of gear has many different names, like:
Soccer ball rebounder;
Rebounder net;
Football rebounder; and
Rebounder wall
Essentially, it's a springy net that allows a player to repetitively kick a soccer ball against it.
The elasticity of the netting repels the force that's used to kick the ball once contact is made with it, as the soccer ball then travels right back towards the player who can choose to take a touch or another strike.
And why is this equipment so good, you ask?
Well, the biggest advantage is that it eliminates the need for another partner in order to practice.
More so, by purchasing one you get to avoid causing damage to your soccer ball by hitting it against a wall instead!
Because soccer rebounders are portable enough to be set up anywhere on a pitch or within a garden area, you can hone your skills without interruption from pretty much wherever you like.
Alright, let's now turn our attention to looking at the best soccer rebounder options available.
Here are our top picks:
The pick of the bunch is the SKLZ Quickster Soccer Trainer. It performs admirably in terms of features, with it's innovative true-roll which enables ground practice as well as the more conventional aerial training. More so, it comes at a really good price point which can't really be said for most of the other options.
However, if you're after a very large soccer rebounder that's big enough to mimic an actual goal frame, then you might be better off checking out the alternatives listed below:
On the flip side, you could be after something a lot smaller.
So, you might want to take a look at these options:
With all that said, let's get into the nitty gritty of this product roundup!
Now let's move on to the individual reviews!
1. SKLZ Quickster Soccer Trainer
If you've read any of my other product roundups, then you'll already know that I like to start with a review of the number one option.
SKLZ are one of the in-house brands of Implus Footcare LLC – a United States based company that specialises in providing fitness and training gear that elevates the lives of consumers across the globe.
Implus has worked its way to a mature global footprint, as their products are distributed in more than 70 countries worldwide.
That should give you a quick sense of how big they are as a corporation.
Now I'll move on to the interesting bits!
The SKLZ Quickster Soccer Trainer has been around since it first became available on Amazon in 2015, and it's hard to argue a case for it not being the best all round soccer rebounder.
Here are some of the reasons why:
True-roll for ground practice
The vast majority of soccer rebounders that you'll spot on the market are solely built with the net sitting at an angle of elevation.
What this means is that players who use these general rebounders can only practice their mid-range passes as well as their mid-range and skyward shot attempts.
But one area where the SKLZ trainer excels is with its true-roll; opening up an opportunity for learners to master both their passing and receiving along the ground.
The true-roll can be described as a secondary rebounder net that sits below and in front of the main net.
As a beginner looking to learnt the basics of keeping the ball under control whilst it isn't travelling in the air, this is a fantastic choice.
Another advantage is that the net of the true-roll is downward facing, meaning that any powerful passes hit against it will redirect back towards the target with the soccer ball rolling directly along the ground as opposed to flying in the air.
Patented design
The streamlined shape of this rebounder isn't just for your eyes to gloss over.
On the opposite side of the true-roll we have the larger ramp-like rebounder which is used for aerial drills.
It serves a distinct purpose, particularly as it makes the execution of volleys and half-volleys with the instep and laces of either foot much easier.
Along with that, players can safely practice their body control repetitions by trapping the soccer ball using their feet, thighs and chest.
Even header perfection isn't out of the question, because with this rebounder a player can work on various aspects of their ball-to-head connection (e.g. diving and defensive headers).
Online training drills addon
Something that stands out about the SKLZ rebounder is the fact that the brand has incorporated a nicely packaged training course for whoever purchases the gear.
This can come in handy for people who are more receptive to online instruction through interactive video.
And speaking of video, I'm now going to visually illustrate how this rebounder performs in a practice environment.
Video demonstration
Take a look at this footage:
You notice how many different ways the rebounder can be used. Right?
It's very versatile and I'd recommend this as the best overall based on the fact that it caters equally to ground and aerial practice.
Other specifications
Dimensions – 6 x 4 ft
Weight – 13.7 pounds
Netting material – nylon mesh
2. Football Flick Dual Speed Rebounder
Next up we have the Football Flick Dual Speed Rebounder.
Football Flick is a business with its geographic roots firmly established within the heart of the United Kingdom.
Based in Preston, this company prides itself on adding value to the soccer training products that it manufactures for its clientele, especially by way of:
Bringing joy
Relieving stress
Providing escapism
Improving performance
In addition, they place significant focus on performance enhancement through "serious play" which is the sort of tagline that they're dedicated to.
Moving on to the rebounder that they have on offer, and there are quite a few things to like about it.
First of all, it features…
Distinct rebound sides
This rebounder comes with two opposite rebound sides that serve different functions.
One of them returns the soccer ball back in the direction of the player at a moderate speed, whilst the other side does the same but at a much higher velocity level.
You see how this is quite unique?
When you want to change the pace or difficulty level of your own training session, all you have to do is move over to the opposite side and continue your practice!
Adjustable return angles
If that wasn't enough, this rebounder net is capable of having its angles adjusted to 6 different positions.
This means that if you wanted to test your ability to control soccer balls with your head or chest, all you'd have to do is adjust the angle with the connector latch that sits in between both rebounder sides.
You can alter the height and speed of every rebound by fiddling with this!
Overall, you get a great piece of gear with the compactness that allows younger players to vary the skill focus of their practice sessions.
Other specifications
Product weight – 9 kilograms
Rebounder dimensions – 85 cm x 85 cm
3. QUICKPLAY Pro Rebounder Net
QUICKPLAY have been supplying retail and consumer markets with equipment like goal posts and rebounders since their establishment in 2007.
Before long, the company had acquired a foothold within the UK market and they grew from strength to strength by way of partnerships in a number of other countries that include Singapore and the United States.
They're well known for their Kickster Elite and Kickster Academy football goals in particular, but their innovation doesn't stop there by any means.
With their Pro Rebounder Net, they boast a dual-angle rebounder that's fitted with a galvanised steel frame.
This model of rebounder is advertised as being an upgrade on their hugely successful Spot Rebounder that they launched in 2012, so that's good news for prospective buyers!
Here are the headline features of this one:
Dual-angle panel
The fact that you can adjust the angle of the panels is great, because this means that you can easily train ground passes and aerial ones just as well.
Coaches make the angle adjustment according to their own training needs.
So, if they want the trajectory of the ball to float in the air or bounce back horizontally, this rebounder has got them fully covered.
High tension netting
Believe me when I say this.
The tension on the netting of this rebounder is through the roof!
When a soccer ball strikes it, the object immediately springs back in the direction of the shooter.
You will find that some other rebounders tend to absorb a small part of the force that the ball comes with before returning it to the receiver.
But this rebounder deflects all that energy straight back where it came from!
And because this high-tension net rebounds soccer balls at very high speed, it is perfect for simulating a professional match environment where the stakes are large.
Ultimately, this rebounder is a better fit for intense training sessions where space is not a hindrance, as opposed to being used in a house garden where you have to tone down the power of your shots for fear of breaking the pottery or having the ball fly over to the neighbour's.
Video demonstration
Take a look at how this rebounder performs in a real-life training environment:
Notice how the goalkeepers were able to perform a number of different drills that worked on improving attributes like their handling and reflexes.
Other specifications
Weight – 28.58 kilograms
Size – 7 feet x 7 feet (49 square feet surface area)
If you're after something that's even bigger in size than this, then look no further than the FORZA Football Rebound Wall made of steel alloy and manufactured by Net World Sports.
This rebounder comes in two – junior and senior – sizes:
16 feet x 7 feet
12 feet x 6 feet
4. Franklin Sports Soccer Rebounder
Franklin Sports are another American juggernaut that's thriving in the sports equipment sector.
They've been affiliated with some of the biggest names in a number of different sports, with world-class athletes like Barry Bonds and Sugar Ray Leonard both previously associated with them.
The company came to existence in 1946 and started off as just a regional sports brand.
But things changed for the better and they are now recognised as on of the industry leaders in sports equipment manufacturing, with strong ties to major brands like:
The National Basketball Association (NBA)
Major League Soccer (MLS)
National Football League (NFL)
You may also have come across them in one of my previous product roundups on the best soccer ball pumps.
Just another example of their brilliance.
Anyway, on to the product that they have on offer here.
The Franklin Sports Soccer Rebounder ticks all the right boxes for players looking for practice partners that aren't humans!
Let me explain by going over the feature set.
All-weather netting
Soccer rebounders are built to be used in outdoor environments.
But some manufacturers tend to skip over the tiny details that affect the overall durability of a product when it's left exposed to nature.
With this rebounder, you don't have to worry about that.
You see, the netting on this rebounder is specifically designed for rugged use and dependability.
Whether you repeatedly kick a soccer ball at it with tremendous pace or leave it out in the rain, you will be able to come back the very next day and not feel as though something has happened to rebounder while you were away.
Also, there are extra strong bungee cords which attach on to the steel frame that help to secure the net tightly in place.
Colour centre target zone
One other plus point that I really feel is worth mentioning is the fact that the netting comes in a high-visibility yellow shade.
This is great particularly because as a player you won't struggle to see where the rebounder is when it's dark outside, and with some extra illumination from external lighting you'll notice the net glow from a distance.
In addition to the yellow colour of the netting, this rebounder has a distinct target zone located at its centre.
This is a fantastic addition and can really aid players trying to improve their shot accuracy as all they have to do is aim for the target zone which has a contrasting black colour with yellow shade bordering it.
Precision-fit locking pins
Apart from the robustness of the netting, this rebounder also comes with locking pins that make product assembly a breeze.
These combine together with the powder coated steel frame construction to provide optimal performance stability.
You can probably bet your house that you won't have to attend to the rebounder after a dozen practice sessions, because it's been built to withstand the forces that powerfully struck soccer balls come armed with.
Multi-angle design
You truly can receive any type of pass with this rebounder.
Using the angle adjustment capabilities that this rebounder comes fitted with, you can prepare for any type of match scenario where ball control is involved.
I'm talking about things like knee, thigh and chest control.
Mastering all of the aforementioned elements of the game requires intense and consistent practice, which is what this rebounder is primarily suited for.
Other specifications
Size – 6 feet x 4 feet
Weight – 9.07 kilograms
Steel tubing – 1.25-inch outer diameter
5. RapidFire Football Rebound Net
Coming in at number 5 we have this product from Net World Sports.
The company prides itself in manufacturing the sporting products of the highest quality, specifically pointing to the fact that they house over 7,000 products inside a single 120,000 square foot warehouse.
May I also point out that 95% of those goods are their own branded stock?
That's pretty impressive if you ask me!
Net World Sports is most popularly known for their FORZA football goal range, and they've rightfully earned the moniker of being the world's best football goal supplier.
Imagine shipping 100,000 of units of these goals every single year!
The company's RapidFire Football Rebound Net stacks up very well against the rest of the options, and you'd be hard pressed to keep your wallet in your pocket with this one.
It comes in three different models, which are:
RF80 (2.5 feet x 2.5 feet)
RF100 (3 feet x 3 feet)
RF150 (4.5 feet x 3 feet)
As you can see, the first one in the bulleted list is smallest in size, whilst the last one is the largest.
Having said all that, let's move on to the juiciest bits of this piece of gear…
Varied netting grades
Each bounce back net is made of a different netting material.
One side comes in high density polypropylene (HDPP) and the other in the form of high-density polyethylene (HDPE).
Why the difference?
Well, they both provoke contrasting behaviour from the soccer ball once it rebounds off of the netting surface.
According to the product listing on their official website, the knotted net gives an unpredictable and erratic bounce, whereas the other side gives off a smoother and much more consistent layoff that you usually see in the product demonstration videos of other rebounders.
So, with one piece of equipment, a coach can be able to test so many different facets of a player's game.
Complete detachability
I'm yet to see a rebounder that can rival the level of flexibility that this RapidFire rebounder offers.
What I mean by that is, this product can be used as both a free-standing rebounder and a handheld one.
All you have to do is detach the quick release pins and you're good to go!
Other specifications
Frame material – 1.5 mm powder coated steel
Rebound net (side 1) – 1.5 mm HDPP (48mm knotted mesh)
Rebound net (side 2) – 2 mm HDPE (30mm knotless mesh)
Alternative soccer ball rebounders worth mentioning
There are so many good options for soccer ball rebounders that it's quite difficult to finish this article without referencing them all.
Here are some alternatives that you might find interesting:
Factors to consider before buying a soccer rebounder
When you're weighing up the decision of whether to purchase this sort of equipment, you need to evaluate a couple of things.
Soccer ball rebounders are quite costly if you compare their average price to other things like the best soccer balls, so you need to make sure you take the time to do you research prior to splashing the cash.
Here are a couple of things that I'd highly suggest you look at:
Size
Do you need a big rebounder or a small one?
The answer to this question will typically be dictated by the amount of space that you have available for use at the front of your house or within your back garden.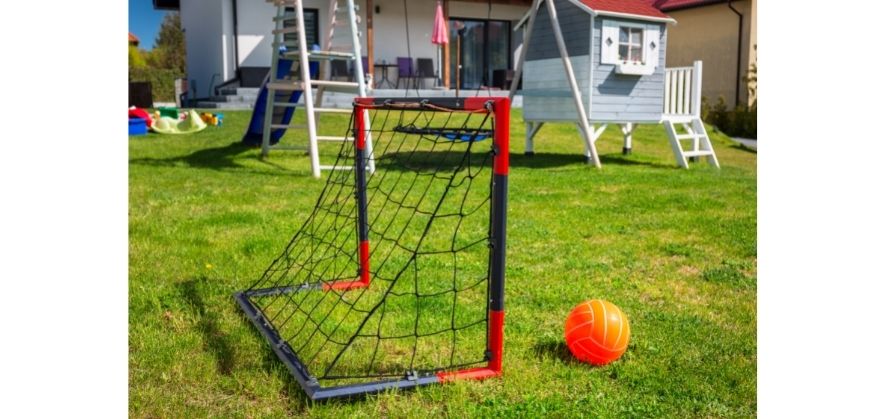 Also take note of product dimensions if you intend to buy a rebounder as a gift for someone else.
That could be a friend or even a colleague at work outside of it.
You want to avoid having an issue with fitting it into a designated area or not having enough room to be able to manoeuvre with a soccer ball around it.
Material
If durability is your main concern, then you're going to want a rebounder that's advertised as being suitable for all types of weather.
That includes sun, rain, hail and snow!
A rebounder of such a build should be able to withstand extreme temperatures and be safe from rust and corrosion.
You'll want to go for rebounders made from galvanized steel as they have a protective layer of zinc coating that is able to significantly slow down the rust and corrosion process.
Portability
With this element, you need to consider the location where you mainly intend to use the rebounder.
If you travel for soccer practice often, you might want to carry it along with you to the nearby training facility.
In such a case, having a rebounder that's detachable is a necessity.
You will need to fit it into a car trunk in order to transport it to the destination.
Have a look out for the easily foldable ones as well, and check out review sections to ensure that the one you pick is easy enough to deconstruct and re-assemble.
Skill level
Finally, take into account your own ability too!
If you have just started learning how to play soccer, you won't really require a rebounder that comes with sophisticated netting that delivers both smooth and unpredictable bounces.
You'll just need an option that delivers well on the basics.
After you make progress in your development, you can then begin to explore difficulty settings by adjusting the angles on the rebounder.
Wrap up
A lot has been talked about in this article, so it's a good time to conclude with a final recommendation.
The SKLZ Quickster Soccer Trainer wins here because of its combination of good price and feature set. The fact that the manufacturer included an online package of training drills shows the extra mile that they've gone in order to satisfy the customer.