Disclaimer: Soccer Whizz is a participant in the Amazon Services LLC Associates Program, an affiliate advertising program designed to provide a means for sites to earn advertising fees by advertising and linking to Amazon.co.uk (source: Section 5). As an Amazon Associate I earn from qualifying purchases.
When it comes to soccer, the progress within the women's game has clearly come on leaps and bounds over the past decade.
Viewership of the sport's female athletes continues to climb in various countries around the world, which is great as it encourages a younger generation of girls to pursue soccer as a career.
In light of the growth that women's soccer has experienced, big manufacturers like Nike and Adidas have taken steps towards catering for this increasing female audience of players by creating tailor made equipment for them.
More specifically, women can purchase soccer cleats that are geared towards their own gender.
So, in today's article, we'll be focusing on some of the fantastic product options available in this category of footwear.
Without further ado, let's get started with a quick comparison of the best soccer cleats for women:
Adidas' Goletto VIII Soccer Cleats win out here as their combination of sole padding and triangular stud layout give women players the balance they need on the pitch without hurting their feet or leaving them sore or blistered in the process.
How we selected the best soccer cleats for women
Unlike other websites, here at Soccer Whizz we undergo a meticulous selection process for products that are included within our roundup posts.
For women soccer cleats, we've taken a hardline stance by not selecting any options that are advertised primarily for a male audience.
Let's take a look at an example below: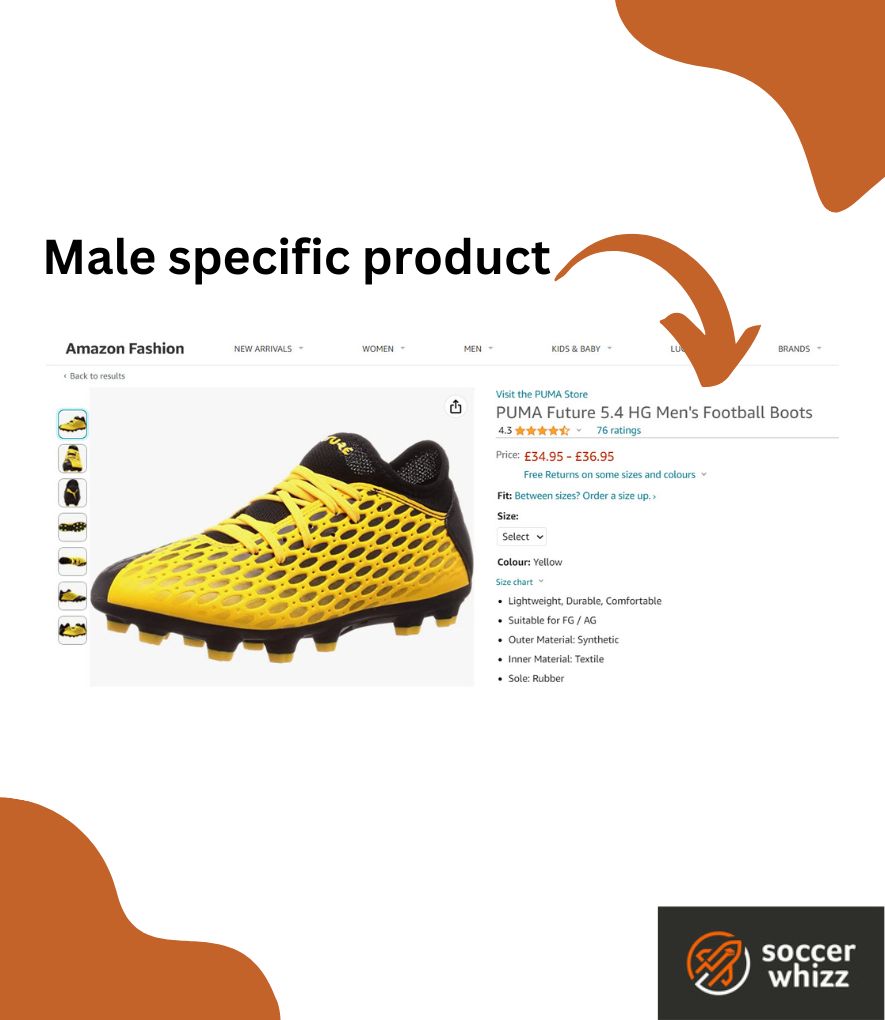 The soccer cleat in question is listed as a "Men's Football Boot", which clearly indicates that it's solely intended for male players.
Any listings that matched the aforementioned criteria were excluded from potential evaluation, although we were a little more lenient on footwear advertised as "unisex" (i.e. for males or females).
Naturally, identifying female specific footwear in a male dominated niche sport such as soccer wasn't by any means an easy undertaking.
But when we found a good fit, we were happy to run it through our testing procedure, which we're now going to outline.
How the best women's soccer cleats were tested
Female players will obviously have slightly different needs from their soccer footwear as opposed to their male counterparts.
We looked at the following criteria when evaluating each option that made it onto our final shortlist:
Relative comfort of the midsole, heel and outsole due to subtle differences in female foot shape;
Locus of support for pronation, resulting from women having wider hips that make it more likely for their feet to strike the ground toward the outside of their cleat soles; and
Cushioned material on the inner that should safeguard from blisters which female feet are more susceptible to due to the more delicate nature of their skin
Any soccer cleat that managed to tick the bullet points above can be regarded as a good option that a female player should take time to consider if they're looking to buy a new pair.
Now, let's get down to the individual reviews.
1. Adidas Goletto VIII Soccer Cleats
Adidas Goletto VIII Soccer Cleats
Soccer cleats for lightweight comfort and grip
SYNTHETIC UPPER: Synthetic upper for lightweight comfort
CLEATED OUTSOLE: Cleated outsole for firm ground play
Here we have a very popular soccer cleat option for women in the Adidas Goletto VIII.
Perhaps the most striking thing about these cleats is the mauve (pink) colorway.
Right away, you can tell that this color that makes them an instant attraction for female soccer enthusiasts who love to play the sport recreationally or professionally.
The good thing is that the outward appearance of these cleats doesn't tell the full story for how good they perform overall.
Let's now find out more about that.
Control-boosting forefoot stitching
Adidas have created what we call a tiered design across the forefoot of these soccer cleats by using strategically positioned stitching.
Looking more closely at the upper front and toe box areas of this cleat reveals a parallel sort of stitching pattern which offers a decent level of padding and a bit of extra dampening when you make contact with the soccer ball.
The particular arrangement of the stitching makes the synthetic upper more pronounced, which is why players are able to benefit from better close control.
Heel and midfoot padding
Women are bound to be really pleased with the design choices Adidas have gone for with these cleats, as the manufacturer has incorporated a slightly thicker padding around the midfoot and through the heel than you'd find on a different modern pair.
Traditionally, this is an area where Adidas "trims the fat" and makes the cleats more lightweight, but instead they've gone in the opposite direction for the sake of cushioning and overall comfort.
Ultimately, the padding is like a puffy layer of foam that gives your feet greater support and reduces blister risk.
Low profile triangular studs
Underfoot, Adidas have opted for low-profile triangular shaped studs.
You get a total of seven studs under the forefoot area and another four under the heel part of the cleat.
Admittedly, this stud arrangement is fairly basic but it does the job of giving female wearers balance and flexibility as they move around on firm ground or all ground pitch surfaces.
Video unboxing
The visual footage below shows what these soccer cleats look like right out of the box, along with providing an on-feet glimpse for players keen on seeing how they fit when worn:
Other specifications
Closure – lace up
Heel type – flat
Upper material – soft synthetic with 25% of the components used to make the upper made with a minimum of 50% recycled content
Outsole – firm ground
2. Puma Ultra 1.3 Soccer Cleats
Puma Ultra 1.3 Soccer Cleats
GripControl Pro: PUMA's coating for decisive command over the ball when on the attack
MATRYXEVO: Lightweight technology constructed with reactive Carbon yarns for support during fast-forward motion
Ultra-fast Peba SpeedUnit: PUMA's outsole infused with running spike DNA for rapid acceleration
Next up, we have a Puma creation in the Ultra Play 1.3 soccer cleats.
What's interesting about this release is that Puma settled on two different variants for this cleat – a unisex fit and a women's fit.
The latter incorporates a slimmer midfoot in order to accommodate the higher arches typically present in female players; a broader forefoot area and a conical stud pattern that delivers better overall weight distribution.
Puma get even more plaudits for the women's version of this piece of soccer footwear due to swapping out an aggressive stud pattern for a conical one.
Anyway, here are the highlight features of this one…
MATRYXEVO woven upper
These soccer cleats are tailor made for female speedsters who really love beating their opponent with a quick burst of pace.
The proprietary MATRYXEVO technology that Puma have woven into the upper provide great stability for the foot, and it works in great combination with the PEBA SpeedUnit sole that facilitates that all-important lockdown traction you need for fast acceleration.
Once you break into these cleats, the compressive fit will make you foot feel as though its unified with the cleat itself, which is great as you get the lightness needed to sail past players with ease.
GripControl coating
As always, ball control is very important for female players and these Puma cleats don't disappoint in this department.
The cleats are said to be treated with a grippy coating that makes the ball sort of stick to your feet, even in wet playing conditions.
Video review
Look at the review below for more of a visual assessment of these cleats.
Other specifications
Closure – lace up
Heel type – flat
3. Diadora Maracana L Women's Soccer Cleats
Last but not least, we have another female-inspired choice with the Diadora Maracana L soccer cleats.
The Italian manufacturer – that has been serving the sports needs of athletes since 1948 – have produced an eye-catching piece of footwear worthy of a detailed review.
Diadora were a brand that were much more prominent within soccer as a sport back when Roberto Baggio was in his prime, although they're making a decent attempt at a renaissance, particularly within the modern women's game.
The Maracana L model that they've developed has quite a few handy features that make playing the game easier for the female gender.
Let's now look at a few of them.
Flexible axeler frame
These cleats come with axeler technology that's embedded right into the sole plate.
For those of you who don't know what this is, here's a quick rundown.
Axeler technology is meant to help with stiffness, stability, and flexibility.
Check out the quote below from Diadora themselves, which explains its impact:
"The super light Axeler technology is composed of a frame of Tech Alloy (a special alloy of harmonic steel) which increases the propulsive capacity of the mid-sole. Axeler has been engineered to ensure a high stability of the foot together with an exceptional bending capacity and a perfect weight distribution to accompany and follow the foot in its every movement. The integration of Axeler with CCb improves support to the foot arch and to the torsion control."

Source – Diadora website
Touch control zone
Trapping the soccer ball is a very critical part of today's game, and these cleats provide female players with the tools to maintain possession for their teams each and every time.
You get touch control on the front upper of these soccer cleats, which ultimately allows for smoother contact with the ball due to its inherently sticky feeling and greater sensitivity.
Conical stud pattern
Finally, Diadora have gone with a conical stud pattern which makes these soccer cleats ideal for use on firm ground surfaces.
There are 10 studs under the forefoot area and four studs beneath the heel, which is great because you get enough balance underneath your feet to coordinate on-pitch movement effectively.
Video unboxing
Have a look below to see what these cleats look and feel like when worn:
Other specifications
Closure – lace up
Outsole material – polyurethane
Insole material – cotton and EVA
Upper material – calfskin
Heel type – block heel
Other women's soccer cleats worth considering
If the aforementioned soccer cleats aren't to your particular taste, you shouldn't worry as there are a number of viable alternatives.
First of all, Diadora have their Maracana MD specification soccer cleats [LINK] that are just as good if not even better reviewed by first-hand buyers.
And Adidas have got more soccer cleats up their sleeve as well:
Conclusion
With these three choices you can't really go wrong when it comes to choosing a good pair of soccer cleats designed for female players.
For related content, have a look through the following articles on our blog:
Happy reading!
Latest posts by Samuel Waihenya
(see all)