Disclaimer: Soccer Whizz is a participant in the Amazon Services LLC Associates Program, an affiliate advertising program designed to provide a means for sites to earn advertising fees by advertising and linking to Amazon.co.uk (source: Section 5). As an Amazon Associate I earn from qualifying purchases. This blog also earns small commissions from CJ affiliate links placed within the article.
Being able to consistently place a soccer ball in the back of the net couldn't be more important for soccer players.
Results dominate the sport, as the teams which score the most goals during games are the ones that are handed the points as well as the trophies.
That's why it's so important for players to work on their shooting with lots of practice hours.
Do you think that the scoring ability of world class players like Cristiano Ronaldo and Lionel Messi was achieved through pure talent alone?
Of course not!
By dedicating their time over a number of years to perfecting the craft, these global superstars were able to polish their shooting skills, which has paid off quite handsomely in the form of numerous individual and team awards.
One of the ways that casual and professional players can enhance the accuracy of their shooting is by using soccer goal targets.
Soccer goal targets (target sheets) are a great outlet for working on execution, because they're fully portable and can attach easily to goal frames.
Because these pieces of equipment sit on the expensive side of the price spectrum, this article will help you make an informed buying decision.
Let's start with listing the best soccer goal targets:
SKLZ Goal Shot Soccer Goal Target

Research-backed scoring zones

QUICKPLAY PRO Football Goal Target Net

Numerical and colour-coded markers

Kickmaster Quick Up Goal and Target Shot

FORZA Pro Football Goal Target Sheet

Sturdy loop and pin strapping

Weatherproof sheet design

Soccer Garage 3 in 1 Soccer Training Goal

Heavy duty weather resistant frame

Easy push button assembly
The SKLZ Goal Shot Soccer Goal Target is a worthy winner largely because seasons of research went into determining the optimal locations for each target zone. Such analysis gives players using this soccer target sheet a massive advantage, as they are primed with expert knowledge on the easiest areas to beat an opposition goalkeeper.
Let's now take a look at all the options, shall we?
1. SKLZ Goal Shot Soccer Goal Target
SKLZ Goal Shot Target
Builds a new focus on the zones players are four times more likely to score
Gives players max shooting reps with instant feedback
Builds the vision and muscle memory needed to increase scoring percentages
SKLZ are a brand owned by Implus Footcare LLC – a consumer packaged goods company that focuses on creating the very best fitness, outdoor, sports and footcare products known to man.
They strive to enhance healthy and active lifestyles through their core values of commitment, collaboration, communication and competition.
It's quite inspiring to see the SKLZ flag flying high, as I had previously reviewed another one of their products in an earlier roundup on the best soccer rebounders.
Their Goal Shot Soccer Goal Target is quite pricey but for good reason.
Here's why:
Research-backed scoring zones
Before designing this product and commissioning an initial prototype, a lot of data collection took place.
A group of researchers took the time to study the specific zones of the goal where players are four times more likely to score from their shots.
Multiple seasons of analysis was compiled and the end result was a soccer goal target that features four dedicated zones where goalkeepers have a much lower probability of making a save.
So, SKLZ have created the platform for players of all levels to take their shooting game to significantly greater heights.
You're essentially being given a nudge in the back which sort of says…
"Hey, just aim for these four areas and ignore anything else. If you do that, you will score."
Instant shot feedback
What I like about this soccer goal target is the fact that players who train with it are forced to adjust their position and shooting technique after every attempt at goal.
You see, the target sheet has enough tension to rebound the ball back in the direction of the player if they were unable to slot the ball into one of the open zones.
Such repetition builds a player's muscle memory and over time they will gradually become more accustomed to various shooting angles, which should help tremendously with increasing one's scoring percentages.
Video review
If you want to see this soccer goal target in action, take a look at the footage below:
Other specifications
Dimensions – fits any 24 ft x 8 ft goal frame
Net weight – 200 grams
2. QUICKPLAY PRO Football Goal Target Net
QUICKPLAY Pro Football Goal Target Net
The QUICKPLAY Target Net PRO 24x8' – This soccer training net is an essential PRO coaching tool to develop soccer player's shooting and passing accuracy using proprioceptive training techniques. Suitable for individual and team training. Fits any 24x8' full size goal. *Soccer goal frame not included.
7 TARGET ZONES WITH 4 MOVABLE MARKERS – QUICKPLAY's number and color-coded marker system keeps training drills fresh and player's visual acuity sharp. With this training target players won't get bored like they do with other soccer target nets. Simply move the markers from target to target to create fun and varied training sessions. Patent pending
ULTRA STABLE WEIGHTED BASE – The base of the net has a weighted seam to prevent balls being kicked under and helps the net to maintain integrity even on windy days. GOAL POSTS NOT INCLUDED – The Target Net PRO 24x8' is a premium coaching net designed to fit any full size 24x8' solid frame soccer goal.
QUICKPLAY Sport as a company grew to become the powerhouse that it is today out of a need to make sports equipment better for the people that use it.
As an international best seller, the brand certainly pays a lot of attention to the tiny details that go into product research and development.
Their operations run smoothly across every continent, as they supply the big players (multinational corporations) as well as the specialist storefronts.
QUICKPLAY Sport has its headquarters in the United Kingdom as well as in the United States, through Sheffield and San Diego respectively.
With an in-house design team dedicated to making sure that they produce the best possible products, the QUICKPLAY PRO Football Target Net is a fine choice that merits its inclusion within this roundup.
Let me go through the eye-catching features so that you can see why.
Numerical and colour-coded marker system
Let's face it.
Doing a repetitive training activity can get boring after a while.
I can personally attest to this through my own playing experience.
If you're tasked with shooting a soccer ball multiple times towards the same general area, you will be surprised at how quickly you begin to disengage from the whole exercise.
This is where QUICKPLAY Sport's goal target keeps things spicy.
Using movable colour and number targets, players can keep their shooting drills fresh by varying their target zones and shooting sequences.
So, instead of aiming for one or two zones repeatedly, users can adjust their routine by changing where they want to shoot and the order which they'd like to go through the process.
The 4 markers provided are easily movable between the 7 targets, as the Velcro strapping keeps them firmly attached to the sheet.
Knotless netting
Another solid aspect of this product is the knotless netting.
Without a doubt you will be taking shots with plenty of power.
This is why the net comes with shock absorbing bungee attachments that prolong the life of the net and give it the tension it needs.
On a separate note, the base of the net is fitted with weighted seams that add to overall stability and stop soccer balls from rolling underneath it.
Setup tutorial
Take a look at the 5-minute clip embedded below.
It shows how you can get this soccer goal target set up wherever you intend to use it:
Other specifications
Size – fits any 24 ft x 8 ft soccer goal frame
Package weight – 9.48 kilograms
3. FORZA Pro Football Goal Target Sheet
FORZA Pro Football Goal Target Sheet
FOUR TARGET SHOOTING TRAINING - These premium target sheets isolate each corner, allowing you to develop clinical finishing. By focusing on these four key areas, your training drills will lead to greater goal scoring.
QUICK AND SECURE ASSEMBLY - The super sturdy loop & pin straps of these sheets allow them to be securely and quickly fastened to the goal frames. The secure fit retains its shape and position when struck by hard shots.
WEATHERPROOF TARGET SHEET - Manufactured from heavy duty air mesh material, heavy winds won't impact the premium target sheets, allowing you to tailor your shooting technique to match the elements.
FORZA is another brand that is well respected within this department of soccer gear.
I spoke about them in an earlier product roundup of the best soccer pinnies to wear, as their product was the number one recommendation.
They make quality backyard soccer goals as well, which is why they are a great fit for inclusion within this article.
Now, their Pro Football Goal Target Sheet is identical to the SKLZ Goal Target Net in the sense that it also has 4 open zones (top left, top right, bottom left and bottom right) that players can aim for.
But there's even more to like about this one, starting with…
Sturdy loop and pin strapping
The robust 9.5-centimetre loop and pin straps make attaching this soccer goal target sheet quite simple.
An innovative fastening mechanism has been incorporated into the strapping design to allow for secure goal frame fixing, together with long elastic bungee cords that help solidify the shape retention of the sheet when powerful shots are drilled right at it.
If you play as a striker you can train without fear, because the strapping is built to withstand the force of fiercely struck soccer balls.
Weatherproof sheet design
One of the best things about this sheet is the fact that it can be used all year round.
The mesh material is able to combat the impact of blustery winds, which keeps the overall shape of the sheet intact even in the midst of unfavourable weather conditions.
What's more is that the nylon banding that the sheet netting comprises of is really firm.
In layman's terms, this means that any soccer balls that ricochet off of the netting quickly rebound back to the path of the striker so that they repeat their shooting actions continuously.
You also won't struggle to spot this soccer goal target sheet in the fog, as the fluorescent yellow banding is able to illuminate the scoring zones.
That's great because players have clearer reference points for the areas that they need to target with their shots.
Other specifications
Net material – mesh
Target sheet sizes – 12 ft x 6 ft, 16 ft x 7 ft, 18.5 ft x 6.5 ft, 21 ft x 7 ft and 24 ft x 8 ft
I'll also leave you with a few FORZA alternatives for players looking for different zones to target:
4. Kickmaster Quick Up Goal and Target Shot
Sale
Kickmaster is a company with its roots firmly grounded in the United Kingdom.
The brand does extremely well on Amazon, particularly for its Quick Up Goal and Target Shot product that has garnered thousands of positive customer reviews over the years.
This soccer goal target is a little bit different because it's a lot smaller than the others that have already been reviewed.
But not to worry!
Such compactness is great because it allows you to develop your shooting precision even further.
You have to be hyper-focused to hit soccer balls through the smaller targets on this one.
Let's take a quick look at its core feature:
Inbuilt target shot mode
This soccer goal target is double-sided.
On the one face we have the target shot which comes with five different zones that players can attempt to pinpoint.
This consists of 4 corner targets and one "bulls-eye" zone that is in a central area of the sheet.
One thing that I need to point out is that you may have a much harder time getting the correct shot placement as this goal target is a lot lower in height and doesn't attach to a much larger goal frame.
So, you'll spend more time perfecting your ground shots rather than the more aerial attempts.
Video unboxing
I managed to find some footage where this product is unveiled along with all its additional contents.
Check it out below:
Other specifications
Assembled size – 106 cm (width) x 76 cm (height) x 76 cm (depth)
Material – polyester
You can also have a look at some similar options within this price range, including:
5. Soccer Garage 3 in 1 Soccer Training Goal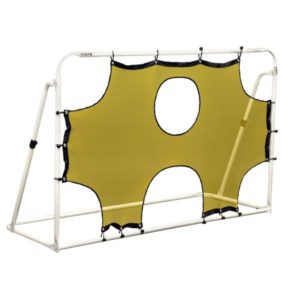 Last up we have Soccer Garage's 3 in 1 training goal.
The company itself is one of the largest retailers of soccer equipment and apparel in the United States, which is something that gives a certain portion of buyers added confidence.
With a warehouse operation running in California, Soccer Garage is able to deliver superior service with their product offerings.
And this soccer goal target is no different.
You get a standard soccer goal, a target practice item and a soccer rebounder all in one!
Push button assembly makes this soccer goal target very easy to set up and take down, as the individual components simply clip on and off.
There are multiple sweet spots to aim for too, as this target sheet has a central hole along with openings on each corner of the goal frame, not to mention the extra slot situated bottom centre.
Other specifications
Dimensions – 6′ x 3′ x 4′ (L x W x H)
Net material – polyethylene
Other soccer goal target considerations
As part of this roundup I'm going to include a brief buyer's guide that details some other bits of information about soccer goal targets that you should take into account.
It's not all about picking the cheapest or best reviewed option, as there are certain factors that prospective buyers need to be aware of before making a decision.
Here are some of them:
Size
Soccer goal targets come in a number of different sizes.
If you want to test your shot accuracy to a much finer degree, then I'd recommend picking a smaller one as there's less of a target area to hit.
Also make sure that the size you select is compatible with the space that your goal frame provides.
Otherwise, you'll be looking at having to make a frustrating product return back to the seller for a size replacement.
Portability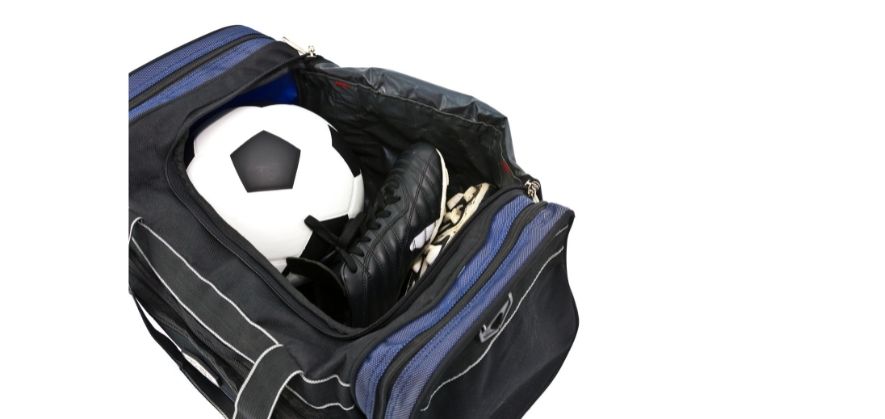 A lot of these products include spacious carrier bags that allow you to fit these target sheets in, along with all the other bits and bobs that include things like:
Anchor pegs;
Pins;
Galvanized steel posts; and
Fastening straps
You'll want a soccer goal target that's easily transportable because there are bound to be situations where you would want to train at a different venue.
With a carry bag you can take your product and set up at a local park, or if your friends wanted to arrange a training session at a certain facility, you could also bring it along.
Target quantity
Feedback is a critical part of improvement in training.
If the targets are too close together due to being a bit high on quantity, then you might find it a little difficult to judge whether you shot the soccer ball into the correct hole.
From distances further away, this is a pretty realistic expectation.
So, you'll want to look for soccer goal targets that have their striking zones evenly spaced, as that way you'll get clearer visuals on whether you're developing your shooting game or not.
Goal frame inclusivity
A lot of people seem to think that soccer goal targets come with a goal frame as standard.
But this is not often the case!
So, you need to double-check the fine print to confirm whether the goal frame comes with this piece of kit as part of a package deal.
Wrap up
Hopefully you can now make a really informed choice on a soccer goal target, one that you will be proud of for several years to come!
If you enjoy the content that I create and would like to buy me a coffee, then I'd really appreciate it!
Any money that I earn through this donation will be re-invested into more content for this website.
Additionally, by sending in a donation you'll also receive a copy of my recently released 190+ page eBook on Soccer Ball Care, as well as be subscribed to our mailing list where you'll be regularly informed on the latest developments concerning the Soccer Whizz blog.
Latest posts by Samuel Waihenya
(see all)