Disclaimer: Soccer Whizz is a participant in the Amazon Services LLC Associates Program, an affiliate advertising program designed to provide a means for sites to earn advertising fees by advertising and linking to Amazon.co.uk (source: Section 5). As an Amazon Associate I earn from qualifying purchases. I also earn commissions from ShareASale affiliate links within the content.
Shin guards have been part of soccer for several decades now, as they're an important piece of equipment that players use to protect their legs from injury during competitive games.
With the wealth of shin guard options available in today's market, prospective buyers are left with quite the conundrum.
For example, should someone keen on purchasing a great pair of soccer shin guards go for a strap on type product that comes with Velcro fastenings?
Or should they plump for the slip in type shin guards which are compact enough to be inserted straight into the sock without much fiddling?
And then you've got the bulkier type that come with ankle support.
All these different shin guard choices make it a bit difficult for a person to pinpoint one that's right for their own set of needs, which is why we've come up with this very detailed article breaking down the best soccer shin guard options for you!
To get started, have a look at the following comparison table:
| | | | | |
| --- | --- | --- | --- | --- |
| | | | | |
| | Nike Mercurial Lite Shin Guards | | | |
| | Bodyprox Soccer Shin Guards | | | |
| | Mitre Aircell Carbon Shin Pads | Fixed sock with ankle protection | | |
| | Vizari Malaga Shin Guards | Sleeve and elastic netting | | |
The Mercurial Lite Shin Guards win by a fine margin here. The anatomical design which specifically caters to the shape of a player's left and right foot is a standout feature that arguably justifies these shin guards the top pick.
How the best soccer shin guards were chosen for review
Selecting the best soccer shin guards meant conducting a thorough evaluation of products available online on retailers such as Amazon and ProSoccer.
We scoured the web to obtain objective and unbiased reviews of the shortlisted products from people who have hands on experience with the products in question.
Our starting point involved looking through what the major brands like Nike, Adidas and Puma had to offer when it came to the shin guard department, and in the midst of that search we stumbled upon other products that caught our attention for their quality.
After settling on a shortlist of seven options, we narrowed down a little more to end up with a top four based on how the product performed when used by buyers, and through consideration of available features that we thought were most ideal for players to have.
How we tested the best soccer shin guards
With the aforementioned information taken into consideration, we looked for several basic criteria, such as:
Extra ankle support provided with cushioned ankle padding;
Strong outer shell made of carbon fiber material for the best shin protection against kicks to the leg area;
Ample comfort and cushioning through foam backing; and
Breathability through moisture-wicking components that take sweat away from the material
Anatomical design (i.e. custom shin fit for the left and right leg) was an additional bonus.
Now, let's review each option in detail..
1. Nike Mercurial Lite Shin Guards
Nike Mercurial Lite Shin Guards
Anatomical design is engineered to fit the contours of the shin for targeted cushioning
The durable shell is bonded to a dense foam pad for impact diffusion
Excellent cushioning and shock absorption in one design
It shouldn't really come as a surprise to anyone even remotely familiar with sports equipment that a Nike product is the first pick when it comes to a product roundup.
The company have been around for a very long time – from 1964 to be precise – making customers all around the world happy with their finely crafted and engineered soccer gear.
More specifically, their Mercurial Lite Shin Guards perform admirably in today's modern age.
Just at first glance you can see that these soccer shin guards look really stylish.
This in itself is a huge draw when it comes to the younger generation of players, who like to have accompanying soccer gear that they can show off to their friends and team mates.
Anyway, let's dig a little deeper into these shin guards to see what standout features they offer.
Anatomical design
Nike decided to make sure that each shin guard is specifically designed to match the shape of a person's left and right foot.
What this means is that, within the pair, you get a shin guard built for your left leg and another designed to fit your right leg in a similar way.
The reason the anatomical design is so good is that each guard conforms to the contours of each shin, ultimately ensuring that you get targeted cushioning for both your legs.
It's something that Nike love to do with their soccer socks as well, so hats off to them for incorporating it into the shin guard design of these.
Low-profile construction
Have you ever worn a bulky pair of shin guards that are difficult to fit under your soccer socks?
Well, you don't have to worry about such discomforts with this pair as they come with a low-profile design.
You won't suffer from those annoying abrasions when your shin guard comes into contact with the skin on the side of your leg, as these shin guards slide in for a snug fit.
Durable shell
Most importantly, these shin guards offer players excellent leg protection from those physical impacts.
The outer shell of this pair is bonded to a dense foam padding so as to provide efficient collision diffusion and shock absorption in cases of crunching tackles and what not.
Video review
Now these shin guards come with shin sleeves, so you may not quite now what to do with them especially if you're not familiar with their use.
Fortunately, you can check out the video below.
It showcases how these shin guards should be worn as well as offers an in-depth review of their capability when it comes to leg protection and support:
Other specifications
Shell composition – 72% K Resin, 28% Ethylene vinyl acetate (EVA)
Weight – 175 grams to 250 grams depending on size chosen
2. Bodyprox Soccer Shin Guards
Bodyprox Soccer Shin Guards
Shin guards are important to any athlete's safety whether your game is soccer, hockey or football. Taking a hit to the shin is extremely painful and can result in damage to the soft tissues or more serious injuries such as fractures to the bone. Bodyprox Shin Guards will give you confidence and protection that won't slow your speed, agility, or movement on the field.
Our flexible silicone design is comfortable without sacrificing durable protection. We've opted for a soft shell design instead of the traditional hard shell for the most natural fit! Silicone grip will keep the guards where they need to be without slipping or shifting.
The Bodyprox Shin Guards are made from a stretchy, water-resistant material that will help keep you dry no matter the weather you're playing in. We've also added sweat-wicking pads on the inside of the silicone guards to keep skin comfortable and dry.
Coming in at number two is the Bodyprox Soccer Shin Guard.
This product offers something slightly different in the sense that they're sleeve guards which you just slip on to your legs.
Bodyprox started out producing orthopedic and protective gear in 2017 and part of their mission since inception they've grown from strength to strength creating therapeutic products with the goal of improving a wearer's sports performance.
Let's get right down to it by showcasing what their shin guards bring to the table.
Soft shell design
When it comes to soccer shin guards, most manufacturers bring out a product that has a hard outer shell casing that's focused on maximum protection for the athlete.
Bodyprox have chosen to adopt a different approach here, instead going for a low profile and flexible shell design that's comfortable without sacrificing protection from leg collisions.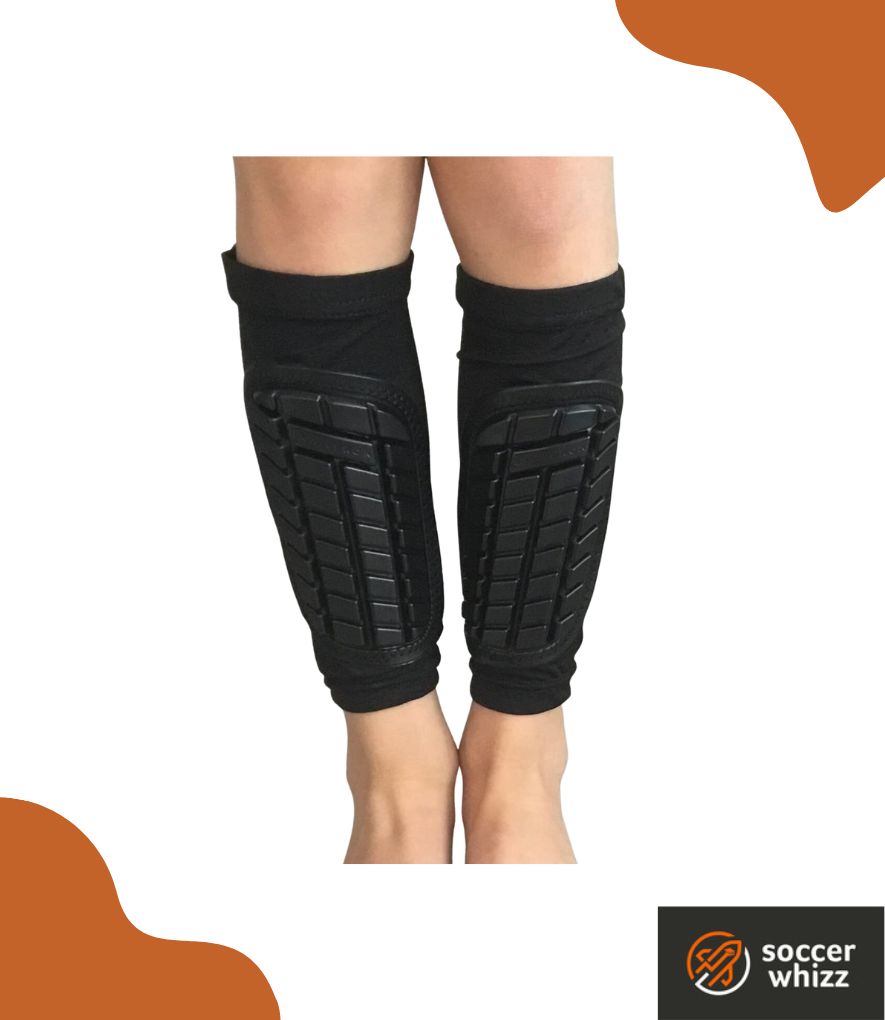 Ultimately, you don't have to worry about how much pressure the shell can withstand, as they've built it with the needs of competitive soccer players in mind by making sure the material absorbs impacts and shields against cuts and scrapes.
Anti-slip grip
This feature makes these shin guards a great option for players after a natural fit.
What happens is that the silicone wave grip keeps the guards where they need to be without slipping or shifting, especially when running and making sliding tackles on the grass.
Moisture wicking padding
Things get even better for players using these shin guards during intense competitive games, as the interior padding effectively wicks moisture and sweat away from the skin.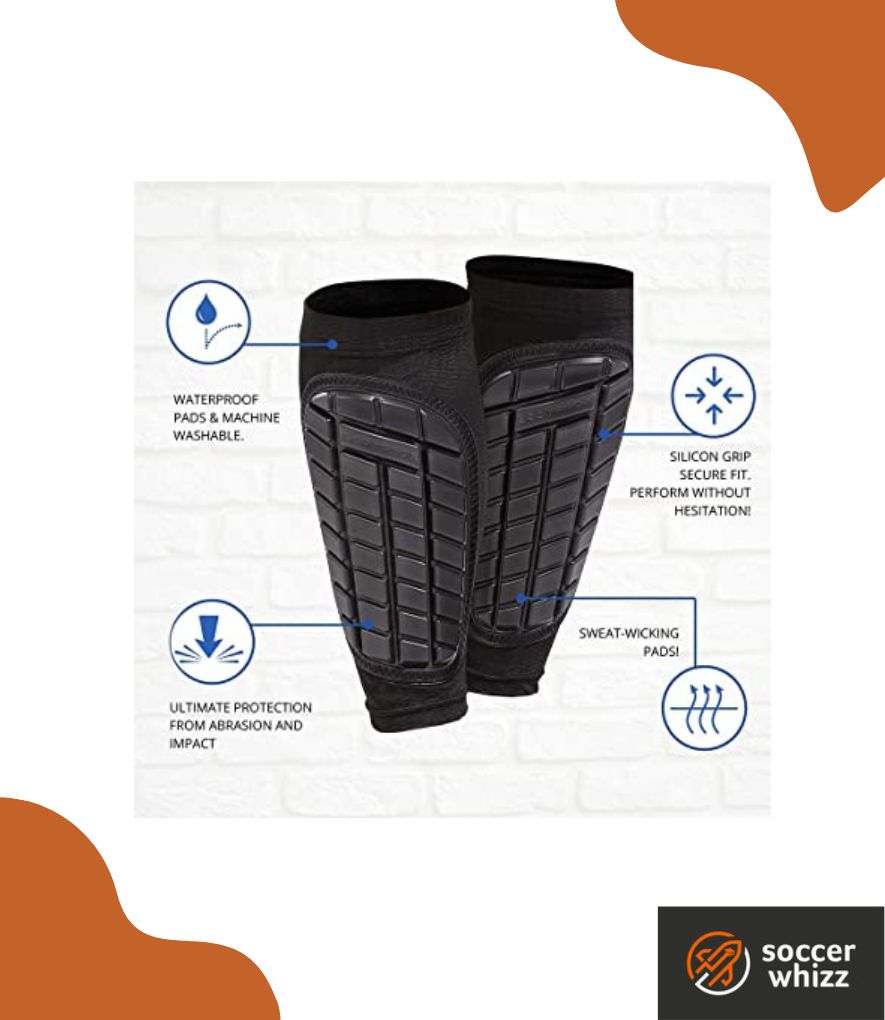 You know that sticky feeling you have under your shin guards after a game that's involved a lot of running?
Well, these shin guards are made from lightweight polyester, spandex & nylon materials that are resistant to that moisture buildup, which is great for overall breathability.
Video display
The company has an active YouTube channel and they were keen to showcase how these shin guards look and feel like, which you can see from the footage below:
Other specifications
Material composition – 90% polyurethane, 8% nylon and 2% spandex
Closure type – pull on
3. Mitre Aircell Carbon Shin Guards
Mitre Aircell Carbon Shin Guards
BUILT TO PERFORM: The Mitre Aircell Carbon shin guard allows men, women, and kids of all ages to put their best foot forward during games. The fixed sock with ankle protection secures the guard in place for maximum protection from the ball
LIGHT AS A FEATHER: The extremely lightweight foam backing allows airflow around the leg keeping you cooler and drier during training and matches and making this piece of kit an instant essential
AIRCELL TECHNOLOGY: Aircell technology is the next generation of protection. Specifically designed to be ultra-lightweight, with innovative air-flow systems supporting ventilation & improving performance all while being extra cushioned & comfortable
Third up, we have the Mitre brand with their Aircell Carbon Shin Guards.
Mitre as a company have a solid standing within the industry, having been a producer of sports gear for over 200 years.
You can easily see why they'd be astrong candidate to have a pair of soccer shin guards that excel in several different areas.
Take a look below to see how this product manages to woo buyers all around the world.
Aircell technology
The main selling point with these shin guards has to be the aircell technology.
Mitre market it as the next generation of shin guard protection, claiming that it offers innovative air-flow systems that support ventilation and extra cushioning for the shin, both of which help improve an athlete's performance by providing them with the comfort they need.
Foam backing
Another cool feature of these shin guards that make them a great choice for competitive players is the lightweight foam backing that facilitates cooling air flow.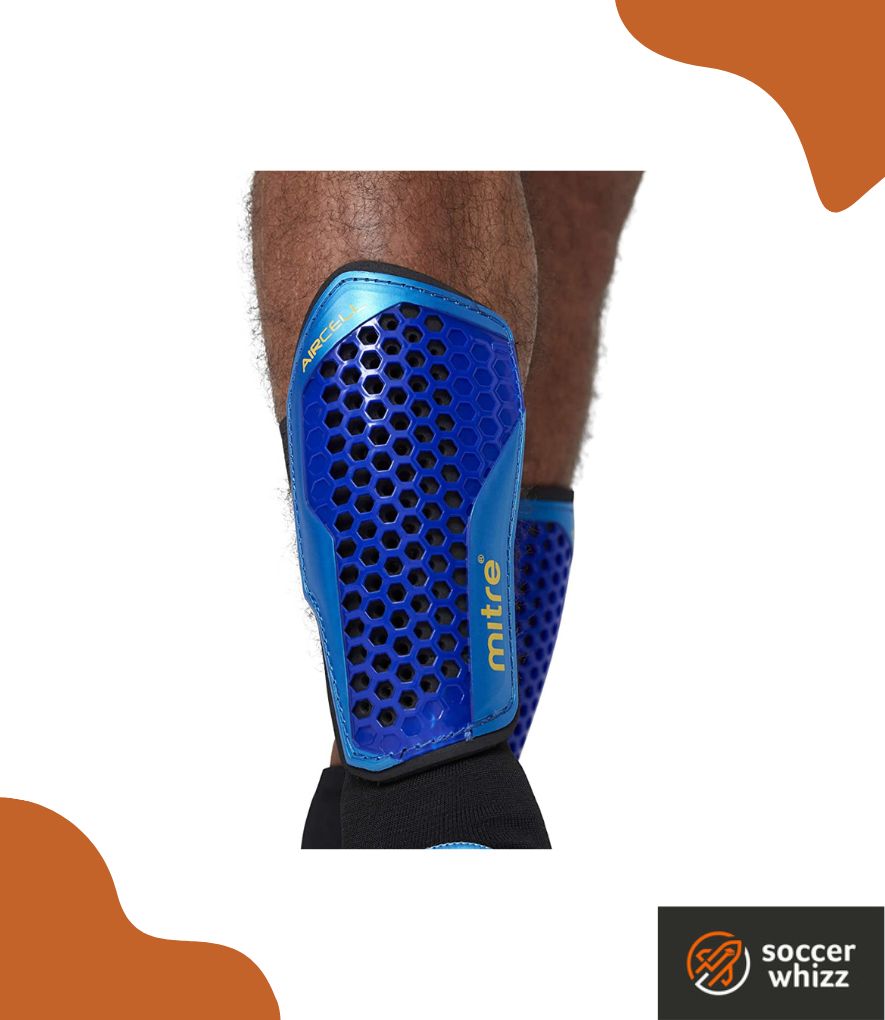 What happens here is that the foam allows air to travel around the leg area, ultimately keeping them cool and dry as one performs on the pitch.
Fixed sock with ankle protection
Additional protection is afforded to players through the ankle support that these shin guards have.
You certainly wouldn't want to be on the end of a challenge from someone who's raised their soccer cleats towards your ankle.
Unlike other shin guards, Mitre have really prioritized player safety by incorporating the ankle reinforcement into the design instead of offering a slip-on type guard that leaves this body part exposed.
Other specifications
Shell material – plastic
Closure type – hook and loop
4. Vizari Malaga Soccer Shin Guards
Last but not least, we have these fantastic Vizari Malaga Shin Guards.
When you hear the name you'd probably think, what on earth are these?
Particularly because the brand isn't very familiar among soccer circles.
To be brutally honest, I hadn't heard about these shin guards until I started doing my own research into products for this category of soccer gear.
Interestingly enough, they're very well reviewed on Amazon with positive feedback exceeding over 10,000 responses in terms of star ratings.
What that tells you is that even though they may not be as well known as the shin guards offered by the major brands, they do a pretty good job when it comes to performance.
Polypropylene shell
Maximum protection is provided through the outer covering, which is made of a thermoplastic called polypropylene.
The front shell is durable enough to protect your shins from kicks and scrapes without constraining your movement as you play.
Sleeve and elastic netting
Another impressive feature of these shin guards is how the material sleeve and elastic netting combine together to comfortably hold the shin guard in position whilst you play the game.
If you're someone that plays soccer on a regular basis, you know all too well how annoying it can be having to take a moment to adjust your shin guards as you compete.
These guards remain firmly in place as you play, which allows you to move your legs freely during the game.
Other specifications
Closure type – hook and loop
Weight – 91 grams
Other great soccer shin guards worth considering
The list of great shin guards doesn't stop with the aforementioned four products.
You'll be pleased to know that there are a few other options which are worth pulling out the wallet for.
Have a look through the shin guards below to see if there's any in particular that you like:
MAMBA Ultimate Shin Guard Set | Shin Pads, Ankle Guards & Compression Sleeves, Flexibility & Protection | Kids/Adults | Unique British Design (S)
⚡ INNOVATIVE 3 PIECE SET TO PROVIDE ULTIMATE PROTECTION WITHOUT COMPROMISE ON FLEXIBILITY & COMFORT – the MAMBA shin pad set provides shin pads, compression sleeves with silicone grip band to hold the pads securely in place, and separate ankle guards - making the set easy fitting, comfortable and practical. No need for uncomfortable straps and attachments!
⚡ ANATOMICAL DESIGN THAT CONTOURS THE SHIN WITH DURABLE SHELL & 5mm DENSE FOAM BACKING FOR MAXIMUM PROTECTION – The 5mm thick EVA backing and anatomical design provide the comfort a player needs for the focus to be solely on the game. CE tested – certified for use at the highest levels of the game.
⚡ COMPRESSION SLEEVES WITH SILICONE GRIP BANDS GIVE A SECURE FIT – hold the shin pads in place with the compression sleeves that have silicone grip bands top & bottom, giving a secure fit for enhanced performance. Crafted from breathable mesh fabric.
Sale
Sale
Sportout Kids Youth Adult Football Shin Guards with High Elastic Sleeves, Shin Pads Offers Comprehensive Protection for Your Legs
COMPREHENSIVE SHIN PROTECTION: these shin pads have the highly protective hard front panels, they are lightweight, durable and offer the shin and calf comprehensive protection against impacts.
DRI-FIT HIGH ELASTIC SLEEVES:- The Seamless, breathable and Dri-FIT sleeves offer comfortable and secure fit, the double-tube construction design helps the shin guards stay in place during play without sliding.
ERGONOMIC DESIGN:- The anatomical design fits your calf contours very well and the chocolate-shaped EVA foam can offer excellent cushioning which helps disperse energy from impacts to prevent violent injury.
Sale
Sportout Kids Youth Adults Football Shin Guards with Protective Hard Shell,Offers Comprehensive Protection for Your Kids' Legs. (S, Black-1)...
COMPREHENSIVE SHIN PROTECTION:- These shin guards have the highly protective hard PP front plates which are lightweight, durable and can offer the shin & calf comprehensive protection to against violent impacts.
ERGONOMIC DESIGN:- The anatomical design fits your calf contours very well and thick EVA foam can offer excellent cushioning which helps disperse energy from impacts to prevent violent injury.
PORTABLE AND COMFORTABLE:- The light EVA padded backing and simple construct give these shin guards light weight, high breathability, great fitting your leg shape and super portable.
How do you pick shin guards for soccer?
This simply boils down to a couple of things..
Shin coverage
How much leg protection do you want your shin guards to give you?
If you're a younger player with more delicate shins, then you may want to go for a lengthier pair of shin guards that cover up the entire leg area all the way down from the heel up towards your knee.
This means investing in shin guards that come with fixed ankle protection too.
Now, such shin guards won't look as stylish, but they'll give you the protection and support you need to play your natural game without fear of getting seriously hurt.
Shell material
Another thing that you'd want to consider is the sort of material makeup that the shin guard shell comprises of.
For maximum protection, a carbon fiber shell would be much more suitable, especially when compared against a plastic one.
This is backed up by scientific evidence as well!
Because according to the Journal of Sports Science and Medicine:
"Carbon fiber shin guards possess protective qualities superior to those of commercial polypropylene shin guards."

Source – Journal of Sports Science and Medicine
Final thoughts
That brings us to the end of this mammoth post on the finest soccer shin guards.
Hopefully it's given you a lot of meaningful insight into the sort of protection that you can get for your legs when playing the sport.
Should you be interested in reading a related article, then have a look at our product roundup on the best soccer shin guards for youth players, as that post is specifically tailored to the younger contingent who are growing up to becoming future stars.
Alternatively, you can put yourself in the best position to use your shin guards correctly by learning how to wear them properly.
Happy reading!
If you enjoy the content that I create and would like to buy me a coffee, then I'd really appreciate it!
Any money that I earn through this donation will be re-invested into more content for this website.
Additionally, by sending in a donation you'll also receive a copy of my recently released 190+ page eBook on Soccer Ball Care, as well as be subscribed to our mailing list where you'll be regularly informed on the latest developments concerning the Soccer Whizz blog.
Latest posts by Samuel Waihenya
(see all)