Disclaimer: Soccer Whizz is a participant in the Amazon Services LLC Associates Program, an affiliate advertising program designed to provide a means for sites to earn advertising fees by advertising and linking to Amazon.co.uk (source: Section 5). As an Amazon Associate I earn from qualifying purchases.
Soccer socks are a necessary equipment component for players who compete in matches on a regular basis.
The rigors of the game call for having a pair of knee length socks that can effectively cover up shin guards which protect your legs form those impactful hits and abrasive scrapes, as well as provide the compression and warmth needed to accommodate better performance.
It can definitely be a bit stressful when it comes to picking out soccer socks that suit your specific needs, so we've decided to compile a list that highlights the best options on today's market.
We're going to get right down to it with our comparison table below, which highlights each choice and provides a link to where the product can be bought online:
The overall winner appears to be the Nike Classic II soccer socks, as the ergonomic emphasis in the design by Nike provides excellent support for your feet without compromising on overall comfort. You also get the benefits of compression and moisture-wicking with these, meaning they tick all the necessary boxes.
Read on for the full details which emphasize why the aforementioned socks come out on top.
How we picked out the best soccer socks
The first port of call involved compiling an exhaustive list of all the soccer socks from the major brands which were available to purchase on major retailers like Amazon.
Once that was done, we were able to pour a lot of time and effort into analysing the reviews from people who bought the popular products, keeping an eye out for any particular patterns such as discomfort, durability issues and breathability concerns.
With that in mind, we looked for several basic criteria, such as:
Supreme comfort levels through the feel of the fabric;
Good airflow and moisture wicking capability to keep feet cool and dry;
Plantar support and ample cushioning
Anatomical design (i.e. custom fit for the left and right leg) was considered as a bonus.
How we tested the best soccer socks
As the sole author of this blog, I personally bought a few pairs of the socks included within this product roundup and wore them upon delivery to get an immediate feel for how they fit and wrap around my legs.
More so, I usually get involved in a two hour pickup game on Sundays, which is the specific time I used to get a more precise analysis for how these socks perform in the heat of the competitive action.
Anyway, let's now get started on each of the products mentioned in this roundup.
1. Nike Classic II Cushion Over-The-Calf Men's Socks
Sale
The first choice for a pair of soccer socks that I'd recommend are these over-the-calf cushioned socks by Nike.
What you get with these socks is exceptional comfort, particularly because Nike have focused heavily on incorporating lots of ergonomics in the sock's design to reduce strains and pains for wearers.
Here's how they go about achieving this…
Dynamic plantar support
You've probably heard of plantar fasciitis and know that it's one of the most common causes of heel pain.
When there's too much pressure on your feet – which can be caused by involvement in intense activities like soccer – the plantar fascia ligaments in your foot get overworked.
These ligaments act as a shock absorber by supporting the arch of your foot as you run up and down the pitch, so if you're wearing a pair of socks that don't cater to the needs of your feet then you'll be in a bit of trouble!
And that's where these socks come in and do a great job.
The cushioning at the back of the foot supplements your plantar fascia ligament, giving you a supportive fit and more comfortable feel as you play the sport.
Attenuation
Another feature of these socks that put them up there with the best is the targeted cushioning.
What you get with this is attenuation in heavily stressed areas, which reduces the severity of impact on parts of your foot as you play.
You can think of it like having shin guards or layers of protective padding within your shoe!
DRI-FIT technology
Finally, Nike have incorporated their DRI-FIT material into the design, which helps ensure maximum breathability.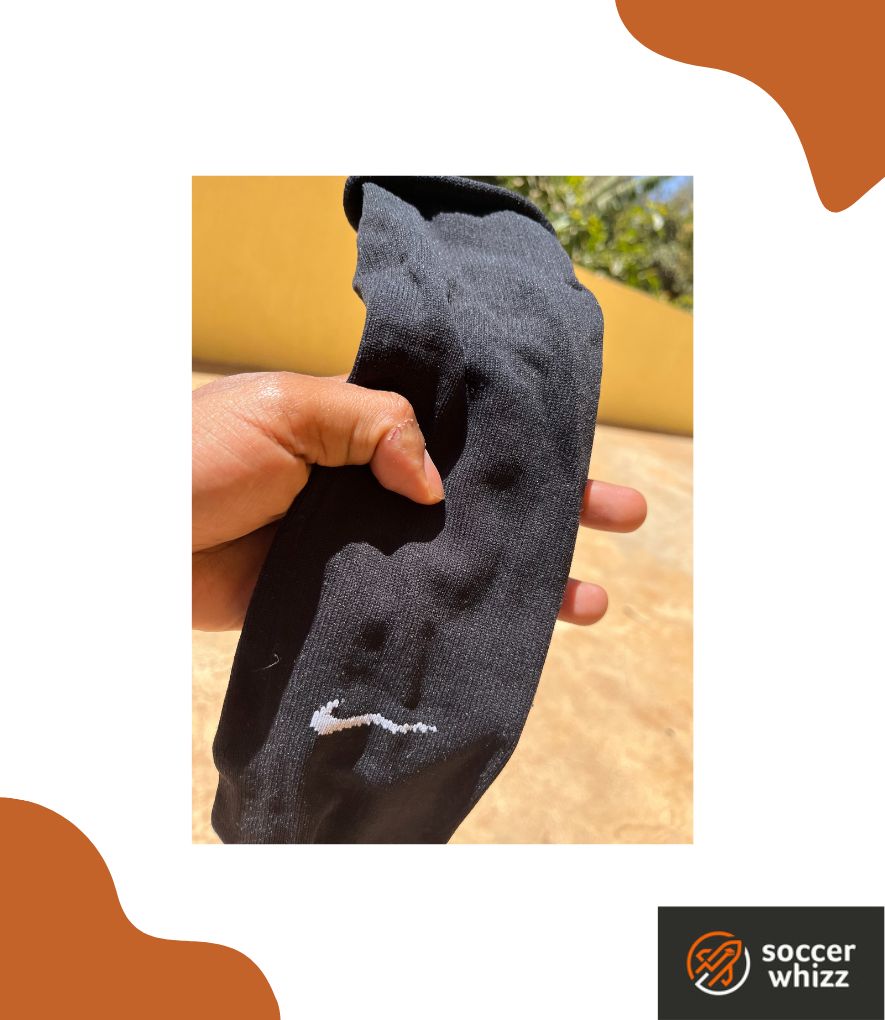 The last thing you'd want as a buyer is to purchase a pair of socks that cause a stink after you wear them for a couple of hours.
The socks wick away moisture by making sure that any sweat buildup rises up to the surface layer of the socks rather than condensing and eventually drying up on your skin.
Video unboxing
Here's a short clip of footage showcasing what these socks look like when you take off the packaging:
Other specifications
Material – 97% nylon, 3% elastane
Sizes available – small to extra large
If the length of these socks isn't to your liking, then you can have a look at the alternative ¾ length socks.
These run a bit shorter as the fit settles just below the knee area, and they come with the same features such as:
Articulated footbed support; and
DRI-FIT technology for breathability
2. Adidas Metro 4 Soccer Socks
Adidas Metro 4 Soccer Socks
Lightweight yarns and durable construction for a close fit
Climalite moisture wicking yarns help keep your feet cool and dry
Targeted arch and ankle compression for added comfort and support
In 2nd place, we have the Adidas' Metro 4 Soccer Socks.
At first glance, you quickly realize that the design of these socks certainly doesn't do enough to get your eyebrows raised.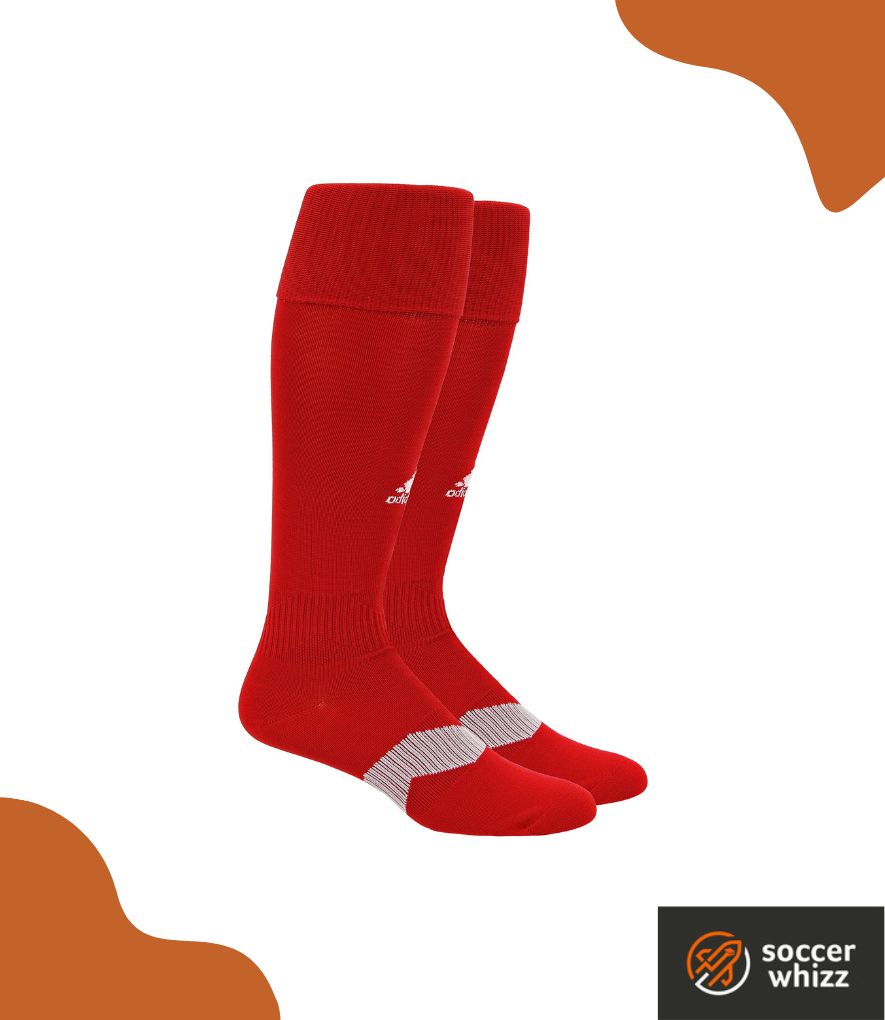 Other than the contrasting fabric pattern located near the toe area, these come in a number of plain and simple colorways that don't really stand out.
But where these socks really excel is with regard to the performance benefits that they offer for players.
Let's now discuss a few of these plus points in turn.
Ribbed construction
For starters, these socks come with sculpted cushioning within the toe and forefoot areas.
What's so good about this extra support is that it inhibits friction that can cause blistering as you play.
Soccer involves lots of sharp and quick movements, and these socks are built to prevent the abrasions that lead to skin peeling off of the toe and forefoot areas, which are usually hotbeds for friction.
We've all been there.
You come back home from a soccer game only to remove your socks and find a massive blister present on your hallux (i.e. big toe).
The ribbed construction that these socks are made with really help to prevent the aforementioned scenario from happening.
TraxionTM outsole
Adidas have done a lot of research into what makes a good soccer sock.
You can tell by the sort of features they've incorporated into the design.
They've made sure the outsole of these socks is specifically built to provide slippage control.
So, when you anticipate player or ball movement on the soccer pitch, you'll be able to react quickly off the mark.
This is because the outsole located on the heel area gives you the traction needed to set off on a sprint as soon as possible.
Compression fit
Another aspect of the sock design that is really impressive is the all-over compression fit.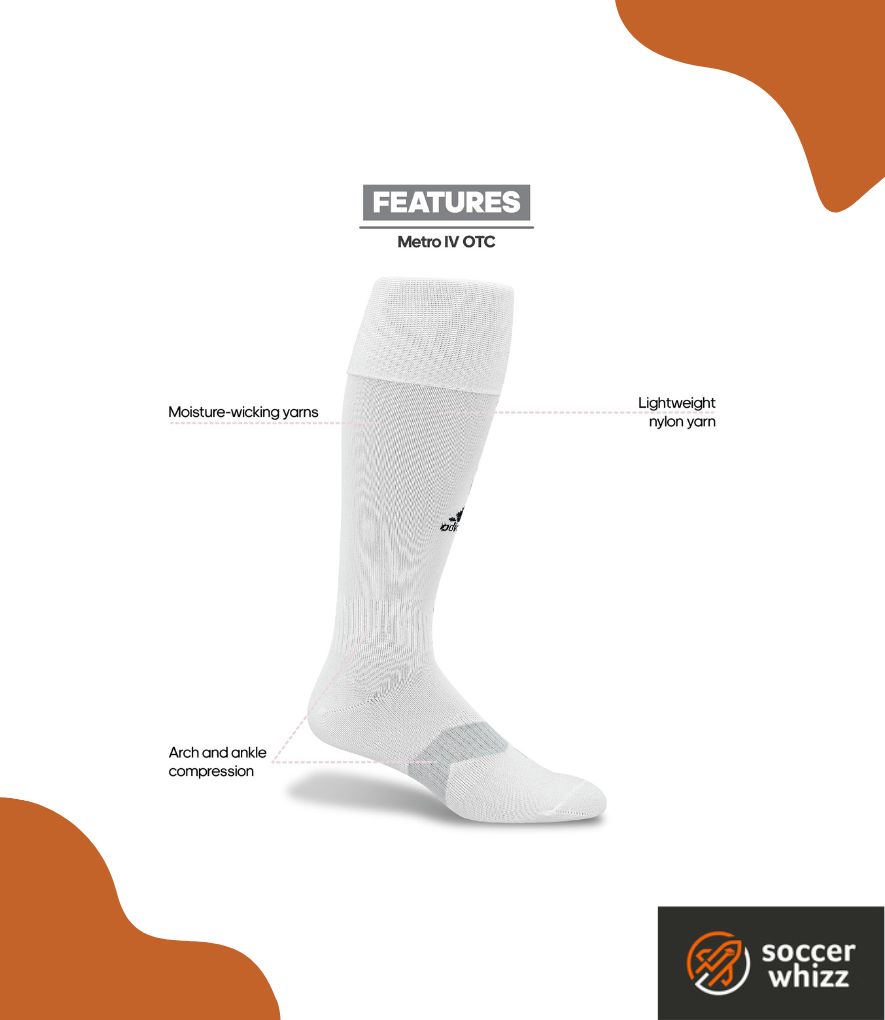 This provides excellent stability and support for every lunging tackle and running stride that you make out on the field.
More precisely, these socks come with a specially shaped compression in the arch and ankle areas that boost comfort levels for the wearer.
Other specifications
Material composition – 89% nylon, 8% polyester, 2% natural latex rubber, 1% elastane
Length – over the calf
You can get the new and improved version of these socks as well, as the Metro 5 version is available to purchase.
Metro 5 Soccer Socks (1-Pair)
New and improved double welt construction to stay in place all game long.
Lightweight yarns and durable construction for a close fit.
Moisture-wicking yarn keeps your feet cool and dry.
These differ slightly from the previous version, coming with a double-welt construction to help the socks stay in place when worn all game long.
3. TruSox Mid-Calf Cushion Socks
TruSox Mid-Calf Cushion Socks
MAKE CHANGES IN DIRECTIONS FASTER - non slip socks with INEXtech pads, that appear on both the inside and outside of the sock, secures your foot in TRUSOX and TRUSOX soccer socks are stable in your cleat. You can change direction quicker and more explosively, maximizing the power transfer with NO MOVEMENT IN YOUR CLEAT
HEEL WILL STAY IN CLEAT - INEXtech non slip pads secure your heel in place and it will not slip out of your cleats during the game or training session
PREVENT BLISTERS - your feet with grip socks will no longer slide around in your cleats and will reduce the possibility of getting blisters playing soccer, football, rugby, lacrosse, cricket, baseball or basketball
Third in the line up, we have the grip socks known as TruSox.
Many players from both the casual and professional spheres have complained about blisters on their feet as well as the lack of a firm footing within their cleats or turf shoes due to the socks they've been wearing.
TruSox basically revolutionized the world of soccer socks for the better.
How they did that was by initially beating out renowned brands like Nike and Adidas through their inventive product that reduced foot slippage inside the sock as well as sock movement inside of the cleat itself, which served to enhance overall player responsiveness, speed and agility on the pitch.
Let's now take a look at the elements of this product that make such improvements possible for players.
INEX grip pads
The company came up with a patented INEX formulation which populates the interior and exterior sides of the sock base, allowing for grip that is unparalleled.
Have a look at the image below for a glimpse of what this looks like:
This is because the padding secures your feet firmly within the sock, not to mention maximizing stability for the sock within the shoe itself.
More so, the padding secures your heel in place, meaning that you won't have to suffer the frustration of having your heel slip out of your cleats during a training session or competitive game.
Wet grip technology
Another bit of innovation is present when it comes to how the socks function when your feet begin to sweat.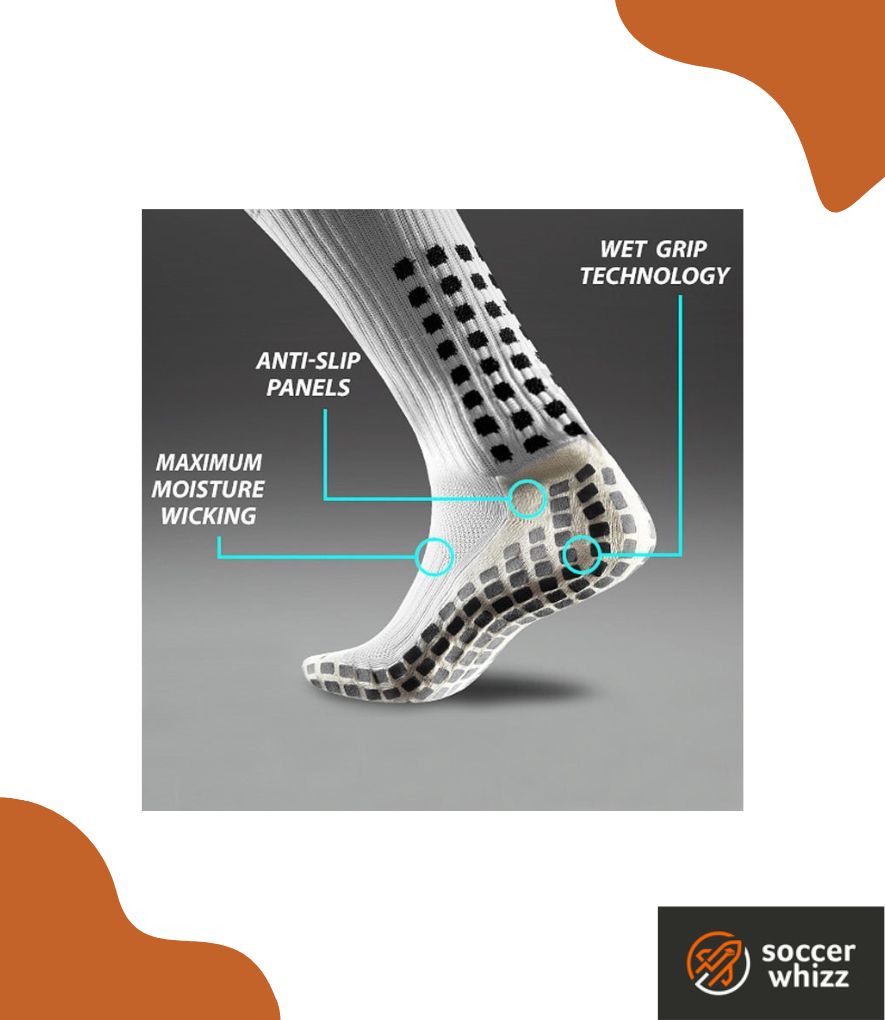 The socks essentially acclimatise to your feet by managing the moisture in an effective way, with the non-slip padding being activated by sweat production to ensure that any slippage within the sock is kept to an absolute minimum.
When you couple this functionality with the moisture-wicking yarns that help to keep your feet cool and dry, you end up with a top notch soccer sock that delivers on several different aspects.
Check out the video review of these socks below, as it should shed some more light on how these socks perform, which should ultimately make your buying decision easier:
Video review
Other specifications
Fabric composition – 60% nylon, 39% cotton, 1% elastane
Length – mid calf
Qualities to look for in the best soccer socks
Before you bring out the chequebook, there are a couple of other factors that you need to consider.
These are as follows:
Correct sizing
Which is why I've endeavoured to make sure that I can provide the right sock sizing information for prospective buyers in this article.
According to Elite Sport Socks – a custom sports sock manufacturer in the United States – the best way for a person to determine their sock size is to use their very own shoe size as a guide.
To make this comparison easier for readers, I have sourced data from Nike's own unisex size charts that makes it easy for you to figure out which size of sock is right for you based on shoe size:
Blister prevention
If you've played the sport as much as I have, you will no doubt have had an occasion or two where you discovered blisters on your feet after a competitive game.
A combination of friction and pressure causes most blisters on a person's feet, as the continuous rubbing of skin against a shoe or sock causes irritation and inflammation.
Additionally, you increase your susceptibility to getting blisters in your feet if you have wrinkles in your socks.
So, as a buyer it is so important to get yourself a pair of socks that have good moisture wicking performance, as the build-up of sweat increases the friction generated between your feet and the socks that you're wearing, which is a recipe for blisters unfortunately.
Comfort
When it comes to comfort, you'll want a pair of soccer socks that don't significantly interfere with your match performance.
The last thing you want to be doing is desperately attempting to pull up your socks when the opposition are breaking away swiftly on a counter attack!
So, you'll want to buy yourself a pair with the enough elasticity built in, something which you are more likely to find in a good quality pair than a poor one.
According to retailer Sock Snob UK, cheap socks don't use enough bands of elastic in the welt of the sock, which means that after a couple of wears and washes they start to droop and sag when you wear them to a game.
They also say that a good pair will have strong elastic at the top of the sock with multiple bands.
Comfort is certainly something that I'm not willing to compromise on any football-related sports gear that I buy, and you shouldn't either.
Ultimately you want to enjoy playing the sport without having to think about anything else when you're on the pitch.
Breathability
If you're a person that sweats a lot, then buying socks that have moisture-wicking capabilities is a must.
This keeps your feet dry as you play, because sweat build up is directed away from your skin and on to the fabric itself.
Open pores or mesh material is another component that you'll want to look out for here, as Nike socks with the aforementioned design features provide better airflow for your feet as they rest within your cleats or astro trainers.
Material
Certain fabrics are better than others, so make sure to look at the fabric makeup of the socks you intend to buy prior to purchase.
If you're going for warmth, then you'll want to see much less of cotton as it doesn't insulate or wick moisture as well as other materials.
We have a very detailed article which covers what materials soccer socks tend to comprise of, and it's worth checking out.
The post essentially advises soccer sock buyers to look for nylon, polyester and spandex fabrics as those ones offer distinct advantages such as breathability, durability and overall comfort.
Flexible wash ability
Some soccer socks are machine washable, whilst others are only made to be washed by hand.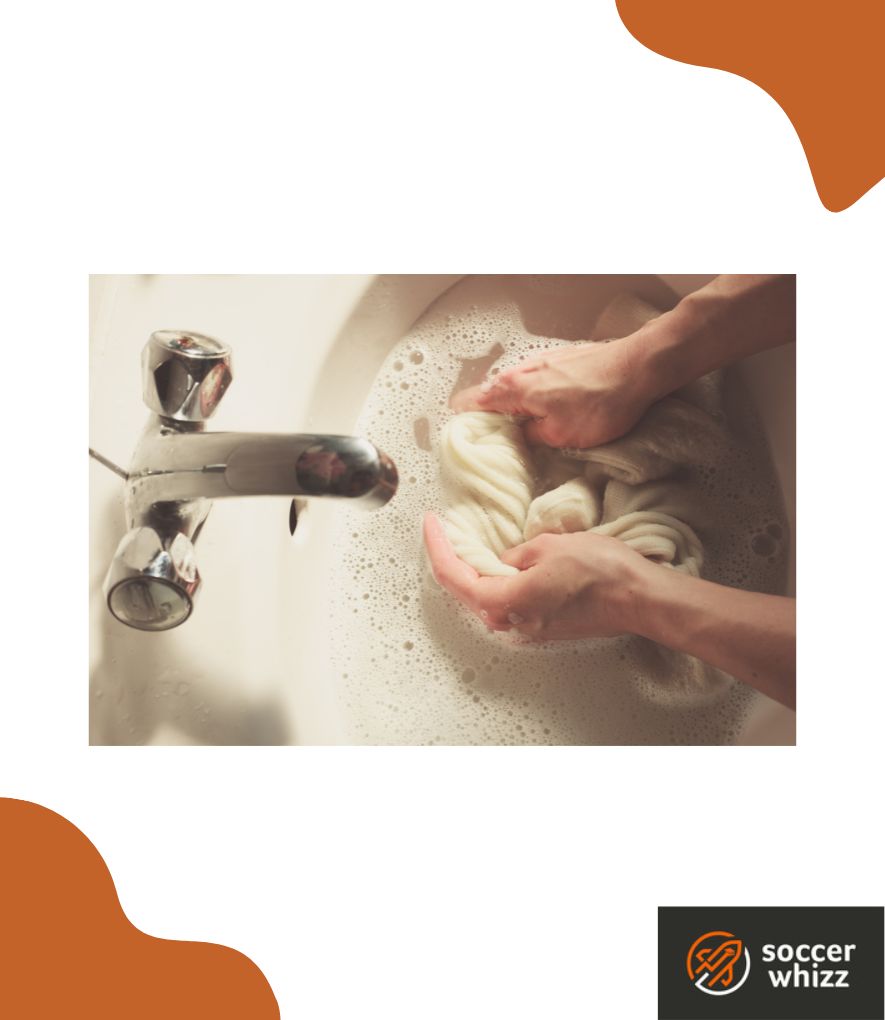 Have a good read of the fine print before you go ahead and add a pair to your shopping cart, as you wouldn't want to machine wash socks that weren't meant for this cleaning technology in the first place.
The consequence of doing this could be damaging or weakening of the fabric, which could have a subsequent effect on the protective reinforcement it offers when you're playing competitively.
Conclusion
Now you should be confident enough to know which soccer socks are the best to buy.
Hopefully this article has provided a lot of important insight for you into what aspects of a soccer sock make it particularly great.
You can't go wrong with any of the options we've outlined in this article, so you can now go ahead and splash the cash!
If you enjoy the content that I create and would like to buy me a coffee, then I'd really appreciate it!
Any money that I earn through this donation will be re-invested into more content for this website.
Additionally, by sending in a donation you'll also receive a copy of my recently released 190+ page eBook on Soccer Ball Care, as well as be subscribed to our mailing list where you'll be regularly informed on the latest developments concerning the Soccer Whizz blog.
Latest posts by Samuel Waihenya
(see all)