Portugal and Manchester United midfielder Bruno Fernandes has been a revelation ever since he joined the English giants from Sporting Lisbon back in 2018.
The soccer player is a risk taker and consistent attacking threat whenever he gets into his groove on the pitch, so much so that jokes are made by fans who love to laugh at his goal scoring efficiency.
You see, the beautiful game is home to a beautiful world of hilarious banter that rears its head whenever players perform certain actions on the field.
Bruno Fernandes sometimes finds himself at the heart of all the amusement, especially when it comes to how good he is at converting penalties from the spot.
The Portuguese man is sometimes referred to as "Penandes" and for good reason.
Penandes is a playful nickname coined by rival fans because of a perception that Bruno Fernandes' impressive goal scoring numbers are heavily influenced by his conversions from the penalty spot. The name is therefore designed to play down his attacking prowess by emphasizing that penalties make up a significant portion of his goal tally.
This article will now investigate where this funny term came from and why it's stuck over the years.
Why is Bruno called Penandes?
Soccer never seems to amaze when it comes to the sort of amusing names coined for the professionals playing the sport at the highest level.
For example, you have England defender Harry Maguire being called a "slab head" because of the shape of his forehead.
Or Belgium striker Romelu Lukaku being referred to as "Lakaka" due to the fact that he misses multiple goal scoring opportunities during games.
Whatever the name, there's always a reason behind it.
So, with that said, let's look at why Bruno Fernandes gets the penalty merchant tag.
1. Cristiano Ronaldo got a similar nickname
That's right!
Cristiano Ronaldo – arguably one of soccer's all-time greats – has a sizeable tally of goals which come from spot kick conversions.
He also had to suffer the ignominy of being labelled a "stat padder" and we have a whole article on why Ronaldo is called Penaldo on our blog, so check that out when you've got some time to spare.
To sum things up, Ronaldo acquired the penalty tag during his time at Real Madrid when he was the team's designated first choice spot kick taker.
Here's a clip which shows the majority of his penalty goals over the course of his soccer career:
At the time of posting, Ronaldo had accumulated 133 goals from the penalty spot which is quite a sizeable chunk to have.
Bruno Fernandes – by extension – gets this same label applied to him because he scores a fair amount of his goals from the penalty spot as well.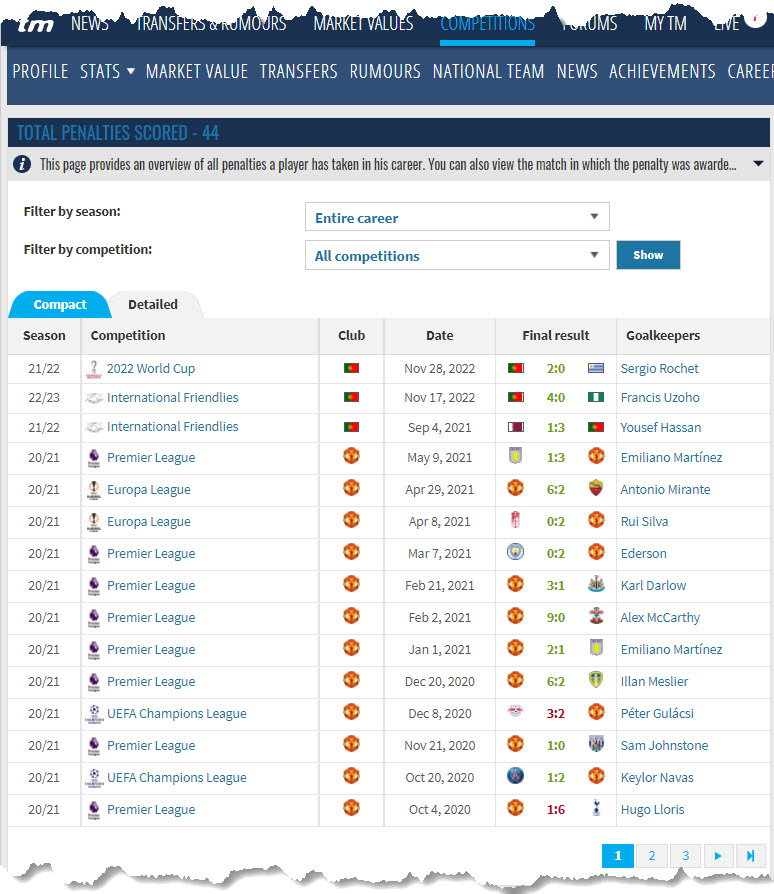 According to Transfermarkt, the Portuguese star has scored a total of 44 penalties over the entirety of his career.
Ultimately, it makes sense why the magnifico gets this funny title.
2. Heated club rivalries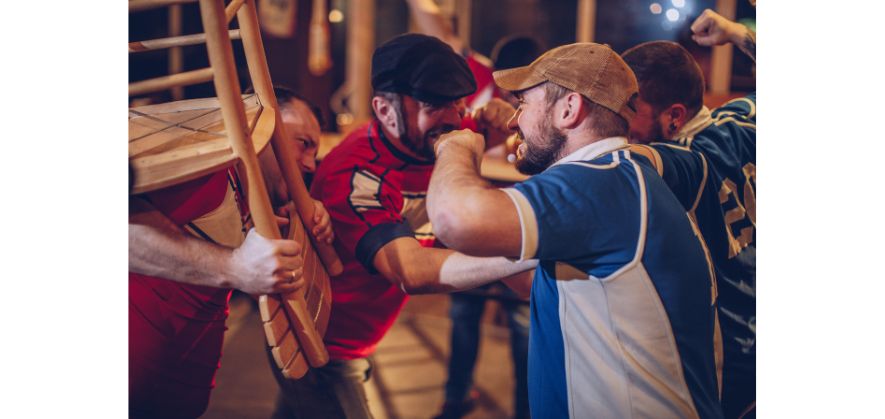 Another reason why Bruno Fernandes gets the penalty opportunist moniker has to do with the fact that fans of rival clubs are always proactively looking to take a dig at opposing players.
Soccer fans traditionally love to mock players of other teams, sometimes in heat of the moment scenarios or purely for casual and light hearted banter.
An Arsenal, Manchester City, Chelsea, Liverpool or Tottenham fan is not going to sit by and clap his hands when Bruno Fernandes finds the back of the net.
After all, the Portuguese man plays for a rival team.
They'd want to do all they can to stop him from repeating his good performance because that benefits their own team, even if a bit of psychological warfare is needed.
Rivalries are what make the game so intensely competitive, and its nice to see fans occasionally having a pop at rival players by making fun of certain aspects of their game.
Does Bruno Fernandes score most of his goals from the penalty spot?
Now that we've discussed why Bruno Fernandes gets the penalty merchant tag, we need to investigate whether the numbers justify the mockery.
Let's look at each of his four seasons in the Premier League:
| Season | Goals Scored | Penalty Goals | Percentage of Goals from Penalties |
| --- | --- | --- | --- |
| 2019/2020 | 27 | 14 | 51.9% |
| 2020/2021 | 28 | 13 | 46.4% |
| 2021/2022 | 10 | 2 | 20% |
As you can see from the data above, Bruno smashed in a total of 27 goals across all competitions in 2019/2020, with 14 of those being from the spot.
That means just over half of his conversions that season were from penalties.
Quite a high share!
In his next campaign, Bruno managed to score 28 times in total.
13 of those finishes were from the penalty spot, which again puts his percentage of goals from 12 yards out at 46%.
His numbers then dipped in the 2021/2022 campaign as he struggled for club form, as well as the fact that Ronaldo joined and took some penalty kicks away from him.
Is the Bruno Penandes nickname likely to stick?
Time will certainly tell whether Bruno Fernandes will have the penalty merchant label glued to him.
But the player himself doesn't appear to be fazed by the tag, stressing in a recent interview that penalties are part of the game.
Here's exactly what he had to say about this topic:
"We can't talk a lot about penalties because everybody will say: 'Bruno only scores with penalties', if the others score them, it's no problem! They just score a penalty, you know! Penalties are part of the game, you know. You need to score. You have the chance but you need to score."

Source – Mirror
With Cristiano Ronaldo leaving Manchester United by mutual agreement with the club, Bruno Fernandes will go back to being the fulcrum of the team's attack.
He'll also have sole charge of penalty taking duties, so you can certainly expect the "Penandes" chants to make a gradual return!
Latest posts by Samuel Waihenya
(see all)