It's hard to pick a player more synonymous with goal-scoring than Cristiano Ronaldo.
Over the years, the Portuguese superstar has broken numerous records when it comes to putting the soccer ball in the back of the net, much to the admiration of those that support his on-pitch exploits.
Ronaldo has been a soccer sensation ever since he established himself as a top player with Manchester United, joining the English side from Sporting Lisbon back in 2003.
He's been such a revelation on the field that many people are quite curious to see whether he'll be able to break the 1000 goal barrier by the time he decides to hang up his cleats for good.
So, the question that this article seeks to answer is whether Ronaldo is capable of scoring 1000 goals before he retires.
To summarize matters…
Ronaldo is unlikely to reach the 1000-goal mark, even if he maintains his scoring prowess and plays for a couple more seasons at near peak fitness levels without suffering any serious injuries.
Let's now break down why this is the case.
How many goals has Ronaldo scored in his career so far?
At the time of writing, Ronaldo has registered 815 goals.
Here's a small table that provides the breakdown:
| Classification | Goals | Appearances |
| --- | --- | --- |
| All time club (excluding friendlies) | 698 | 936 |
| All time internationals | 117 | 189 |
Although the 37-year-old doesn't have age on his side, if he carries on playing well into his forties it's actually fairly reasonable to expect him to meet the 1000-goal target.
Why Ronaldo probably won't score 1000 goals by the time he retires
If we extrapolate some of his numbers a little further into the future, we can sensibly predict his expected goal tally a couple of years down the line.
So, how this would work is as follows.
Currently, Ronaldo has 815 career goals as indicated above.
And considering the fact that he finds the back of the net every 1.24 matches (i.e. 112 minutes per goal), to score an additional 185 goals he would need to play around 230 matches to reach the 1000 goal figure.
Now, if you take into account that Ronaldo plays in about 50 competitive fixtures per season due to his competitive nature of wanting to participate in European competition, added to the fact that he's still involved in international soccer for Portugal, you can start to see this target as possibility.
However, Ronaldo isn't a superhuman.
With approximately 5 full seasons left to reach this target, it's difficult to see him being able to consistently play the aforementioned amount of games each campaign.
Even if he racked up 30 goals a season at this stage of his career, he'd still end up short in 5 years as that would leave him with about another 35 left to score.
Furthermore, we've already started to see his club side Manchester United utilize him more as a substitute coming off the bench to go up against tired legs, which would limit his goal scoring capability due not having as much time on the field to perform.
Ronaldo could easily play soccer into his forties, but he would probably have to consider taking a step down towards a less competitive league if he's trying to reach the 1000-goal mark.
If he joined a team within America or Asia, it's quite feasible for him to achieve this tally due to the less intense and skilled level of play he'd find himself in.
But Ronaldo does have a big ego and it's difficult to see him leaving Europe to play elsewhere even in the twilight years of his professional career.
Ultimately, this makes it unlikely that we'll ever see him reach 1000 goals.
Perhaps a figure of around 900 would be more realistic for him now.
Why Ronaldo can reach the 1000-goal mark
On the flip side, there are some arguments to be made in favor of the Portuguese man.
After all, it's Cristiano Ronaldo we're talking about!
1. Driven personality
Ronaldo is one of the most determined soccer players that you'll ever see.
He has a fierce will to succeed and that has served him very well throughout his stellar career.
There's no doubt that Ronaldo will want to cement his professional legacy as the greatest of all time by reaching such a milestone.
So, even though it looks as though the numbers and the time he has left as a player aren't in his favor, you can be sure that he'll do all that he's capable of in order to reach this target.
2. Remarkable fitness
Secondly, Ronaldo has an impeccable physical fitness record that means he's available almost all of the time to play.
If you take a look at his injury history on Transfermarkt, you can see that he's only been injured for a cumulative 422 days since the data on his injuries was recorded in 2007.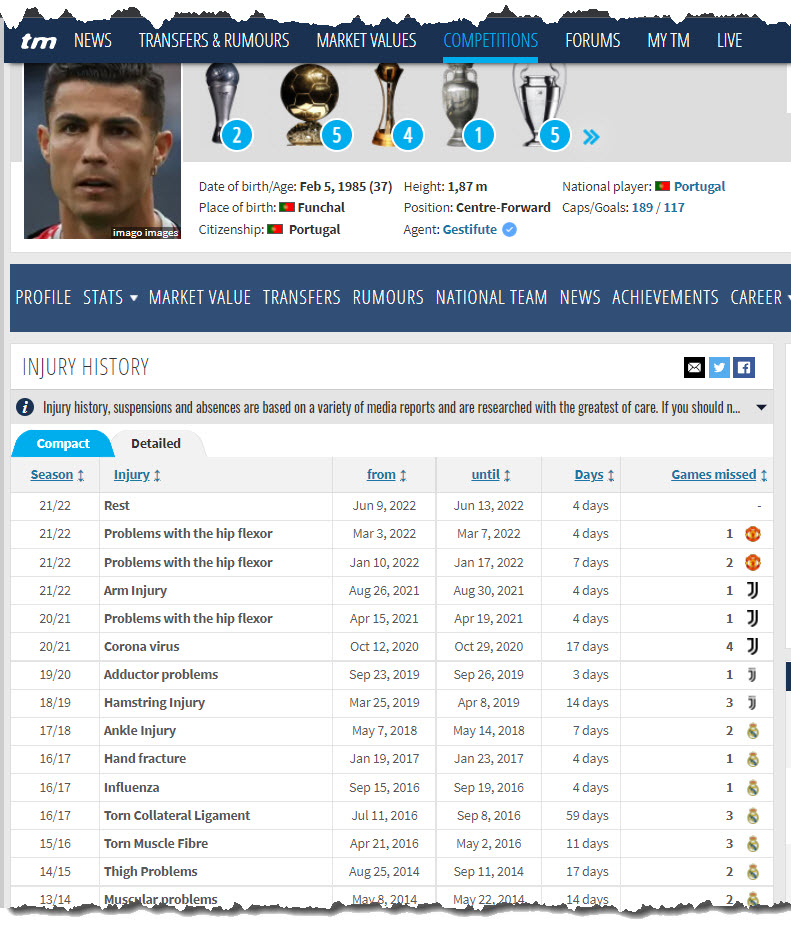 From a more measurable perspective, he's only been absent for 68 games since 2007, which is quite remarkable.
As long as Ronaldo is available to play, he will bang in the goals regularly.
And with his injury record looking very good for a player of his age, the target is still within sight.
3. Superior talent level
Finally, Ronaldo is still a step above most other professional players when it comes to his talent level.
Just take a look at this goal he scored for Juventus against Sampdoria in Serie A:
Check out how high he's able to leap above the opposition defender.
A player capable of consistently performing at this high level into his thirties shouldn't be written off, considering the fact that he's already amassed more than 800 goals already.
Has any footballer scored 1000 goals?
One player is widely recognized to have broken the 1000-goal barrier, and that is the Brazilian Pelé.
Here's a quote from a reputable website which backs this up:
"On November 19, 1969, Pelé scored his 1,000th goal on a penalty kick against Vasco da Gama. Eighty thousand adoring fans in Maracana stadium cheered him wildly, even though Santos was the opposing team. During his long career, Pelé scored 1,282 goals in 1,363 games."

Source – History.com
Closing thoughts
This article has comprehensively weighed up the possibility of Ronaldo scoring 1000 goals by the time he calls an end to his professional career.
And the verdict is that he will probably fall short of the mark, due to the fact that he's old and no longer in his prime as a player.
However, it would be foolish to put this past him as Ronaldo has demonstrated time and time again that he can deliver in unlikely situations.
If you've enjoyed this content, have a read of some other posts we have on the blog that discuss aspects of Cristiano Ronaldo's life, such as:
If you enjoy the content that I create and would like to buy me a coffee, then I'd really appreciate it!
Any money that I earn through this donation will be re-invested into more content for this website.
Additionally, by sending in a donation you'll also receive a copy of my recently released 190+ page eBook on Soccer Ball Care, as well as be subscribed to our mailing list where you'll be regularly informed on the latest developments concerning the Soccer Whizz blog.
Latest posts by Samuel Waihenya
(see all)