If you're new to playing football, there's bound to be a number of different questions that you have about the game.
One of these pertains to whether soccer can be played whilst it rains.
To get straight to the point, I'm going to provide you with a concise answer.
Soccer is an outdoor sporting activity that is largely safe to play in the rain, as normal showers rarely influence match proceedings dramatically enough for games to be cancelled or suspended until further notice.
But it is important to note one major thing.
If there is any visual indication of lightning strikes and audible thunder – both on the field of play, at the scheduled kick off time and regardless of whether it's raining or not – the cancellation of a soccer game may be necessary.
This is because the safety of players and fans involved at the fixture comes into question.
Is it bad to play soccer in the rain?
An important question that often springs up amongst soccer beginners is whether playing in the rain is inherently bad.
Well, for a start there is absolutely nothing wrong with playing in the rain and it certainly is an important aspect of what makes football matches special.
Let's take a look at Leicester City's famous 4-2 home victory against Manchester City in 2016, where Jamie Vardy netted his first Premier League hat trick whilst it rained throughout the entirety of the match at the King Power Stadium.
Furthermore, one element of the game that is enhanced when playing in the rain concerns goal celebrations.
Just picture a seasoned professional being able to perform a successful knee slide after finding the back of the net.
It's quite pleasing to see in all honesty!
So, there you have it.
Despite some concerns – which range from waterlogged pitches and slippery surfaces to the game being played at a much slower pace – playing in the rain is generally safe for amateurs and professional participants to do.
What do you wear for playing soccer in the rain?
Something else that's quite important is how you gear yourself up to play in rainy conditions.
Making sure you having the right equipment can be integral to performance in some cases, as feeling comfortable on the pitch helps one focus more on the sporting aspects of their performance.
Let's now take a look at the items commonly recommended for games played in rain or snow.
1. Pair of gloves
I wrote a detailed article on why footballers wear gloves, so feel free to check that out when you have some spare time on your hands.
The basic gist of it is that gloves are worn by outfield players primarily for warmth and comfort.
In most cases when there's a downpour of rainfall, temperatures will be quite low as well.
So, it's good to keep your hands snug in these colder environments.
However, goalkeepers wear dedicated goalie gloves for a completely different purpose.
They need the hand protection and firm grip that gloves offer to make crucial saves and ultimately keep the ball from going in the back of the net.
2. Long socks
Another area of the body that can suffer from consistent exposure to cold temperatures is a footballer's legs.
A long pair of football socks that can stretched to a level above the knees is great for playing in wet conditions.
Especially on muddy surfaces, the socks will collect all the muck that may be collected from crunching tackles and sliding challenges, thereby keeping your skin relatively dirt free.
3. Goalkeeper pants
In football matches, goalkeepers are probably the least active participants on the field when it comes to distance covered.
When you're not physically engaged by way of making acrobatic saves, the lower body feel can begin to feel cold.
This is why a good set of goalie pants can serve to keep blood circulation in the muscles and tendons going by providing the extra warmth needed, in addition to a further layer of body protection.
4. Boots or turf trainers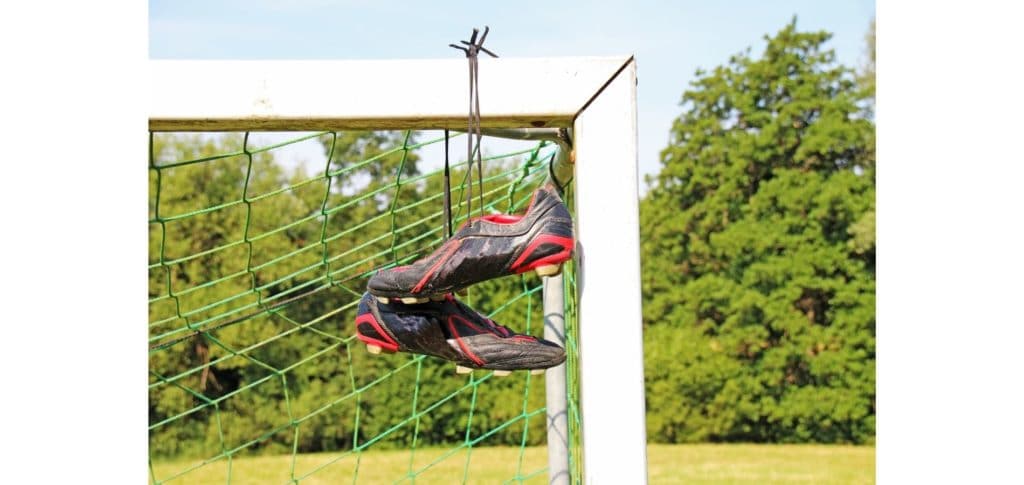 The last thing you'll want to experience when playing football in the rain is sliding and losing your balance repeatedly.
A pair of football boots or Astro trainers solves the issue of leg grip, allowing you to move the ball easily on the pitch without a fear of falling over.
Tips for playing football in the rain
Before I wrap things up here, I thought it would be good to share some tips for playing in the rain.
So, let's have a look at what we've got here.
Anticipate the flight of the ball
This is easily one of my top pieces of advice when it comes to playing football in the rain.
You need to use the movement of the ball in wet pitch conditions to your advantage.
This could mean making a darting run past the defensive line when you expect the ball to bounce awkwardly in front of a centre half.
Or it could also involve hitting the ball lower when faced with an opposition goalkeeper, as the ball is increasingly likely to skid off of the pitch surface and pose a problem.
Keep yourself hydrated
The rain can be incredibly deceptive.
From my own past playing experience in the rain, I rarely felt a desperate need to drink water as the game went on.
Avoiding this can be dangerous, especially if you don't follow through by quenching your thirst.
So, be sure to take a football water bottle with you to the match and fill it with warm water so that you can replenish your body with the heat and liquid that it ultimately needs during a game.
Carry extra gear
One of the usual by-products of playing in the rain is damp clothing that has accumulated wetness over the course of a game.
You'll thank yourself at the final whistle when you're able to change into a fresh set of dry clothes, all because you simply remembered to carry an extra pair of shorts, shirts and socks in a football kit bag.
I'll leave you with a brief video which neatly summarises things and adds some extra pointers:
Does rain stop football games?
Unlike other outdoor sports like tennis where courts can become unplayable due to rain, football has a much higher wetness threshold.
In the vast majority of cases, rain will not prevent fixtures from taking place through postponement or suspension.
Games only tend to be cancelled when rainfall is so severe that it either:
impedes the vision of the players themselves
makes the pitch waterlogged
Summary
So, there you have it.
This article has done a thorough job of dissecting whether soccer can be played in the rain.
Just to recap…
Soccer is a sport that can be played in the rain, as well as in the midst of a few other weather conditions that are less than ideal, such as sleet, snow and light drizzle downpours.
If you enjoy the content that I create and would like to buy me a coffee, then I'd really appreciate it!
Any money that I earn through this donation will be re-invested into more content for this website.
Additionally, by sending in a donation you'll also receive a copy of my recently released 190+ page eBook on Soccer Ball Care, as well as be subscribed to our mailing list where you'll be regularly informed on the latest developments concerning the Soccer Whizz blog.
Latest posts by Samuel Waihenya
(see all)