If you've been watching football for as long as I have, the question of whether a goalkeeper is legally permitted to score a goal in a game is likely to have popped up in your mind on a few separate occasions.
Now a goalkeeper's role predominantly entails saving shots that they come up against; commanding their own penalty area during set pieces by claiming any loose aerial balls and generally making sure that the opposition aren't able to succeed in hitting the back of the net.
So, it's usually a rare occurrence for them to ever be presented with an opportunity to score themselves at the opposite end of the pitch unless their team is desperately chasing the game.
However, it does happen.
Therefore, to put it quite simply…
Goalkeepers can score goals according to the rules of the game. If the soccer ball is played legally, and the phase of play is not specifically listed as an indirect one (i.e. a throw in, or an indirect free kick), then a goal may be scored directly by the men responsible for guarding the goal posts.
In fact, within this article I'm going to highlight a few iconic moments where goalkeepers have successfully managed to get themselves on the scoresheet.
But before that, let's look at the specific documentation which confirms the legality of the process.
What happens if a goalkeeper scored from a goal kick?
One rule set that explicitly approves the act of goalkeepers scoring goals is Law 16 of the International Football Association Board (IFAB), which governs goal kick procedure.
Here's the direct quote:
A goal may be scored directly from a goal kick, but only against the opposing team
This clearly indicates that goalkeepers are allowed to score, even if they are situated as far away as their own 6-yard box.
Can a goalkeeper score a goal by throwing the ball?
It's worth pointing out that how a goalkeeper manages to score is equally important.
This is because, according to IFAB's Law 10 – which covers determining the outcome of a match – a goalkeeper can not score by throwing the ball directly into the opponent's goal.
Quite incredibly, this rule was not in effect until as recently as June 1st 2019.
But with the change in legislation implemented, any occurrence of the aforementioned scenario would now result in a goal kick being awarded for the opposing team.
Examples of goalkeepers scoring from open play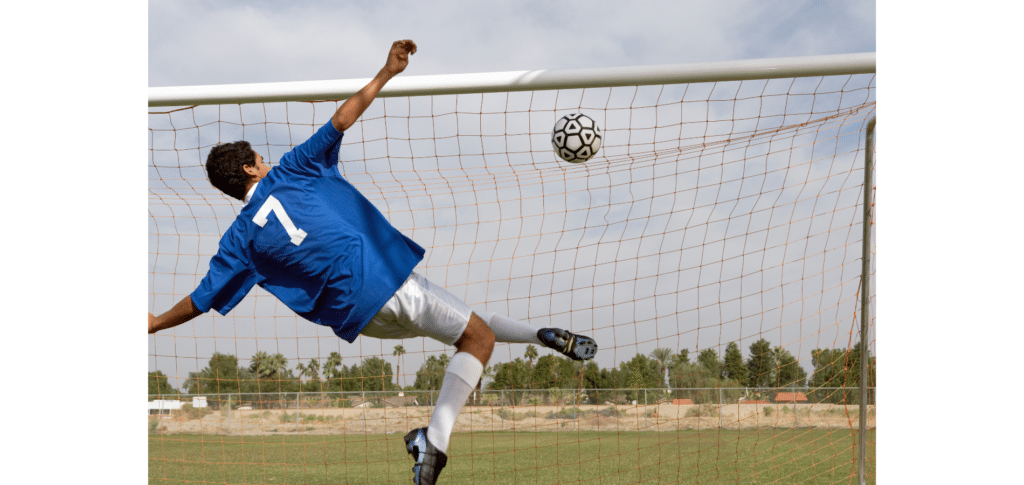 The rule sets that I've previously spoken about have covered scenarios where the ball is in a stationary position before it is kicked or launched by hand into the opposing net.
But a huge part of the game involves the ball being already in motion.
When it comes to open play, a rule set isn't even needed to determine whether a goalkeeper is allowed to score, as you can see instances of it happening first hand.
1. Alisson Becker vs West Bromwich Albion
The Brazilian international goalkeeper unexpectedly got himself on the score sheet with a fine header against West Bromwich Albion in the closing minutes of a Premier League fixture.
It was a really emotional moment for Alisson at the time, because he had recently lost his father who sadly passed away.
Here's a great video example that shows the goal he scored:
2. Asmir Begovic vs Southampton
In the 2013 – 2014 Premier League season, Asmir Begovic managed to hit the target from 97.5 yards out against Southampton.
In typical Stoke fashion, the weather was quite blustery, which gave Begovic a massive advantage over Artur Boruc in this specific game situation.
Take a look at what has been officially recorded as the world record for the longest goal scored in competitive football down below:
Another soccer goalie that scored plenty – Rogerio Ceni
If someone ever comes up to you and asks: "can a soccer goalie score a goal?", you just need to tell them about the legend that was Rogerio Ceni.
As a goalkeeper and set piece specialist, he recorded a staggering 131 goals over the course of his 23-year professional career with Sao Paolo and Brazil.
That's a tally that some lower league strikers would be really envious of!
Out of all the goals that he scored, 70 came from the penalty spot and he also managed to score once from open play, with the rest of his tally coming directly from free kicks.
He was a one club man who continuously defied the natural course of football games.
Goalkeepers scoring goals was most certainly out of the ordinary, but Ceni made the act commonplace.
Can a goalkeeper score a goal with his hands?
By the game rules, a soccer goalkeeper cannot legally score a goal using their hands.
The Laws of the Game explicitly prohibits any player – be it a goalkeeper or an outfielder – from scoring directly with their arms or hands.
What this means is that, for example, if a goalkeeper came up field for a set piece and used their hands to put the soccer ball in the back of the net, a free kick would be awarded to the opposing team for a handball offence.
Check out what the rulebook on fouls and misconduct has to say here:
"The goalkeeper has the same restrictions on handling the ball as any other player outside the penalty area."

Source – Football Association Law 12
In fact there was one occurrence where a goalkeeper actually attempted to score with their hands!
Bayern Munich's number one shot stopper at the time – Oliver Kahn – came up for a corner and punched the ball with his hands into the opposing team's net.
His team was losing slenderly to Hansa Rostock so he thought it necessary to make his way forward in an attempt to reverse the goal deficit.
Take a look below:
Unsurprisingly, the player was subsequently cautioned with a yellow card.
But because he had already received a booking earlier on in the game, he was sent off as a result.
Closing thoughts
So, can a soccer goalie score a goal?
Without a doubt, the answer to that question is a resounding yes.
The rule book allows for the event to happen from goal kicks, and there's plenty of match footage to show that goalkeepers can also score from open play just as well.
After reading this you might want to sharpen your own finishing skills with a good football and a garden football goal post to boot.
If you enjoy the content that I create and would like to buy me a coffee, then I'd really appreciate it!
Any money that I earn through this donation will be re-invested into more content for this website.
Additionally, by sending in a donation you'll also receive a copy of my recently released 190+ page eBook on Soccer Ball Care, as well as be subscribed to our mailing list where you'll be regularly informed on the latest developments concerning the Soccer Whizz blog.
Latest posts by Samuel Waihenya
(see all)