In the world of soccer, transfer negotiations mostly take place between two clubs.
On the one hand, the selling side wants to make a tidy profit on the player in question, whilst the buyer aims to acquire the player's services for as little expense as possible.
But the above visualisation fails to take the thoughts of the player into account.
In fact…
A soccer player is legally permitted to deny any proposed transfer moves if they are still under contract with their parent club and wish to remain there for the contract's entire or remaining duration.
In simpler terms, this means that the player is the person to make the final decision as to where they are going to continue to ply their trade.
Not yet convinced?
Well, read on to find out why this is the case.
Soccer players who denied a transfer
Over the years there have been quite a few notable instances of players refusing to be transferred from one football club to another.
I'm now going to give you two examples of when this has happened.
Here goes…
Example 1: Alan Shearer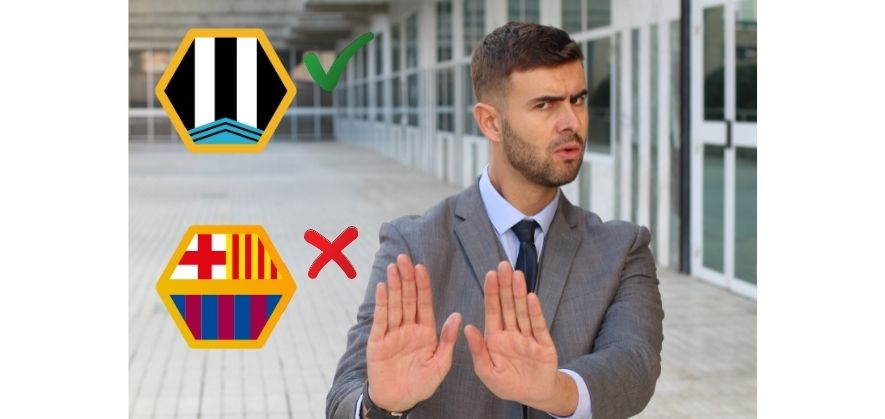 At one point in his eventful career, the Premier League all-time leading scorer – with 260 goals – rejected a transfer to Spanish giants Barcelona.
Can you imagine that!
After winning the Premier League title and two consecutive golden boot awards with Blackburn Rovers, along with finishing as Euro 1996's top scorer, the Englishman wanted a change of scenery.
But quite emphatically, Shearer turned down the opportunity to represent the Catalan side managed by the legendary Sir Bobby Robson and instead chose to play for Newcastle United which was his hometown club.
Example 2: Alessandro Del Piero
When Juventus were relegated to Serie B as a result of the infamous calciopoli scandal, many of the club's best talent chose to leave for greener pastures.
I described the events that unfolded in much greater detail within my article about whether soccer is rigged (spoiler: it's not!).
As players like Zlatan Ibrahimovic, Patrick Viera and Fabio Cannavaro moved on, Del Piero stuck with the club at one of the lowest points in its prestigious history.
Most notably, he received a call from former Manchester United manager Sir Alex Ferguson, who tried all he could to convince the Italian to come to England.
But Del Piero stuck true to the Turin side as he stated that he would never betray the black and white colours.
And the rest is history.
Can a club stop a player from leaving?
This is a tricky question, and the answer typically depends on a player's individual circumstances.
FIFA transfer rules allow for the unilateral termination of a player's contract, but this can only happen when the term of the contract has expired or when both parties have come to a mutual agreement on this decision.
So, for example, if a player has two years left on their current deal, a club can simply tell the player that they are not permitted to leave, as that would be contradictory to the fine details of the initial contractual agreement.
However, a player can leave without consequence in cases of "just cause", which includes situations where a player has not received remuneration over the course of a couple of months.
Ultimately, it can go either way here.
Can a soccer player refuse to play after being denied a transfer move?
From a legal standpoint, a soccer player cannot refuse to play for his or her parent club due to the fact that their preferred career move was denied.
According to Joseph Lappin – Head of Employment at Stewarts Law – a footballer cannot refuse to train under normal circumstances and he posited that clubs can consider halting salary payments to players who go down this pathway, as such absence equates to unauthorised leave.
Essentially, as players are still bound to the terms of the original contract, and because the club has paid for the services of the player in question for the entire duration of that contract, the former doesn't have a leg to stand on.
One particular example of a player refusing to participate happened when Riyad Mahrez – who represented Leicester City at the time – went on strike after being denied a dream transfer move to Manchester City.
He failed to report to training as well, but Leicester took stern action by fining him two weeks' worth of wages.
Summary: can a club sell a player without their consent?
This article has given you the full story on whether players can refuse transfer moves.
As a reminder…
Soccer players can refuse transfer moves to other clubs regardless of whether transfer deals have already been struck between buying and selling parties because ultimately, the athlete's written signature is needed to make the contract of employment legally binding.
The only way a player can be moved on is if they are sold to another team, but even in that situation both the selling and buying clubs would still require the athlete's consent in order for the move to be completed.
If you enjoy the content that I create and would like to buy me a coffee, then I'd really appreciate it!
Any money that I earn through this donation will be re-invested into more content for this website.
Additionally, by sending in a donation you'll also receive a copy of my recently released 190+ page eBook on Soccer Ball Care, as well as be subscribed to our mailing list where you'll be regularly informed on the latest developments concerning the Soccer Whizz blog.
Latest posts by Samuel Waihenya
(see all)