Soccer has several nuances that newcomers to the sport may not be particularly accustomed to.
One of these subtleties is the use of abbreviations or short-form words to describe the different positions that can be played in the game.
More particularly, the word "CB" is often used to represent a certain player's role and duty on the field.
And its application causes quite a bit of confusion amongst the newer contingent of soccer fans who don't have the smallest clue as to what this word means.
So what does CB mean in soccer?
Let's answer this very question!
CB refers to the "Center Back" position in soccer. A "center back" is a central defender who is generally responsible for preventing opposing players (especially strikers) from scoring goals, along with bringing the soccer ball out from their own penalty area as a way of progressing build up play.
You can expect the overwhelming majority of center backs that play soccer professionally to be tall, fast and physically strong both in the air and on the ground.
How do you play CB in soccer?
Now, a center back is pivotal to a soccer team, as they perform many different functions that play a big part in a team's overall success.
Some of these roles include:
Clearing the soccer ball from impending danger
Players in this position have to have a no-nonsense defensive attitude, especially when a loose ball is moving in and around the defensive penalty area.
Having such a "safety-first" approach to defending can be invaluable.
For example, a striker who is alert could get the opportunity to strike such a ball into the back of the net, which would mean conceding a goal that could potentially lead to an unfavorable match result.
Center backs therefore have to be alert whenever they're facing opposition pressure; kicking the ball out into touch when necessary to allow teammates to regroup defensively.
In other cases, a central defender may need to clear the ball all the way upfield, as such an approach would give room for the defensive line to take a few steps further forward, which can ultimately help to alleviate the opposition's offensive momentum.
Making tackles and interceptions
Center backs are also tasked with nicking the ball off of skillful opponents.
They typically do this by making standing and sliding tackles, as well as intercepting passes and crosses meant for players located in advanced positions.
However, central defenders have to be careful when executing tackles as any imprecision that leads to a foul being committed could cost their side a free kick in a dangerous position.
In a similar way, center backs have to take care when they step up to make interceptions.
This is because the action involves momentarily leaving their assigned position to retain possession of the ball.
If a defender mistimes their movement and fails to make the interception, they could leave the rest of their defensive teammates and goalkeeper exposed to the attacking threat.
Going forward for set pieces
One specific area where center backs contribute in an attacking sense comes when they go forward to the opposition penalty area to wait for set piece deliveries.
This is because their height and jumping ability gives them an advantage in aerial situations, meaning that they have a good chance of getting on the end of a cross with a strong header that may find the back of the net.
Once the set piece threat has ended, the center backs then retreat back to their original positions; usually swapping places with the full backs who had temporarily stepped in to cover their defensive duties for them.
Check out this video compilation containing 10 of Sergio Ramos' best headed goals scored throughout his career:
The Spaniard's ability to score from dead-ball situations was incredible, and it was a massive contributing factor towards the 72 goals he scored for Real Madrid in La Liga.
Where does a CB play on the soccer pitch?
Just as the name "center back" suggests, they typically take up a central position at the defensive ends of the pitch.
Central defenders will occupy the space in front of their goalkeeper and behind their central or central defensive midfielders.
For graphical representation of this area, look at the image below: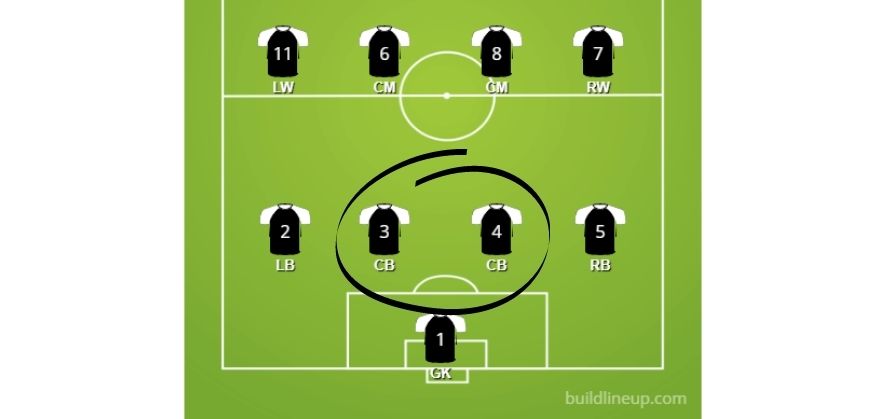 This picture shows center back positioning in a standard four-man back line.
Which attributes make for a great CB in soccer?
It's not easy being a great center back.
The role demands that players possess certain attributes, and some of these are not easily acquired even through several hours of training!
Here are some of the main qualities needed to be an exceptional central defender…
1. Marking
Soccer tactics require central defenders to have a mastery of both zonal marking and man-marking concepts.
The former is where a defender covers a specific pitch area that is designated as their "zone", whereas the latter involves sticking with a certain opposition player and following them as they move.
If center backs lose their markers, then the opposing team may be presented with golden opportunities to score as there wouldn't be any defenders in a good position to deal with the impending attacking threats.
Marking tightly is also important as it prevents opposition forwards from having the space to run on to the ball or attack it from deeper areas of the pitch.
2. Tackling
A good center back will be able to recover the soccer ball from his opponent through clean and legal tackling.
This action in and of itself can involve:
Standing tackles; and
Sliding tackles
Stopping attackers in their tracks is critical, as it ensures that their offensive momentum is broken up or disrupted.
And once possession of the ball is regained, the central defender can then distribute the ball to teammates in more advanced positions, potentially starting a counter attack in the process.
3. Concentration
Perhaps one of the most vital attributes a center defender should have is the ability to concentrate for the full 90-minutes of a game.
Lapses in defensive focus can be punished by skillful players, so it's really important for center backs to be able to remain alert for the entirety of the match.
In fact, there are many cases of central defenders who possess all of the physical and technical qualities needed to play this role, but lack severely when it comes to concentration.
For instance, Shkodran Mustafi used to be vilified for his defensive lapses whenever his former club Arsenal conceded a goal.
Who are examples of fantastic CBs in soccer?
There are two great reference points for excellent central defensive play that you should know about.
Let's talk about both of them in turn.
Virgil van Dijk
The Netherlands international has been a rock at the heart of Liverpool's defense ever since he signed for the club from Southampton in 2017.
In fact, there used to be a popular statistic going round social media circles that Van Dijk had never been dribbled past by an opposition player.
From a quick Google search, Planet Football mentions a 49-game period of him not being dribbled past, which is quite astonishing.
Van Dijk is modern soccer's model central defender, particularly because he's:
Tall and aerially strong
Good with the ball at his feet; and
Fast along both short and long distances
Ruben Dias
Over in Manchester, Ruben Dias has been turning heads.
The Portuguese international – who joined Manchester City from S.L. Benfica in 2020 – is widely regarded as a central defender who is nearly, if not just as good as Liverpool's Virgil van Dijk.
He possesses similar traits of being strong, fast, great aerially and composed on the ball.
What is a CB number in soccer?
Soccer players usually have jersey numbers allocated based on the positions that they take up on the pitch.
Lower-ranked squad numbers like four, five and six are generally reserved for center backs.
For example, notable examples of center backs who wore the number five shirt include:
Carles Puyol;
Franz Beckenbauer; and
Fabio Cannavaro
All three of these players are heralded as some of the finest defenders of their respective generations.
Closing thoughts
That brings us to the end of this post on what a CB means in soccer!
Hopefully you'll now have understood what the position is all about and the responsibilities it entails.
If you've enjoyed reading through this article, have a look at some of our other ones like what an ST means in soccer; what a CDM is in soccer; what a CAM does in soccer and the meaning of CM in soccer.
If you enjoy the content that I create and would like to buy me a coffee, then I'd really appreciate it!
Any money that I earn through this donation will be re-invested into more content for this website.
Additionally, by sending in a donation you'll also receive a copy of my recently released 190+ page eBook on Soccer Ball Care, as well as be subscribed to our mailing list where you'll be regularly informed on the latest developments concerning the Soccer Whizz blog.
Latest posts by Samuel Waihenya
(see all)