Soccer is a game that features various complexities, some of which may be unbeknownst to people who are new to the sport.
The casual and more avid fans are more likely to be aware of some soccer-based terms used to describe certain concepts within the game.
But it's the demographic who lack familiarity that need all the help they can get when it comes to understanding what particular things in soccer mean, especially when it comes to shorthand words or abbreviations.
The focus of this article shall center on a single popular term that's used to describe a soccer position, and the word in question is "CM".
So, what is this "CM" and what does it mean in the context of the game?
Well, for starters, here's a brief definition…
The word CM in soccer refers to the "Central Midfield" position, which typically consists of two or three "center midfielders" who occupy the space situated right in the middle third of the soccer pitch.
Having good center midfielders is paramount for a team.
Read on to understand exactly why!
What does a CM do in soccer?
Central midfielders play an important role within team structure, especially because they are the people who provide the all important link between the defense and the attack.
One great analogy that can be used to describe the role the position plays is by comparing it to a bridge situated in between two mountains.
In order to safely travel from one mountain to another, a hiker must cross the bridge that provides the all important connection between the two peaks.
Here's a more detailed explanation of the roles they perform…
Initiating team attacks
Center midfielders have to shoulder a creative burden for a team's offensive play.
This is especially true if there are no designated central attacking midfielders present within the structure of the side.
So, you can expect central midfielders to be heavily involved in attacking build up, as they will generally receive the ball from defenders and be expected to set up a strategic attack.
A plethora of different attacking options present themselves here, as a center midfielder can either:
Play a through ball in behind the opposition defensive line for a striker to chase;
Launch a whipped in cross from a wider area targeting a tall forward positioned in the box; or
Set up a winger or other wide player for a dribbling opportunity with a long range crossfield pass
Center midfielders are generally regarded as the creative heartbeat of a team, and it's through a number of these individual playmaking contributions that strikers are presented with chances to score goals.
Regaining possession through defensive actions
Center midfielders also offer an additional line of defense when their team is under attacking pressure from the opposition.
They will harry opposing midfielders and forwards in an attempt to close down and win the ball back, and at the same time they typically don't shy away from strong challenges.
You can expect to see central midfielders executing lots of standing and sliding tackles in the process of trying to reclaim possession of the ball.
Here's a brief clip that perfectly illustrates a world-class center midfielder's ball-winning capabilities:
As you can see, there are numerous examples demonstrating N'Golo Kante's talent when it comes to stealing the ball off of opponents.
Bursting forward into the opposition penalty area
Central midfielders are also sometimes expected to supplement attacks with well-timed forward runs into the opposition's penalty area.
Even though strikers are generally expected to shoulder most of the goal scoring burden, center midfielders are also needed to chip in with a couple of goals every now and again.
Surging runs forward create attacking variety, as defenders from the opposing team find it more difficult to track and stick with runners coming in from deeper positions on the pitch.
Frank Lampard was a genius when it came to finding his way into the penalty box from center midfield.
The former West Ham, Chelsea and Manchester City man had an innate ability to evade the attention of opposing defenders and midfielders.
He'd often find himself in goal scoring positions where it would almost be considered a crime if he failed to make the opponent's net bulge.
Check out the footage below, as it partly showcases his skill at being able to burst into the box and score goals:
Where does a CM play positionally on the soccer pitch?
A center midfielder will usually take up central positions in the middle third of the field.
They will line up in formation in front of central defenders and central defensive midfielders; whilst at the same time being just behind center attacking midfielders and a bit further behind strikers on the pitch.
Here's a small graphical representation of what this looks like: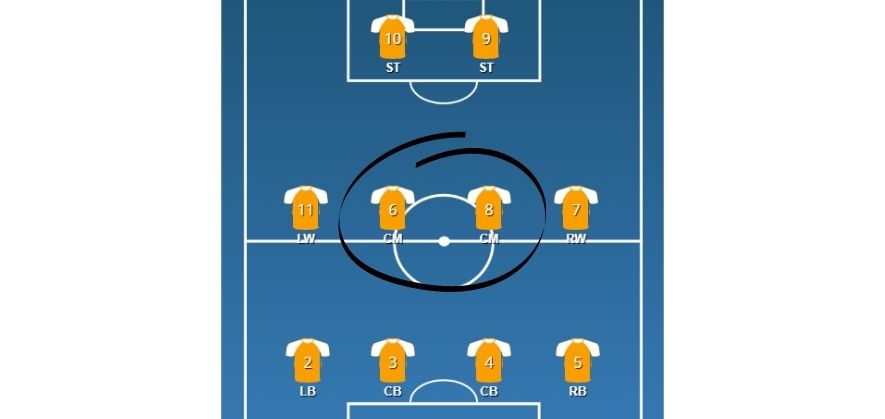 In a standard 4-4-2 formation they will line up just as you can see from the image above.
However, you can expect to see slight contrasts in their average positioning when a team is set up to play in a formation that consists of central attacking midfielders.
Just like in the 4-2-3-1 shape below: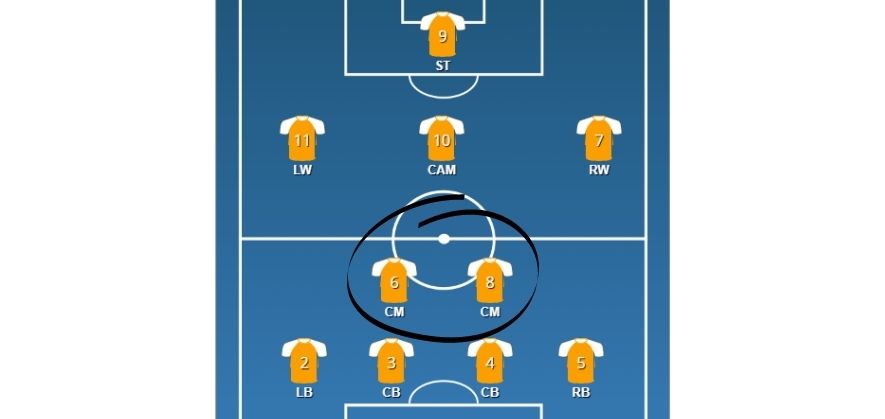 The center midfielders start a little deeper here due to the fact that the central attacking midfielder occupies some of the space in the middle third of the pitch.
Which attributes make for a great CM in soccer?
Not everyone can play this position to great effect.
And one of the reasons for this is because the central midfield role arguably runs the most when compared against other positions on the soccer pitch.
The best center midfielders usually possess the following physical, technical and mental attributes that enable them to play this role impeccably:
1. Stamina
With greater emphasis given towards covering lots of ground in modern soccer, players tasked with controlling passages of play in the midfield need to be able to run up and down the pitch without tiring quickly.
Center midfielders need to be right inside their own territory when defending, as well as having the work rate to surge forward and support their team's wingers and forwards during periods of offensive momentum.
In addition to this, center midfielders are sometimes deployed as "Carrileros" who are supposed to shuttle between lateral areas of the pitch.
So, instead of moving up and down from one penalty box to another, a central midfielder tasked with executing this role will be expected to cover ground and alternate between the different lines of midfield.
2. Decision making
Another aspect that center midfielders must be equipped with relates to their ability to make the correct choices at the right times during games.
You've probably come across a midfielder who was able to distribute the right pass when presented with a sea of runners in front of him.
It's all about making the best decision for the good of the team, and the top center midfielders in the game have a habit of continually making the right ones.
3. Passing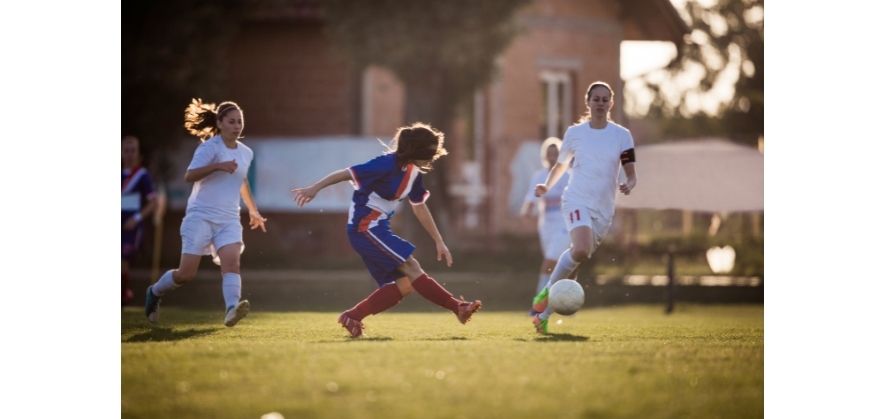 This one is perhaps the most important attribute of them all.
A center midfielder needs to be good at distributing the ball to their teammates.
Because if they aren't, how will the team effectively retain possession or create scoring chances?
Earlier on, the article alluded to the fact that center midfielders are the supporting link between the defense and the attack.
Without good passing ability, defenders would have to bypass the midfield to get the ball into advanced areas.
And that in itself creates problems.
For starters, such an approach can often be predictable and easy enough for opposing defenders to interpret.
And there's also the issue of bypassing the middle players being risky, particularly if defenders have to dribble the ball past the halfway line in order to supply the strikers with opportunities.
Therefore…
Central midfielders who've perfected their craft will demonstrate variety in their passing range, as they'll comfortably be able to pull off:
Short passes;
Long diagonal passes;
Lobbed passes;
Through passes;
Quick passes; and even
Blind passes
Who are examples of world class CMs in soccer?
This article wouldn't be complete without it mentioning some top tier performers in the central midfield position.
Luka Modric
The Croatian has plied his trade at Real Madrid for several years now, which is a testament to his fitness and overall endurance.
Modric has won multiple trophies with the Spanish giants, including the UEFA Champions League trophy, La Liga as well as being a Ballon d'Or winner in 2018.
Kevin De Bruyne
Manchester City's best player has been at the top of the game for a number of years too, having helped guide the English club to multiple domestic trophies.
De Bruyne dazzles fans with his superb crossing ability; short and long range passing, along with his keen eye for exploiting the half spaces in between opposition midfield and defensive lines.
What's quite interesting about him is the fact that he used to play as a central attacking midfielder for some of his former clubs like Chelsea and VfL Wolfsburg.
But under the tutelage of Pep Guardiola, he's dropped deeper into midfield and can be classified as a traditional "number eight" type of player who plays from one box to another.
Final thoughts
So, there you have it!
This article has thoroughly dissected what a CM means in soccer.
In case you enjoyed the read, there's more where that came from as the blog consists of articles that also talk about what a CB means in soccer and what an ST is in soccer too.
Check those out when you've got some free time to spare.
If you enjoy the content that I create and would like to buy me a coffee, then I'd really appreciate it!
Any money that I earn through this donation will be re-invested into more content for this website.
Additionally, by sending in a donation you'll also receive a copy of my recently released 190+ page eBook on Soccer Ball Care, as well as be subscribed to our mailing list where you'll be regularly informed on the latest developments concerning the Soccer Whizz blog.
Latest posts by Samuel Waihenya
(see all)