If you've played any past iteration of soccer's most popular video game (i.e. FIFA), then you're bound to be aware of the iconic five-second video where the motto " EA Sports it's in the game" is voiced.
When you were younger you probably never thought much of the statement, probably because you were too eager to start playing!
Well, there is in fact meaning to the soundtrack of your childhood.
This article will seek to break that down, detailing the context behind the slogan as well as offering readers and in depth look into how it came to be.
So, let's get started.
What does EA Sports it's in the game mean?
EA Sports – who are a division of the Electronic Arts (EA) company that produces many famous sports video game titles – incorporate a stylized video of around five seconds in length that introduces the brand to players whenever a game is launched via console.
This introduction has been a part of their game titles ever since 1993.
For those of you who aren't familiar with it, have a look at the clip below as it illustrates the graphical and sound evolution of the motto from year to year:
So, what does the slogan mean?
It's actually quite simple.
The games that EA produce are aimed at simulating the actual real world sports as authentically and realistically as possible.
Let's get a little bit more specific here.
When they make a soccer video game like FIFA or a football video game like Madden NFL, they want players to experience a full sense of immersion based on the fact that elements within the video game mirror as closely as possible to what happens in the real-life sport.
So, for example, because real life soccer features athletes performing physical actions such as sliding tackles and diving headers in matches, these concepts are also implemented into the FIFA game by its developers.
Therefore, their motto of saying "if it's in the game, it's in the game" basically means that if any action, event or possibility is part of the sport then it will be included within the video game for realism.
Who says EA Sports it's in the game?
The legendary voice behind EA Sports iconic motto is none other than a man called Andrew Anthony.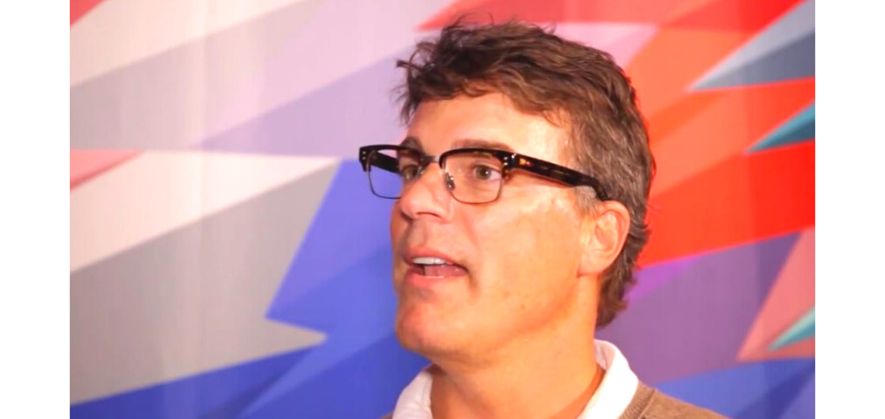 Mr. Anthony lives in Canada and works as a voice actor.
He's well known for lending his voice to a wide host of advertising campaigns for companies in North America, but nothing comes close in popularity to the success of his gig with Electronic Arts.
What's quite funny is that a lot of people originally thought the voice over was made artificially prior to knowing Anthony as the creator of the recording.
That in itself is amazing to think about, but it's also easy to make such a comparison because of how crisp and smooth the voice actually sounds.
By his own admission, Anthony merely made the recording as a favor for a friend.
His mate – who worked for an advertising company at the time – had been approached by Electronic Arts to come up with a commercial that the sports game developer could use to promote their business in the early '90s:
"My friend then called me up in Toronto and said 'Hey will you do this thing… for free?' I said 'yeah, of course, I will! I don't even know what this is but I get a free trip down to see you, so for sure'. I recorded it and thought I would never, ever hear anything about it again. And now it's this mega-brand. Pretty cool."

Source – Republic World
Anthony then said his friend rang him up and asked him to do the voice over for free, to which he agreed because he never minded making the round trip to visit his friend in the first place.
The friend in question had already come up with the whole line which originally was "if it's in the game, EA Sports, it's in the game".
This was then shortened to what video game players hear today – EA Sports it's in the game.
From then, as they say the rest is history.
Here's a short video that talks about this little back story in more detail:
How much does Andrew Anthony make from EA?
Funnily enough, the voice actor hasn't earned a single penny from his masterpiece that still to this day features in sports games produced by Electronic Arts.
He simply made the voice recording to help out a friend – free of charge – who needed a commercial drafted up for Electronic Arts advertising material.
Anthony managed to beat out a handful of other people who had submitted their own voice commercials over to the studio, but never realised that his was the winner until one of his son's friends came over with a video game to play, which is when he overheard the sound of his own voice.
What's currently happening with EA Sports and FIFA?
After almost 30 years, Electronic Arts will no longer sell the world's most popular soccer video game under the FIFA title.
This agreement had been in place since 1993, so players are going to take a little bit of time to adjust to seeing the video game represented by the new EA Sports FC name.
Despite this drastic studio development change, future iterations of the soccer video game will continue to be associated with FIFA.
More so, the legendary "EA Sports it's in the game" phrase shall also continue to be heard by players when they boot up Electronic Arts game titles, which is good news at the very least.
Closing thoughts
So, there you have it!
This article has covered the origins of EA Sports memorable slogan and offered a lot of insight into how the famous phrase was born and came to be voiced on our television screens.
If you've enjoyed reading through this post, then you'll also probably enjoy having a look through our articles on:
If you enjoy the content that I create and would like to buy me a coffee, then I'd really appreciate it!
Any money that I earn through this donation will be re-invested into more content for this website.
Additionally, by sending in a donation you'll also receive a copy of my recently released 190+ page eBook on Soccer Ball Care, as well as be subscribed to our mailing list where you'll be regularly informed on the latest developments concerning the Soccer Whizz blog.
Latest posts by Samuel Waihenya
(see all)