Soccer contains various statistical complexities.
However, not all of the intricacies of this sport are difficult to understand.
More particularly, certain denotations are used in place of full words to add greater informational depth to soccer league tables.
When you look at a typical domestic league standing, you'll obviously want to know which team is the best when compared against the rest by way of viewing metrics like:
How many points they've accrued throughout the campaign;
The amount of goals they've scored against opponents;
How many matches they've played; and
Their goal difference.
All this information is readily available, but the problem comes in when very short abbreviations are used to denote the aforementioned figures.
This article will tackle one aspect of this problem, by precisely covering what the term GA means in soccer.
So, by cutting right to the chase…
GA stands for "Goals Against". It's an acronym that's used in soccer to signify how many goals a team has conceded over the course of a single season.
Sounds pretty simple, right?
People new to the game probably wouldn't have the slightest clue what this term would mean,
And that's exactly why this blog post has been written – to accurately inform such a demographic of readers.
When is the GA abbreviation used in soccer?
You will come across the goals against metric in any standard league table.
Please note that just because only two leagues have been highlighted below, doesn't mean that other leagues don't incorporate GA scoring into their standings.
Serie A
For example, let's take a look at Italy's Serie A: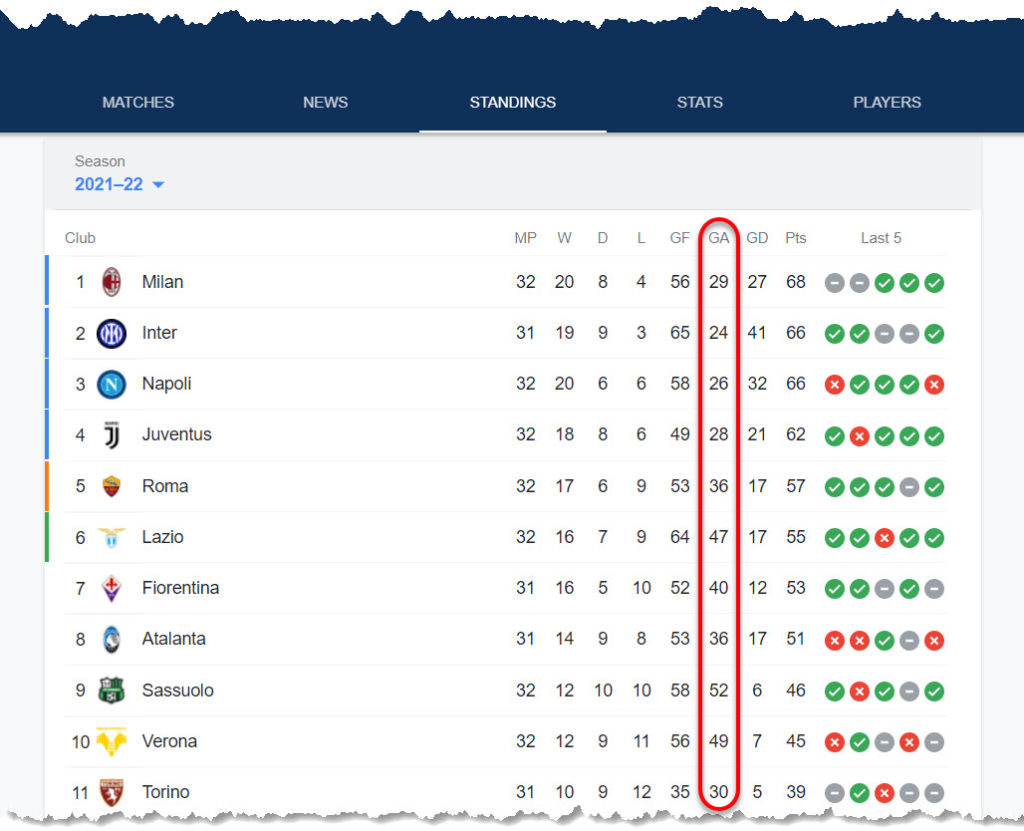 It's clear if you scroll through the entirety of the standings that Inter Milan has conceded the fewest goals in the current 2021-2022 campaign at this moment in time.
They boast a good GA tally of 24, which means that they've only been scored against on 24 separate occasions.
Another team with a solid defensive record is AC Milan, as they have a GA figure of 29.
They have only conceded a total of 29 goals this season, which partly explains why they currently sit pretty in 1st position.
Ligue 1 UberEats
On the other hand, check out the league table for France's top tier soccer division below: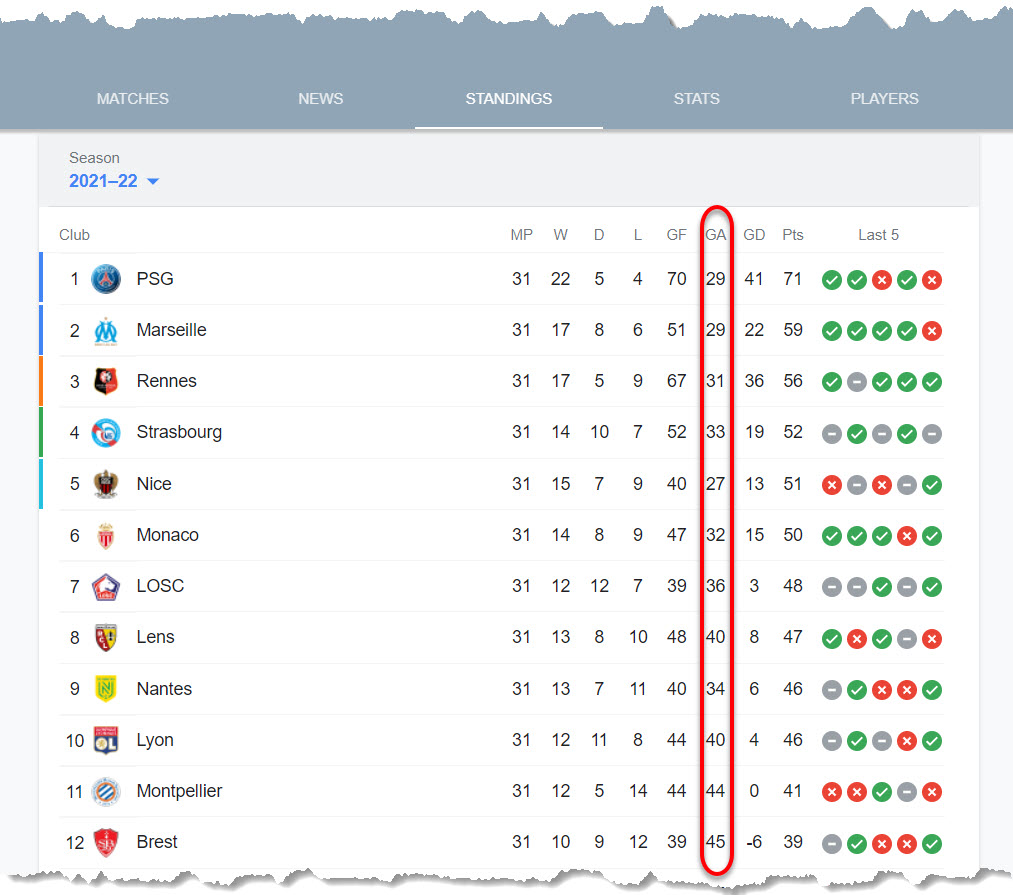 Here you'll note that OGC Nice has currently let in the fewest amount of goals, although that figure could rise as the present season is yet to be completed at the time of writing.
Following closely with slightly worse GA tallies of 29 each are Paris Saint Germain and Olympique de Marseille, who respectively sit in those 1st and 2nd positions.
This means that both of these sides have conceded a total of 29 goals in the current campaign.
Relative to the rest of the league, their defenses are performing quite well.
Which team has recorded the highest ever GA figure in a single season?
This question is difficult to answer due to a lack of informational availability online.
But the good news is, we were able to source a number for the Premier League.
According to the competition's own record books, Swindon Town conceded 100 goals in the 1993-1994 Premier League season.
Although they hold such an unenviable record, it's important to note that this figure was reached when teams had to play 42 matches in a campaign as opposed to 38.
After Swindon Town, Derby County shipped 89 goals throughout the course of the 2007-2008 season, which saw them relegated in the end.
Which team holds the Premier League record for lowest GA?
This one is actually pretty easy to answer because the feat is well known.
Jose Mourinho's 2004-2005 Chelsea side were almost impenetrable.
They managed to only let in 15 goals across an entire 38-game campaign.
Chelsea's feat is really impressive.
Have a look at the video compilation below, which takes you through each one of the goals they conceded on their way to the Premier League title:
Closing thoughts
Now you know what the GA acronym is and you should be able to interpret its use within league tables.
But let's just recap what you've learnt for the sake of additional clarity…
GA means "Goals Against" in soccer. It's a term used to depict the number of goals a soccer team has conceded during the course of a league or cup campaign.
As always, we recommend further reading on related subjects.
So, with that being said, why don't you read through this article on what GF means in soccer too!
If you enjoy the content that I create and would like to buy me a coffee, then I'd really appreciate it!
Any money that I earn through this donation will be re-invested into more content for this website.
Additionally, by sending in a donation you'll also receive a copy of my recently released 190+ page eBook on Soccer Ball Care, as well as be subscribed to our mailing list where you'll be regularly informed on the latest developments concerning the Soccer Whizz blog.
Latest posts by Samuel Waihenya
(see all)