Disclaimer: Soccer Whizz is a participant in the Amazon Services LLC Associates Program, an affiliate advertising program designed to provide a means for sites to earn advertising fees by advertising and linking to Amazon.co.uk (source: Section 5). As an Amazon Associate I earn from qualifying purchases. This blog also earns small commissions from ShareASale affiliate links placed within the article.
Gianluigi Donnarumma is without doubt one of Europe's greatest goalkeeping talents.
The Italian-born player rose through the ranks of AC Milan's soccer academy and quickly became the club's first choice goalkeeper, as his raw quality was there for all to see.
After a couple of seasons playing in Italy's highest professional division, Donnarumma sought greener pastures and now plies his trade for the French giants Paris Saint Germain.
He's an example of how skill, hard work and determination can combine together to propel an athlete to the top tiers of the beautiful game that we like to call soccer.
And with plenty of youthfulness still on his side, a lot of teenage goalkeepers look up to Donnarumma in admiration.
Donnarumma's fan following has also grown quite exponentially, as his recent heroics in the penalty shootout against England in the 2020 European Championships helped Italy secure the prestigious title.
One of the by-products of this increase in fame is that more and more people want to know what sort of life Donnarumma leads.
You'll see media outlets posting stories of what sort of car he drives; not to mention the sorts of activities he gets up to when he's not representing his club or national team on the soccer pitch.
However, our attention here at Soccer Whizz is focused more on the sporting aspects of his life.
More particularly, this article will now reveal what goalkeeper gloves Donnarumma wears to matches, as this question has been a massive point of interest for spectators of the game.
So here goes…
The Italian Gianluigi Donnarumma currently wears a blue pair of Adidas Predator Pro goalkeeper gloves.
If photo evidence is what you need, then you don't have to look any further than Donnarumma's official Twitter account.
He's fairly active on the platform and posts a lot of training footage whilst he prepares for game days.
Check out this picture that was taken the day before Italy's FIFA 2022 World Cup play-off qualification game against North Macedonia on the 23rd of March, 2022 :
And here he is in club training a couple of days before Paris Saint Germain's Ligue 1 loss to OGC Nice that happened on the 5th of the same month:
Adidas Predator Pros look to be Donnarumma's current gloves of choice, although it remains to be seen what he'll decide to put on in future fixtures.
Features of Donnaruma's goalkeeper gloves
So many goalkeepers put on this exact pair of Adidas Predator Pro gloves.
In fact, I have an article on what gloves Manuel Neuer wears which highlights the qualities that they offer in considerable detail.
And in addition to that, I have another post on the goalkeeper gloves that Barcelona's Marc-Andre ter Stegen uses, which again covers the benefits offered by this very model.
So, for the full low-down on what these gloves are capable of, I'd highly recommend that you check out both of the aforementioned informational pieces.
It would be pretty redundant if I spoke at length about the features of these gloves when I've already done so on two separate occasions!
Nonetheless, it's still important for me to briefly highlight the specific areas where these gloves excel:
1. Silicone skin elements
Over the last couple of years, goalkeeper glove manufacturers have been much more proactive in providing protection for wearers.
A good case in point is the element of silicone that's embedded strategically onto the backhand of these gloves.
What it does is make punching a soccer ball clear a lot easier.
Goalkeepers face a lot of aerial pressure from whipped in crosses and other dead-ball situations, so this feature affords the goalie more protection and power, as the zone surface allows them to get more distance on their punched clearances.
2. Lateral abrasion zones
On a similar note, goalkeeper protection is a big priority as evidenced by the abrasion zones that have been fitted onto the lateral areas of each glove.
You see, when goalkeepers sprawl to the ground when making a diving save, their hands and arms can encounter friction from prolonged contact with the ground as they slide along the turf.
Not every goalkeeper has the benefit of playing on a pristine surface, so some pitches are not as smooth as others.
This creates a safety concern – especially if gloves don't have dedicated abrasion zones like these do – as a goalkeeper can easily pick up turf burn or some other sort of hand soreness.
Ultimately, the abrasion zones on these Adidas Predator Pro goalkeeper gloves cushion the wearer against such frictional impacts, which makes for a much safer and comfortable playing experience.
Where can you buy Donnarumma's goalkeeper gloves?
These gloves definitely make a strong case for a purchase, so don't feel guilty if you're tempted to pick up a pair or two for yourself!
In fact, this article will make your buying choice a little easier, as I've sourced specific retailers who currently have various sizes of these gloves in stock.
Read on to find out!
Pro Soccer
ProSoccer.com has received so many mentions from me over the past couple of articles.
One of the reasons why I keep bringing them up is because their online soccer store has a user interface that's really easy to grasp.
And it goes without saying that their checkout process is pretty seamless.
They currently stock two different colours of these Adidas Predator Pro gloves, so you can check out each pair by clicking the respective image links down below: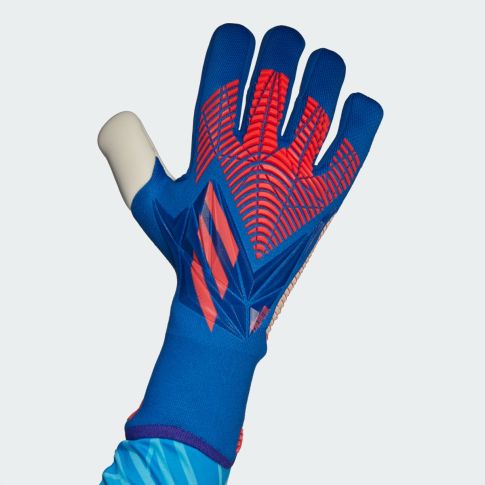 Amazon
I don't think there'll come a time where Amazon will ever relinquish their stranglehold over the consumer goods market!
They've been the dominant retail player for over a decade, and their catalog of products continues to grow from strength to strength.
You can get yourself a pair of the high resolution blue and royal red Adidas Predator Pro gloves detailed in this article by clicking the button on the product box beneath:
Wrap up
You're now aware of the specific brand and model of goalkeeper gloves that Gianluigi Donnarumma currently wears.
I've also given you a bit of insight into the qualities they offer as well as directed you to retail outlets where you can purchase pairs of different sizes.
However, if these gloves don't match up to your own buying taste, then you might want to look through our post on the finest goalkeeper gloves.
There you might find some interesting glove alternatives that tempt you to spend some substantial dollar amounts!
If you enjoy the content that I create and would like to buy me a coffee, then I'd really appreciate it!
Any money that I earn through this donation will be re-invested into more content for this website.
Additionally, by sending in a donation you'll also receive a copy of my recently released 190+ page eBook on Soccer Ball Care, as well as be subscribed to our mailing list where you'll be regularly informed on the latest developments concerning the Soccer Whizz blog.
Latest posts by Samuel Waihenya
(see all)