Disclaimer: Soccer Whizz is a participant in the Amazon Services LLC Associates Program, an affiliate advertising program designed to provide a means for sites to earn advertising fees by advertising and linking to Amazon.co.uk (source: Section 5). As an Amazon Associate I earn from qualifying purchases.
David de Gea has been at Manchester United for over a decade now, having joined the Premier League giants in the summer of 2011.
He was recruited to replace Edwin Van der Sar – a veteran of the game who at that point was preparing to hang up his cleats for good.
Now, over the period of time that the Spaniard has been at the club, many soccer fans can attest to the fact that he has made the game a more entertaining spectacle.
Being regarded as the best shot stopper in the world and, at various points in his playing career, heralded as the best goalkeeper overall, is by no means an easy feat to attain.
And the global appeal that comes with being considered the best in your position means that fans want to emulate the way you behave, as well as what you wear!
Think about it just for a moment.
When you were little and aspired to be as good as certain athletes, you would attempt to dress like them or try pulling off some of their signature sports moves!
The same goes for soccer and one of its finest goalkeepers – David de Gea.
A lot of people are interested to know where he harnesses his shot stopping power and god-like reflexes from, which is why a lot of attention is paid to the pieces of gear that help him perform his role at the highest level of the sport.
So, this article will start off by revealing the goalkeeper gloves that David de Gea wears, before
offering insight into what makes them so special as well as pointing readers in the right direction when it comes to where they can be bought.
Alright, that's enough chit chat because it's kick off time!
David de Gea wears the Adidas Predator Pro goalkeeper gloves that come with a negative cut. The Manchester United goalkeeper is sponsored by Adidas, and part of his contractual obligations towards the company includes sporting Adidas branded products.
In need of some visual proof?
Well, take a look at the Twitter post below:
David de Gea retweeted this the day after his team managed a close-fought win over Tottenham Hotspur at Old Trafford on the 12th of March 2022, in a game where the legendary talisman Cristiano Ronaldo netted a hattrick.
There's even more recent evidence that shows David de Gea wearing Adidas Predator Pro goalkeeper gloves.
Here's a photo that was taken after Manchester United bowed out of the UEFA Champions League after a narrow one-goal defeat at home to Spanish side Atletico Madrid:
You can just about make out the iconic three-stripe design that Adidas products are distinctly known for on the backhand of his right handed glove.
Features of David de Gea's Adidas Predator Pro goalkeeper gloves
With that confirmation out of the way, let's take a closer look at some of the things that these gloves have to offer both casual and professional players alike.
1. Unrivaled Grip (URG) 1.0 latex foam
Latex is such an important component when it comes to the construction of goalkeeper gloves.
I briefly described its use in my article on goalkeeper glove materials so I won't dive into that too much.
Playing this position requires the athlete to be able to hold onto soccer balls that are hit towards them with velocity.
And that can only be achievable if the gloves that keepers are equipped with have enough gripping capacity.
This is where Adidas' proprietary URG 1.0 latex comes in.
It's said to offer grip that is unrivaled by any other type of latex, and it gets the endorsement of professional goalkeepers like David de Gea.
But I'm sure you're probably wondering…
Just how good is this latex, really?
Well, I've embedded a short video clip that gives a deeper explanation of URG 1.0 and what someone can expect from this feature.
Take a look:
You can see that URG 1.0 latex is insanely good at gripping onto soccer balls as its stickiness is off the charts.
However, its durability is a major concern as the latex wears pretty quickly on hard ground and in dry conditions.
To keep the latex activated you even have to have a solid after-care routine that involves using warm water on the gloves after games just to preserve grip effectiveness.
2. Demonskin spines
As a goalkeeper you will at times be tasked with stepping off of your goal line to deal with crosses and set pieces.
Those aerial balls can be tough to deal with, and in some instances it's not always possible to catch and hold.
This means you have to find another way to clear the danger, and one technique that works a treat is punching the soccer ball with a clenched fist.
Demonskin spines on these gloves are little protrusions positioned on the backhand of the glove that give goalkeepers a more comfortable punching experience.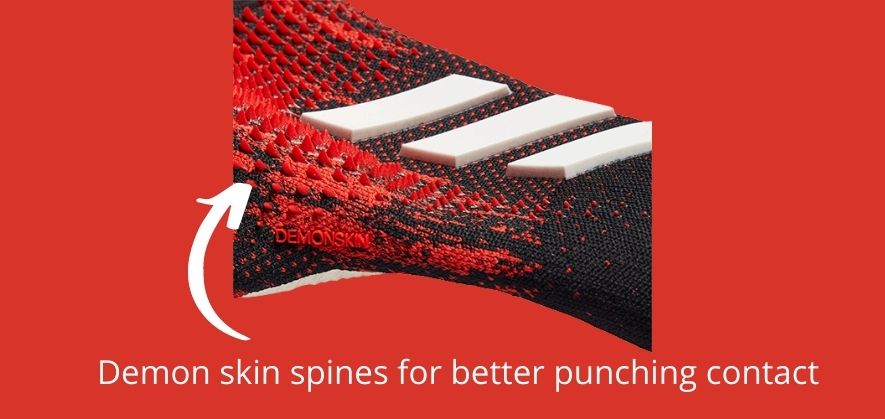 Fixation is enhanced as the Demonskin 2.0 layer works to prevent hand slippage within the glove during play that could cause injury or lead to an ineffective clearance.
The ball can be manipulated through the punch in a simpler way, as the spines interact with the ball's surface and do the heavy lifting for you.
So, you don't have to worry about hurting your backhand or your knuckles every time you go up for a punch attempt.
3. Strapless entry
What you'll find is most unique about these gloves is the extended strapless wrist entry that they come with.
Players simply slide their hands into the glove and they're ready to go straight to the field!
Adidas have done away with adjustable strapping as they believe that strapless entry provides goalkeepers with a more natural playing experience.
Which is somewhat true when you actually take a moment to think about it.
It fits snugly enough around the wrist and it doesn't loosen as one makes saves on the pitch, and that's so important because it allows goalkeepers to focus solely on their athletic performance without distractions.
This is an interesting contrast to the goalkeeper gloves that Liverpool's Alisson Becker uses, as his pair have the wrist strapping situated lower down on the forearm for a more natural wear.
Video review of David de Gea's goalkeeper gloves
This article wouldn't be complete without a short unboxing video that shows readers exactly how these gloves look and feel like in the hands of another person.
Here's a short video that provides great visuals on the features that have already been outlined:
You can see in the clip there's an Adidas user manual that recommends wearing these gloves in wet conditions and on natural grass, as well as sparing them only for those crucial game days for maximum longevity.
Where to buy these Adidas Predator Pro goalkeeper gloves
As always, Amazon always comes through.
You can grab yourself a pair of these Adidas Predator Pro goalkeeper gloves by clicking on the button below:
I also managed to find another fantastic colour variation of the same pair:
Final thoughts
This article has shown you the exact type of goalkeeper gloves David de Gea wears during matches.
Adidas' Predator Pro gloves are one of the best goalkeeper gloves a player can buy in 2022, particularly because of the insane level of grip that the URG 1.0 latex provides.
You better go and grab yourself a pair before all existing stock availability runs out!
In case the aforementioned does happen, you can check out the goalkeeper gloves that Manuel Neuer wears too, as they're quite similar in appearance and offer slightly better functionality with URG 2.0 rubber foam for grip.
Latest posts by Samuel Waihenya
(see all)