Disclaimer: Soccer Whizz is a participant in the Amazon Services LLC Associates Program, an affiliate advertising program designed to provide a means for sites to earn advertising fees by advertising and linking to Amazon.co.uk (source: Section 5). As an Amazon Associate I earn from qualifying purchases.
Ederson Santana de Moraes – commonly known to the vast majority of soccer fans across the globe as Ederson – has been a crucial piece of the jigsaw in Manchester City's spectacular ascendency to sporting dominance under the Pep Guardiola regime.
The Brazilian was signed from Benfica in the summer of 2017 for a sum of £35 million, and since then the goalkeeper has been the undisputed first choice shot stopper for the Premier League champions.
What's quite unique about Ederson is that his game doesn't revolve around the more conventional aspects of goalkeeping such as catching loose balls and making diving saves.
His composure and calmness on the ball allows his Manchester City team mates to effectively progress the play out from their defensive half and into opposition territory.
And because Ederson is so good at this facet of the game, the spectators who admire his ability and the younger fans who idolize his skill look to pieces of equipment that they can purchase in order to more closely associate with the Brazilian star.
So, this brings me on to the main point of the article, which concerns the type of goalkeeper gloves that Ederson wears for matches.
To get straight down to business…
Ederson currently wears a brand of PUMA goalkeeper gloves that are actually named after him! The PUMA Future Z Grip 2 Ederson Goalkeeper Gloves are a limited edition item – with only 150 pairs available worldwide – that come in a distinct black, white and volt yellow shade.
What are the features of Ederson's current goalkeeper gloves?
Let's now take a look at some of the major product highlights that make these PUMA Future Z Grip 2 gloves stand out!
1. Hybrid cut
Believe it or not, a hybrid glove cut isn't something that's really complicated to understand.
It's basically a combination of different glove cuts – in this case a "rollfinger cut" and a "regular cut".
Goalkeeper gloves of this nature typically come in at steeper price points, largely due to the fact that they're harder to "nail" from a manufacturing and product design perspective.
With this particular hybrid cut, PUMA promises a large latex surface so that goalkeepers can get much better contact with the ball in different playing scenarios.
2. Thumb wrap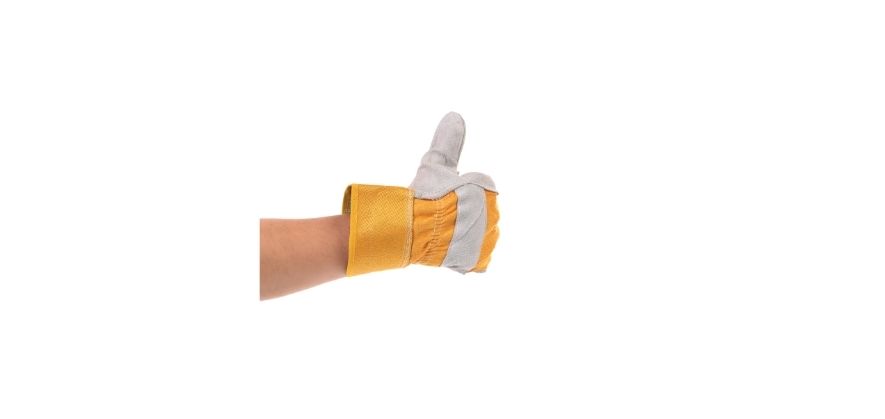 This feature is also relatively straightforward.
As a goalkeeper, there are instances where you have to defend set pieces by coming off of the goal line to claim aerial balls.
In such instances, it can be difficult to get a proper grip on the ball because:
It's traveling at a fast pace
It's whipped in with curve, topspin or backspin that alters its direction
It's relatively high in the air when it comes towards the goalkeeper
The icing on this cake is the fact that the goalkeeper has to wade through a tonne of bodies just to get a decent chance of collecting it.
So, the thumb wrap makes a goalie's job easier by increasing the surface area of the latex that's located on the thumb section of the gloves.
More grip in such areas is crucial, especially when goalkeepers need to use their fingertips to grasp onto soccer balls crossed into the penalty area.
Video review of Ederson's goalkeeper gloves
What better way is there to showcase the product than to actually see it in action?
Take a look at the footage below, which dissects the performance of these goalkeeper gloves worn by Manchester City's first-choice goalkeeper:
Ederson's golden gloves designed by PUMA
As you can see from the features that I've briefly described, Ederson is equipped with one of the finest pairs of goalkeeper gloves available on the market.
However, there was a certain occasion where the Brazilian didn't don his usual PUMA Future Z Grip 2 Gloves.
In November of 2021, PUMA decided to commemorate the performances of the goalkeepers who conceded the fewest goals at the Euro 2021 Championships and the recently concluded Premier League season.
This meant that Manchester City's Ederson and England's number one goalkeeper Jordan Pickford were presented with special gold versions of their PUMA Future Z Grip 2 gloves to wear for the fixture where the teams they represent were set to face off against one another.
Here's how they look:
Related article: What Gloves Does Jordan Pickford Wear?
What gloves did Ederson wear in 2021?
The Manchester City goalkeeper – Ederson Santana de Moraes – previously wore the Uhlsport Pure Alliance Supergrip+ gloves.
The German brand is widely respected in the glove making department, as the palms are made with tiny foam inserts that provide ample cushioning and great overall grip support.
To begin with, I want to show you a picture of how these gloves look, especially so that as the reader you're not left in the dark.
Here's a listing that I managed to source on Amazon:
They're really beautiful, aren't they?
Bright white and yellow shades really make these goalkeeper gloves stand out.
In fact, the colour is probably one of the reasons why we were able to easily identify what goalkeeper gloves Ederson wears in the first place!
Well, the good news is that there's more to these gloves than what appears to the naked eye.
Features of Ederson's Uhlsport Pure Alliance Supergrip+ Gloves
Let me explain…
1. Dual fix closure system
Goalkeeper gloves have to fit right, or else you the men and women tasked with guarding the goal posts risk having hand and wrist discomfort that affects their performance.
Imagine trying to make a fingertip save and struggling to get the right contact on the soccer ball, all because the gloves you were wearing fit too loosely.
That's where these Uhlsport Pure Alliance Supergrip+ gloves come in handy.
Incorporated into their design is an innovative dual fix closure system that provides goalkeepers with a more optimized fixation.
Two straps are provided, which makes fastening these gloves so straightforward, as they close relatively tightly around the wrist and secure the glove in place.
So when you wiggle your hand, the glove won't rattle from side to side.
This dual fix system also ensures that goalkeepers have optimum wrist flexibility, which is incredibly important for this soccer position as players performing this role are expected to make demanding reflex saves.
2. Rebound zone
The backhand layer of these gloves comprises flexible padding that cushions the contact a goalkeeper has with the soccer ball when they go to punch it away from danger.
It's a little more complicated than that, actually.
Here's an official quote taken from Uhlsport's website that backs this up perfectly:
"A filigree line structure on the individual segments strengthens the grip on the backhand and allows more control over the flight direction of the ball."

Source – Uhlsport
3. Airprene glove body
Another impressive feature of these gloves is the use of compressed neoprene material for the body.
It allows air to easily circulate through the fine pores of the gloves, thereby providing goalkeepers with maximum breathability and comfort.
What this means is that there's no need to stretch these goalkeeper gloves to give extra room for the hands to "breathe", particularly because the material effectively facilitates the necessary ventilation.
4. Ultimate contact
One of the main takeaways that you should gather from this article is that these gloves are meant to provide goalkeepers with the highest possible levels of grip.
In my article on what goalkeeper gloves are made of, I spoke about how latex is used to give gloves the grip that players in this soccer position need to hold onto soccer balls that are struck fiercely at them.
These gloves take latex layering to even greater heights, as they combine a colourless compound of natural latex with finer "grip particles" that add greatly to the overall clutching capabilities.
More so, this gripping layer wraps around the edge of the fingers, with adhesive foam also extending the ball contact surface, thereby making it easier for goalkeepers to hold onto the ball no matter how it is struck.
What size of goalkeeper gloves does Ederson wear?
It's not really possible to verify what size of goalkeeper gloves the Manchester City star wears unless we're present in the changing room with him!
Or we'd have to ask one of his teammates about that, maybe Kevin de Bruyne because he's typically quite outspoken!
Although I'd probably wager Ederson puts on a size of 9.5, especially because that's the only size available on this Amazon listing for his special edition golden gloves.
Summary
This article has talked at considerable length about the goalkeeper gloves that Ederson wears.
You should now be aware that Ederson has an exclusive goalkeeper glove sponsorship deal with PUMA that sees him wear a special edition of their Future Z Grip gloves.
If you've enjoyed this piece, then you're going to love our post on the goalkeeper gloves that Alisson wears!
Alisson Becker – for those of you who aren't aware – is the Brazilian team mate of Ederson and he plays for English Premier League rivals Liverpool.
Go on and find out how their gloves compare!
If you enjoy the content that I create and would like to buy me a coffee, then I'd really appreciate it!
Any money that I earn through this donation will be re-invested into more content for this website.
Additionally, by sending in a donation you'll also receive a copy of my recently released 190+ page eBook on Soccer Ball Care, as well as be subscribed to our mailing list where you'll be regularly informed on the latest developments concerning the Soccer Whizz blog.
Latest posts by Samuel Waihenya
(see all)