Disclaimer: Soccer Whizz is a participant in the Amazon Services LLC Associates Program, an affiliate advertising program designed to provide a means for sites to earn advertising fees by advertising and linking to Amazon.co.uk (source: Section 5). As an Amazon Associate I earn from qualifying purchases. This blog also earns small commissions from ShareASale affiliate links placed within the article.
Germany's top goalkeeper – Manuel Neuer – has been around for a very long while.
At the time of writing, the Bayern Munich legend still plays a huge role in the continuous success of the Bavarian giants.
His tremendous ability to rush off of his goal line to sweep up opposition through balls threaded in behind his defense is second to none, and has been for several years.
And Neuer is not only quick to react to dangerous situations during matches, as the former Schalke 04 goalkeeper is supremely calm with the soccer ball at his feet.
He can comfortably pass out from the back, which is typically a baseline requirement for goalkeeping in the current era.
In fact, a lot of people usually go as far to say that Neuer revolutionized the goalkeeping role as a whole, which I'll go on to highlight a little more at the end of the article.
Now, having digressed from the core topic at hand, it's time to get back to business.
This post has been written to help curious readers with the question of what goalkeeper gloves Manuel Neuer wears.
You see, the most talented soccer players manage to draw worldwide recognition from their stellar performances.
And because Neuer has managed so many exemplary accomplishments over his career, a lot of spectators want to emulate him by copying his distinct style of goalkeeping and donning the same pieces of gear that the German puts on for games.
Honestly, it's a pretty reasonable thing to do if you ask me!
Anyway, for all the Neuer fans out there, here's your answer…
Manuel Neuer wears Adidas Predator Pro goalkeeper gloves that come in a high resolution blue, royal red and turbo white colour combination.
Here's an image that illustrates exactly how these gloves look: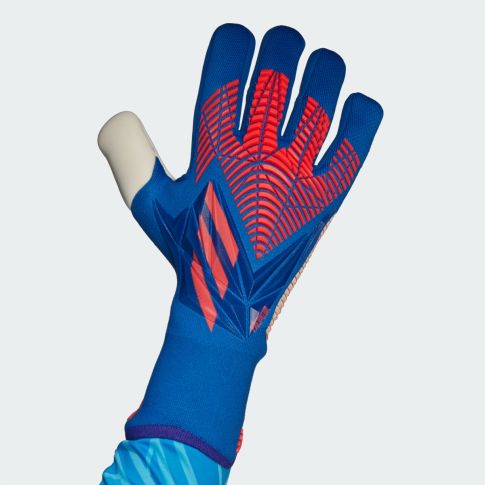 Neuer wore this pair of goalkeeper gloves in his side's 4 goal rout of mid table outfit Union Berlin on the 19th of March 2022.
Take a look at the Twitter embed below which provides more evidence of this:
The overall graphic highlights just how great of a goalkeeper Neuer is, as this was the game where he finally surpassed the former Bayern Munich goalkeeper Oliver Khan's Bundesliga record of 310 wins in 557 games.
I also managed to find some video footage on Youtube of the match highlights, where right at the start of the clip you can see Neuer jogging with the predominantly blue Adidas Predator Pro largely visible.
Here it is at just 3 seconds in:
Qualities of Neuer's goalkeeper gloves
It's all well and good knowing what goalkeeper gloves Manuel Neuer wears.
But one other important thing that needs to be pointed out is why these are his preferred gloves of choice.
After all, you wouldn't want to invest in these goalkeeper gloves if you weren't convinced that they would offer you significant on-pitch performance benefits, right?
So, I did a bit of digging to see what makes these gloves so special that arguably the greatest goalkeeper of all time wears them for this season.
Let's take a closer look.
1. Zone skin silicone elements
What's quite interesting is that you get a bit of a Spider-Man vibe just by taking a quick glance at the dominating blue with red colour "webbing" at the backhand and finger areas.
The good news for goalkeepers is that this design choice has nothing to do with the movie blockbuster!
It's actually an adaptive knitting with silicone material elements embedded into the fabric.
This makes punching the soccer ball away an easier task for goalkeepers, particularly because of the greater control that this knitted area provides.
2. Unrivalled grip (URG) 2.0 rubber foam
In my previous article on what goalkeeper gloves David de Gea wears, I spoke at considerable length about URG 1.0 and the massive grip benefit it provides.
Essentially, this is a form of latex that is so sticky that a soccer ball literally glues itself to the gloves once contact is made.
You're unlikely to come across latex that offers better gripping ability, because URG 1.0 is built with the extreme in mind.
It's why this type of latex wears out relatively quickly compared to other models, with Adidas even recommending buyers to limit their use of gloves with URG 1.0 to match play only.
Ultimately, with this latex you don't have to worry about a soccer ball slipping away from your grasp after you've caught hold of it.
The latex does all the heavy lifting for you, allowing you to focus on how you're going to distribute the ball to your teammates after you've collected it.
On the other hand, these gloves feature the new and improved URG 2.0 rubber foam on the palm areas.
Now it does offer slightly less grip than its predecessor, but the major plus point is the improved longevity that you'll get from the gloves, as it offers extended grip and better cushioning.
Where to buy Neuer's goalkeeper gloves
If you've gotten this far, I'm sure you're pretty keen to find out where you can get your hands on a pair of these Adidas Predator Pro gloves.
Well, the good news is that you have a couple of options when it comes to soccer stores.
Prosoccer.com
Pro Soccer has been selling soccer gear in the United States for a long time, having launched its first physical outlet all the way back in 1991 within Pasadena, California.
They've got multiple sizes (i.e. 7 to 11) of these gloves in stock, and prospective buyers get to choose from the aforementioned blue-red combo or an all black version.
Here are the links to both products: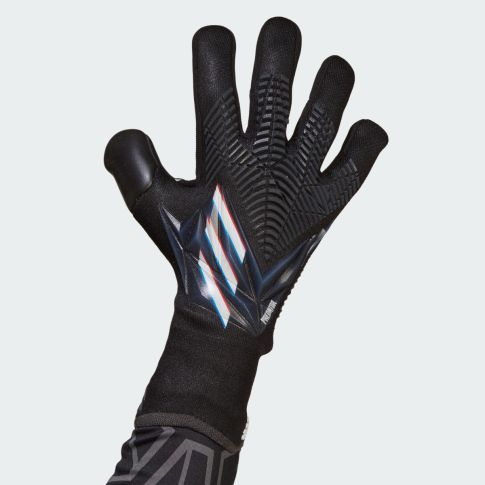 Their checkout process is very customer-friendly as well, because with the intuitive and easy to use interface you shouldn't experience any technical difficulties when making a purchase.
Amazon
Alternatively, you can pick up a pair of these Adidas Predator Pro goalkeeper gloves on Amazon!
They've got sizes available from as low as 7 and up to 12, so you should be able to get a fit that's just right.
Closing thoughts
Just to recap…
Manuel Neuer sports the Adidas Predator Pro goalkeeper gloves.
They're more than just a solid choice for professional and casual goalkeepers as they offer amazing levels of grip and make the act of punching soccer balls away much more comfortable.
What's quite interesting is that Barcelona's Marc-Andre ter Stegen wears these exact gloves as well!
In fact, these gloves are good enough to make it on my list of the best goalkeeper gloves – but only once the article itself has been updated for 2022!
Neuer's performances arguably brought about a seismic shift in focus, from goalkeeping being a soccer position that primarily relied on great reflexes and shot stopping ability, to becoming an imperative role within a wider team structure that now places a high emphasis on being able to comfortably pass the ball out from the back.
If you're curious to know why Neuer's effect on the game has been so impactful, check out the articles below which accurately dissect his on-pitch influence over the last decade:
If you enjoy the content that I create and would like to buy me a coffee, then I'd really appreciate it!
Any money that I earn through this donation will be re-invested into more content for this website.
Additionally, by sending in a donation you'll also receive a copy of my recently released 190+ page eBook on Soccer Ball Care, as well as be subscribed to our mailing list where you'll be regularly informed on the latest developments concerning the Soccer Whizz blog.
Latest posts by Samuel Waihenya
(see all)