Disclaimer: Soccer Whizz is a participant in the Amazon Services LLC Associates Program, an affiliate advertising program designed to provide a means for sites to earn advertising fees by advertising and linking to Amazon.co.uk (source: Section 5). As an Amazon Associate I earn from qualifying purchases.
Soccer is a high-intensity sport that requires players to give their all on the field.
As players run on the field, their cleats inevitably come into contact with dirt, grass, mud, and other debris.
Over time, this build up can cause soccer cleats to become dirty and discolored, affecting both their appearance and performance.
In this article, we'll explore the different ways you can clean soccer cleats and provide tips on how to keep them looking and performing their best.
Whether you're a serious player or a recreational athlete, understanding how to maintain your soccer cleats can help you stay comfortable and competitive on the field.
What materials do you need to clean soccer cleats?
In order to clean your cleats properly, the following equipment will be needed.
Dry rags or old pieces of clothing;
Newspaper;
A soft brush (an old toothbrush will work);
Warm water; and
Dish soap or laundry detergent
Process for cleaning your soccer cleats properly
Once you have the aforementioned materials, follow the cleaning steps outlined below in sequence so as to yield the best results.
Step 1 – Immediately remove mud and dirt from the outsole
As players move around the field, mud and grass tend to collect underneath the cleats in between the studs.
Once the debris has hardened, gently knock the soles together to remove the clumps of debris.
Using too much force may damage the undersole so do it in moderation.
You could also decide to get your hands a little dirty by using a dedicated mud scraper.
Here's a pocket-sized one which we found to be well reviewed over on Amazon:
Sale
Step 2 – Unlace the soccer cleats
Removing the laces on the cleats makes it easier to wash the entire shoe.
The laces can be washed using a washing machine or by hand depending on how much dirt has accumulated on the fabric.
Step 3 – Check the washing instructions
Soccer cleats are made from a variety of materials, including leather, synthetic materials, and mesh.
Each material requires different care and attention, and washing instructions will ensure that you use the correct cleaning techniques and products for your specific cleats.
Check out this neat guide to laundry symbols, as it'll help you understand what those weird washing signs mean!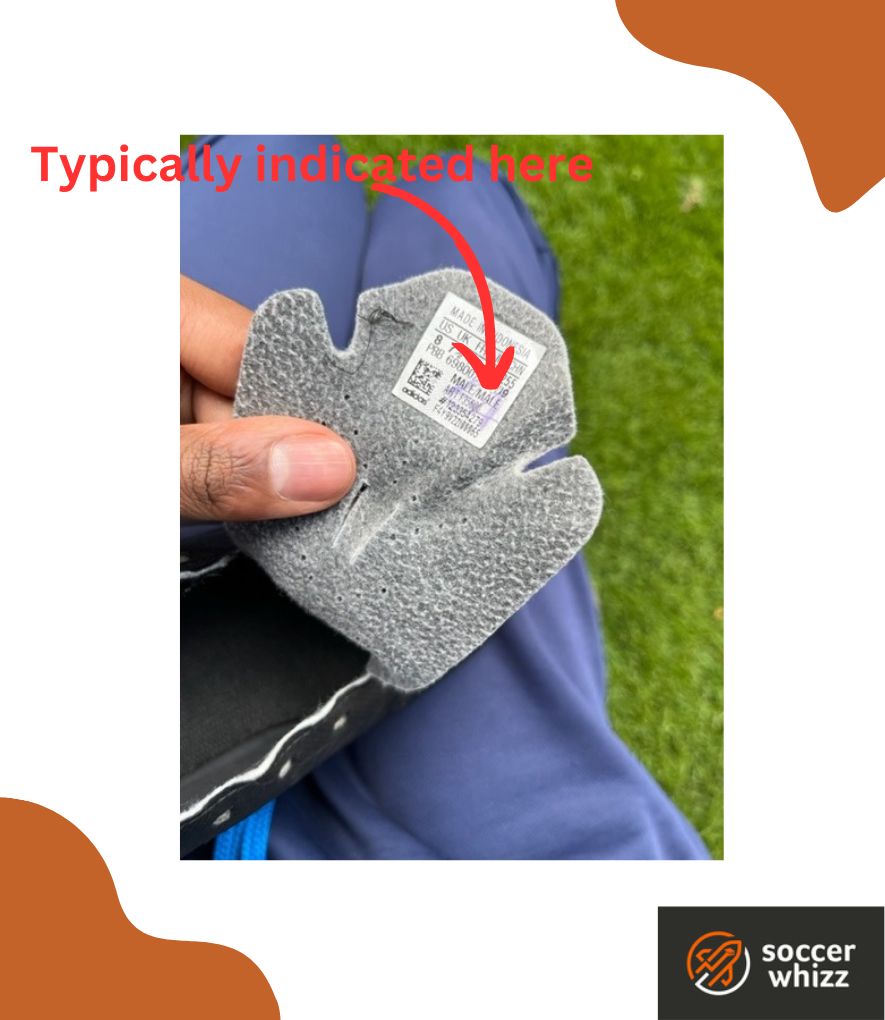 Using the wrong cleaning method or product can damage the materials of the soccer cleats, causing them to wear out faster and possibly affect their performance on the field.
Step 4 – Prepare your washing up liquid
The washing up liquid consists of a mixture of warm water and liquid or solid laundry detergent.
Add a few drops to the water and mix until it foams up with bubbles.
Step 5 – Gently scrub the cleat outsole with a bristle brush
Apply a small amount of mild soap or detergent to the brush and use it to scrub the cleats thoroughly.
Be careful not to use too much soap as this can be difficult to rinse off and may leave a soapy residue on the cleats.
Step 6 – Use a cloth to wash your cleats with soapy water
Dip the cloth in the soapy water and squeeze out any excess water.
Wipe the exterior of the cleat thoroughly and make sure that the soapy water doesn't get inside the cleat.
Step 7 – Use a small brush to clean away the stains
Use the brush to clean any areas that can't be cleaned by the cloth.
Pay special attention to any areas that are particularly dirty or stained.
Step 8 – Rinse off the soap
Take a new cloth and wipe any excess soapy water on the exterior of the cleat.
The cloth can be damp or dry but should not be too damp as you want to avoid excess moisture from staying on the cleat.
Step 9 – Dry the cleats with a clean cloth or air dry
Use a clean towel or wash cloth to dry the cleats thoroughly.
Be sure to remove all moisture from the surface of the cleats, as any moisture left behind can cause mold or mildew to form and damage the materials.
Another alternative is to let the cleats air dry as this will yield the same results.
When airdrying, make sure you check the weather forecast to avoid any moisture from occupying the inside of the cleats.
Step 10 – Stuff old newspaper inside the cleats
In the event that some water managed to trickle down into the inside of the cleats, an old newspaper can be used to absorb the moisture and dry the sole.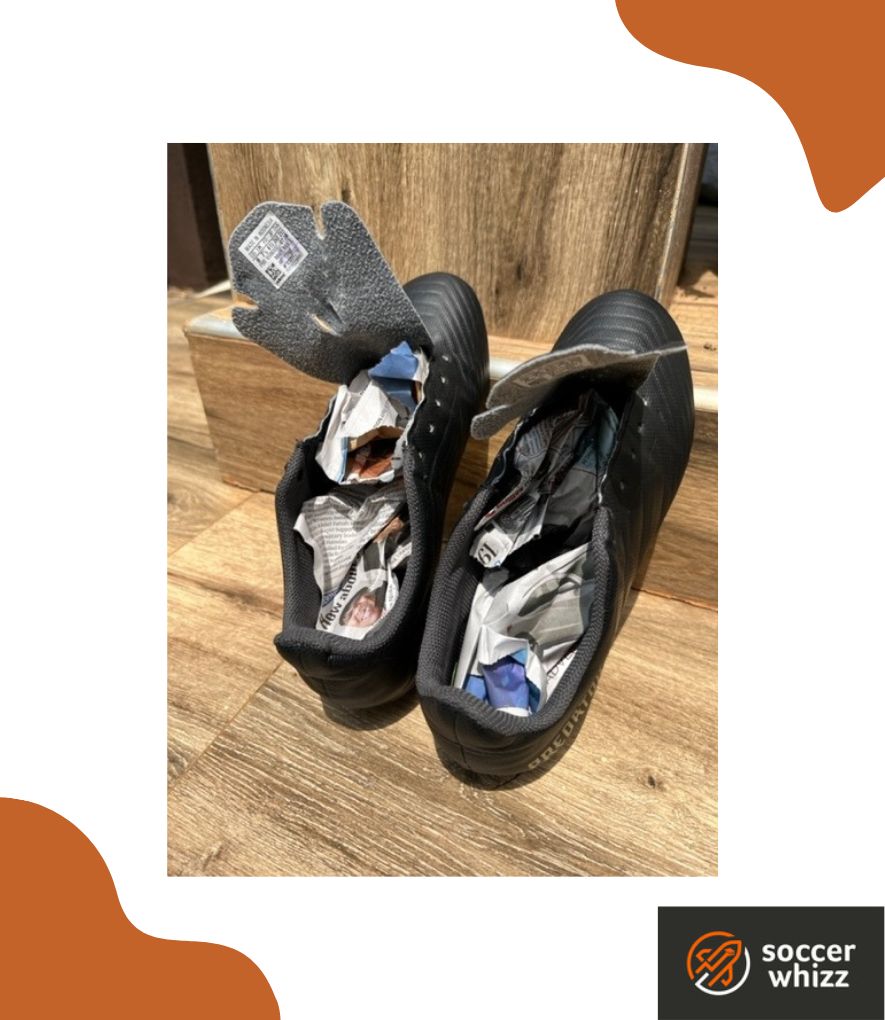 Replace the stuffed newspaper with a new roll if the excess water has soaked it up.
Step 11 – Re-lace the cleats after they're dry
Once the soccer cleats are clean and dry, re-lace the cleats to ensure they fit snugly on your feet.
Ensure the laces are completely dry to prevent any moisture from getting to the cleats.
Can you wash soccer cleats in the washing machine?
Washing soccer cleats in a washing machine is not recommended as it can damage the materials and features of the cleats.
The natural spin cycle of the washing machine can cause the studs and other specialized features to break – thereby compromising overall soccer cleat performance on the field.
In addition, the high heat and detergent used in the washing machine can cause materials such as leather or synthetic materials to warp, shrink, or lose their shape.
Buy a soccer cleat cleaning kit
If you're serious about keeping your soccer cleats clean and in good condition, investing in a soccer cleat cleaning kit is a smart move.
These kits typically include everything you need to clean your cleats thoroughly and effectively, and they're often more affordable than buying the products separately.
A cleaning kit can help extend the lifespan of your soccer cleats.
Regular cleaning and maintenance can prevent dirt and grime from accumulating on the cleats which can cause damage to the materials and compromise their performance on the field.
Using a specialized cleaning kit ensures that you are using the proper cleaning products and techniques to keep your soccer cleats in top condition.
Additionally, purchasing a soccer cleat cleaning kit can save you time and effort.
A kit provides all the necessary tools and products in one convenient package, making the cleaning process quicker and easier.
This allows you to spend more time playing soccer and less time worrying about cleaning your cleats.
Why not try out some cleaning kits that I've personally handpicked based on effectiveness:
Sale
Grangers Footwear Care Kit | Complete Eco-responsible Cleaning and Waterproofing for all Outdoor Footwear
POWERFUL CLEANING – Footwear + Gear Cleaner is an easy-to-use spray which, when paired with the Footwear Brush, becomes a powerful cleaning bundle to remove dirt and odours. The brush is ideal for removing caked-on mud and the spray cleans and restores any existing water-repellency. Perfect for all waterproof walking boots and shoes with breathable membranes
DURABLE REPELLENCY – Footwear Repel Plus offers all-in-one protection for all types of footwear. It is easy-to-apply and restores the original durable waterproof repellency (DWR). This breathable, powerful spray-on reproofer keeps boots, shoes and trainers protected when outdoor, at work, running and active. Footwear Repel Plus has added conditioning as well as durability, making it and all-round protector for all footwear, including Suede and Nubuck
FREE ODOUR ELIMINATOR – Remove those lingering odours found inside footwear and other non-washable accessories, with this easy-to-use spray. Instead of masking with odours, it works hard to remove the cause so your feet are left fresh and odour-free
Sale
Final thoughts
So, there you have it!
This article has given you a step-by-step walkthrough complete with imagery on how you can properly clean your soccer cleats.
Once you step onto the pitch the next time, your team mates should be in awe of how shiny your footwear looks because of the meticulous process you underwent to clean them.
Anyway, with all that said, you might want to have a look at some of our related guides and information posts concerning soccer cleat care.
Such as:
If you enjoy the content that I create and would like to buy me a coffee, then I'd really appreciate it!
Any money that I earn through this donation will be re-invested into more content for this website.
Additionally, by sending in a donation you'll also receive a copy of my recently released 190+ page eBook on Soccer Ball Care, as well as be subscribed to our mailing list where you'll be regularly informed on the latest developments concerning the Soccer Whizz blog.
Latest posts by Samuel Waihenya
(see all)