Disclaimer: Soccer Whizz is a participant in the Amazon Services LLC Associates Program, an affiliate advertising program designed to provide a means for sites to earn advertising fees by advertising and linking to Amazon.co.uk (source: Section 5). As an Amazon Associate I earn from qualifying purchases.
Over the years, the game of soccer has seen many interesting trends come and go.
Do you remember the days when players in this sport had to have their shirts tucked in?
Reflecting on it now, those times were quite funny because the vintage/retro style of wearing soccer jerseys by tucking them into the shorts just looked really awkward.
Another fad that appears to have picked up a lot of traction in recent years, before gradually subsiding is the act of cutting soccer socks.
If you pay close attention to the professional players who perform on television broadcasts, you may have spotted them wearing two different colors of sock on the same leg.
Basically, the upper part of the sock would be one color, say for example blue.
Whilst on the flip side, the lower part of the sock just near the ankle area would be a bright white color that contrasts with the upper layer.
So, what was going on here?
Were soccer teams buying socks for players that came with this design right out of the packaging?
Well, the answer is actually really interesting.
Players would simply cut the footbed part of the socks, and wear a different pair of grip-heavy socks underneath!
Read on to find out the exact sequence of steps for how they'd do this.
How do you cut soccer socks without fraying?
Cutting soccer socks is not as difficult as many people think.
Of course, you don't want to have fraying after the process is complete, because that would leave you in a bit of discomfort as you play.
So, here's the right way to cut your soccer socks:
Step #1 – Cut off the footbed (base) of your team socks
That's right!
We simply get right into it.
You'll want to take a pair of scissors and snip through the bottom part of your over-the-calf socks.
Refer to the image below for reference on which area of the socks you should cut away: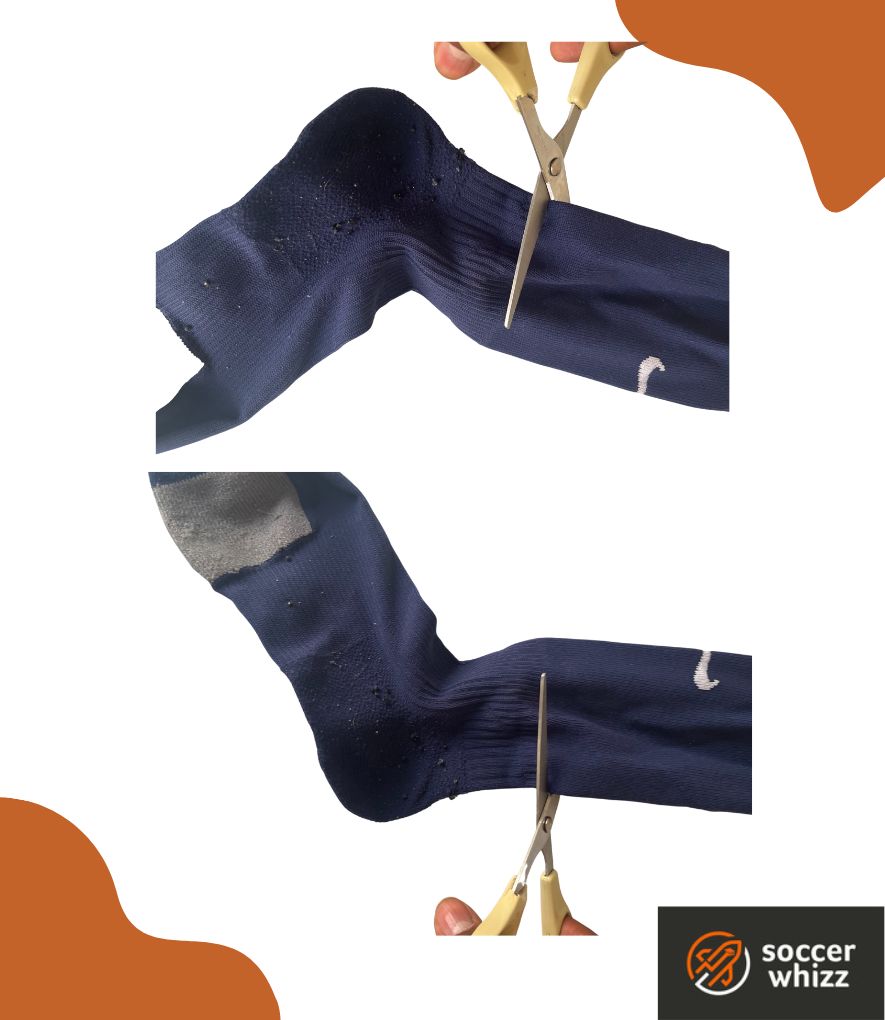 Take note of the height were the cutting commences from, as we want to cut nicely across the area just above the ankle.
Now, it's important to note that these aren't your typical ankle or crew length socks.
Have a look at our blog post on the best Nike soccer socks or our product roundup on the finest Adidas soccer socks to see examples of the type of socks being spoken about.
The socks generally go past the knee area or sit right below it.
That should look something like this: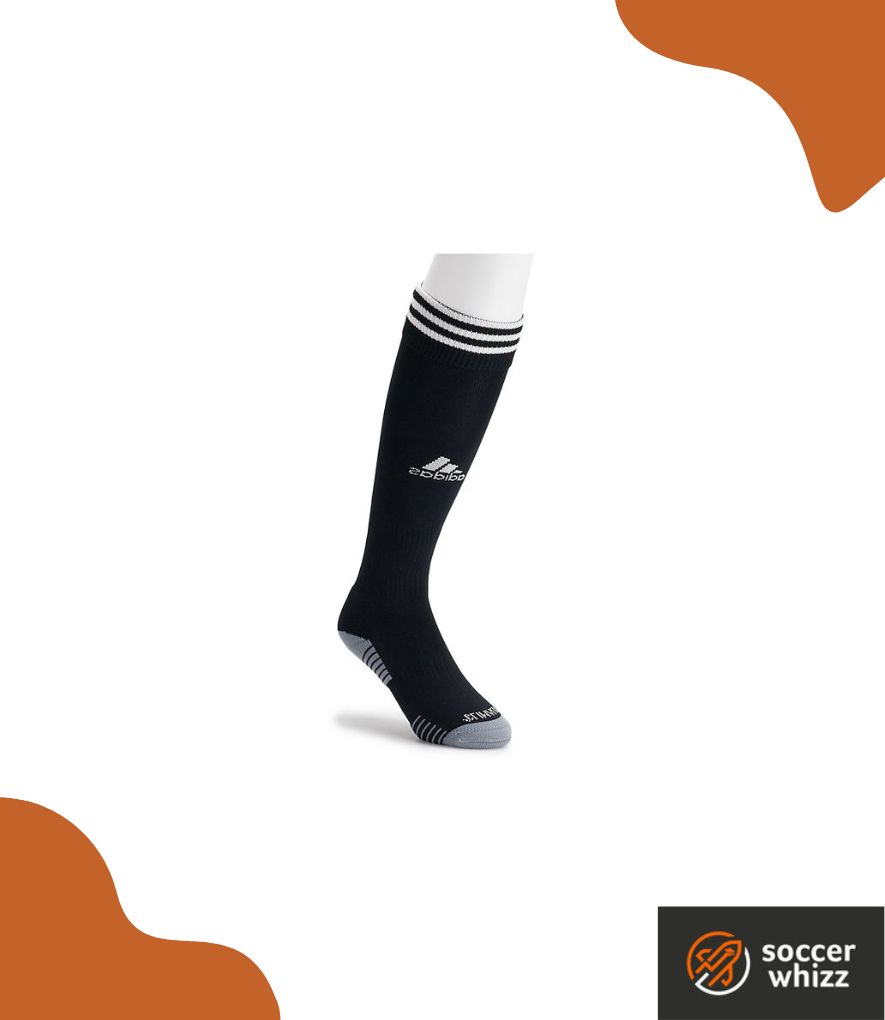 Step #2 – Melt the sock edges to avoid fraying
Once you're done cutting both socks, you'll simply trim the cut edges with the scissors to shorten the tiny bits of fabric sticking out of the sock layer.
After that, you're going to want to take care of fraying.
For those of you reading this that don't know what this is, fraying is when a fabric unravels or becomes significantly worn at the edges.
The threads in a piece of cloth become slightly separated, which leads to loose threads forming at the edges or ends of the material.
If you don't take care of these loose threads, you'll suffer from discomfort as you run on the pitch as the loose ends of fabric rub against your skin.
To remedy this, you'll want to grab a lighter and burn off those loose ends.
The purpose of the lighter is to melt the edges of the team sock, so that the sock tape you apply after does not unravel or ruin the ends of the sock when you have to remove it.
What you'll be left with is smooth edges where you've done the cutting, like so: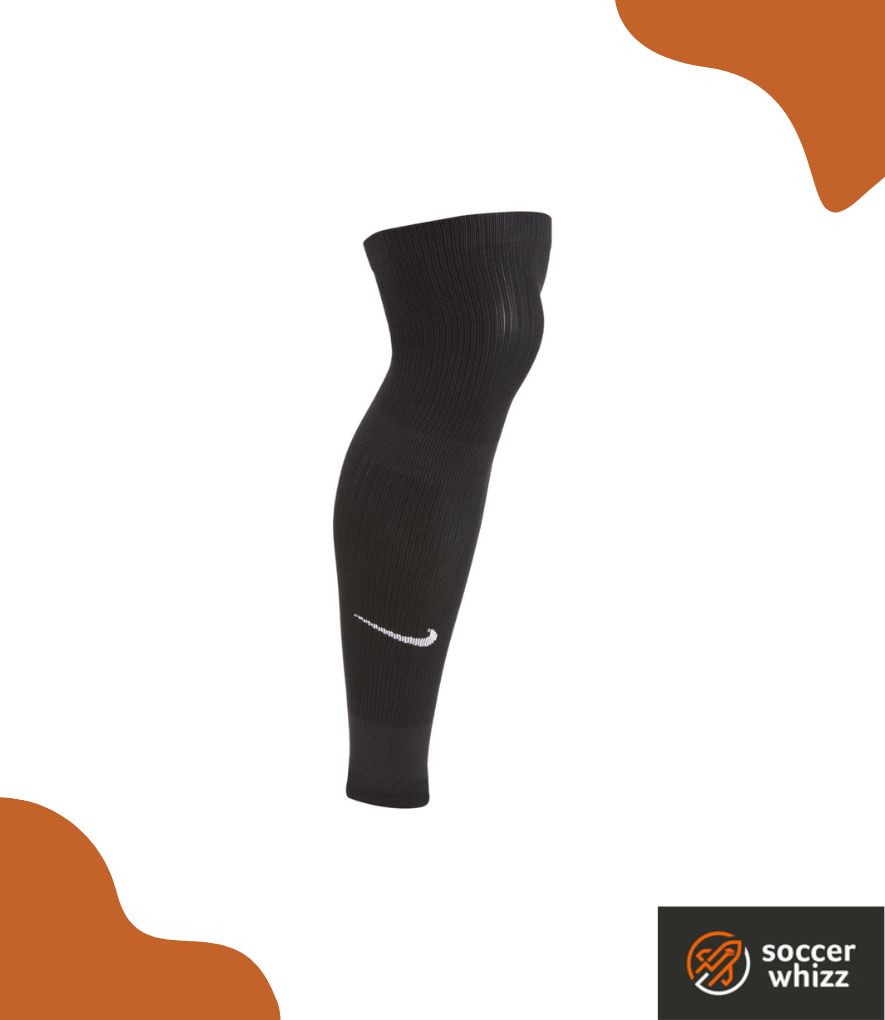 Step #3 – Wear your preferred grip-enhancing sock
The next step involves simply putting on your alternative socks of choice.
A good rule of thumb here is that the performance socks that you wear should not go higher than the mid-shin area of your leg, as well as no lower than above the ankle.
You've got a couple of options here, such as Trusox:
Trusox Mid-Calf Crew Cushion
MAKE CHANGES IN DIRECTIONS FASTER - non slip socks with INEXtech pads, that appear on both the inside and outside of the sock, secures your foot in TRUSOX and TRUSOX soccer socks are stable in your cleat. You can change direction quicker and more explosively, maximizing the power transfer with NO MOVEMENT IN YOUR CLEAT
HEEL WILL STAY IN CLEAT - INEXtech non slip pads secure your heel in place and it will not slip out of your cleats during the game or training session
PREVENT BLISTERS - your feet with grip socks will no longer slide around in your cleats and will reduce the possibility of getting blisters playing soccer, football, rugby, lacrosse, cricket, baseball or basketball
Tru Sox Mid-calf socks Cushion 3.0 Performance Enhancing
TECHNOLOGY: TRUsox patented INEXtech helps you change direction quicker, maximizing the power transfer from foot to footwear
HOW TO WEAR: Since TRUsox simultaneously grip your foot and footwear, they must be worn with direct contact to both the foot and shoe
THIN VS CUSHIONED: Thin version is worn with newer boots that are tighter on the foot. Cushioned best for boots that have been broken in
Those socks should give you a good visualization of the length we're talking about here.
Step #4 – Pull the cut socks over the grip-enhancing socks like a leg sleeve
This point is pretty self-explanatory.
Once you've got your first pair of socks worn, it's time to slip on the over-the-calf socks that you just cut and trimmed.
They should fit over your leg like a compression sleeve.
Your end result should be as follows: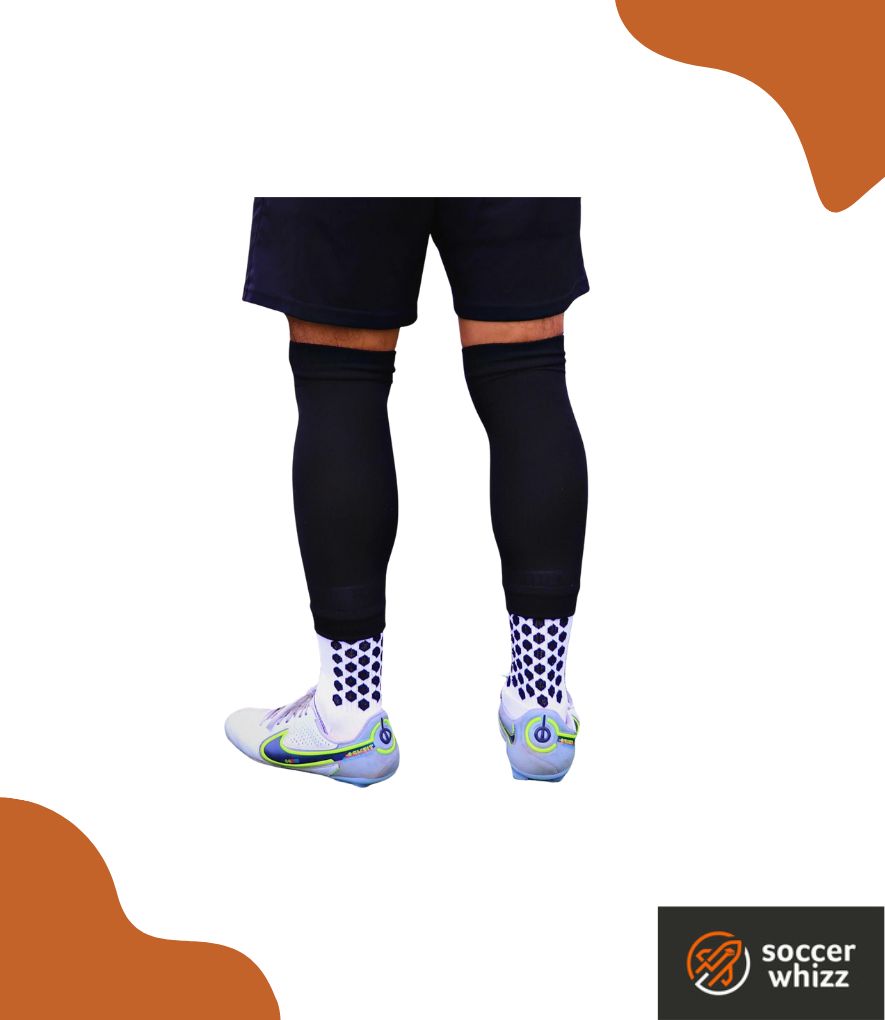 Step #5 – Apply tape around your ankles
Finally, you can put a bit of sock tape around your ankles.
What this does is connect the end of your recently cut over-the-calf socks to your performance socks.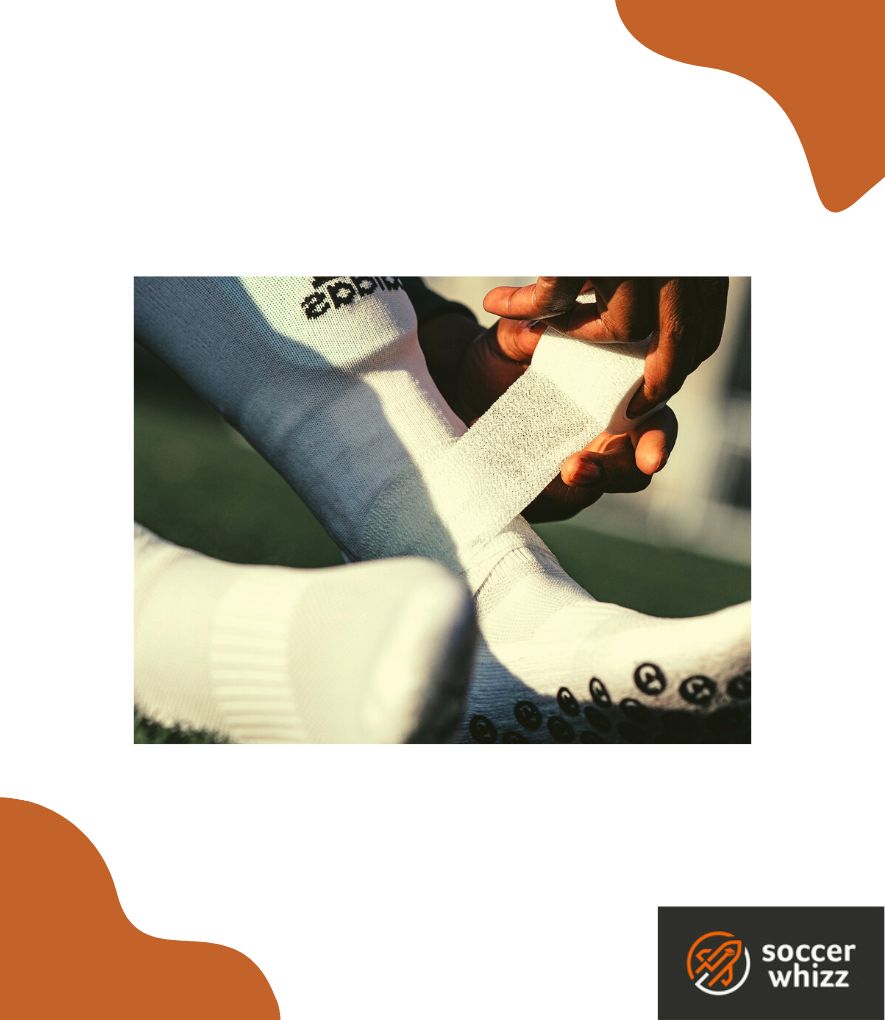 Although, this step is entirely optional, as whether you choose to implement it depends on the overall look and feel that you're going for.
By the way, you can purchase the tape for this step on Amazon.
Use the product link below as a starting point:
Video summary on how to cut a pair of soccer socks
To see all of the aforementioned steps put together, check out the video footage we've included below:
Do professional soccer players cut their socks?
As a matter of fact, they do!
Multiple players used to cut their socks, including the likes of:
Cristiano Ronaldo;
Nani; and
Eden Hazard
Here are some photos which show this to be the case: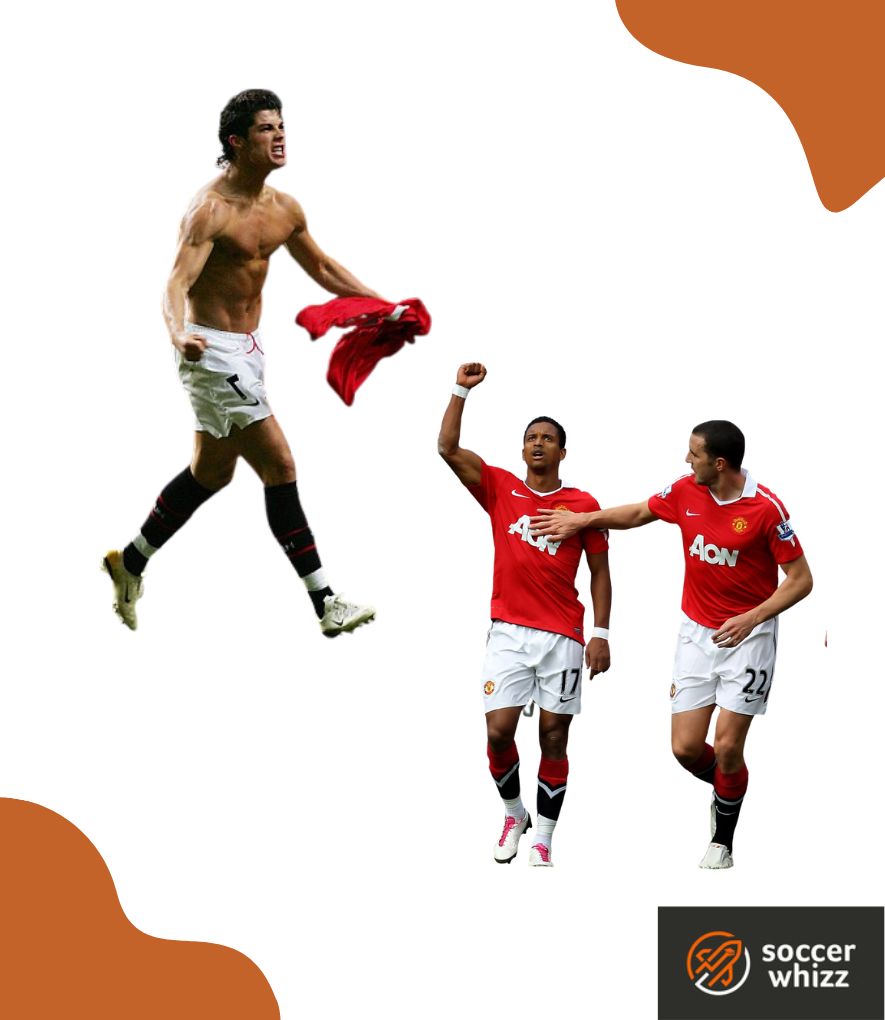 Conclusion
That brings us to the end of this informative guide on how to cut your soccer socks.
Hopefully the steps outlined in the article, along with the instructional imagery, made sense to you.
With a pair of scissors, crew length and over-the-calf length socks, a lighter and some sock tape, you should be able to achieve the cut look that some professional players manage to pull off.
You can now step on to the field with your cut soccer socks and enjoy the game just how you envisioned it.
If you've enjoyed this post, then check out related articles on our blog for further reading, such as:
If you enjoy the content that I create and would like to buy me a coffee, then I'd really appreciate it!
Any money that I earn through this donation will be re-invested into more content for this website.
Additionally, by sending in a donation you'll also receive a copy of my recently released 190+ page eBook on Soccer Ball Care, as well as be subscribed to our mailing list where you'll be regularly informed on the latest developments concerning the Soccer Whizz blog.
Latest posts by Samuel Waihenya
(see all)