Americans that have been drawn to the world's most popular sport – particularly through the English Premier League on television – usually question whether the soccer matches are fixed.
Why, you ask?
Well, there's the significant aspect of dramatic game endings.
This is where you typically see one team come back from a losing score line to seal a victory in the dying moments or with the last kick of the football.
Such scenarios sometimes leave those new to the sport asking themselves whether such match results are staged in order to artificially inflate the entertainment value of the game to attract new audiences.
However, I'd like to get straight to the point here and dispel any and all doubt.
Soccer as a game itself is not inherently rigged, as match fixing is a noteworthy offence that is punishable by suspension and, in more severe cases, lifelong omission from participation within all facets of the sport.
Although, it must also be noted that there have been a few cases of match fixing throughout the sport's history.
I'll get to that in a moment.
For now, I want to clarify what match fixing is.
What is match fixing?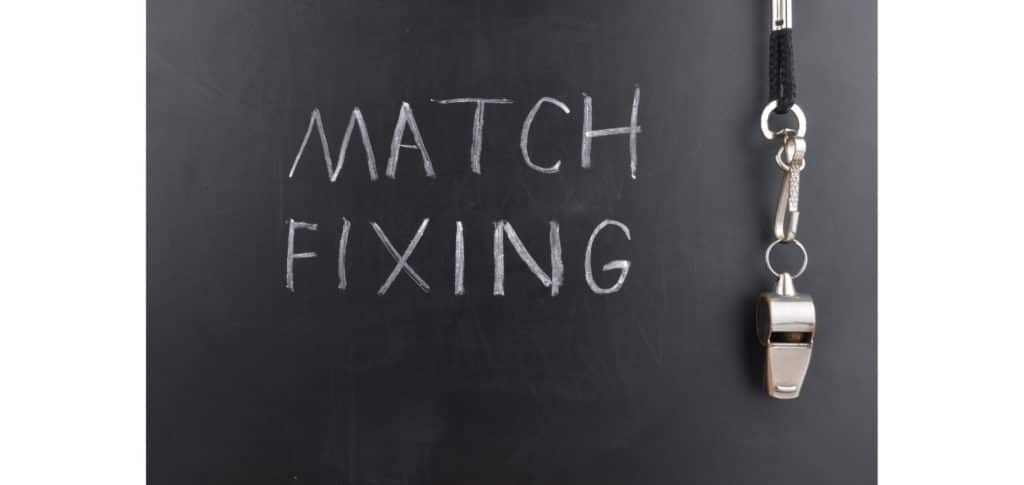 In football, match fixing can be defined as the act or practice of manipulating the result of a fixture or elements of it (e.g. throw-ins, penalties, corners, yellow cards, etc.) before it has kicked off.
People generally get involved in this illegal pursuit for their own financial gain, particularly through organised betting activity.
Let me drill this down for you in simpler terms.
If someone is able to determine the outcome of a particular match before it has begun, that person can win a lot of money by placing a significant betting stake on the result that they expect.
Additionally, there is also the aspect of sports-motivated match fixing.
This is where a pre-arranged advantage – like qualifying for a cup competition or avoiding relegation – is settled prior to a game commencing.
Match fixing scandals in football: visual examples
Sadly, there have been a number of confirmed cases of match fixing over the years.
Let's briefly look at some of them in more detail.
1. 2006 Calciopoli scandal
This was a devastating blow to soccer as a sport as some of Italy's biggest clubs were found guilty of partially influencing match results through a biased selection of referees.
Transcripts from intercepted phone calls revealed a huge network of relations between referee officials and key figures in Italian football.
One specific account relates to a referee called Gianluca Paparesta and his two assistants who were allegedly detained by former Juventus general manager Luciano Moggi, along with their former chairman Antonio Giraudo.
The two men were said to have berated the officials for not favouring Italy's most decorated team after Juventus lost 2-1 to Reggina in November 2004.
Ultimately, AC Milan, Reggina, Juventus, Lazio and Fiorentina all received punishment, with the first two suffering 8- and 11-point deductions respectively.
The latter three also had points deducted from their league tallies, but they also had to go through the ignominy of relegation to Italy's second tier competition – Serie B.
But in an interesting twist of events, Lazio and Fiorentina had their relegations reversed on appeal and they were re-instated back to Serie A.
That court decision left Juventus going down own their own.
Here's a table that illustrates this information much more succinctly:
| Team | Relegation Status | Points Deductions |
| --- | --- | --- |
| AC Milan | None | 8 points |
| Fiorentina | Cancelled | 15 points (Serie A) |
| Juventus | Relegated to Serie B | 9 points |
| Lazio | Cancelled | 3 points (Serie A) |
| Reggina | None | 11 points |
I'll also leave you with a video that neatly summarises what went on.
2. German Cup scandal in 2005
A German second division referee called Robert Hoyzer was found to be responsible for rigging games in return for thousands of euros from a sports-bar owner, who went by the name of Ante Sapina.
Mr. Hoyzer is said to have awarded controversial penalties as well as sent off players in order to influence the apparent outcomes.
For instance, Hamburg's DFB Pokal Cup defeat in 2004 to Paderborn was quite the event.
The former took a two-goal lead but ended up losing the match by 4 goals to 2, after Hoyzer sent off a Hamburg striker called Emile Mpenza for dissent and gave two penalties to the eventual match winners.
Here's a short clip that shows how events unfolded that afternoon:
Why do soccer games sometimes feel scripted?
At times it may feel as though players representing both sets of teams work towards securing a certain match result.
I mean, you only need to take a look at former Manchester City striker Sergio Aguero's last minute winner against Queens Park Rangers to win the Premier League title.
With the last kick of the game, the Argentinian gave his team the win that was needed to clinch the league in spectacular fashion from fierce rivals Manchester United.
This was actually minutes after the United team had won their away game at Sunderland and players were left waiting on the pitch for news of the City result to trickle through.
It looked like the perfect set up.
So, dramatic player moments like the aforementioned can lead to people forming the opinion that the sport is staged, due to the highly entertaining nature of some individual game moments which are typically off the charts.
Final verdict
So, there you have it!
The average soccer match is not a rigged or staged event, and the act of fixing any competitive game is officially prohibited, with the act punishable either by significant suspension or through a more severe lifetime ban from the sport.
If you enjoy the content that I create and would like to buy me a coffee, then I'd really appreciate it!
Any money that I earn through this donation will be re-invested into more content for this website.
Additionally, by sending in a donation you'll also receive a copy of my recently released 190+ page eBook on Soccer Ball Care, as well as be subscribed to our mailing list where you'll be regularly informed on the latest developments concerning the Soccer Whizz blog.
Latest posts by Samuel Waihenya
(see all)