Not many players can glide on the pitch with a soccer ball in the way that Jack Grealish does.
The Birmingham-born midfielder made a name for himself as a skillful dribbler whilst playing for Aston Villa since his academy and youth team days.
He then made the jump to join the Premier League champions Manchester City in 2021 for a British record deal.
At the time, many pundits and fans suggesting that he transferred clubs due to the attraction of competing for major domestic and intercontinental silverware.
And credit to him, because his decision appears to be vindicated.
Manchester City won the Premier League in dramatic fashion last season on the final day, and Grealish has even more opportunities to battel for the biggest trophies as he settles in to his career at the club.
But Grealish's exploits on the pitch aren't exactly the topic of discussion for today.
Instead, we'll be talking all about the man's sensational calves!
Jack Grealish has very well-toned calves that often catch the eyes of keen spectators and pundits, who marvel at their size and muscular nature.
Let's now cover this in more detail.
How big are Jack Grealish's calves?
Take a look at the picture gallery below:
When you compare the calf size of your average footballer to that of Grealish's, then you can clearly see that the England player's calves are quite the outlier with regard to their magnitude.
The thickness is unparalleled!
Your typical male human being will have a maximal calf circumference of 15.4 inches (39.1 centimeters) according to this 1999-2002 report published by the CDC.
Other data suggests that a calf circumference of more than 31 centimeters is considered normal, so make of that what you will.
You could probably take an educated guess, from the aforementioned information given, about the size of Jack Grealish's calves.
But for the sake of keeping this article concise, we won't dig too deeply into that!
Why are Jack Grealish calves so big?
Is there a hidden secret as to why Jack Grealish's calves are so huge?
Well, apparently according to the player himself, there isn't any magic behind their large size.
Here's what he had to say about this in a recent interview with a UK news outlet:
"I actually don't do anything. It's just something that runs in the family. My grandad always had big calves when he used to play football. But I don't do any calf exercises or calf routines in the gym or anything. Honestly, it's just something that I've had since I was young."

Source – Daily Mail
And here's a short video excerpt from the man himself which backs this up:
So, that debunks the mystery of there being a certain training regime that Grealish uses to make his calves grow bigger.
He's simply just genetically predisposed to having calves of larger size as it runs in his family.
Are there any other football players with big calves?
As a matter of fact, there are!
Former Liverpool player Xherdan Shaqiri has big calves that look quite similar to those of Jack Grealish.
Here's a photo which showcases that:
Another player with large and muscular calves is Adama Traore.
The Wolves winger is widely regarded as a pace merchant who is one of the fastest players in world football.
He has a burst of speed that isn't rivalled by many professionals, and that impressive acceleration can partly be attributed to the size and structure of his calves.
How do you get big calves like Jack Grealish?
It isn't rocket science when it comes to figuring out how to build calf muscle.
A combination of calf strengthening exercises should work well to enlarge the muscles in this area of the body, such as:
When it comes to going on a hill or mountain trail, a steeper climb is good for muscle growth in the calves because they have to exert themselves even more.
Who has the biggest calves in football?
It's very difficult to look past Jack Grealish here.
His calves are a worldwide phenomenon, evident by the sheer amount of Google searches people in make about this very topic.
Here's a sneak peek into the sort of worldwide volume of organic searches that internet users pull in when talking about Jack Grealish's calves: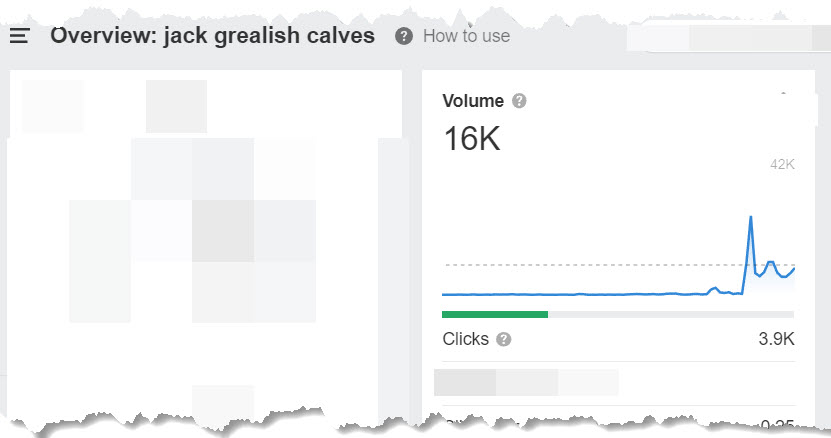 That's approximately 16,000 monthly Google searches on average in the United Kingdom for the particular "Jack Grealish calves" keyword.
And the numbers don't stop getting more impressive.
When it comes to worldwide search habits, the exact same query is estimated to pull in more than 33,000 searches each and every month in a calendar year.
Final thoughts
This article has more than touched on the controversial subject of Jack Grealish's large calves.
Hopefully you'll have gained some insight into this topic as well as an appreciation for the player himself.
If you're interested in reading about other funny football stories, then have a look through the rest of our blog, particularly when it comes to posts such as:
If you enjoy the content that I create and would like to buy me a coffee, then I'd really appreciate it!
Any money that I earn through this donation will be re-invested into more content for this website.
Additionally, by sending in a donation you'll also receive a copy of my recently released 190+ page eBook on Soccer Ball Care, as well as be subscribed to our mailing list where you'll be regularly informed on the latest developments concerning the Soccer Whizz blog.
Latest posts by Samuel Waihenya
(see all)