Disclaimer: Soccer Whizz is a participant in the Amazon Services LLC Associates Program, an affiliate advertising program designed to provide a means for sites to earn advertising fees by advertising and linking to Amazon.co.uk (source: Section 5). As an Amazon Associate I earn from qualifying purchases.
Jordan Pickford is a goalkeeper who serves as an inspiration for many of the young players out there who aspire to make it with a professional outfit in the future.
The current Everton number one used to ply his trade in the plucky roots of Sunderland's youth academy, before stepping up and claiming the first team spot as his own.
His stellar performances for the soccer team on Tyneside brought him recognition from all quarters, as he managed to scoop up the North-East Football Writers' Association's Young Player of the Year in 2016.
Pickford's progression as a goalkeeper – at the time – was so impressive that he was also nominated for The Professional Football Association's Young Player of the Year, although he narrowly missed out on that one to a young and better Dele Alli.
The former Sunderland man's talent clearly never went unnoticed, as he earned himself a lucrative move to Premier League side Everton and he gradually asserted his position as England's first choice goalkeeper for international tourneys.
And because of his almost meteoric ascendency towards the top of the sport, many more fans and general viewers get to see him play each and every week.
Pickford is known for having sharp reflexes, and that desirable soccer quality in and of itself brings attention to the sort of goalkeeper gloves that he chooses to wear during games.
So, what gloves does Jordan Pickford use?
Here's where this article delivers the answer.
Pickford currently wears a personalized edition of PUMA's Ultra Grip 1 Hybrid Pro goalkeeper gloves. They're predominantly black in colour, although touches of purple and orange have been incorporated into the outer design.
One thing that's worth pointing out is that his version of these gloves differ slightly from what you'd be able to buy at any soccer store, as they've been imprinted with his own "JP" initials along the wrist strapping area.
Check out the fresh evidence below: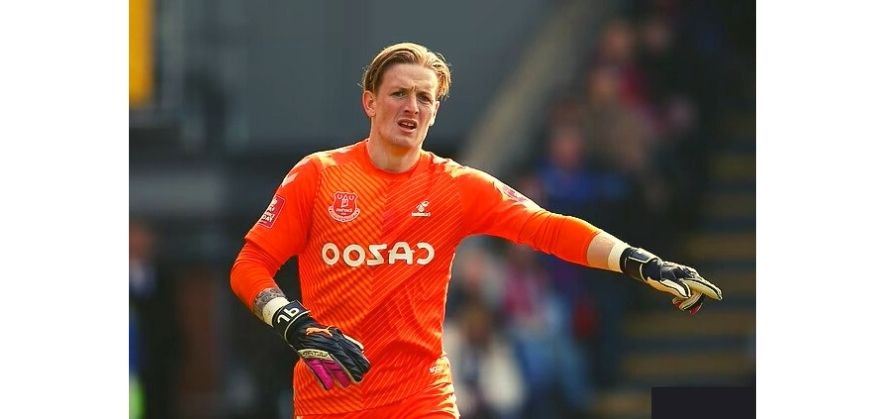 This photo was taken after Everton's crushing 4-goal defeat away from home against Crystal Palace in the FA Cup on the 20th of March, 2022.
Qualities of Jordan Pickford's goalkeeper gloves
At this point it makes sense to tell you what features make this glove such an attraction for professional athletes such as Pickford, so let's break down what this product has to offer.
1. All-weather grip
You'll be much more comfortable as a goalkeeper when you know that your gloves are equally suited to use in wet and dry conditions.
That's one area where these PUMA gloves hit the mark, as the 4 millimetre latex that's been embedded into the palm area offers supreme grip when it's raining and when the sun's rays are shining bright onto the pitch.
In addition to this, the latex palm has been built with environmental sustainability in mind.
This is because the latex used has a 90% composition of renewable materials.
2. Integrated AIRZONE
PUMA have done very well to provide wearers of these gloves with the ventilation that's necessary to remain comfortable during matches and training sessions.
One of the last things you'd want to experience as a goalkeeper is having to wear a pair of gloves that heat up to extreme levels.
With integrated AIRZONE technology, circulation is kept in check as there are several outlets for air to seep in and out of.
This keeps a player's hands dry and allows them to concentrate on their performance.
Additionally, another benefit is brought about by the weight-reduced material that's used to provide these gloves with breathability.
You see, lightweight gloves give goalkeepers better mobility as they're able to react to oncoming soccer balls much faster, particularly because hand and arm movement is more nimble.
3. PUMA exclusive GRDKXN punching zone
I know, I know!
You're probably quite confused as to what this means!
Well, not to worry as the explanation is simple enough to understand.
PUMA have devised a purpose-built punching zone on these goalkeeper gloves that makes the act of punching soccer balls away from crosses and other set pieces a less pain-staking task.
Silicone is embedded along the backhand and finger areas to offer wearers enhanced control and power whenever the need to clear the ball away arises.
This material acts well as a cushion by softening the blow to the knuckles and other parts of the hand when contact with the soccer ball is made.
Video review of Pickford's goalie gloves
You need to see exactly how these gloves perform, especially if you're evaluating whether they're a product you'd like to purchase.
So, check out this short clip which offers an interesting review of the way these gloves behave during play:
From watching the video, one thing that I noted was that these gloves need a pre-wash in order for the latex to activate.
Unfortunately you won't get the desired sticky effect from these gloves if you just wear them right off the bat.
Where can you buy Jordan Pickford's gloves?
As always, Amazon comes through whenever you're after some good soccer equipment.
They have a listing of PUMA's Ultra Grip 1 Hybrid Pro gloves, available at a relatively affordable price.
You can have a look by clicking the button link available below:
As a side note, it's quite interesting to see the colour name of these gloves listed as parisian night / neon citrus / deep orchid on the product page.
What gloves does Jordan Pickford wear for England?
You'd think that Pickford would wear a different pair of goalkeeper gloves for special occasions such as whenever he goes off to represent England.
But that's far from the case!
He still wears the PUMA Ultra Grip 1 Hybrid Pro gloves even when on international duty with the Three Lions.
Take a look at the image below for a recent example at Euro 2020: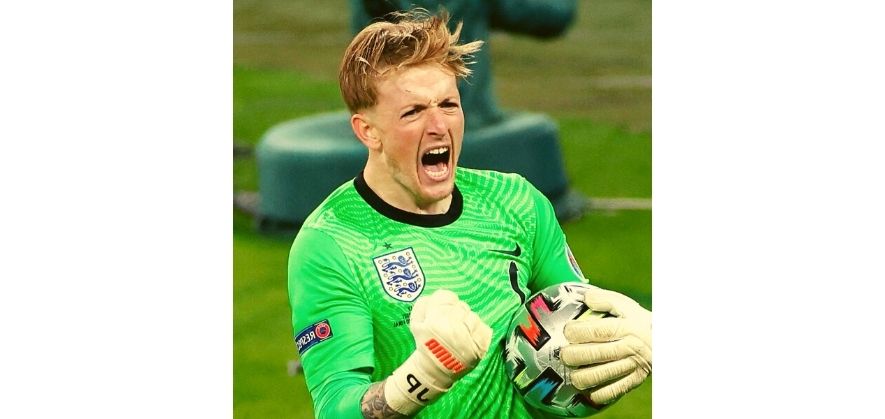 Conclusion
If you've read all the way up to this point in the article, you will have been enlightened on the brand of goalkeeper gloves that Jordan Pickford uses for matches.
There's a lot of interest in the gear that professional players wear, especially because fans look up to these sports stars as role models and they generally seek to emulate certain things that they do – with what they wear being a strong case in point.
On an interesting side note, Gianluigi Buffon wears these PUMA gloves too!
And funnily enough, Manchester City's Ederson Moraes gives Jordan Pickford some company.
You can find out how and why in my other article on the goalkeeper gloves that Ederson wears.
Or, if you're in a buying mood, I'd encourage you to take a look at our take on the finest goalkeeper gloves for 2022.
If you enjoy the content that I create and would like to buy me a coffee, then I'd really appreciate it!
Any money that I earn through this donation will be re-invested into more content for this website.
Additionally, by sending in a donation you'll also receive a copy of my recently released 190+ page eBook on Soccer Ball Care, as well as be subscribed to our mailing list where you'll be regularly informed on the latest developments concerning the Soccer Whizz blog.
Latest posts by Samuel Waihenya
(see all)