Disclaimer: Soccer Whizz is a participant in the Amazon Services LLC Associates Program, an affiliate advertising program designed to provide a means for sites to earn advertising fees by advertising and linking to Amazon.co.uk (source: Section 5). As an Amazon Associate I earn from qualifying purchases.
Soccer socks present a bit of a conundrum for players because they can be worn in a number of different ways.
For starters, you can have them rest below or above the knee, which the vast majority of professional players love to do.
Or alternatively, you can decide to look hip like Manchester City's Jack Grealish, and decide to have your socks rest just above the calf area!
When you come to a conclusion on how you want to wear your socks, the next question you need to ask yourself is how you're going to keep them pulled up.
If you've played soccer before, then you'll know that your socks tend to drop down as you run and perform all sorts of actions on the field.
This then necessitates the need to pull them back up – to a point either below or above your knees – and performing this action every now and again as you play can be pretty annoying.
Which is why this article has been written with the solution to keeping soccer socks above the knee firmly in mind.
So, let's get right down to business with the answers!
How do soccer players keep their socks up?
If you're a fan of watching soccer on television, then you're likely to have come across professional players pulling up their socks during breaks in play.
This is a perfectly logical habit that most players exhibit, because when socks drag them down it affects various elements of their performance.
Rest assured, you wouldn't feel fully comfortable striking a soccer ball with any sort of power or curve.
It's something that only makes sense to people who've played the game at any sort of casual or professional level.
Think about driving a car without your seatbelt on, for example.
Would you do it?
The answer is almost certainly no.
Having soccer socks that aren't pulled up at or past knee height is strikingly similar, because you get a feeling that something is amiss.
When it comes to solving this problem, there are a number of different options that players have to choose from.
The first of which is….
1. Buying knee-high soccer socks
You can start by grabbing yourself a pair of knee-high soccer socks.
Why, you ask?
Well, the way these soccer socks are designed is to offer some leg compression.
And one positive by product of that is the tight fit provided for players.
Furthermore, have a look at our article on the type of socks that professional soccer players wear.
Knee-high soccer socks are the first product mentioned in that post.
They function to secure shin guards in place as well as cover up the vast majority of the leg, right from the toe area to the knee.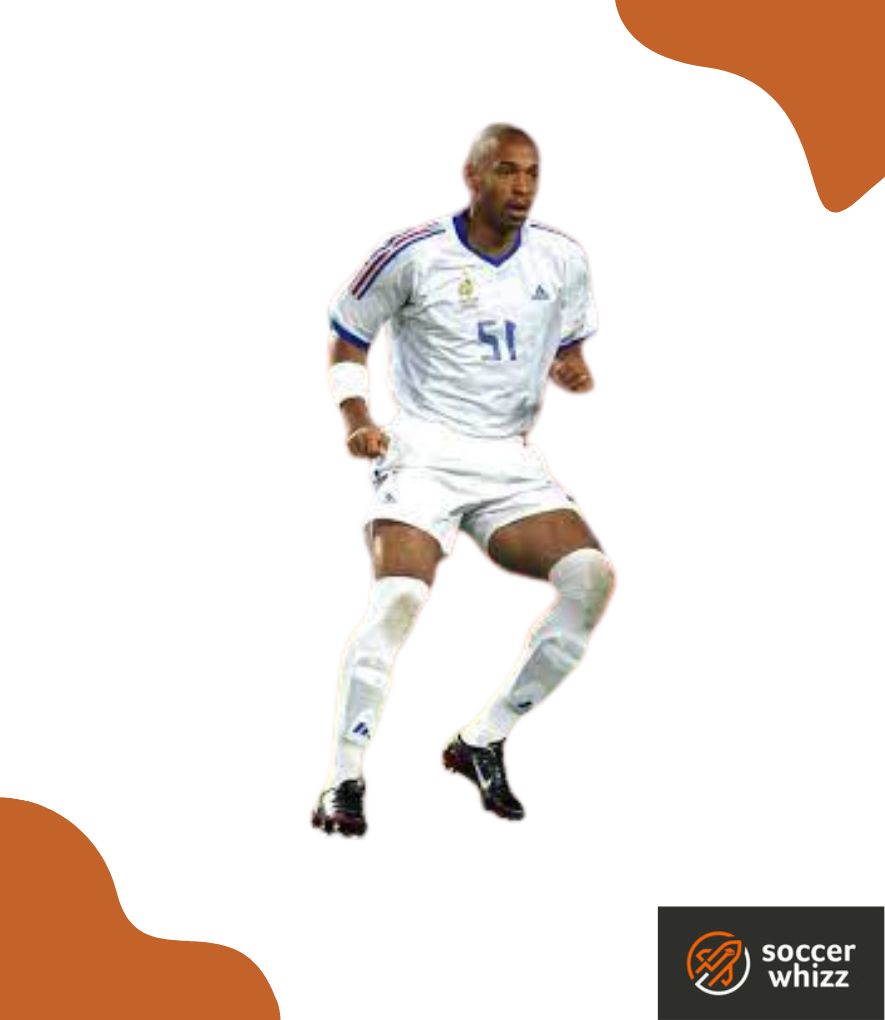 Because they are long enough to run up to the knee point and even past it, very little adjustments are needed from the person wearing them as they run during a match.
These socks may slip down once or twice, but not with the frequency you'd expect from a pair of standard knee-length socks.
So, why don't you go ahead and grab yourself a pair!
Check out the Amazon links below for a quick look at some good options:
Sale
Or alternatively, you can have a look through our product roundup posts on:
2. Combining soccer sleeves and grip socks
Another method you can use is to combine a pair of soccer sleeves with a pair of grip socks.
Soccer sleeves are sort of like knee-high socks, but they differ from the latter in the sense that they don't have a footbed or base.
They actually look like a compression sleeve that you'd see a basketballer wear on their arm or leg.
Here's a picture of that: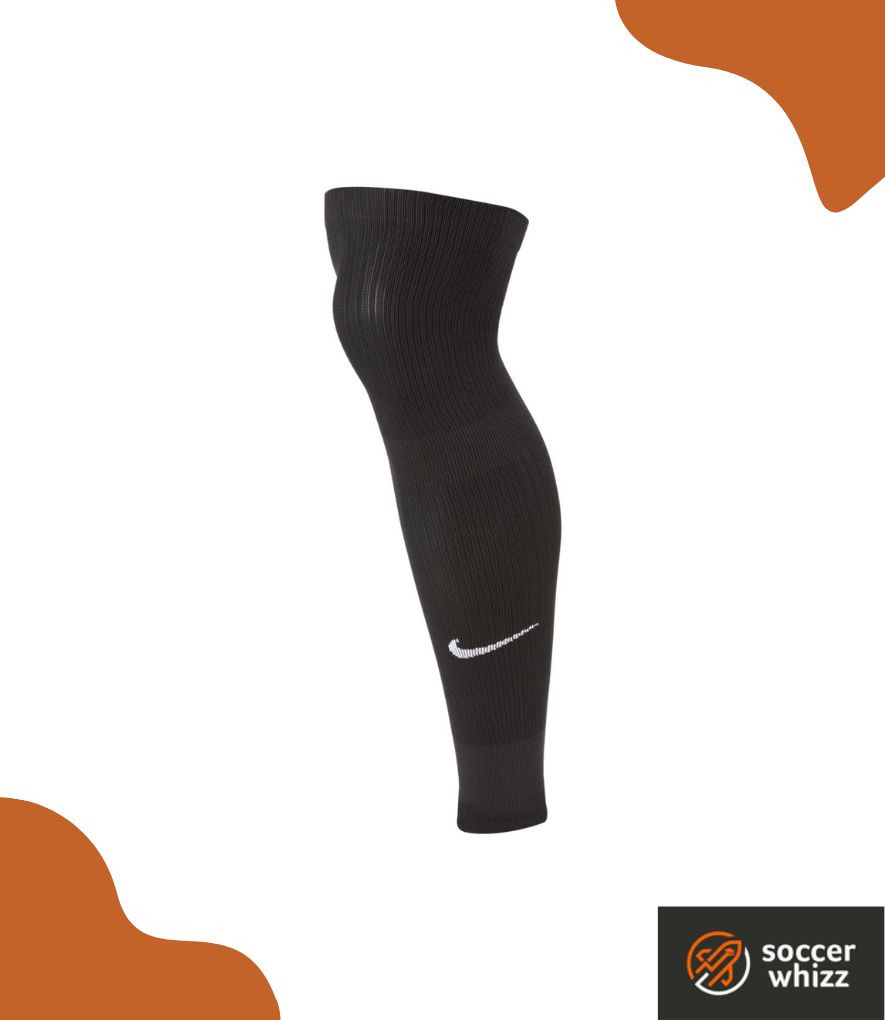 So, what you'd do is wear your grip socks first, as these typically don't run too far beyond the calf area.
And then after that, you'd put on your soccer sleeve sock and make sure that runs up all the way to your knee.
Or, if you wish you can adjust it to extend beyond the knee point.
Because the sleeves fit snugly around your leg, they negate the need for a wearer to frequently pull them up as they run on the pitch.
The grip socks do what they say in the name, by giving the wearer grip at the base of their leg.
In addition to this, they accommodate the sleeve in such a way that it looks like you're wearing a single sock on each leg as opposed to two.
You can get yourself a soccer leg sleeve on Amazon, as they have some pretty good choices from reputable brands:
However, don't worry if you don't have any soccer sock sleeves on hand, as you also have the option of cutting your normal soccer socks to mimic the functionality of these sleeves.
3. Using sock tape
Finally, you can make use of our trusted old friend.
Introducing sock tape!
This product is used in combination with knee-high soccer socks.
You would wrap a layer of tape around the area where your shin guards rest to keep them firmly in place.
Like so:
Not only does the tape keep shin guards from slipping or moving position as you engage in different facets of the game, as it also supports the upper leg and acts to minimize drooping of the upper sock area.
If you wanted to completely eliminate the need to pull up your soccer socks during a game, you'd apply some tape just below the knee area itself.
Ultimately, taping soccer socks keeps distractions away, which allows players to focus on their performance.
Are soccer socks supposed to go over the knee?
Not necessarily.
Our informative guide on how to wear soccer socks really showcases the different ways in which these pieces of gear can be worn.
At the beginning of the article, we mentioned Jack Grealish.
He's a player who likes to wear his socks short, as you can see in the picture below:
So, soccer socks don't have to go above the knee.
Conclusion
Now you should have a good understanding of how you can keep your soccer socks pulled up above the knee, so that when you play you don't have to keep adjusting them.
In summary, you've got the choice of buying knee high socks, combining sock sleeves with grip socks or using sock tape to keep your soccer socks above knee.
Should this post have put you in the mood for some shopping, then you should definitely check out our article on the finest soccer socks, as there are some great options worth considering.
If you enjoy the content that I create and would like to buy me a coffee, then I'd really appreciate it!
Any money that I earn through this donation will be re-invested into more content for this website.
Additionally, by sending in a donation you'll also receive a copy of my recently released 190+ page eBook on Soccer Ball Care, as well as be subscribed to our mailing list where you'll be regularly informed on the latest developments concerning the Soccer Whizz blog.
Latest posts by Samuel Waihenya
(see all)