Napoli have had a sensational start to their Serie A season, racking up win after win under their manager Luciano Spaletti.
Having convincingly thrashed one of their title challengers Juventus in a five-goal rout, they sit comfortably atop the standings after the halfway mark.
Their passionate fans will definitely start to believe that they can take home the crown, especially if the squad maintains its current performance levels.
More so, with the influence of the skillful Georgian forward Khvicha Kvaratskhelia, the team have a chance of winning their first scudetto since the 1989-1990 campaign.
So, that brings us to the premise of today's article.
Khvicha Kvaratskhelia is taking all the plaudits for his scintillating soccer displays in the league, but one question multiple spectators have relates to how his lengthy name is pronounced!
You see, it's not every day that you come across a unique name like this.
Steps to pronouncing Khvicha Kvaratskhelia's name
At this point, let's get down to business by showing you how his name should be said.
1. Clear your throat for the "Kh"
Do you know the sound you make whenever you clear your throat?
It's the very one you produce when you have a build up of phlegm you're trying to get rid of.
Therefore, the "Kh" part of Khvicha would be pronounced like a typical throat clearing sound.
Here's a video which demonstrates this part and the full pronunciation quite well:
2. Say "vicha" and "kvara" normally
The second part of this player's name is pronounced exactly as you see it.
No special tonation is needed here.
3. Perform another throat clear for the second "Kh"
Just as with the first "kh" part of his name, you sort of need to clear your throat to pronounce this correctly.
Once you've gotten past the "t" and "s" words, which are tonated separately, you'll perform the throat clear in the same way that you did at the beginning of the name pronunciation.
4. Follow up with "helia"
The last step is also very simple.
You simply say "helia" as if you would be stating the word "hell" and then adding "i" and "a" vowel sounds at the end of the word to complete the name.
How does Khvicha Kvaratskhelia say his own name?
Luckily enough for us soccer fans, the player himself decided to put an end to the debate on how his name should be pronounced by recording himself saying it.
Here's a short video published by Napoli's official YouTube channel, where the Georgian goes through the pronunciation:
Forza Napoli, right?
Does Khvicha Kvaratskhelia have a nickname?
As a matter of fact, he does!
The player himself likes to be referred to as "Kvara", as it's a much simpler way to identify him.
But the nicknames don't stop there.
A lot is expected of the Georgian forward on the soccer pitch, so much so that Napoli's fanbase named him "Kvaradona".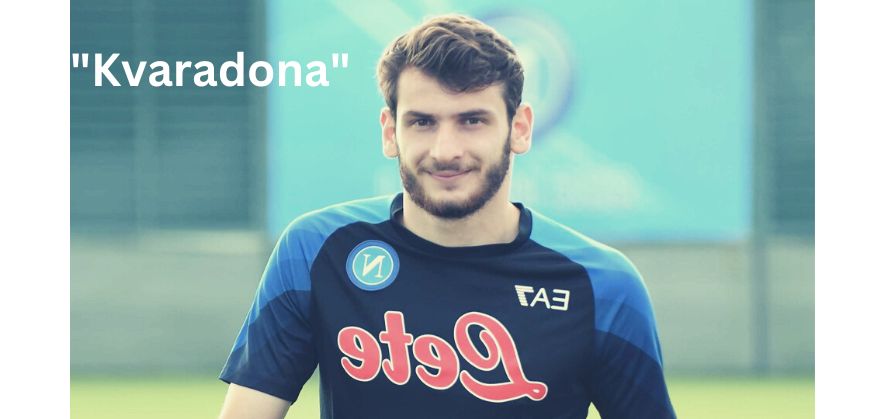 For those of you who aren't really clued up on soccer's history, the name takes after the club's most iconic player in Diego Maradona.
Here's a short quote which tells us why he gets this particular nickname:
"A blistering start to life in Serie A has stirred excitement and even seen the winger dubbed 'Kvaradona'… Kvaratskhelia, like Maradona, made his Serie A debut against Verona – though unlike the Argentine, he played a key role in a 5-2 win with a goal and an assist."

Source – BBC Sport
How old is Khvicha Kvaratskhelia?
At the time of writing, Napoli's prolific forward is only 21 years of age, which suggests that he's yet to reach the pinnacle of his soccer powers.
There's plenty of room for the Georgian to improve his end product on the field, even though his finishing and final pass are already at a high level.
You only have to see his stats for this season to know that he's the real deal:
Closing thoughts
Khvicha Kvaratskhelia has certainly taken the Serie A by storm with his scintillating performances for Napoli.
He's been such a positive influence on the team that they're looking likely to finish the season at the top of the Italian division's standings for the first time in over 32 years.
However, his name is undoubtedly very strange to see and pronouncing it can be quite the tongue twister!
Hopefully, you'll have seen that it's not so difficult to say his name in English, as we've provided a simple guide for you to follow.
If you've enjoyed this sort of content, you might want to check out some of our other blog posts like:
If you enjoy the content that I create and would like to buy me a coffee, then I'd really appreciate it!
Any money that I earn through this donation will be re-invested into more content for this website.
Additionally, by sending in a donation you'll also receive a copy of my recently released 190+ page eBook on Soccer Ball Care, as well as be subscribed to our mailing list where you'll be regularly informed on the latest developments concerning the Soccer Whizz blog.
Latest posts by Samuel Waihenya
(see all)