Soccer as a sport has a massive worldwide appeal.
More particularly, plenty of young fans like to get involved with the game by playing digital copies that can be bought in stores and online.
One question that's often raised before a purchase is whether the game is also playable in offline mode.
And it's why I sought to write this article today as I have the exact answer…
Various FIFA soccer games can be played offline as there are specific game modes within them that function perfectly without the user needing a dedicated internet connection.
The technology just keeps getting better and better.
For example, streaming is so good these days that there's heightened curiosity about whether soccer matches are watchable on Netflix!
And despite popular pay-to-play methods like FIFA Ultimate Team growing in ascendency with each passing day, the soccer games of today also cater towards the demographic of users who prefer to play against their family members and real-life friends by availing a number of offline modes as well.
Let's take an even closer look at this last point.
Is FIFA soccer an offline game?
When you head over to the Google Play Store on an Android-enabled device, type in the words "FIFA Soccer" and perform a search, you'll come across EA Sports' latest instalment.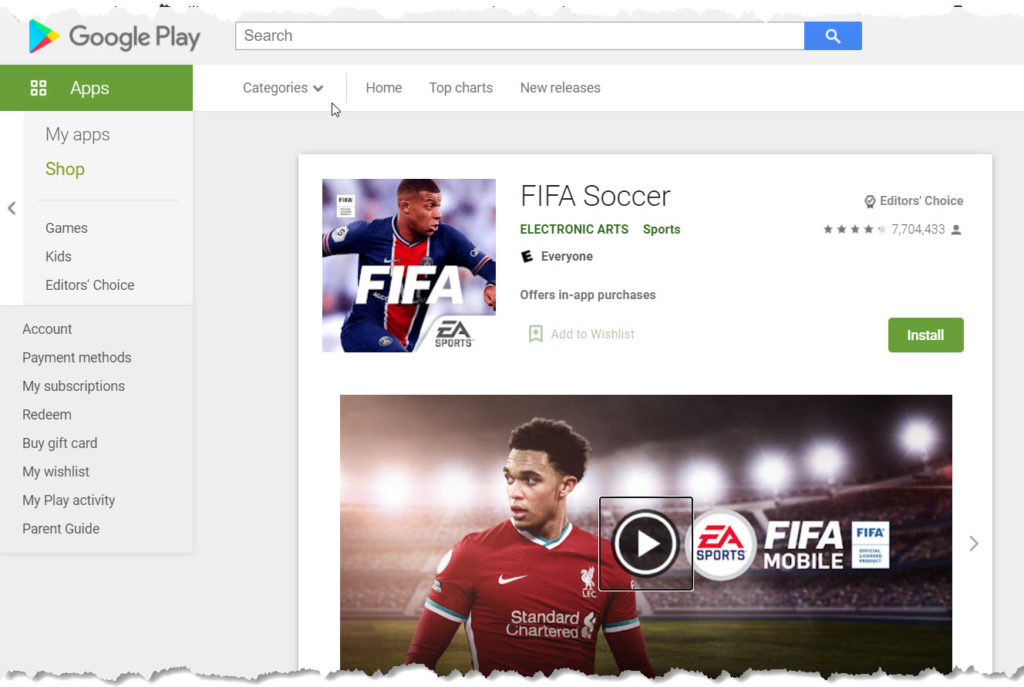 Also referred to as FIFA Mobile, this game presents users with many different ways in which they can play uninterrupted, but sadly all of them require an available internet connection.
This means that you won't be able to enjoy the game's UEFA Champions League and UEFA Europa League modes, where players can line up their squads and get involved in fixtures that correspond with real-world events across Europe.
Now the reason for this is because the game only works with an established online connection to EA's own servers.
But there is a neat work around which should allow you to enjoy the game whilst offline.
Check out the video below:
Which FIFA soccer games feature offline play?
You'll find that many of the best soccer games that you can play on Android devices require an internet connection to enjoy.
This includes the highly rated Dream League Soccer 2021 which is incorrectly listed as a game that can be played offline by a number of other technology blogs that I will not mention.
So, which games can actually be played solely offline?
Well, here's two winners that I've picked out…
1. Score Hero
In this engaging game, a user plays as a single football character as opposed to being in control of an entire team or managing a squad from the technical area.
The premise behind it is that a player is supposed to develop their soccer career by starting out in the lower divisions of the sport and gradually progressing all the way up to the pinnacle.
How this is achieved is quite interesting, as users are meant to complete several challenges and levels that mimic real-life scenarios that have actually happened in the past.
So, you could be challenged to replicate the famous free kick goal that Roberto Carlos scored against France in 1997, or the iconic Giovanni Van Bronckhorst strike against Uruguay at the 2010 FIFA World Cup.
It's an offline game that's so immersive and is well worth the time investment in my opinion.
2. Top Eleven 2021
Jose Mourinho being on the cover of this game should tell you all that you need to know about its quality and value.
When it comes to this management simulation, offline play is rewarding and fulfilling in the sense that a player is responsible for multiple facets of a team's sporting performance.
This includes things like making transfer signings and creating a stadium!
More so, you're also left in charge of conducting training sessions as well as bolstering team morale before and after competitive matches.
The fact that both of these games are free to play is simply amazing in and of itself, as you can only applaud the level of detail that both of them incorporate.
3. FIFA 21 and it's equivalents
FIFA 21 for Playstation 4
GAMEPLAY: Create more scoring opportunities than ever before with all-new dynamic attacking systems in the most intelligent FIFA gameplay to date; FIFA 21 raises players' intelligence and decision-making to new levels both on and off the ball, creating more realistic and informed movement, building on the intensity of 1v1 situations, and unlocking the conditions for a true-to-life footballing experience that rewards you for your creativity and control all over the pitch
CAREER MODE: Manage Every Moment in FIFA 21 Career Mode with new innovations that create additional depth in matches, transfers, and training to give you more control over your team's rise to the top and make it easier than ever for you to begin your managerial career
EA SPORTS VOLTA FOOTBALL: More ways to play; More customisation; More locations; Experience the soul of the streets together with friends as you show off your style in cages and courts around the world throughout various forms of small-sided football
Lastly, you've got the full-sized console game called FIFA 21 that features plenty of offline kick-off modes.
When it comes to three-dimensional graphics, there's nothing that looks and feels better in today's modern age.
Unique player movements such as agile dribbling and natural collision technology are built into the gameplay, which ultimately makes for a very realistic leisure experience as an end user.
However, it's also needless to say that this option will cost quite a pretty penny, so I'd advise you to also check out other alternatives like Pro Evolution Soccer 2021 or Football Manager 2021.
Conclusion
In this article you'll have learnt that there are a number of FIFA soccer games that can be played offline.
A technologically-savvy person can easily find workarounds for the games that are built for purely offline play, but that isn't something that I'd suggest you try out on this blog.
There's plenty of choice in the offline soccer game market, and I hope that today's post has given you food for thought on some of the alternatives that you take a look at.
If you've enjoyed this post then you'll probably love reading through our article that explores the meaning of the famous EA Sports it's in the game slogan.
Check that one out when you've got some spare time!
If you enjoy the content that I create and would like to buy me a coffee, then I'd really appreciate it!
Any money that I earn through this donation will be re-invested into more content for this website.
Additionally, by sending in a donation you'll also receive a copy of my recently released 190+ page eBook on Soccer Ball Care, as well as be subscribed to our mailing list where you'll be regularly informed on the latest developments concerning the Soccer Whizz blog.
Latest posts by Samuel Waihenya
(see all)