Cristiano Ronaldo has been widely regarded as one of the world's best players for the past two decades.
Ever since he burst onto the scene with Sporting Lisbon in 2002 and established himself as a global superstar with Manchester United, the Portuguese forward has always been in the soccer talent conversation.
Ronaldo has also shown himself to be a player that takes massive amounts of pride in his personal achievements, evidenced by how much he cares about individual awards like the Ballon d'Or.
However, Ronaldo's enthusiasm to win these prestigious prizes has caused quite a bit of amusement for soccer fans in the past.
If you've ever heard of the term "factos", then you'll have a pretty good idea of the context.
You see, his rivalry with Lionel Messi – a man who he considers a worthy soccer adversary – came to a head when he questioned the Argentinian's Ballon d'Or win in 2021.
This article will now reveal what Ronaldo meant by this statement, as well as offer insight into where and when the comment was made, not to mention how it transformed into a widespread meme used across multiple soccer forums.
So, let's begin.
What did Ronaldo mean by his "factos" statement?
Back in 2021, Lionel Messi was awarded his seventh Ballon d'Or trophy, beating out the likes of Bayern Munich's Robert Lewandowski, Chelsea's Jorginho and Juventus player Cristiano Ronaldo.
Here's a table illustrating the vote tallies for this prize:
| Player | Team | Votes |
| --- | --- | --- |
| Lionel Messi | Paris Saint Germain | 613 |
| Robert Lewandowski | Bayern Munich | 580 |
| Jorginho | Chelsea | 460 |
| Karim Benzema | Real Madrid | 239 |
| N'golo Kante | Chelsea | 186 |
| Cristiano Ronaldo | Manchester United | 178 |
| Mohamed Salah | Liverpool | 121 |
This meant that the Argentinian had won two more Ballon d'Or awards than Ronaldo, which justifiably put the Paris Saint Germain forward ahead in the discussion for who the greatest soccer player of all time was.
When a particular Ronaldo fan account put out a message to quash the legitimacy of Messi's win and claim that Ronaldo was "robbed" of the award, the Portuguese star surprisingly agreed with a "facts" comment in full public view.
The account in question – called @cr7.o_lendario – launched a serious rant on the Instagram where they put forward their own reaction to Messi's just announced Ballon d'Or win.
In full support of Ronaldo, the 1 million follower account posited the argument that Ronaldo – despite his age – had achieved many successes during the concluded calendar year and that Messi failed to win the biggest trophies or show up in the biggest games.
Here's a precise quote:
"Regardless of his age, [Ronaldo] is a guy who continues to perform miracles and impresses the world most often. Cristiano was way better, and the prize goes to who? For Messi, who only won Copa del Rey for Barcelona, hasn't scored a goal against Real Madrid since Cristiano left and missed in the big games of the season."

Source – HITC
Ronaldo happened to read the post and decided to offer his support in the comments by leaving his now famous "factos" statement.
If you haven't guessed it already, the word "factos" means "facts" in the Spanish and Portuguese languages.
Ultimately, his comment was him approving of the argument that the fan account had put forward and also served as a sly dig at his competitor who he felt didn't deserve to win the award.
Where did Ronaldo comment "factos"?
As the article has already pointed out, Ronaldo gave birth to this famous term on the popular social media platform called Instagram.
He left the remark on a post which made a compelling argument as for why Ronaldo should have won his 6th Ballon d'Or title in a year where Messi's performance with his new Paris Saint Germain team was arguably not up to his previous stratospheric standards.
Why has Ronaldo's facts comment become a meme?
The "factos" word, which is now widespread across many soccer forums is generally used to agree with an argument or statement put forward by a poster.
But what makes this comment memorable and meme-worthy material is the fact that it's accompanied by a thumbs up and an eye emoji.
Like this: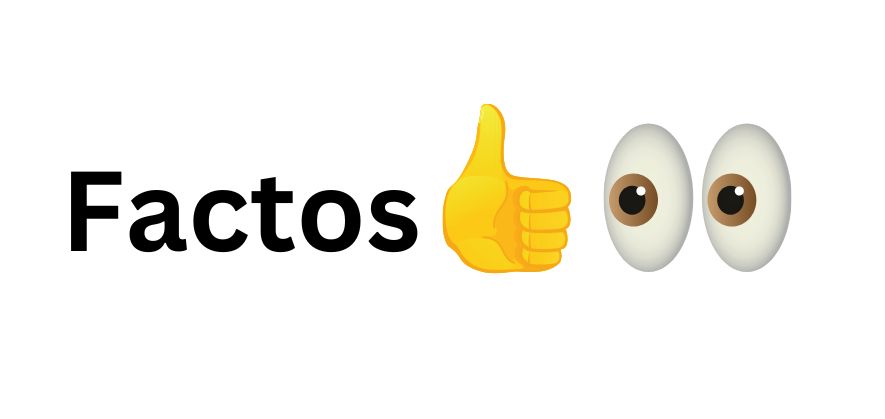 When you see this word used on the internet, there is an amazingly high prevalence of the thumbs up and eye emojis being used alongside it.
Have a look at the following Reddit threads where the meme surfaces: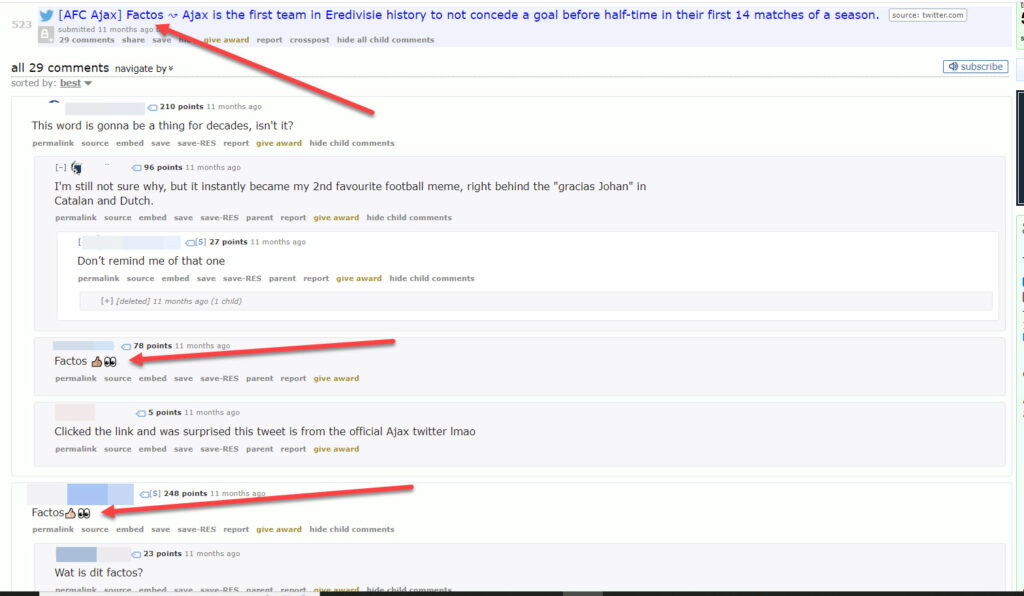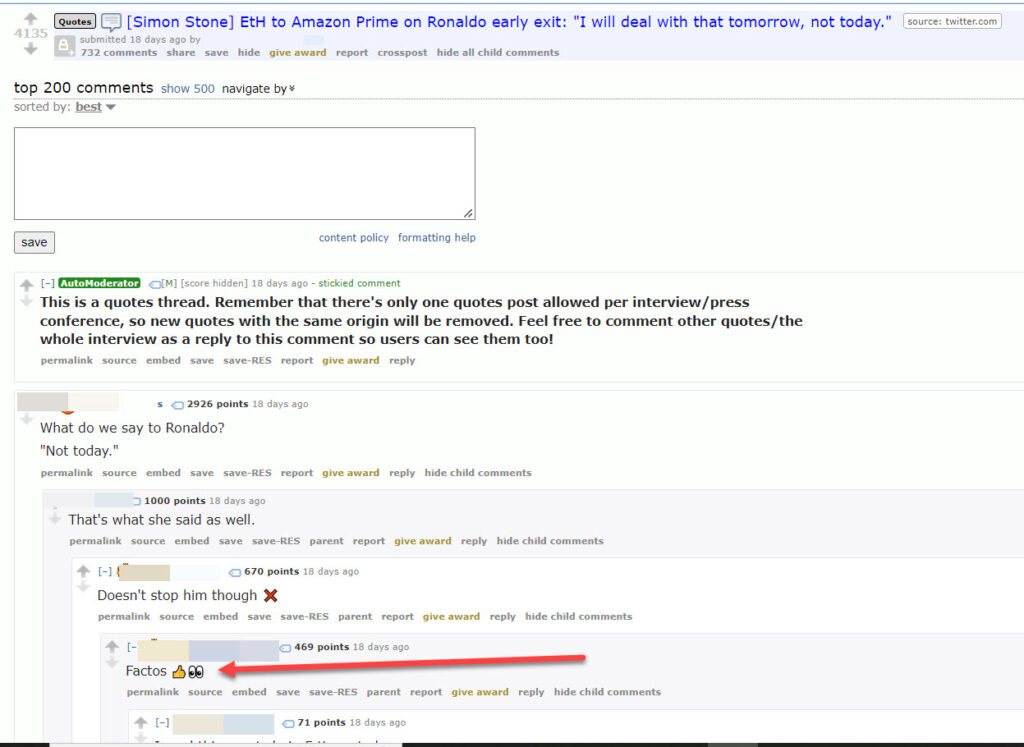 Does Ronaldo care too much about individual awards?
This public controversy does beg the question of whether Ronaldo is too self-centered and overly focused on personal glory.
Well, the man himself has claimed that winning Ballon d'Or titles isn't his sole ambition, and that winning trophies with his national team and the clubs he represents on a domestic level also form part of his goals.
Ronaldo put out this statement days before the Lionel Messi's Ballon d'Or win was announced, in response to a French editor called Pascal Ferre who told the New York times that Ronaldo's only goal is to win the Ballon d'Or.
Here's what Ronaldo had to say about this matter:
"Pascal Ferre lied, he used my name to promote himself and to promote the publication he works for. The biggest ambition of my career is to win national and international titles for the clubs I represent and for the national team in my country. The biggest ambition of my career is to leave my name written in golden letters in the history of world football."

Source – Instagram
Final thoughts
Cristiano Ronaldo is increasingly finding himself in the headlines for the wrong reasons as his career draws to a close.
After the "factos" episode, the player was seen slapping a mobile phone out of an Everton supporters' hand when his team lost a match at Goodison Park.
In addition to that, the Portuguese forward refused to come on as a substitute when called upon by his manager Eric Ten Hag in a recent Premier League fixture against Tottenham Hotspur.
His ego appears to be getting the better of him these days, which isn't doing his reputation a favor in any shape or form.
Perhaps the upcoming World Cup tournament in Qatar will be the perfect opportunity for him to show everyone watching that he's still capable of performing at the highest level.
If you've enjoyed this piece, then check out some of the other Ronaldo content on our blog like:
If you enjoy the content that I create and would like to buy me a coffee, then I'd really appreciate it!
Any money that I earn through this donation will be re-invested into more content for this website.
Additionally, by sending in a donation you'll also receive a copy of my recently released 190+ page eBook on Soccer Ball Care, as well as be subscribed to our mailing list where you'll be regularly informed on the latest developments concerning the Soccer Whizz blog.
Latest posts by Samuel Waihenya
(see all)