Disclaimer: Soccer Whizz is a participant in the Amazon Services LLC Associates Program, an affiliate advertising program designed to provide a means for sites to earn advertising fees by advertising and linking to Amazon.co.uk (source: Section 5). As an Amazon Associate I earn from qualifying purchases.
These days there are so many companies manufacturing soccer balls that it can be so difficult for a first-time buyer to choose.
With hefty marketing budgets also allocated for product promotion, consumers can potentially suffer from overwhelm as every brand gives people the promise – sometimes in creative ways – that their soccer ball offers the best performance.
That's why it's quite imperative to have a reference point for how much a soccer ball costs.
Because with that in hand, you can more easily deduce the quality that's on offer, as well as have much clearer expectations on how long a particular soccer ball will last.
So, just how much does a soccer ball cost?
At the lowest end of the price spectrum, an individual soccer ball will typically cost as little as 5 to 10 dollars. For higher quality match balls that are used in organized competitions and approved by high school and collegiate associations, you can expect to fork out between 40 and 90 dollars.
But if you've got the money to afford the best, then take note that the premium soccer balls used at professional levels of the game typically range between 140 and 250 dollars.
Now, as a cost savvy consumer you're probably wondering…
Are there any discounts available for bulk purchases of soccer balls?
Well, the good news here is that you're in luck!
If you need more than a handful of soccer balls because you run soccer practice sessions with a team of players, you can save money by purchasing a soccer ball set.
These generally come in:
Packs of 5
Packs of 10
Packs of 12
Packs of 15
Packs of 20
Ultimately, you should be able to cut down the cost per soccer ball if you buy in large quantities.
Explaining soccer ball prices with a tier system
Despite the fact that the costs of soccer balls vary quite considerably, there are four categories that are normally used to segment them in a more meaningful way.
Take a look at the table below which summarises each of the tiers:
| Category | Price Range | Brand Tagline (Nike | Adidas | Puma) | Description |
| --- | --- | --- | --- |
| Professional level | $140 to $250 | Flight | Pro | Pro | For the professionals who perform in the top soccer leagues, as well as for the very serious academy players seeking to go professional |
| Match level | $40 to $90 | Club | Competition | Match | Typically reserved for organised competitions at lower levels, such as at high schools and collegiate associations |
| Economy level | $20 to $40 | Strike | League | Trainer | Great for training and individual practice sessions |
| Bargain bin | $5 to $20 | Pitch | Training | N/A | Ideal for the casual player who participates sporadically. Also good for young children between the ages of 2 and 5. |
Now, let's take a deeper look at this.
1. Professional level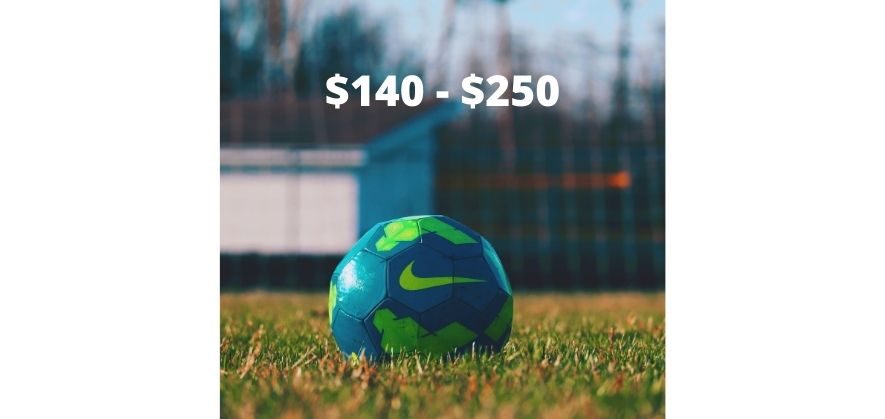 Here we have the soccer balls that professional players use in competitive fixtures.
Just the other day I wrote an article that spoke about the soccer ball commissioned for the UEFA Champions League tournament, so check that out to get a picture of the calibre of ball that I'm talking about.
Soccer balls in this group are FIFA Quality Pro Certified, which means that they have passed FIFA's strict performance benchmarks for factors that include ball weight, water absorption, pressure loss and size retention.
You will also find that these balls possess polyurethane covers, rubber bladders and thermally bonded constructions, as these three elements combine to give these soccer balls the best possible increased wear and tear resistance as well as optimal shape retention and bounce uniformity.
The biggest manufacturers have specific name distinctions for soccer balls in this category, as Nike goes with the "Flight" tagline, whilst Adidas and Puma both go with the word "Pro" as an identifier.
Prices in this category usually range from 140 dollars to as high as 250 dollars, but don't be alarmed.
There are good reasons why soccer balls are so expensive.
Check out one of the soccer balls that makes the cut below:
2. Match level
Slightly lower down we have the soccer balls that sit at the 40 to 90-dollar price point.
Most of these soccer balls are FIFA certified but not all of them will be accredited with the world football governing body's highest quality performance indicator – the FIFA Quality Pro certification.
You will see thermoplastic polyurethane (TPU) used for the outer covering, along with thermal bonding that's used to glue the panels together, but at times there can be a tiny compromise in the quality of the raw materials used to make these.
Hand stitching of these soccer balls is also common.
That small dent in quality is reflected in the friendlier price points, but these balls are still fantastic purchases nonetheless.
In fact, lots of high schools and collegiate associations source soccer balls in this category, as they are great for organised competitions and training sessions.
Some examples include:
3. Economy level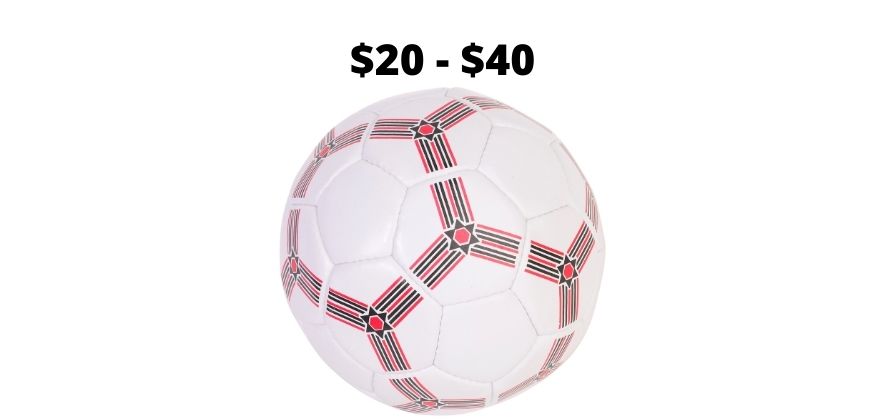 In the third tier we have the soccer balls that range between 20 and 40 dollars.
The big difference with these ones is that they tend to be machine-stitched rather than have a seamless thermally bonded construction.
And they are made to be durable, but at this level the focus on making the most robust soccer ball is not very high on the manufacturer's list of priorities.
It's more likely that they will seek to churn out as many of these cheaper soccer balls as they possibly can, as the demand for low-cost options is always high.
Nike soccer balls that fit this description are their "Strike" ones, whereas Adidas go with the "League" tagline.
To paint a real picture, here are some of my own recommendations for soccer balls that meet this categorical criteria:
4. Bargain bin
At the bottom of the pile are the soccer balls that you can pick up for as little as 5 dollars.
You should know that at such prices, there is no guarantee that your soccer ball will last for more than a month because the quality of materials and construction methods used to make them are far from the best.
Poly vinyl carbonate (PVC) is the plastic of choice for these soccer balls, as its good enough to withstand recreational use.
And again, machine-stitching is involved.
You will find that the balls at the lower end keep the look and a bit of the feel of the top tier models, but come at a fraction of the price.
However, you will notice a difference in the way soccer balls from each category perform.
How much does a soccer ball cost at Walmart?
Just by perusing through their website, I can tell that they sell soccer balls for as little as 6 dollars (excluding shipping).
There are some higher priced ones too that go for 50 dollars and more.
Here's a screenshot:
Although the best answer to this question is to find out for yourself!
Head over to the Walmart website or a physical Walmart store and look through the selection of soccer balls that they have.
Closing thoughts
Hopefully you'll have learnt through this article what soccer balls cost to buyers.
Mainly through a combination of materials and how the panels are put together, you can be able to distinguish which soccer balls are better quality from the ones that have been hastily put together.
For once you understand how the price categorisation works, you'll know exactly what to look for when you're ready to make your own purchase and you'll be aware of the financial investment that is needed to buy the best soccer ball.
Latest posts by Samuel Waihenya
(see all)