Americans gradually getting into soccer are bound to have plenty of questions about the game's rules and how the sport is played.
After all, soccer is only the 4th most watched sport in the country according to the evidence provided here and here.
One query that typically pops up amongst these fans is whether defenders can score goals.
As their role primarily entails preventing the opposition from scoring by way of making tackles, interceptions and generally preventing forwards from nearing their intended target, you can be forgiven for thinking that these tasks wholly encompass everything that they do on the field.
So, can soccer defenders actually score goals?
Of course, the answer here is yes!
In soccer there are no limitations on defenders scoring goals from any position on the field, as it is an entirely legal action that can occur within a game. Any player present on the field of play can score a goal irrespective of the dedicated position that they are assigned to.
Although it's equally important to note that forwards and midfielders score goals with greater regularity than their defensive counterparts, and I'll now explain why this is the case.
Are soccer defenders expected to score?
Being a defender in soccer means that you are stationed amongst a backline of three or four other players.
Check out the image below for an illustration of what I mean:
Look at how far the defenders are positioned from the goal that the team as a whole aim to score in.
As defenders are generally further away from goal than the midfielders and forwards, there is less expectation placed on them when it comes to scoring.
Related article: learn more about soccer tactics
This is even reflected in the contractual agreements that they sign to.
Defenders usually receive bonuses for registering clean sheets whilst forwards can have lumps sums paid to them for exceeding a certain amount of goals over the course of an entire campaign.
A great case in point is Liverpool's Virgil Van Dijk, who was paid an extra £750,000 in clean sheet bonuses for his stellar work during the 2018-2019 Premier League campaign.
Situations where defenders are most likely to score
Now just because defenders are not expected to find the back of the net, that doesn't mean that they're never going to have a couple of great goal-scoring opportunities within a game.
Here are some scenarios where defenders are more likely to hit the target than other outfield players…
Set pieces
Picture a corner kick or a free kick from a wide area which has a group of players jostling for space in the 18-yard box.
All it takes is a single long-ball delivery for a defender to score from these situations.
Because defenders are normally taller and stronger than other outfield players, it's easier for them to get on the end of crosses with powerful headers that are very difficult for goalkeepers to save.
Check out the example below:
As a defender for Manchester City, nearly all of Vincent Kompany's 20 goals for the club were headed goals that came from an accurate corner kick.
Penalty shootouts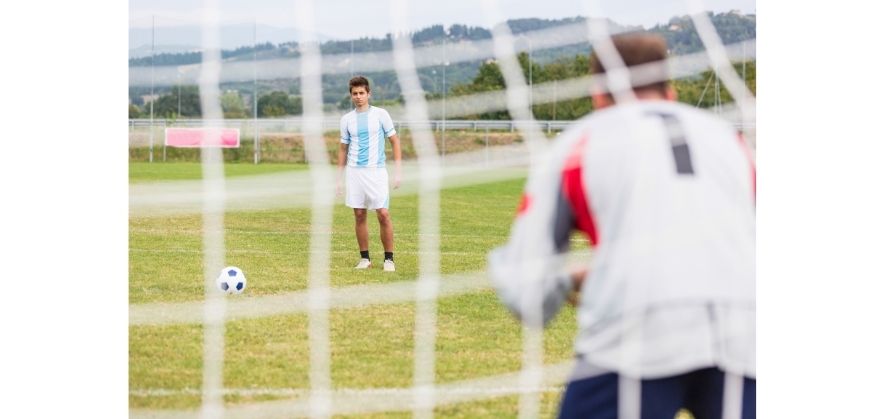 Another event where defenders have a good chance of getting themselves onto the scoresheet is during a penalty shootout.
Each team usually assigns 5 players who each take a single spot kick, with the eventual winner determined by the team that scored the most goals during the duel.
In these situations, defenders are much more likely to score as they are not faced with pressure from opposition outfield players.
Only the opposition goalkeeper will stand in their way to prevent the penalty kick from being scored.
The Euro 2020 final saw Italy defeat England on penalties, with centre backs Harry Maguire and Leonardo Bonucci both managing to convert for each team.
Playing attributes that a defender would need to score
As a player you've got to have the right combination of physical, technical and mental attributes to be able to score goals consistently.
It doesn't matter whether you're playing the sport at the highest possible level or involved in a casual pick-up game.
Here are some of the qualities that defenders would need to enhance their chances of scoring:
Positioning
Being in the right place at the right time is so important.
After all, if a defender is situated slightly behind or ahead of where the ball ends up, they are unlikely to make a strong connection upon kicking it.
This would likely lead to the ball missing its intended target by it either drifting wide of the goal or above it.
Defenders therefore make set piece routines a major part of their attacking training, as better positioning can contribute to more goals for the team.
Strength
Tussling and jostling in the penalty area is a common occurrence during corners and wide free kicks.
As soon as the ball gets launched aerially, a defender requires physical strength in order to beat their zonal- or man-marker to where the ball is headed.
Furthermore, a stronger defender is arguably much better equipped to chase down loose balls in the dying moments of a game, which could be the difference needed to change the score line from a stalemate into a marginal victory.
Jumping reach
This attribute goes hand in hand with strength.
A defender who can jump higher than their opponent is more likely to score as they are can connect with the in-swinging and out-swinging crosses on a more regular basis.
Finishing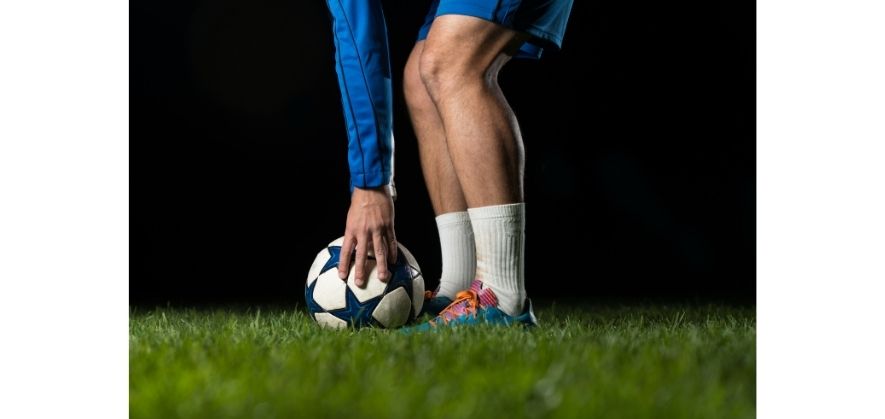 Lastly, there's no point in taking up the correct position or having more strength and jumping reach than the opposing player if you can't complete the final action.
This is the icing on the cake so to speak.
A defender with great finishing has the composure to stick the ball past the goalkeeper even when they are under intense pressure.
More so, a good finisher will also be able to use different parts of their foot to strike the ball cleanly.
Top 3 highest scoring defenders in soccer
With all that said on finishing, let's conclude this article with a look at the highest scoring defenders in soccer history.
1. Ronald Koeman – 253 goals for club and country
The current Barcelona manager was massive for the Catalan side as a player.
He scored a staggering total of 239 times over the course of his club career where he represented the likes of Groningen, Ajax, PSV Barcelona and Feyenoord.
The Dutchman also netted 14 times in 78 appearances for his national team.
Koeman's specialties included his deadly free kicks and long-distance shooting, where he was renowned for lashing at the ball with precision.
2. Daniel Passarela – 162 goals for club and country
The Argentinian was a player that not many of the newer generation of fans know or remember.
Over his 451-match club career he scored 134 times and was considered the greatest South American defender in the history of the sport.
3. Fernando Hierro – 138 goals for club and country
This guy was a legend for both Real Madrid and Spain.
As a composed, natural ball-playing defender he managed to sensationally record 102 goals over 439 appearances for the world's most prestigious football club.
Summary
This article should have provided you with a balanced outlook on defenders being able to score goals in soccer.
It's looked at how they can score as well as the physical and mental attributes they need to attain such a target.
Additionally, the article has also given a brief statistical account of the top scoring soccer defenders in history.
Which brings me to the following conclusion…
Defenders are allowed to score goals – with either their head or two feet – in soccer. There are no restrictions imposed on them scoring goals, nor does any other player playing in any other soccer position.
If you enjoy the content that I create and would like to buy me a coffee, then I'd really appreciate it!
Any money that I earn through this donation will be re-invested into more content for this website.
Additionally, by sending in a donation you'll also receive a copy of my recently released 190+ page eBook on Soccer Ball Care, as well as be subscribed to our mailing list where you'll be regularly informed on the latest developments concerning the Soccer Whizz blog.
Latest posts by Samuel Waihenya
(see all)