One of the most fascinating things about football fandom is that it brings people together from all walks of life.
It really doesn't matter where you come from, as the game knows no geographical boundaries.
For example, if I visualise Manchester United's Old Trafford stadium at full capacity, I can clearly recollect the multitude of Asians, Africans and Europeans donning the traditional red jersey colours and being fully immersed in the game from behind the touchline.
But enjoyment of the sport doesn't stop there, as with the growth and maturity of the internet, fans can interact with each other on a global scale and from the comfort of their own homes through what are called soccer discussion forums or soccer discussion boards.
What is a soccer discussion forum?
Ideally, a soccer discussion forum should be a safe haven for fans throughout the world to share and communicate facts and opinion pieces on football clubs, discuss the latest footballing events taking place, along with doing things like watching famous video highlight reels and revelling in past team glories together.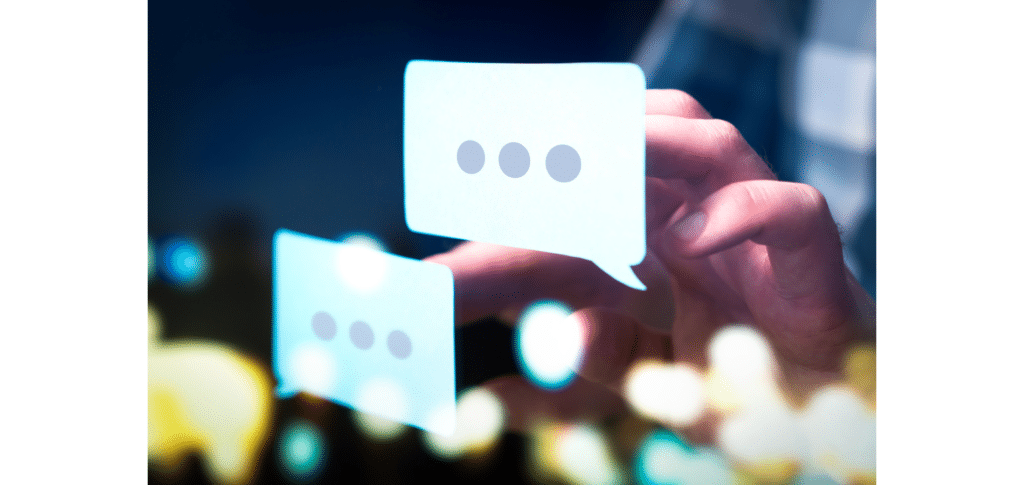 With an internet enabled device like a desktop computer, tablet or mobile device, a person simply navigates to the web address area, where they then type in the name of their preferred soccer discussion forum of choice, and google is able to do the rest.
Qualities of a good soccer discussion forum
Before I reveal the best soccer discussion forums, I thought it would be good to briefly talk about what factors differentiate a good forum from one that has been poorly thought out.
Above all, a good user interface is key to the popularity and success of any forum, as it should place users in control, make interaction with a product or service comfortable, reduce cognitive load and be consistent.
In addition to this, active moderation is a must in order to keep discussions calm and orderly. This can be achieved through the use of warning systems, content-level notices and phrase filtering that can stifle the use of abusive language.
And perhaps most importantly, a diverse fanbase is needed in order to have a wide-ranging scope of talking points. More so, a bit of controversial opinion every now and again gets the forum buzzing and generates quite a bit of fanfare.
And now for my favourite communities…
1. Reddit – R/soccer
Reddit is actually my favourite website to hang out on the entire internet.
And for very good reason.
They've got multitudes of different sub-communities that each cater specifically to different interests.
So, you'll find it very difficult to feel like an outcast on the website as Reddit pretty much leaves no stone unturned when it comes to topics or debates.
With regard to their soccer discussion forum, you're probably looking at one of the best in the business.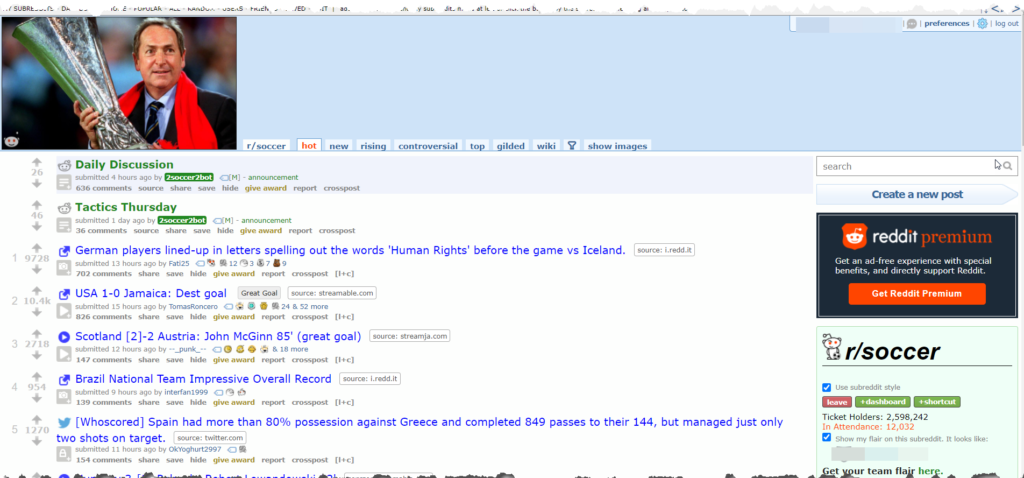 As you can see from the screenshot I've provided, the layout is pretty basic.
But beyond that, the individual discussions and threads are a lot more nuanced.
User posts and comments are automatically moderated by Reddit's voting system, which is supposed to see helpful contributions rise to the top via upvotes.
On the other hand, as a forum contributor you are encouraged to downvote things that are completely irrelevant to the discussion or topic at hand, and not opinions that you disagree with for one reason or another.
This soccer discussion forum receives lots of activity on weekends as that's when most clubs are in competitive action, so you can expect to see the frontpage of r/soccer full of goal replays, VAR clips, post-match interviews and quotes that take place after games.
Beyond this, the community moderators also allocate a "Free Talk Friday thread" every week which usually has a treasure trove of discussion about things other than football, including, but not limited to the wholesome discussion of:
Politics
Holidays and travelling
Food and drink
Music
Hobbies and entertainment
Social relationships
Furthermore, the r/soccer community also hosts various football industry experts from time to time who offer their insight into the beautiful game.
2. BigSoccer Forum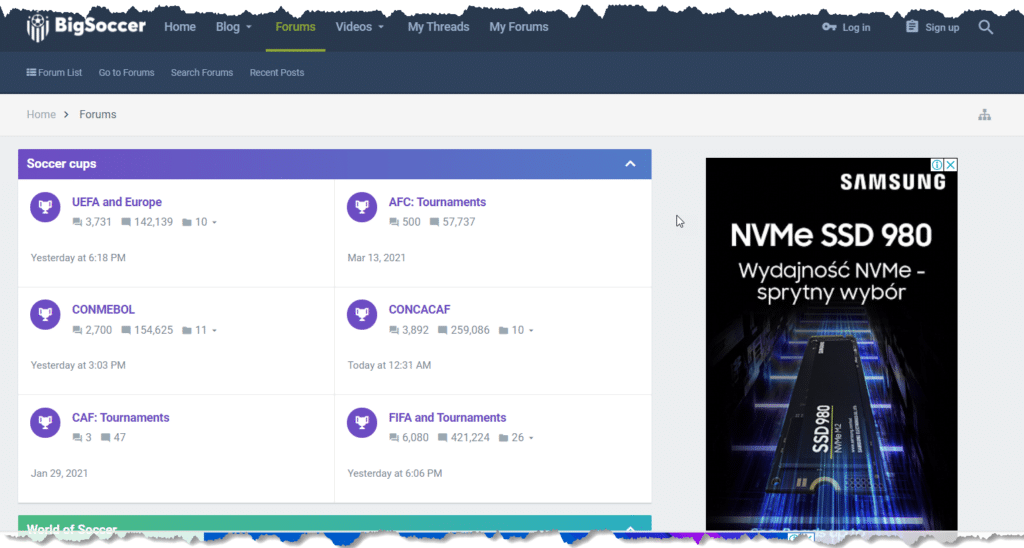 Here we have a traditional football blog that has incorporated forum functionality in order to drive community discussion on the sport.
At a glance, you can see that topics have been split into different categories.
What's more is that they even have a dedicated section for member onboarding where new forum members or visitors can introduce themselves to the community and get more acquainted with the place.
Their coverage of football is very comprehensive as they cover different countries, women's football and they also recommend equipment like soccer headgear and gps vests, with separate threads for things like eBay auctions and other types of apparel.
3. Talk Football 365
As the name implies, Talk Football 365 is a place where you can comfortably engage in discussion about football at any time of day, month or year.
It looks to be a particularly tight knit community that is based in the United Kingdom, and they have a small presence on social media platforms like Twitter and Instagram.
The forum looks to be powered by Invision's IP Board, which I can personally attest to the quality of as the software contains a massive feature set and bunch of functionalities for a fully-fledged community solution.
Coverage of football leagues and competitions is comprehensive, as they've got dedicated threads for the Premier League, EFL Championship, Bundesliga, La Liga, Serie A and Ligue 1.
The list doesn't end there either, as they also cover topics like international tourneys and prediction leagues.
4. Redcafe.net
As Manchester United is one of the most widely supported teams in world football, I thought it would be appropriate to include their dedicated soccer discussion forum in this list.
You can see from the image above that the colour scheme and thematic appearance is consistent with the English side's traditional red colours.
It's a great place to go for any news pertaining to players that currently play for the club, as well as team results and injury updates.
On the sidebar situated on the right-hand side of the webpage, users are able to submit votes for things like player ratings and their specific Man of the Match, which adds even greater immersion to the community aspect of the place.
Final Recommendation
The clear pick for top soccer discussion forum has to be the Reddit community called r/soccer.
Not only is it the most active of the bunch – with thousands of users publishing video highlights, statistics, infographics, opinion pieces and quotes – it is also in my opinion the most engaging, even for those with only a small interest in the sport.
The Free Talk Friday and Unpopular Opinion threads in particular are so exciting to read through, especially the former which I religiously participate in every week.
If you enjoy the content that I create and would like to buy me a coffee, then I'd really appreciate it!
Any money that I earn through this donation will be re-invested into more content for this website.
Additionally, by sending in a donation you'll also receive a copy of my recently released 190+ page eBook on Soccer Ball Care, as well as be subscribed to our mailing list where you'll be regularly informed on the latest developments concerning the Soccer Whizz blog.
Latest posts by Samuel Waihenya
(see all)