One of the qualities of soccer that makes it such an amazing sport to participate in is the flexibility it offers with regard to how and where it can be played.
Because you only need a ball and a couple of willing players, the game is really easy to kick off and conclude, especially because there is little to no time spent in setting things up.
So, where can soccer be played?
I'm going to go straight to the point and give you the answer…
Soccer is typically played on a large, natural grass field with goal posts situated on either end of the pitch. Additionally, the game can take place at caged courts that feature synthetic turf surfaces; as well as indoor soccer arenas because the enclosed nature of such venues make the sport safe to play within a surrounding neighbourhood.
Let's take a look at these localities in a bit more detail.
Where is soccer usually played?
There are quite a number of places that soccer can be played at.
And the main benefit of this is that people from all walks of life can pick up the sport as a hobby and enjoy it to the fullest, without the need for expensive resources or equipment.
Here's a list of areas where you can have a healthy kick-about with your family and friends…
1. Natural grass fields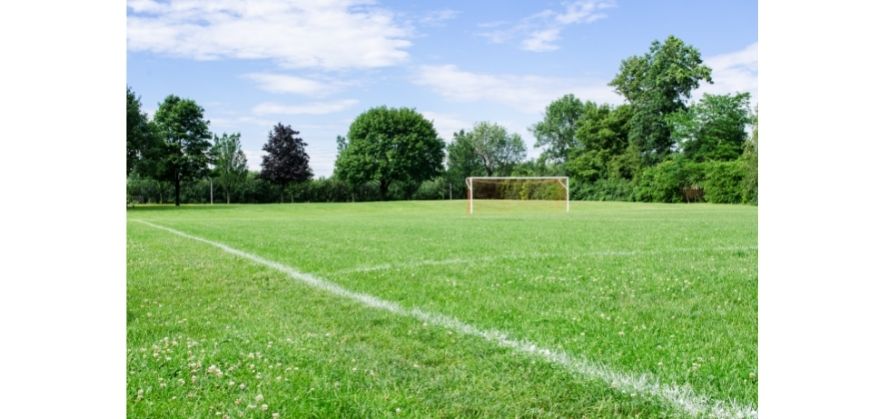 This is a popular venue choice for a group of 15 or more lads to play the game.
Grass surfaces are good because they accommodate key game actions like short passes, sliding tackles and even knee slide celebrations.
The grass also allows players to wear their favourite pair of football boots, as the studs provide balance by naturally sinking into the soil without impeding a participant's ability for rapid movement.
According to the International Football Association Board (IFAB), the recommended grass pitch size is between 100 yards and 130 yards in length and anywhere from 50 yards to 100 yards in width.
Because these fields are very spacious, everyone has ample room to showcase their skills and this ultimately makes the game much more enjoyable as crowding between players is usually a non-issue.
2. Synthetic turf courts
Over the years, artificial turf has gradually become a significant substitute for natural grass in a lot of sporting cases.
With a solid pair of Astro turf boots, you can get your groove on straight away!
Countries like the United States and United Kingdom place great emphasis on nurturing upcoming talent through grassroots football, which is why the widespread installation of playing surfaces that are weather-proof and easy to maintain is a major priority for these nations.
In fact, the quality standards in the United Kingdom are so high that there's a dedicated 3G pitch register to ensure that these artificial surfaces provide safe and satisfactory playing environments throughout the entirety of their service lives.
When it comes to population numbers, it's quite easy for groups of 10 to 14 people to play pickup games of 5-, 6- or 7-aside on these synthetic surfaces.
But any more than that and the playing area will become quite congested.
Another important thing to note is that sadly, the rubber pellets used to cushion ground impact on these artificial and turf pitches are said to pose a potential cancer risk.
Here's a neat video that illustrates this point in greater detail:
3. Indoor arenas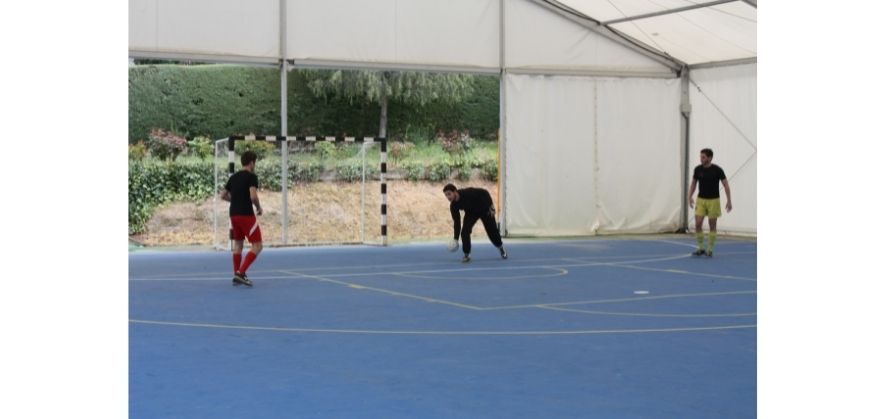 The last place that I'd like to talk about in this article is indoor soccer arenas.
All you need to play here is a pair of indoor shoes and a quality futsal ball!
This is because the Football Association (FA) recommended wooden or synthetic surface is different when compared to a natural grass pitch.
If you wore a pair of boots with studs on them, you'll be slipping and sliding all over the place as your feet would struggle for grip.
Just like artificial pitches, these indoor courts are built for smaller games of 5-, 6- and 7- aside.
And what's also great about them is the fact that you don't have to play soccer in the rain because the venue has dedicated roofing that prevents this eventuality from arising.
Can soccer be played anywhere?
A good question to ask is whether the game is solely limited to the aforementioned playing areas.
Well, the truth of the matter is that soccer can in fact be played anywhere.
You can kick a ball on fields, courts and streets as the rules of the sport don't confine participants to play in a particular area.
As long as there is enough space to move about and objects that can be used for goal posts, then you're good to go!
In Brazil, people have used their own ingenuity to play soccer in the favelas, which shows that you don't need a stadium-sized pitch in order to have a good time.
Final thoughts
If you hadn't known already, you can now see that soccer is a game without limitations.
For games of structure, participants can choose to play the sport on natural grass pitches, artificial turf surfaces or indoor arenas. Conversely, for causal kickabouts, soccer can be played on the streets; at public parks or even in the comfort of your own backyard.
If you enjoy the content that I create and would like to buy me a coffee, then I'd really appreciate it!
Any money that I earn through this donation will be re-invested into more content for this website.
Additionally, by sending in a donation you'll also receive a copy of my recently released 190+ page eBook on Soccer Ball Care, as well as be subscribed to our mailing list where you'll be regularly informed on the latest developments concerning the Soccer Whizz blog.
Latest posts by Samuel Waihenya
(see all)