Soccer has various short form abbreviations that are used to describe different elements of the game.
You'll probably encounter analysts, and even some casual fans, who habitually use these acronyms to get their points across in conversations and about the sport.
Now, one of the terms that is used quite regularly to describe a certain position in the pitch is ST.
But what exactly does ST mean in soccer?
Well, let's start with a brief definition.
ST is a word that's used as a shortened form for the "Striker" position on a soccer pitch. Strikers are generally the main goal scorers on a team and they typically position themselves centrally; quite close to the opposition goal.
A team can have one or more STs.
And in the case of there being more than a single one, the term "Wide Forward" is used to describe the STs who take up advanced positions to the left and right of the soccer field.
What does an ST do in soccer?
Strikers offer so many different contributions in the modern game.
Because of the growing emphasis on physical fitness and increased tactical sophistication, strikers are more involved in all phases of match play than ever before!
Here are a couple of things that strikers do on the pitch:
Scoring goals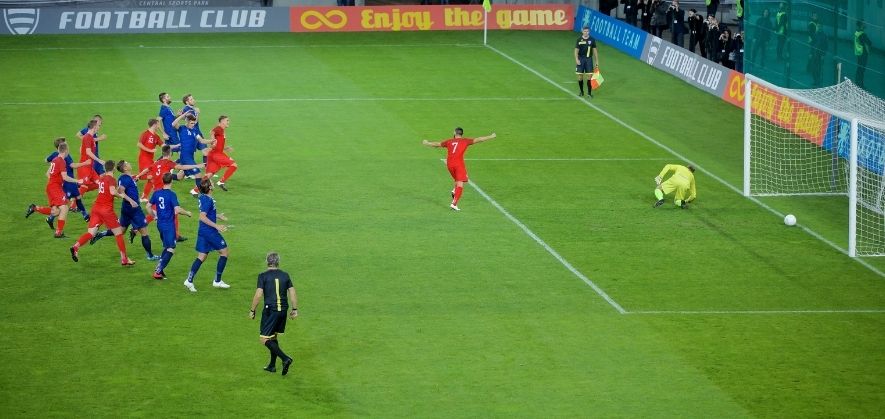 An ST is usually tasked with providing the main goal scoring threat for a soccer team.
This means strikers need to get into dangerous attacking positions so that they can be supplied with short, long or through passes that they can strike into the back of the opposition goalkeeper's net.
In addition to that, strikers need to take up good positions in the penalty area where they can connect with crosses that are floated or whipped into the penalty area.
Fashioning chances for others
A striker will also have responsibilities that come second to goal scoring.
One of these is being able to create scoring chances for their teammates.
For example, a striker could produce a good piece of chest control to lay off a soccer ball for an onrushing midfielder who could then take a clean shot at goal.
Harrying opposition defenders
As was alluded to earlier on in the article, soccer as a sport has evolved to become much more physically demanding and tactically advanced.
Managers like Pep Guardiola and Jurgen Klopp use strikers in their tactical systems as the first line of their team's defense.
What this means is that forwards will be tasked with initiating the press – closing down either the opposition goalkeeper or opposing defenders once they receive the ball within their own half.
Here's a video that demonstrates an effective front-line press:
You can clearly see that Pep Guardiola instructed his Bayern Munich side to press as soon as the opposition defenders and goalkeeper received possession of the ball.
This brought about a lot of forced errors for Borussia Mönchengladbach as they were effectively
pressed into giving away the ball through rushed clearances.
Where does an ST play on the pitch?
A striker usually occupies the central space in front of the opposition goal.
Take a look at the image below which gives a better graphical illustration of this area: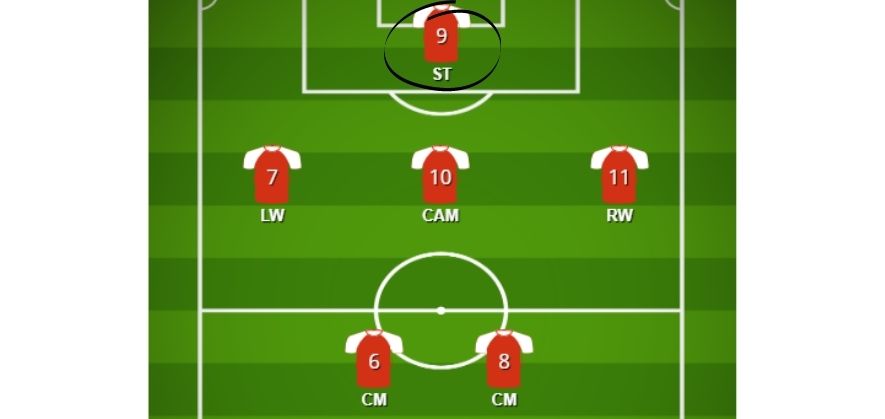 You can see from the picture above that strikers are positioned centrally ahead of central midfielders and central attacking midfielders.
Here's another representation of the striker position on the field – this time in a formation that includes a forward pairing: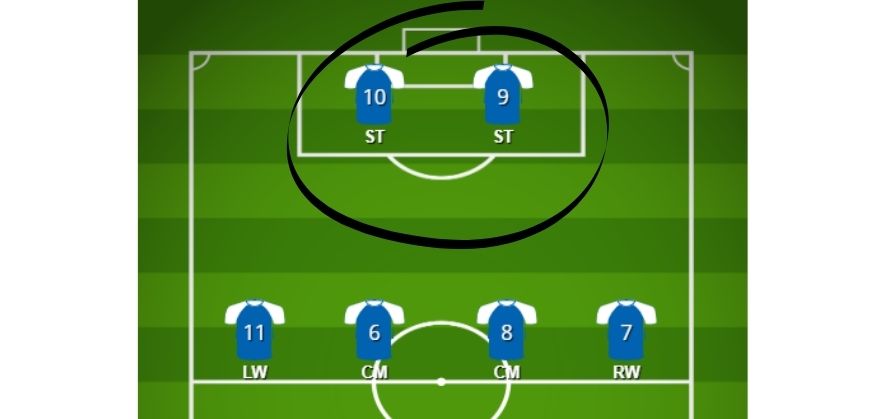 In this setup, the strikers will take up slightly wider positions whilst remaining close to the opposition goal, although they are still expected to occupy central spaces in advanced areas when those opportunities or situations arise.
Ultimately, they are the players expected to finish off attacking moves once the ball has progressed up the pitch starting from the goalkeeper and the defense.
What attributes make for a great ST in soccer?
Playing as a striker in professional soccer is by no means easy.
This is because the position naturally has a goal scoring burden that weighs on it.
Any person taking up this role will be expected to score goals for their team that decide matches favorably, which is a considerable amount of pressure.
So, in order to perform to a high level as an ST, players must develop certain physical and technical attributes through several hours of training and coaching.
Let's look through some of these now…
1. Finishing
Perhaps the most obvious skill that a striker would need in order to perform to a good standard is finishing ability.
Simply being able to put the ball in the back of the opposition net with precision and consistency is a really big prerequisite to playing the striker position.
A good striker won't have trouble scoring goals by finessing their shots or hitting the soccer ball with lots of power.
2. Off the ball movement
Strikers may need to perform a variety of on-field movements if the team tactics call for different offensive approaches.
Some of these movements include:
Playing off the shoulder of the last defender;
Moving into the channels; or
Dropping deeper into midfield to help keep ball possession or to positionally disorient opposing center backs
The first bullet point describes an action that strikers perform quite frequently, so let's explain it in more detail.
Strikers play off the shoulder when they want a pass placed right in behind the opposition's defensive line.
They will signal for a short or long range through ball to be played beyond the last defender, beating any existing offside trap; after which they'll make a vertical or diagonal sprinting run to the ball and slot it past the oncoming goalkeeper.
Good off the ball movement is essential for strikers as they need to be able to put themselves in the best situations to score goals for their team.
This can only be done by taking up dangerous positions on the pitch and keeping defenders guessing so that they're not able to mark you easily.
3. Anticipation
Strikers need to be able to think faster than defenders are able to.
This involves reacting quickly to the direction of the ball, which could mean getting on the end of a cross into the penalty box before a defender can clear the danger.
If strikers aren't able to get to loose balls first, then they'll have a hard time scoring as defenders will generally be a step ahead of the action.
4. Composure
Finally, strikers need to be able to remain calm.
This is quite important especially when they're faced with one-on-one situations where they need to slot the ball past the opposing goalkeeper.
Keeping cool and collected in such scenarios allows strikers to deal with the pressure of scoring.
And having this laser-like focus ensures that they make the right connection with the ball during vital moments that could decide the results of matches.
Who are some examples of world class STs in soccer?
There are a number of legendary strikers who have graced the game in years gone by.
But for the sake of relevance to today's modern game, the article will simply highlight two of the best.
Robert Lewandowski
Bayern Munich's Robert Lewandowski is one of the best strikers there is.
He has consistently demonstrated his quality in the German league over a number of seasons, finishing as the Bundesliga Golden Boot winner in each of the last five campaigns!
Not only is he good at putting the ball in the back of the net, as he also possesses a great first touch and creativity that allows him to set up great scoring chances for his teammates.
Harry Kane
Tottenham Hotspur's Harry Kane is widely regarded as a world class striker even though he doesn't have the silverware to match up to his quality.
In linking up with his South Korean forward partner Heung-Min Son, the duo have the most goal combinations in Premier League history.
Watch this clip to see how the pair work so well together:
Kane is described as one of the best all-round strikers in the game, as he can easily execute lots of different aspects of play such as holding up the ball, shooting, passing and creating space.
Wrap up
That information should cover what an ST is in soccer, because it's provided insight into the definition of the short form word and covered what position it's located on the soccer pitch.
More so, the post has dug deeper into the attributes required for the role and it's spoken about the general responsibilities that the striker role takes up within an undefined tactical system.
If you liked this article, check out similar ones that talk about what a CDM is in soccer and what a CAM is in soccer as well.
If you enjoy the content that I create and would like to buy me a coffee, then I'd really appreciate it!
Any money that I earn through this donation will be re-invested into more content for this website.
Additionally, by sending in a donation you'll also receive a copy of my recently released 190+ page eBook on Soccer Ball Care, as well as be subscribed to our mailing list where you'll be regularly informed on the latest developments concerning the Soccer Whizz blog.
Latest posts by Samuel Waihenya
(see all)