The eagerly anticipated 2022 FIFA World Cup competition is fast approaching.
Sports fans around the globe look forward to this spectacle that takes place every four years, and dedicated soccer blogs turn their attention to the tournament months before it commences.
With that said, we are focused on providing our readers with accurate information pertaining to the eight stadiums that will host this prestigious event.
This article will therefore cover Stadium 974, one of the uniquely crafted venues that will cater to thousands of fans travelling from far and wide to see matches played in Qatar.
So, without further ado, let's take a closer look at what this particular ground brings to the table.
Why is the stadium called 974?
Quite a few soccer stadiums have a conventional naming structure that's based on the name of the locality that they're situated in.
For example, Newcastle United's St James Park stadium was named after the neighboring street which predates the ground itself.
On the flip side…
Other teams such as Barcelona have their home ground – the Spotify Camp Nou stadium – named after their main sponsor Spotify who are world renowned as a digital music and audio podcast streaming service.
So, when you hear the name Stadium 974 you might be left a little perplexed.
Funnily enough, the reasoning behind this unique name is quite straightforward.
The organizers of Qatar's World Cup wanted to pay homage to the country in a special way, so they decided to go for an outlandish structural design that incorporated 974 recycled shipping containers.
And this number is significant because it also represents the international dialing code for Qatar, which is (+974).
What was previously known as the Ras Abu Aboud Stadium became widely recognized as Stadium 974.
How was Stadium 974 built?
As we've already alluded to, a number of recycled shipping containers have been used to construct this sporting venue.
More specifically, shipping containers and modular steel frames that reflect Qatar's maritime history give the stadium structure its distinct look and feel.
The containers themselves will have various amenities such as bathrooms and concessions, which fans can make use of when they visit the venue.
From the outside, you can certainly think that it was built with a combination of Lego bricks of various color, as the modular steel elements and containers come in different shades.
Its architectural quality doesn't end there, because it's the first stadium that is fully demountable.
What this means is after the World Cup, the temporary structure which was erected on an artificial promontory will be dismantled once the tournament has concluded.
Here's a brief timeline showing how the construction process evolved from start to finish:
Ultimately, fewer materials were used to build this venue than is usually the case with a traditional stadium construction.
This was achieved as a result of the modular design brought about by ready-made components (i.e. shipping containers) which were installed when needed.
Who designed Stadium 974?
The architectural design company responsible for building such a fascinating venue is none other than Fenwick Iribarren Architects.
Once they had laid out the groundwork with their blueprints for how the stadium should look, the process for construction was then taken over by a Qatari company called HBK Contracting who oversaw all the labor.
Check out the video below which details a little more information about the eye-catching design:
How much money was spent to construct Stadium 974?
Unfortunately, there isn't any monetary data that verifies how much was spent to build this venue.
However, by our own estimation, the total cost was probably significantly less than the 342 million dollars used to construct the Al Thumama Stadium.
This is another site that will host World Cup matches in Qatar.
What is the seating capacity of Stadium 974?
This ground will be able to host as many as 40,000 spectators, which puts its capacity in line with a bunch of the other venues that will be used during this tournament.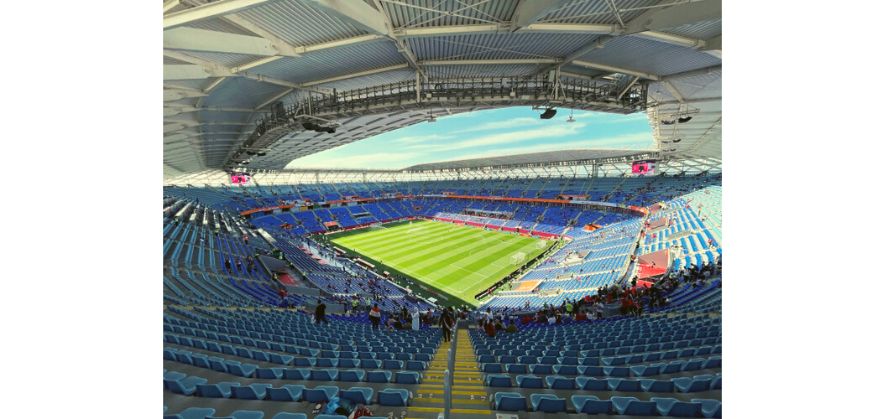 For a World Cup, that's a good number of match going fans to have in attendance.
However, this capacity does pale in comparison to the much larger 80,000-seater Lusail Iconic Stadium which will host a total of 10 matches in this competition.
You can check out the specifications of the seven other grounds in our comprehensive 2022 Qatar World Cup stadium guide.
Which World Cup matches will be played at this venue?
Alright, now let's move on to the good stuff!
Stadium 974 will play host to a total of seven matches in this year's edition of the World Cup; consisting of six group stage fixtures as well as one round of 16 knockout stage clash.
Here's a table which breaks down those matches for you:
| Date | Fixture | Group |
| --- | --- | --- |
| 22nd November 2022 | Mexico vs Poland | C |
| 24th November 2022 | Portugal vs Ghana | H |
| 26th November 2022 | France vs Denmark | D |
| 28th November 2022 | Brazil vs Switzerland | G |
| 30th November 2022 | Poland vs Argentina | H |
| 2nd December 2022 | Serbia vs Switzerland | G |
| 5th December 2022 | Round of 16 | Winner Group G vs Runner Up Group H |
Where is this stadium located?
The good news for fans is that this stadium is in relatively close proximity to Qatar's capital city – Doha.
It's situated around 10 kilometers east of central Doha, adjacent to the Ras Bu Abboud Expressway on the shore of the Gulf in Eastern Doha, which is near the country's shipping port and the Hamad International Airport.
How to reach Stadium 974
You have a number of public transportation options available when it comes to getting to the stadium itself.
Firstly, there's a Metro carriage service that runs to the Ras Bu Abboud Metro Station (Gold line).
Once you alight from there it's about a 30-minute walk to the venue.
Conversely, the fastest way to arrive at Stadium 974 is by using the express buses which operate from dedicated Stadium Express Bus Hubs.
There's more information on the bus hubs and service numbers available through this website.
Closing thoughts
This waterfront venue will be dismantled come the end of the 2022 Qatar World Cup, but it's legacy will be remembered long after the tournament's conclusion.
Its boldly colorful and distinct design which pays homage to the nation's port and the industrial history of the plot where it's based will certainly give fans a memorable experience.
If you enjoy the content that I create and would like to buy me a coffee, then I'd really appreciate it!
Any money that I earn through this donation will be re-invested into more content for this website.
Additionally, by sending in a donation you'll also receive a copy of my recently released 190+ page eBook on Soccer Ball Care, as well as be subscribed to our mailing list where you'll be regularly informed on the latest developments concerning the Soccer Whizz blog.
Latest posts by Samuel Waihenya
(see all)