Disclaimer: Soccer Whizz is a participant in the Amazon Services LLC Associates Program, an affiliate advertising program designed to provide a means for sites to earn advertising fees by advertising and linking to Amazon.co.uk (source: Section 5). As an Amazon Associate I earn from qualifying purchases. This blog also earns small commissions from ShareASale affiliate links placed within the article.
Barcelona's Marc-Andre ter Stegen is a goalkeeper whose performances are watched by millions across the globe.
The German international joined the Catalan giants in 2014 from Bundesliga side Borussia Mönchengladbach, and since then the goalie has taken his ability to even greater heights.
A lot of people – both casual spectators and journalists alike – view ter Stegen as a sort of goalkeeping hybrid, in the sense that over the years he's been able to consistently demonstrate exceptional ball playing capabilities as well as impeccable reflexes.
Because of his unique goalkeeping ability, ter Stegen has acquired a lot of admirers who actually aspire to be just like him in every sense of the word.
More particularly, some of his followers don't hesitate to buy the soccer gear that he sports on the pitch, especially when it comes to goalkeeper gloves.
So, what gloves does ter Stegen wear?
Well…
The Barcelona goalkeeper currently puts on Adidas Predator Pro goalkeeper gloves that have an interesting mix of high resolution blue, royal red and turbo white colours.
Here's what these gloves look like: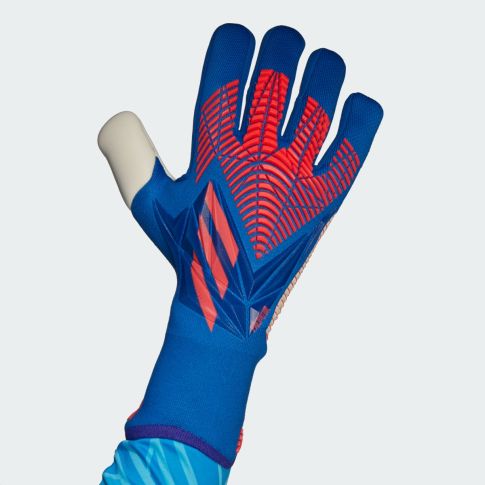 In the most recent El Clasico fixture – an intense historical rivalry between soccer team giants Barcelona and Real Madrid – ter Stegen could be seen wearing these exact gloves.
Here's a Twitter post made from the man himself after the game for further proof:
Getting one over your fiercest rivals in league competition is one of the greatest feelings a professional athlete can experience, so it doesn't come as a surprise to see ter Stegen come out with a post after the match to celebrate the victory.
You can clearly see him wearing the Adidas Predator Pro gloves, as in one photo he makes an acrobatic diving save with them on hand.
And in another image he sets himself up perfectly to launch the soccer ball further up field, by positioning his body in a way that you can easily make out what gloves he has on hand.
What's also quite interesting about the Adidas Predator Pro's is the fact that ter Stegen's national team compatriot – Manuel Neuer – wears the same brand of gloves that he does!
I covered this in greater depth within my article on the goalkeeper gloves that Neuer uses.
Features of ter Stegen's goalkeeper gloves
Anyway, let's now take a look at a few of the hallmarks that make ter Stegen's goalkeeper gloves stand out!
1. Lateral abrasion zones
To begin with, you can tell that these gloves are built with the safety of the goalkeeper firmly in mind.
When you picture the act of making a diving save, you'll quickly realise that a lot of moving parts contribute towards the action being fulfilled.
Once a player sprawls onto the ground with an outstretched arm, there's a considerable amount of friction generated as a goalkeeper's hand comes into contact with the grass / turf and briefly brushes along it.
Now, of course the severity of the abrasion varies depending on how quickly the goalkeeper moves to make the save, but performing such an action on a consistent basis creates an injury risk that must be taken into account.
And that's where these Adidas Predator Pro gloves cater quite well to the threat.
The lateral side has an abrasion zone fitted so that any frictional force caused by a goalkeeper's hands brushing against the ground is dealt with, as this zone comfortably cushions the glove wearer.
2. Unrivaled grip (URG) 2.0
One of the most fundamental purposes of goalkeeper gloves is to provide goalkeepers with enough grip to easily hold onto soccer balls after they've been caught.
This is where Adidas' proprietary URG 2.0 technology gives wearers the upper hand.
You see, the rubber foam that's embedded onto the palms of these gloves functions in a similar sort of way that a magnet would when a metal conductor is brought near it.
URG 2.0 gives goalkeepers more assured handling of the ball, because once it's within their grasp it sticks on firmly.
Ultimately, this technology is a game changer because it really simplifies the work of a goalkeeper.
3. Silicone skin elements
Finally, we have the standout feature!
The backhand area of these gloves has silicone skin elements knitted adaptively into the fabric.
What this material does is provide a little bit of protection when the soccer ball comes into contact with your backhand.
You're also able to get a lot of distance on punched clearances – particularly from corners and crosses whipped in at pace – as the adaptive knitting bites into the ball once a connection with it is made.
Where can you buy ter Stegen's gloves?
Having read through all of the design elements that Adidas Predator Pro gloves come equipped with, I'm pretty sure you're tempted to grab a pair for yourself!
Adidas itself is a reputable brand that you can't really go wrong with, and a lot of retail outlets jump at the opportunity of stocking some of the company's finest products.
So, here are some places where you can purchase these:
Pro Soccer
This is one of my favourite online soccer stores!
You get a user interface with a modern design, plenty of glove size options and the ability to add items to cart as you please.
Prosoccer.com offers these Adidas Predator Pro gloves in two colours, so you can take your pick by clicking either one of the images below: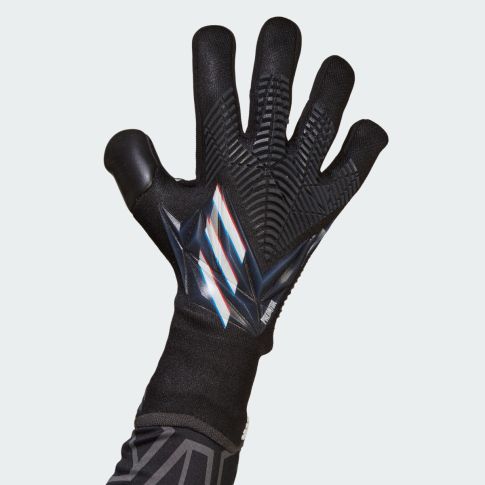 Amazon
Where do I begin when it comes to Amazon?
They're the dominant player and it doesn't come as a surprise that these Adidas Predator Pro gloves are currently being sold on the marketplace.
Click the button below to go directly to the relevant product page:
Prospective buyers also have the luxury of choosing from a wide range of sizes, which is great because that means people can get a pair that fits them perfectly.
Closing thoughts
That brings me to the end of this article which looked precisely at what goalkeeper gloves ter Stegen wears.
Just to recap…
Marc-Andre ter Stegen wears Adidas Predator Pro goalkeeper gloves at the moment, as the German international was seen wearing them in Barcelona's recent El Clasico win over arch rivals Real Madrid that took place on the 20th of March, 2022.
If you're interested in exploring other fantastic pairs, check out our roundup article on the best goalkeeper gloves.
There's quite a few amazing picks in there that are bound to tickle your fancy!
If you enjoy the content that I create and would like to buy me a coffee, then I'd really appreciate it!
Any money that I earn through this donation will be re-invested into more content for this website.
Additionally, by sending in a donation you'll also receive a copy of my recently released 190+ page eBook on Soccer Ball Care, as well as be subscribed to our mailing list where you'll be regularly informed on the latest developments concerning the Soccer Whizz blog.
Latest posts by Samuel Waihenya
(see all)